Sun Sets On Tech Rally

By Brady Willett
No evidence of impending recovery
Morgan Stanley analysts Alkesh Shah and David Feinberg on optical network sector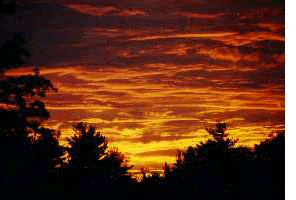 Since April 4 (1619) the Nasdaq has been ignoring all that is bad, and guessing what might be good a few months from now. As such, today shaped up to be most expected sell off in the history of Wall Street, and tech investors did not disappoint. In the background of this sell off you could almost smell the relief: many Wall Street guns are extremely pleased that they do not have to spend their days making up tall tales to why strength in technology stocks made sense.

The Dow lost 166 points with NYSE volume surpassing 1.1 billion shares traded, and the Nasdaq fell by 91 (4.18%) on over under 2 billion. Breadth was nearly 2-1 negative on the NYSE, and nearly 3-1 negative on the Nasdaq. The VIX sprang as high as 26.19 before settling up a 1.1 at 25.79. Perhaps it is too early to use the phrase 'safe haven' – but Treasury's broke their negative streak as equities fumbled.

Dow
The problem with much of the current analysis of the Dow is that it remains largely bullish because the bull market has been a mainstay for nearly 20 years. To be sure, the Street's Diane Hess takes us through an analysis of the Dow in which she uses (borrows) the phrases "On an absolute basis, (Dow) stocks look expensive", and "Blastoff phases tend to follow significant declines." Keep in mind; this article does not believe that the Dow index existed 20 years ago.

For much of the late 1980s, and all of the 1990s investors have become grounded on the belief 'that it is different this time". This slogan contradicts the fact that recessions occur, and they are not always pleasant for stocks. As well, this bull market mantra portends that historical valuation models are useless, arguing that investors will always pay more stocks on a per share basis today. With this in mind, have we now entered the point when freak historical occurrences justify further freak occurrences? Compared to the last 19 years are not all stocks set to rally into infinity without significant pause?

Only at the end of the longest bull ever, with the Dow trading at 20+ times earnings will you find the statement "So, why so many skeptics?"

Blue chips spent 9 sessions above the 11,000 mark.

Nasdaq
Financial warnings from Sun Microsystems, and France's Alcatel squashed sentiment before the bell today, and Morgan Stanley Dean Witter did little to help matters when it downgraded (or slashed EPS) on a slough of companies: JDSU, TLAB, SCMR, NT, BRCM, RMBS, PMCS, CY, NSM TXN, JNPU - quotes . Even with today's negative development the last thing the drop in tech today should be is surprising. Below is a chart of the Nasdaq in 2001, with First Call earnings estimates being marked since April 1. Exactly why did tech stocks bottom, and rally?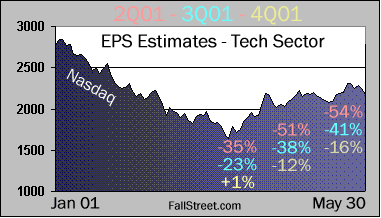 Cleary the Nasdaq did not bottom out at 1619 because of a turnaround in corporate earnings. Rather, it was the intangibles that made sense as the markets were rallying. These intangibles included "wow, look at inflows into mutual funds!" -- "I have to get on board before everything goes up for no reason", and "the worst is over". This last statement was put into question today.




Brady Willett
June 4, 2001





http://www.fallstreet.com