They Still Do Not Believe

(Becoming the gold disciple)

Olaf Sztaba

Part I Imagine
Imagine that it's the beginning of the 90s. Cisco is trading around $1.00 and Microsoft below $5.00. The Nasdaq oscillates around 500 points. The high-tech index seems to be emerging into an uptrend. The action takes place above the 30-month moving average, sentiment is tempered and volume is slowly increasing. The primary trend is clearly up. We all know what happened next. Those investors who positioned themselves in the direction of the primary trend and were disciplined about staying with their positions through the 90s couldn't complain.
Now it's 2003. Gold is trading around $330. Caledonia Mining trades around $0.25. Kinross Gold fluctuates around $8.50. The majority of gold stocks broke out from multi-year accumulation patterns with a huge volume. Gold's 30-month MA is trending higher without any sign of turning around; MACD - a similar story. Sentiment towards the yellow metal is still negative with popular descriptions like "relic," "old story," etc.
Does this sound familiar? It certainly does! Long-term cycles are not dead and the big change has materialized but the change is still unnoticed by mainstream analysts. We have entered a low-return cycle for equities and we have started a huge bull market in gold. Since 2001 we have been advising our clients to take a position in gold and to accumulate gold, as evidence has mounted that this precious metal is under enormous accumulation pressures.
Part II They still do not believe
There are plenty of technical and fundamental factors pointing to a long-term bull market in gold. Most of the arguments have already been presented in numerous publications and reports and we do not need to repeat them. We would like to focus instead on things that, in our opinion, are really crucial to understanding the importance of that new, young bull market in gold.
Disbelief - this condition is a "must" for every new bull market in order to be credible and sustainable.
"Gold is the only bull market driven by Mass Fear instead of Mass Greed, meaning that it has some unusual characteristics that will blindside nearly all money managers and advisors."
During the astronomical bull market in gold in the 1970s, most of Wall Street simply ignored gold. They started recommending gold shares when the bull market was approaching its end. It's hard to believe how history likes to repeat itself. Today, Wall Street is again ignoring gold.
Gold was performing well because we had tension in Iraq and a worldwide risk of terrorism. Some argued that as soon as those conditions eased, gold would plunge again to a new low. Here are a few of the most recent quotes:
"As more investors find that gold no longer does any of the things that are expected of it, they will continue to be net sellers of gold and the market decline will accelerate."

"What do you think will happen to gold when world events stop propping up the price?"

"Those who expect too much of gold will inevitably be disappointed."
When flipping everyday through numerous market commentaries, analyses and articles we find more and more quotes like that and we are pleased with them. It only gives us more confidence that the gold bull market is still in its early stages. We know that the only reason the bull market in gold continues is thanks to an army of gold bears. One-by-one, they slowly (as the long-term up-trend is relatively mild) leave the bearish camp and become buyers, pushing the price of gold higher. We expect that in a few years the rate of gold bears' capitulation will increase exponentially, causing an advance in the price of gold to reach manic proportions. Disbelief is one of the pre-conditions to feed the new bull market, especially in the early stages but it is not the only one. There is another equally powerful force, created by prolonged price depression...
Price drop undershooting. During the 20-year bear market, the price of gold went down so drastically that gold shares undershot way below any undervalued standards. When we examine the charts of most of the gold stocks, we see stocks which at one point traded at $30, today selling below $0.30. These vertical drops produce the conditions for an enormous contra-reaction especially if this reaction has time on its side...
Low-return cycle for stocks. One of the most important characteristics of the stock market is that it always moves in cycles. There should be nothing more important for every analyst than detection of the secular cycle he has to operate in. Unfortunately, after experiencing an unprecedented bull market in equities during the last 20 years, the majority of strategists manically focus only on the short-term cycles, strongly believing that an investment in stocks is the only way to go. The effect of this approach is the buy-and-hold mantra, which became disastrous for many individual investors during the last three years of the secular bear market.
The history of market cycles tells a totally different story. A bear market follows every bull market. The bigger and longer the bull market, the deeper and longer the bear market. Evidence mounts that stocks are still in an OVERVALUED area and have a long way to go before we could conclude that the current supply-demand adjustment process is over. The second lesson that history teaches is that during a low-return cycle for stocks, gold usually outperforms most assets. In 1988, two scholars, Lawrence Summers and Robert Barsky wrote a very interesting piece about gold called "Gibson's Paradox and the Gold Standard." Of course, their work (due to the bear market in gold and the negative sentiment towards the metal) did not gain much popularity. That's too bad, because their findings were very interesting. They argued that the performance of gold is inversely related to the performance of alternative assets like physical capital and bonds.
To sum up, we believe that we have entered a decade of a low-return for equities, at best, which should keep the gold on the right bullish tracks, as investors look for alternative investments especially in the light of...
U.S. dollar malaise. One of the greatest misunderstandings between market commentators is linking the increasing price of gold to the tension in Iraq. Without question, it has had some impact on gold but the main driving force in the current bull market in gold is the deteriorating price of the U.S. dollar. Technically, the greenback broke a major long-term up-trend and all long-term indicators are pointing to a much lower supply-demand equilibrium, in contrast to the ancient metal of kings where the long-term...
Trend in gold turned up. Wall Street and the financial media focus almost entirely on everyday market action forgetting about the long-term primary trend, which is the real shaper of the market action. One day we hear super-bullish comments about gold; the next day everyone seems to hate the yellow metal.
There is no successful analysis without the whole picture being apparent. In order to provide perspective, we present gold's monthly chart along with the 30-month moving average. Gold reached the bottom of a 20-year bear market in August 1999 (A) at $252. A huge rally followed, sending the yellow metal to an October 1999 high of 327 (B). Next, a dramatic pullback took gold to a low of 255 (C) in February 2001. Please note that this time bears were not able to depress the price of gold below its previous low. This was the point at which the real party started.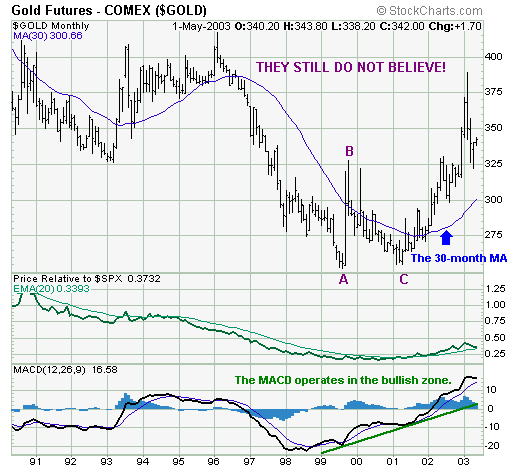 Chart courtesy of www.stockcharts.com
The best tool to monitor the long-term market trend is the 30-month moving average, which tells the whole story. The chart reveals that for the first time since 1996, the 30-month MA of gold turned up. Let's be clear here. This thing doesn't turn around very often and when it does there must be powerful new forces at work. From the standpoint of the market observer, the freshly turned 30-month MA (along with price of the commodity crossing above this long-term average) means only one thing: a new bull market. There is another sign which supports the bullish stance...
Gold stocks are breaking out. It's never easy to detect a new bull market. The latest gold advance was accompanied by an army of sceptics who claim that there is no longer place for the yellow metal in investors' portfolios. An examination of the market action of major gold stocks during the last three years reaches totally different conclusions. Please take a look at this example. The chart tells all.
Chart courtesy of www.stockcharts.com
Charts of the majority of gold stocks show long-term accumulation patterns and many stocks have already experienced long-term breakouts similar to the one presented above. The evidence is here.
This new bull market will have some fuel, or to be more precise, a small piece of the $60 trillion estimate for all investment capital in the world. A portion of this huge number will flow into...
Capitalization of all mining stocks = ~ $100 billion. It's all about supply and demand. Even if a small portion of the world's capital is being invested in gold issues, the price of the stocks may move higher in an unprecedented manner.
Part III The moment of truth
The most recent intermediate-term correction in gold and gold stocks turned out to be a pretty painful experience for the bulls. The dramatic decline in the price of gold stocks belied the crucial fact that the long-term bull market in gold is still intact. There is no single piece of evidence suggesting otherwise.
Keep in mind that the nature of every bull market is to disappoint and eliminate the greatest number of investors. That's exactly what this young gold bull market with its bellicose attitude does now. Many believers are giving up, disappointed with the behaviour of gold stocks. The stocks, however, are not being abandoned. They are, instead, being constantly accumulated in a smart way, that is, without unnecessary fireworks or publicity.
Those who accumulate gold stocks know that "a waiting period" may be long, that their patience may be tested to the limit, but when the time comes the final payoff is going to be gigantic. When the bull of all bulls returns, it will take only the most loyal and most disciplined with it. Are you one of them?
---
Let's keep it simple. It's all about supply and demand.
Olaf Sztaba
May 7, 2003
E-mail: olaf@olafinvest.com
Website: www.olafinvest.com
About Olaf Sztaba - http://www.olafinvest.com/about.htm