Gold As A Portfolio Stabilizer (Update 3)

William R. Thomson

It is now time for what has become a November ritual for us. In November 2000 for the now defunct newsgurus.com website we wrote a piece on the role of gold as a portfolio stabilizer, showing how a diversified portfolio of US stocks, bonds and Asian shares together with a small gold holding would have fared in the 1982-2000 bull market and how it might develop in the coming years under a variety of scenarios.

The results were convincing in showing how gold would have had only a very mild dampening effect during the bull market but, with rebalancing, should provide considerable protection in the more difficult years expected beyond 2000. A variety of scenarios were provided. Accordingly, we have since updated and rebalanced the portfolio annually and the results published on other well-known gold sites. The original and subsequent articles are attached.

The original portfolio chosen for 1982 through 2000 was a deliberately simplistic one of 60 percent US shares (as represented by the Dow 30), 20 percent US fixed income, as represented by the US long bond, 15 percent in Asian shares (one third in Japan, Hong Kong and Thailand) and 5 percent gold.

The objective of the exercise was almost exclusively to convince the skeptics of the wisdom of holding non-correlated assets classes (especially gold) in order to dampen portfolio volatility. If, as we suspect, we are facing a more stag-flationary future, in which share prices are likely to sell at considerably lower multiples than in the bull years, proper diversification can only become more rather than less important.

Since most readers at this site are gold believers, we recap briefly below how our original portfolio would have grown from 1982 to 2003 with and without rebalancing in November 2000.

Our choice of the Dow instead of the NASDAQ for the US shares was a conservative choice that showed the bear market would have been manageable with a maximum draw-down of 18 percent to date for the portfolio, even without rebalancing. A more speculative account, however, would have suffered mightily through 2002 and still be hugely underwater today.
But the results become quite remarkable when the portfolio was rebalanced, as recommended, in 2000 with a mere 5 percent gold reallocation from the other classes. The results are shown below:

What is remarkable here is that this annual, rather mechanical, rebalancing since 2000 would have allowed the fund to grow by 29 percent over the past three years. Even more remarkably, the 5 percent of the portfolio in 2000 had grown to 19 percent in 2002 and by the rules we had established been cut back to 15 percent of the total. The overall fund grew by 29 percent in the year to November 2003, helped in part by strength in Asian shares. (As we have elaborated elsewhere, emerging markets shares are another asset class that tends to be only loosely correlated with US shares.)
With a humble 5 percent of the portfolio placed in gold in 2000 the rebalanced portfolio is now 37 percent larger than the passive portfolio. This did not require any stockpicking, merely a HUI index exposure to gold shares.
The portfolio today and recommended rebalancing
The portfolio we left readers with last year (with its updated value today) was as follows:
As noted previously, we have used the HUI index as a proxy for gold shares and for Asian shares last year we expanded the universe to include India and Korea to make the Asian portfolio more representative assuming investment in a tracker or index fund.
Because the rules made us reduce our gold holdings but we remained very bearish on the US dollar we put part of the surplus in Euro and Australian dollar investments that protected us against a US dollar decline.
Looking forward we are again faced with the dilemma that the gold portion has burst it upper limit of 15 percent for the portfolio and we will once again be forced to reallocate the 6 percent excess.
We remain bearish on the US dollar and therefore we recommend that half the amounts trimmed from the gold portfolio be added to the Euro and AUD currency portfolio.
Furthermore, we recommend that the US the other half be added to the US fixed income portfolio but placed in TIPS - US government inflation protected bonds that will give some protection from expected increased US inflation.
The rebalanced portfolio is now: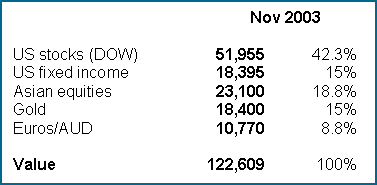 This portfolio now has 23.8 % in gold or non US dollar currencies, a substantial bet for USD oriented investors, but one we think justified by the dollar's dim prospects. The US fixed income component is also partially inoculated against the ravages of the Fed. Asian equities have had an excellent run this last year and are no longer so cheap. However, they remain the best value in global equities. We remain sceptical about the US equity section and if the rules allowed would have a smaller exposure. Indeed, for global investors we would recommend no more than 25 percent in US equities and about 20 percent in European equities, trimming US fixed income if necessary.
The balancing act has served us well so far. We will only know next year whether our luck will hold. However, in the event of a sharp upward move in gold shares we might make a midterm correction.
William R. Thomson
18 November 2003
wrthomson@btconnect.com
Attachments:
1. The case for gold as a portfolio stabiliser 15 November 2000; www.newsgurus.com (site now defunct)
2. The case for gold in your portfolio (revisited) 7 October 2001 www.newsgurus.com (site now defunct)
3. The case for gold in your portfolio (revisited) 1 December 2002 www.freebuck.com
---

William Thomson is Chairman of the Siam Recovery Fund, an investment company investing in Thailand. He is a geopolitical and investment strategist and advisor to companies based in Asia. Previously, he was a senior official at the Asian Development Bank and the US Treasury.