Thoughts for April 14th

Thomas Carreno

Near term it looks like it is time for a gold bounce. We are sitting on channel support here and are short term oversold. The nature of the upward reaction here will give clues about a possible break down through the 390 level.

This also of course depends on the dollar index. The next ceiling of resistance on the dollar index comes in at 92 level. The dollars reaction or lack thereof from this level will also be a determining factor in gold holding the 390 level. What is my forecast? Well I would rather wait a bit for some more price action. I had mentioned in a previous update that I felt the dollar had not really formed a lot of sideways cause for a deep longer upward retracement. It is possible that what we could be dealing with here for many months is a dollar that does not really go down substantially nor up substantially. Sloppy sideways with a slight upward bias could be in the cards for the dollar as it builds steam for the next major leg down. The inverse of this is that gold would keep its composure, building sideways cause for the ultimate attack of 430 level. This is going to be something very key to keep an eye on in my opinion - if gold is able to keep its composure in a sideways trading range. There are levels in the dollar index that will help us determine this which I am watching closely.

I wish I could tell you when exactly gold will break the 430 level. This is indeed a very very significant technical level on a long term basis. It is quite honestly a major battle line and one of the ultimate tests for gold. The problem is I cannot tell you exactly when a break of this level will occur. I can come up with some possible scenarios which will obviously become more clear as time rolls on. More on this topic another time...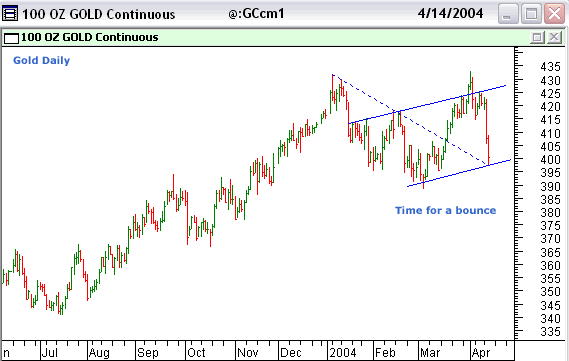 If the dollar is able to maintain a sloppy sideways to upward bias, this could be good news for the South African miners. DROOY got clobbered with the rest of the gold stocks in past days. However it did have one of the best intraday reversals today and did close in the green today implying a nice reaction back to the upside. The better than average reversal today in DROOY was helped by a further weaking of the RAND.
The Dollar / Rand chart below is indicating that the Rand is in for some more weakness. I will be watching all the South African gold stocks more closely now as I look for relative strength. Even if we now enter a phase of a sloppy sideways gold price, the SA miners could still be setting up for some strong moves despite the situation of a bouncing dollar.
Again, this is something I will be watching closely for ...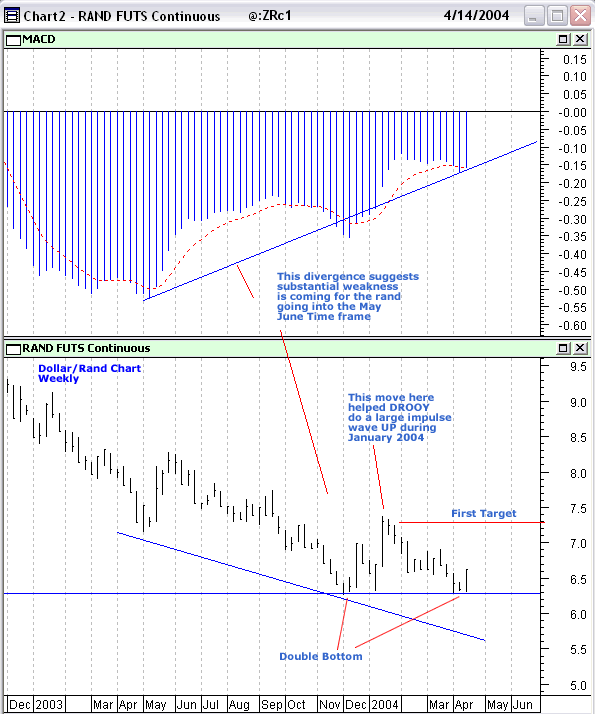 Lastly, I want to show you a chart I created of the Dow Industrials. I was debating whether or not I should show you this chart because it may be a bit controversial and it is not my intention to cause too much alarm. But on the other hand I want to show you charts of all that is on my mind, even the draft charts. There is no sense in holding back. My role here is that of informant indicating possibilities and probabilities. The chart comparison I want to show you is a very unlikely and low probability event, but I would like you to see it anyway.
It is too big to print in here. You may see it on this separate page.
It is a chart comparison of the Dow Industrials for the periods 1987 and 2004. The pattern similarity is clearly there. In addition there is a window of cyclical negativity that starts on April 18th and lasts for about a week. IF the pattern similarity is to play out, then the following must happen:
The current DJIA price must fall down to test the 10,000- 10,100 level.
The test of this level must be a weak test with weak reaction/bounce and relatively quick failure through this support level.
Then assuming this level is broken, there must be an immediate and total loss of price support that results in a panic.
All this must happen at the very latest by 1st week of May.
If all of the above items do not happen, then this scenario is totally invalid.
If the scenario does play out resulting in a RSI value of 10, that would correspond to a DJIA value of around 8300.
Note: This is not a forecast or recommendation!
April 14, 2004
Thomas Carreno
BestOnlineTrades.com