Japanese Yen: Broad Equilibrium Is Ending

Eidetic Research

With the trade weighted U.S. dollar seemingly in a death spiral, the idea of sustained dollar strength against one of the major currencies may appear laughable. Yet that is a viewpoint that we wish to consider at this time. Specifically, we want to examine the prospect for a strengthening dollar versus the Japanese yen, i.e., potential for serious yen futures weakness as this year progresses.

The cash yen chart (inverse to a futures chart) shown below provides a post World War II perspective of the U.S. dollar - Japanese yen relationship. From a high in 1950 when a dollar would buy 600 yen, values moved to an eventual low in 1995 (circled point 5 on the chart) when a dollar would buy about 85 yen. [As an aside for those who are interested in historical trivia, we would note that during 1946 - 1972 the yen traded in a black market]. Clearly, the dollar is in a secular bear market against the yen. While we do not want to make the mistake of opposing a major trend, we see an accumulation of evidence that suggests the potential for a pending period of USD/JPY strength similar to that which followed the 1995 low. We want to discuss salient points that pertain to the above cash chart and then move on to examine various futures chart related factors.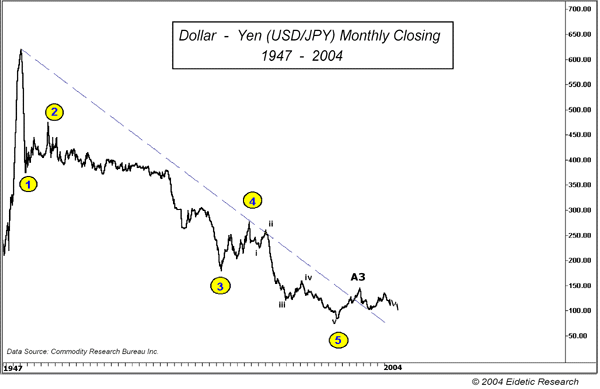 In the time that has followed the 1995 low we have observed (in non-related publications) that the 1950 - 1995 downtrend in the USD/JPY has classic technical symmetries. First, waves 1 and 5 are near equality in size. Wave 1 covered 245 points while wave 2 covered 200 points. Second, wave 2 and wave 4 are equal in size, that being 100 points. Another typical technical factor is that the approximate symmetry of waves 1 and 5 is a typical relationship when the intervening wave 3 is large relative to wave 1. Also, as we interpret it, the structure of wave 5 has five subdivisions (annotated i - v) that imply a completed sequence. Taken together, all of these points favor the view that the 1995 low was a terminal low for the fifth wave and, therefore, for the entire 1950 - 1995 wave sequence. Thus, over the past few years, we have been anticipating a generally higher USD/JPY market as the long-term downtrend undergoes a normal correction. Although the 1995 -1998 recovery to point A3 was respectable, it was nowhere near as large as the wave 2 and wave 4 corrections that occurred in the prevailing downtrend. That leads us to expect that the USD/JPY has further up leg potential unless we are dead wrong on the market having reached a sequence low in 1995.
We have long considered that Japanese demographics will ultimately weigh on the yen relative to the dollar. While the preponderance of technical evidence that we consider here appears to favor the prospect for renewed intermediate- to long-term yen weakness, we would be remiss if we did not first discuss the technical case for a resumption of the long-term cash USD/JPY bear market (Japanese yen futures bull market). Here we switch our focus to futures charts.
As we see it, the primary argument for a long-term uptrend resumption in yen futures hinges on wave analysis. The weekly Japanese yen chart below illustrates this. Since the 1995 high at 1.2625¢, the market developed a deep 3-swing decline, a zig-zag annotated a5 - b3 - c5, to circled point A in 1998. A 3-swing rally, an inverted flat annotated a3 - b3 - c5, followed to circled point B in 1999. Finally, in this interpretation, values traced out a 5-swing decline to circled point C in 2002. That is an approximate Fibonacci-related 78.6% retracement of circled wave A and could comprise a deep "test" of the circled A low. The whole A - B - C sequence, composed of 3, 3, and 5 subswings, would be termed a large flat correction that had a C-wave "failure" (i.e., the C-wave bottomed atypically above the low of the A-wave). That interpretation would lead us to conclude that the 5-swing advance that we have annotated from circled point C is the start of a new bull phase.
Our approach to wave theory is that pattern "failures" can be valid but they have their place. We think that markets tend to behave "normally", however tenuous that term may be, and that "failures" are exceptions. Typically, we associate "failures" with patterns that are within larger structures rather than with whole structures. For that reason, while we do not rule out the validity of the above wave interpretation, we are dubious of it. We favor alternatives that imply opposite long-term price potential.
In the weekly Japanese yen chart below, overall swings since 1995 imply a bearish outcome. Whether that is imminent or not is debatable but evidence that we will examine later implies imminent potential. This wave interpretation also includes a zig-zag decline from the 1995 high to the 1998 low at boxed point A and an inverted flat rally to the 1999 high (circled point A3). From that point on, the interpretation varies from the bullish interpretation on page 2. Here, the 1999 - 2002 decline to circled point B3 is seen as being a flat that has 3 swings, [annotated a - b - c, with the c-swing further subdividing into 5 subswings (i - v)]. Since legs A3 and B3 are back-to-back 3-swing moves, we can infer that a larger pattern is unfolding and that its next leg, labeled C5, could consist either of 3-swings or 5-swings. A 3-swing scenario would imply that pattern development since boxed point A is a triangle. Our subjective judgment considers that to be a low probability event. At this time we are working with the 5-swing scenario. That could accommodate an imminent conclusion to leg C5 that is below circled point A3 (.9990¢) or one that is further out in time and that is higher in price than point A3.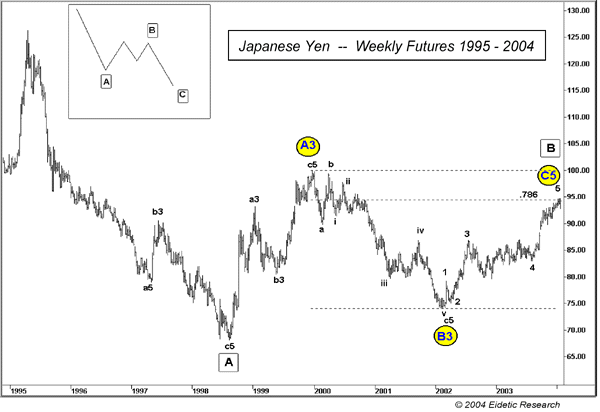 Our working premise at this time is that price swings since the 1998 low are forming a B-wave that could have the appearance of the inset schematic diagram. This stance should be proved or negated in short order since price action in the past week featured a collapse from a trend high at $.9518¢ which was just above the Fibonacci-related 78.6% retracement of leg B3 (shown at .9439¢). If the ongoing C5 leg is to fail below point A3, then this is the area for it to do so.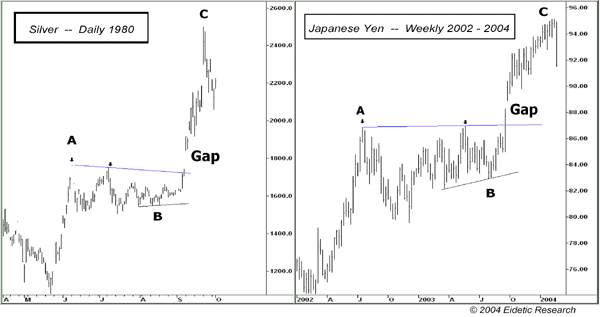 Let's look at some classic pattern comparisons that bolster the case that the yen may be nearing an interim high. The first chart above compares ongoing yen weekly chart activity from the 2002 low with a daily silver chart from 1980. Annotations are for clarity and have no Elliott wave significance. The silver chart on the left featured a dynamic and classic 3-swing bear market rally. Following an initial upthrust, prices consolidated in a triangular pattern and then completed the pattern with an upside gap. This chart also featured a swing relationship where the length of leg BC was a Fibonacci-related 1.38 times the distance of leg A. The yen chart on the right shows similar pattern development that includes the triangle pattern and a gap following its exit thrust. This chart lacks the explosive dynamics in both its A' and B'C' legs that silver exhibited in its respective legs. There is no swing relationship on the yen chart although leg B'C' would have equality with leg A (i.e., swing rule target) at .9566¢. The high to date is .9518¢.
Our second pattern comparison, below, is that of ongoing weekly yen activity and a weekly Treasury bond pattern in the 1980s. Again, annotations are for clarity and have no Elliott wave significance. This is strictly a pattern comparison exercise where T bonds had an initial 3-swing rally (A - B - C) from point 0, a retracement (D - E - F) that featured only a marginal new low at F, and then another 3-swing rally that was complicated by erratic consolidation until point Y when price acceleration occurred. The move concluded with a diagonal triangle (rising wedge) that featured a failed upside exit thrust and top reversal range at point Z. In similar fashion, the Japanese yen has traced out what appears to be a diagonal triangle that is at the top of the larger pattern.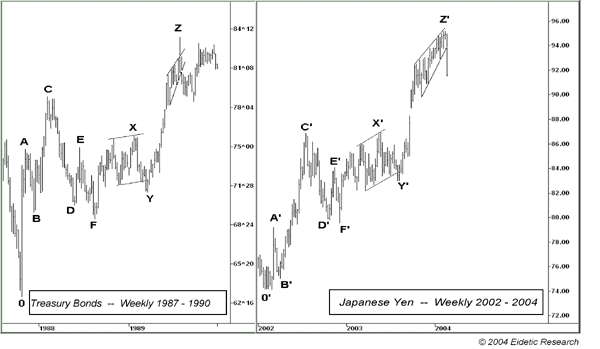 These two examples compare ongoing Japanese yen pattern development with historic patterns that occurred either as an outright bear market rally, as in the case of silver, or an unsustained intra-pattern rally, as in the case of Treasury bonds. The pattern similarities imply downside potential in the Japanese yen once its current 2002 - 2004 pattern reaches its conclusion.
A final chart, the daily continuation chart below, considers recent wave development. If we are correct in our page 3 interpretation of the market being in the fifth leg of a 5-swing advance, then we should expect to see 5 subswings from the August inception point of the latest move. As we see it, prices have established the requisite wave structure and last week's aggressive collapse bolsters the view that the fifth swing has terminated.
In summary, a 1995 cash Japanese yen low (futures high) has potential to be a trend extreme that is not exceeded for many years. Following the first recovery from that extreme, price action during 1998 - 2003 has traced out respectable, but unsustained, intermediate-term trading swings. However, in the very long-term context, the overall condition has been one of a broad equilibrium. At this time, we think that the market has reached a level that could mark the conclusion of that equilibrium. Because of the various factors outlined above, we are watching market behavior for signs of an imbalance that could mark the start of a sustained breakdown in futures prices. Trading activity in the week ended February 20, 2004 featured a stochastic downturn that confirmed a bearish price/momentum divergence on the daily yen futures chart, a weekly stochastic downturn that confirmed a bearish price/momentum divergence on that chart, weekly downside range expansion that violated a 3 month support line, and enough range expansion on the monthly chart to establish an "outside" range that has top reversal potential depending on where the February 27 close is situated. Also dependent on that level is a potential monthly stochastic downturn. All of these factors suggest to us that the Japanese yen will face weakness, possibly a collapse, relative to the U.S. dollar as we move further out into 2004.
Our current trading strategy is to be a seller of the March or June Japanese yen futures. We would place stop-loss protection above .9400¢, basis spot month futures, and anticipate near-term downside potential into the September 2003 gap at .8893¢ - .8769¢. If the market fulfills that area and subsequently overruns it on the downside, then we can give serious consideration to the idea that the 1998 - 2004 consolidation is being resolved and that a major down phase toward .6000¢ is starting.
February 24, 2004
Copyright 2004 Eidetic Research
www.eideticresearch.com
This report is for informational purposes only and is not intended as an offer or solicitation with respect to the purchase or sale of any commodity, futures contract, or option contract. Although the statements of facts in this report have been obtained from and are based upon sources that are believed to be reliable, we do not guarantee their accuracy and any such information may be incomplete or condensed. We do not assume responsibility for typographical or clerical errors in this report. All opinions included in this report are as of the date of this report and are subject to change without notice.