Are you affected by the real US deficit: oil?

"Jefferson Fibonacci"

Most Americans value oil as much as anyone. Year after year, more and more oil is consumed in the U.S. (and elsewhere). Lately, more and more people have been studying U.S. reliance on the oil industry. For those who depend on oil itself (including for gasoline), on the oil industry, on the U.S. economy, and on the U.S. Dollar, the following information could be essential to future prosperity.

First, oil markets involve basic facts. These facts are related, like volume available and volume sold. The relations of these basic facts evidence simple economic patterns. Understanding these fundamental patterns, one can stay clear about predictable effects of oil markets on national economies and currencies (like the U.S. Dollar) as well as on personal finances.

A simple, familiar example of an important pattern is the U.S. trade balance in oil for the last several decades. The general pattern may be more useful than exact figures, though those are easily accessible as well. From the general pattern, one can make projections for specific markets and, potentially, make intelligent adjustments for one?s household and business network.

Oil Trade Balance: USA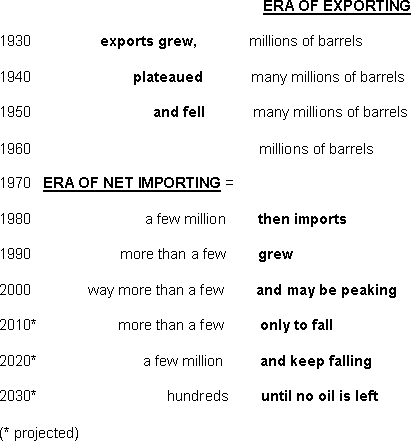 Prior to 1970, the world's leading exporter of oil was the United States. Around 1970, the U.S. began importing to meet increasing domestic demand, and now is the world's leading importer of oil. If oil reserves are non-renewable, U.S. imports of oil inevitably must peak, decline, and, eventually, discontinue.
The obvious effect of declining oil flow is declining oil refinement, distribution, and consumption. Just as today one cannot buy a gallon of gas with a single dollar, one simply cannot consume oil that is not available.
THE "DOMINOIL" EFFECT
Before detailing predictable consequences for the U.S. economy and consumers, here is some history. Reviewing historic trends, perhaps useful patterns will be evident. Further, what is predictable for the U.S. has already happened elsewhere.
First, Texans led the U.S. to oil, then the U.S. led the world to oil. Texans also led the world in oil exploration, when Houston hosted a sports team called "the Oilers."
Next, following the Beverly Hillbillies to California and elsewhere, oil magnates from Texas went "interstate," funding the exploration of the entire U.S. for sweet crude: "black gold." Then, by the time oil deposits in the U.S. were saturated with wells and no more significant discoveries were being made here, U.S. companies were already exploring the whole planet.
First, U.S. experts went international to search for oil. Soon, foreign employees were also hired and trained. As oil exploration technology improved, many large and small discoveries followed, primarily in Canada, Mexico, Venezuela, Russia, and the middle East.
Eventually, the frequency and size of new discoveries all over the world dropped- just like in the US before. Thus, oil companies invested less and less into finding new deposits, again, just like they had before in the U.S. The Oilers had left Houston.
Briefly, oil production rates in the U.S. grew slowly at first, then increased more and more each year. The US emerged as an economic and military superpower. Oil output continued to increase, but less and less each year until it finally peaked and began to fall.
Nevertheless, year after year, the U.S. consumes more and more oil. The U.S. continues to be the world's leading consumer of oil- for fuel, plastic, and such petrochemicals as pharmaceuticals and pesticides.
Even though oil production was still growing in the U.S. in the 1960s, consumption was growing faster. Thus, U.S. markets consumed all of the extra oil produced here and then some - leaving less available to export.
People who were in the U.S. in the 70s probably remember some of the changes related to U.S. consumption first exceeding U.S. production. Basically, prices rose and then rose more ("inflation").
Some link that inflation to a political event in the mid-70s. However, prices started rising prior to that, and not just prices of oil and markets directly related to oil. Thus, many consider a 1971 Act of Congress to be the catalyst or trigger for a loss of value in the U.S. Dollar.
When a currency loses value, exchange rates change. Prices are exchange rates. When the dollar lost value in 1971, just as it had in 1933, prices increased - not just for oil, but for real estate, vehicles, postage stamps, phone calls, haircuts, gold, silver, other currencies and so on and on and on.
Here is a trend. First, the economics change. (U.S. oil exports peaked, then production peaked, then imports started). Next, the politics change. (Congress debased the currency, diverging from the gold standard in 1971, and, a few years later, OPEC forms among those who would rather keep oil than trade it for money that is already losing value as indicated by widespread price increases). Then, everyday life changes. (Gasoline rationing begins as the prices for oil, food, precious metals, and most everything else continues to rise.) Finally, the mainstream media covers the story, or at least two of the facts within the whole story.
WARNING: LOW FUEL INDICATOR IS NEAR EMPTY
So, the predictable consequences of any economic change may be political change, everyday life changing, and changing consciousness (through media, schools, or otherwise). The exact sequence of the consequences are not so predictable, but the "domino" sequence of economic changes are predictable.
What happened in the 1970s is part of a sequence. The sequence goes back to the 1930s and before. The sequence extends to today and beyond.
Prior to the 1930s, the U.S. Dollar tended to gain value over time. In 1933, it suddenly lost about 40% of its purchasing power. In the 1970s, it lost even more. Recently, as OPEC leaders switch to the Euro from the Dollar, new questions arise.
The Euro was introduced in 1999. That year, a barrel of oil cost only $11. Recently, a barrel of oil cost $55. Similarly, the price of the Euro recently rose from around $.80 to about $1.30. These price changes reflect significant loss of value for the dollar. As dollars lose value, more dollars are required to purchase the same amount of Euros or oil or almost anything else.
So, here are two rather simple questions that arise. First, with the dollar losing value relative to other currencies like the Euro, relative to oil, and relative to other commodities such as gold ($260 to $420), silver ($4.25 to $7.25), and cereal grains, how many dollars will it cost to buy a gallon of gasoline next year? Second, with so much of the U.S. economy dependent on oil- or even cheap oil- how long will the dollar (and the government it represents) last?
I don't know the exact answers. Another question, though, is simple enough for me: how long will oil fields continue to be emptied to provide oil for consumption by people in the U.S. and elsewhere? I am sure that the answer is... until the last drop.
Whether the last drop refers to a drop of oil or a drop of bomb may depend on us. So, reviewing the details of what happened in Houston, consider the following "snowball effect" as a potential "drop in the bucket" of what could be coming soon.
PAST PERFORMANCE DOES NOT GUARANTEE FUTURE RESULTS, BUT I REVIEW IT ANYWAY
First, the oil companies in Houston merely cut a few expenses. They spent less money with local businesses. A few at a time, oil employees lost their jobs and thus they also spent less money at local businesses, causing the loss of more income. Many businesses and families went deeper into debt, expecting things to improve soon. Some people even refinanced their homes to pay other bills.
But the oil boom did not resume in Houston. Growth had slowed, then stopped, then reversed. As more and more former oil company employees were looking for work, they were willing to accept jobs for less and less. As the economy slowed, more related businesses shrunk or closed. Just after finding a new job, many people were laid off again.
Eventually, more delinquency on mortgages led to more foreclosures. With so many foreclosure auctions, most local housing prices dropped. People who had just refinanced their homes suddenly owed more than their homes would sell for, plus many had even less income than before.
Bankruptcy rates increased. Divorce rates increased. Crime rates increased. Illness rates increased.
People moved away. Fortunately, Houston is next to lots of places that are not so dependent on the oil industry.
Some moved from Houston all the way to booming Silicon Valley. There, the same thing happened involving the high technology industry in the last few years: companies closed, incomes dropped, borrowing increased, mortgages defaulted, real estate prices dropped, etc....
Worse, a few moved all the way to Japan, where the same thing has been happening since 1989. Remember when Japan was considered a competitor to the U.S.? Now, Japan is 15 years into a depression. (I don't know what industry might have sparked the crash in real estate and stock markets in Japan, but I do know the Japanese import a lot of oil- though not as much as they did when they were a superpower.)
Starting in 2000, led by Silicon Valley, a similar pattern has developed in the entire U.S. Companies like K-mart, US Air, MCI-Worldcom, and numerous others including the energy giant Enron have gone bankrupt. While many recently laid-off people have found other jobs, most incomes are not keeping up with inflation. Debt and delinquency are rising, along with foreclosures. Real estate values are falling, though not as fast as the dollar. The NASDAQ stock market is currently down about 60% since 2000.
Like Japan in the early 90s (and the US at the beginning of what was later named the Great Depression), stock markets in the U.S. have rebounded some. That is, the NASDAQ was down over 75% as of two years ago. Now, if it rises just a bit more, it will be down only 59%. I feel so relieved now!
So, I don't recommend fleeing Houston for Silicon Valley or Japan this time. Many Americans have gone to the Middle East recently, where oil production still exceeds consumption. However, if global oil reserves are eventually depleted- and Americans at least seem to have a propensity to consume as fast as the wells will flow- then oil-rich countries may only be a temporary refuge. Given the nature of the visit that Americans are making to Iraq, refuge may not be the best word. Baghdad may just be the next Houston.
Nevertheless, as wrong as I may be, I consider this an opportunity. Markets tend to move predictably- including manias like the 90s high tech bubble and including panics like the 1987 crash.
Of course, most people do not know how to predict such seemingly chaotic transitions. Some people even refuse to explore the evidence of predictability. Others make naive predictions like "real estate always appreciates," ignoring Houston, Silicon Valley, Japan, the 1930s Global Depression, and the bombing of Baghdad or Oklahoma City: "Do I hear nine million? How about eight million? [Boom!] ... Do I hear one hundred?"
In the U.S., most people do not know that a few years ago, Iraqis stopped trading oil for U.S. dollars. Soon, the bombs started dropping. The foreign exchange value of the dollar dropped first. Again, as with oil in the 70s, certain economic changes led to political changes (war, occupation, new leadership), changes in everyday life (deployment, orphaned children, no electricity), and changes in media coverage.
Having useful information ("intelligence") is of great import for soldiers as well as investors. For instance, certain investors profited remarkably from the World Trade Center attacks, from the Vietnam War, and from the Nazional Socialist invasion of Austria. Wars can be good for the business of arms dealers, weapons manufacturers, and oil barons.
Similarly, some retired soldiers made a killing trading "against" the crashes of 1987 and recent years. They saw the warning indicators, monitored the triggers, and took aggressive positions before the end or even before the beginning of huge shifts in trend.
Of course, most people do not know what is normal or exceptional in economics (or warfare). Many people, even Americans investing for retirement, do not know many of the basic facts above concerning the recent transitions. Further, even those who have found the facts may not understand them.
The better informed we are about markets and the better we understand simple patterns of economics, the more inclined we may be to profit from every market transition. Economic activity is a common form of human behavior. Markets are categories of human activity. This is not rocket science, but it is just as predictable, though sometimes even rocket scientists are surprised.
Many people were surprised by sudden economic changes in the 30s, the 70s, and so on. Others were not surprised at all. Japanese people in the 90s were repeatedly wrong about impending recovery. Each new prime minister was expected (or hoped) to "fix everything."
I have been surprised by how many people believed that the stock market slide of 2000 was triggered by events in September of 2001. The issue is not just the high tech companies, or just the stock market losing to the bond market, or just the dollar losing to the Euro.
There is an issue with oil consumption. Wars may provide temporary relief, but unless new oil is discovered as fast as it is consumed, the wars will eventually be fought not with flame-throwers, but pepper spray - not by pilots, but bicyclists.
Or, maybe people will avoid civil and not-so-civil disputes. Maybe consumers will significantly reduce consumption of oil. Russians reduced their consumption by more than half, though their government collapsed along the way. However, Russian production has not fallen nearly as much, and Russia currently exports more oil than any country except Saudi Arabia. Cubans also reduced their consumption.
As fuel becomes more expensive, then efficient, smaller vehicles and homes are favored. For instance, motorcycles and especially bicycles are small and efficient.
As transportation becomes more expensive, it is increasingly favorable to live somewhere with abundant pure water which leads to local produce. Small communities may gather to practice biodynamic gardening and live "off the grid." (Electrical grids tend to rely on natural gas which has basically the same future as oil.)
Generally speaking, the U.S., with a proliferation of guns, remote suburbs, and people willing to riot over college sporting events, may be one of the worst countries in terms of economic and political dependency on oil. Canada and Mexico are major exporters to the U.S., but that short-term advantage also makes them appealing for invasion (or covert operations and other political interventions). For optimal safety, avoid areas of high oil consumption or production.
Without rich, desperate Americans to support it, the addictive drug trade may dwindle, improving the appeal of many countries. However, "sin industries" such as addictive drugs (legal or illegal), gambling, and prostitution will likely undergo a temporary but significant boom before any post-oil economic order stabilizes.
WARNING: NO GAS STATIONS AHEAD FOR NEXT 100 YEARS
Those of us the White Mountains of Arizona were warned of a season of severe forest fire danger in 2002. Remember? Half a million acres later, we were all true believers.
This is a similar warning. Likewise, many investment researchers were warning about excessive stock prices prior to the recent declines in the US, UK, Germany, China, Japan, and so on. If that wasn't enough warning, note that NASDAQ fell 25% in two weeks in early 2000. Again, now it is down 60%.
However, Treasury bonds have risen about 60% in less than five years. One sector of US stocks, called the Amex Gold Bugs ("HUI"), is up over 600% in less time than that. The Brazilian stock market boom makes even that seem small.
There is an historic shift underway. Like prior shifts, the emerging transition with oil is predictable- though every prediction cannot be right. Predicting what is overwhelmingly probable to happen may be easier than predicting exactly when - especially far in advance.
Apparently, the controversial predictions by trail-blazing researcher Hubbert about "peak oil" have been quite accurate. The "Club of Rome" and many others may benefit from accurate intelligence (including "predictions") and, very likely, many more of us will "never know what hit them." On the internet, one can access many predictions from oil industry researchers, investment researchers, and others, including the Club of Rome and Mr. Hubbert.
While oil industry researchers may be extremely biased, everyone is biased somehow. Would we expect oil industrialists to invest in something they are biased against? Even if "the oil glut" is an elaborately conspired fraud (the only kind of fraud worth noting), even if "evil" oil companies and imperialist banks are selling us another problem to manufacture our consent for the next "final solution," the domino effect of changing human behavior will still be virtually identical: economics first and last. In the end, everything else may be incidental: political drama, media commercials, revisionist historical indoctrination, etc....
Economics bias all of those (politics, media, and edu-tainment). Accepting that bias is not a symptom of paranoia, but of realism or pragmatism- perhaps even opportunism.
By the way, have you ever wondered who taught you to be biased against opportunism (if you identify yourself as biased against it)? Would such a teacher have been a successful opportunist- or just someone desperately afraid of being deemed "not perfect enough?"
My relevant bias is this: certain investment forecasters and market indicators have been consistently accurate for decades and thus I am biased to trust them again today. I am biased both in favor of consistent accuracy and in favor of partnering with others for mutual benefit. This partnering can take many forms, from forming an oil company in Houston to planting a community garden at a local school or even helping others invest over the internet. Taking care together, may we fare well.
"Jefferson Fibonacci"
8 November 2004
Partners Investing Trust
info@redpill.info
Disclosure of vested insider trading activity: the author does not manufacture, sell, or own bicycles, but, if you are selling one, I may be willing to buy it.