Midsummer Metals Part 1
Rodin - final draft 6th July 2004
The jury is still out, judging by my email, on whether the present correction in the PMs is all but over, or hardly begun. Certainly there is a technical argument for a large retracement of the move from 35 in the HUI. I do not subscribe to this view, largely for fundamental reasons.
(Of course a lot depends on how the central banksters deal with Planet Debt. A credit squeeze might hit everything, but would also bring about a millennial depression.)
I have been looking at a basket of stocks, indices and the precious metals to try to better gauge likely or even possible near and mid-term market action. The first two stocks featured here I am particularly interested in, as they are among a selection of PMs available on the futures market via spread-betting - a risky way of playing the markets with leverage. SB in the UK is attractive since it attracts no capital gains tax. However - most lose at the futures game, and so as an investment strategy it must be approached with caution. In my case I only allow myself to be exposed to a modest fraction of my total portfolio.
1) Hecla (HL)
23rd June
The above charts are self-explanatory. In essence they show a stock that is squeezing into the apex of a flat-bottomed triangle. Meanwhile there is a gap to the upside screaming to be filled. As Ted Butler might say - dimes to the downside, dollars to the upside. Unless you think HL is going to under a dollar.
In fact since the above charts were drawn, the squeeze has just got tighter, as this more recent chart shows...
2nd July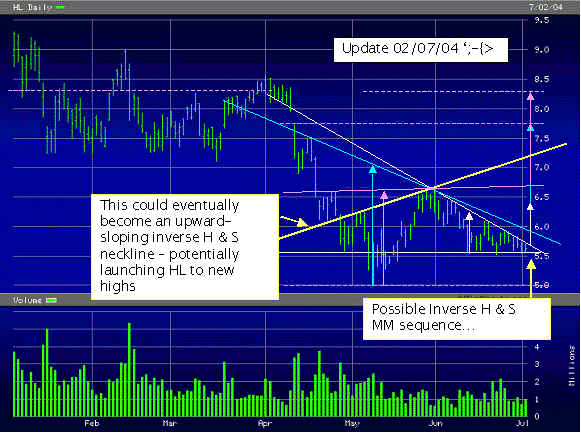 The yellow neckline is pure speculation, and would require that we turn back from it on the way up to the gap to form a right shoulder. Blue, pink and white are all either completed or 'on the cards'.
2) Silver Standard Resources (SSRI)
23rd June
SSRI is a great silver stock. It has performed extremely well over all time-frames. For a leveraged stock, the pull back on the silver correction was not as severe as most. It was more than x5 what it was 2 years ago at it's recent bottom. Since then it has turned around and recent highs are within sight. Like HL it has business with gaps to take care of.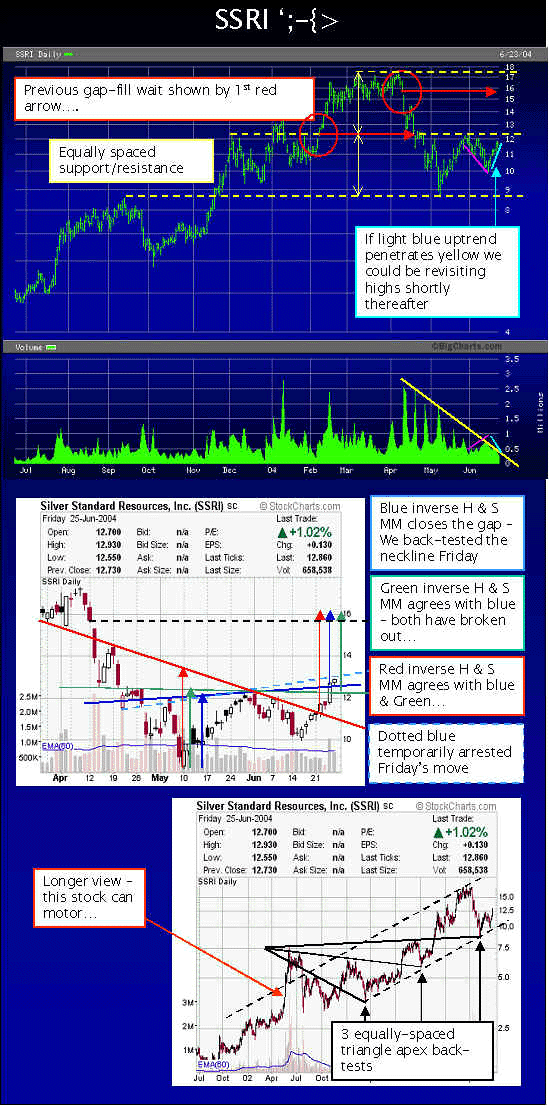 The purple and blue volume lines, however, perhaps give us reason not to get over-excited yet - note that volume has been varying inversely with price direction very recently, though the longer term trend through this correction is down (yellow).
2nd July
The next chart shows we paused at a big neckline. A cross of light blue below projects new highs. Therefore it might take a couple of attempts to get over. Also the volume versus price problem is once again clearly shown up. Below you can see what volume looks like in a strong up-move.
3) Bema Gold (BGO)
2nd July
Short term this chart is schizophrenic. On the one had, an inverse H & S is calling for a higher price, while a gap below and rising wedge say lower. IMO both can happen - but in which order?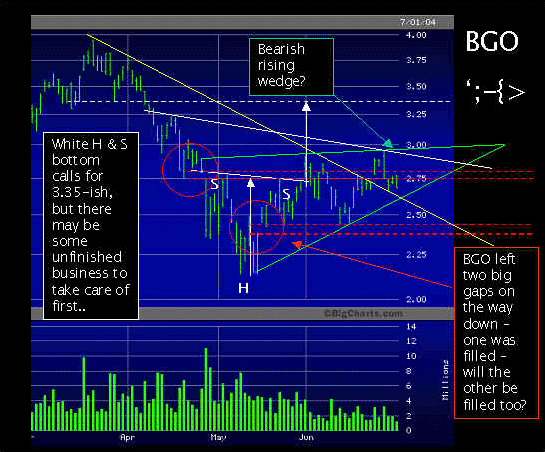 The yellow line currently being back-tested is also a neckline on the linear chart.
http://bigcharts.marketwatch.com/intchart/frames/main.asp?
time=7&freq=1&compidx=aaaaa%3A0&comp=NO_SYMBOL_CHOSEN&ma=0&
maval=9&uf=0&lf=1&lf2=0&lf3=0&type=1&style=380&size=2&sid=0&
o_symb=bgo&startdate=&enddate=&show=true&symb=bgo&draw.x=39&draw.y=9
BGO - Linear/Longer term chart
If this interpretation of this linear LT chart of BGO below is correct, we could return to the blue line before moving back to white.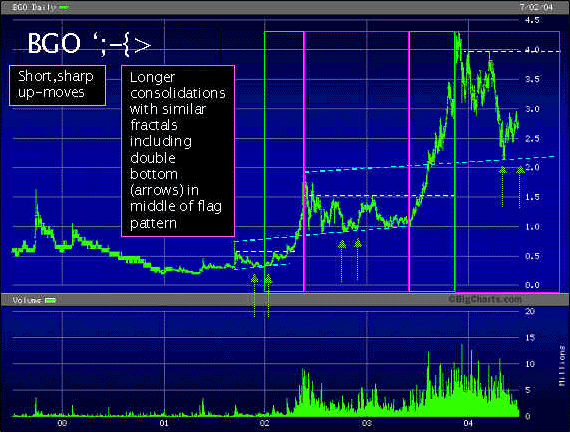 Two opposing views present themselves
1) We could be looking at the building of a 1-year head & shoulders formation (we are more than half-way thru the head)
2) The fractal in the second pink box may be perspectivised (my word - clumsy I know but I find it a useful way to describe a fractal that appears rotated in 3D space) downwards and steeply so. Are we about to see a wave 5 down?
SchizoBemia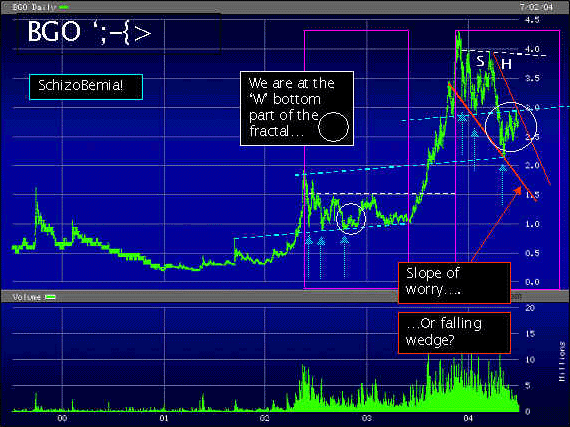 More on BGO.
BGO Symmetry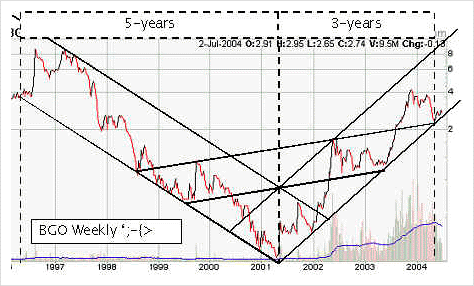 The stock is at the bottom of its secular bull channel. It has also just completed testing the big H & S bottom, and unlike the HUI but like the XAU has not had to change the incline of this channel. So far so good. However, there is a theory that PMs move in 5 year bear and 3 year bull cycles. As we can see, BGO is at a threshold here - where the Bull channel support hits the 3 year marker. Note BGO could return to a new high and still be at the start of a bear cycle - but a move over about $6 now (a target that will be lowered in time) would negate the 3-year bull cycle hypothesis. A lot is at stake here!
Note: May 2001 was first identified by me as the PM turning point from spectral analysis of the XAU and HUI. It is interesting that BGO pivots exactly on this point in time.
But what about that gap in the daily chart. Can it be filled without breaking bull channel support?
Perhaps…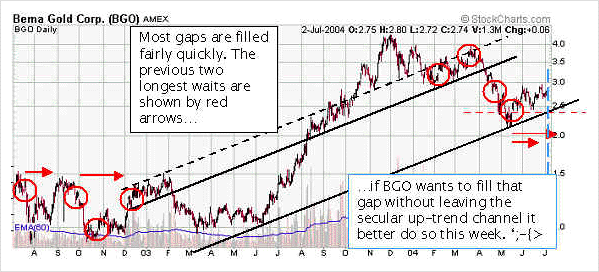 ---
www.contrarianthinker.com/two_services_for_the_serious_phy.htm

Re-posting of extracts from ContrarianthinkeR for fair use is permitted provided due credit is given, and a working URL link is provided to www.contrarianthinker.com No paper publishing of original CT material is permitted without permission form the author. CT does not necessarily endorse the views expressed in linked articles, but it probably does!
© ContrarianthinkeR 2002-2004 all rights reserved. Caveat Emptor - Buyer Beware! Any information posted on ContrarianthinkeR is not intended as direct advice. Do your own research before devising an investment strategy. I did.
Webmaster RODIN