To Buy Or Not To Buy Precious Metals
Part II

Chris Gilbert Waltzek

© May 5th, 2004

---

"Human Freedom Rests on Gold Redeemable Money."
[Howard Buffett, Warren Buffett's father]

For millennia, governments have attempted to remedy economic distress by printing paper money. In fact, the annuls of financial history are filled with tales of inflation decimated currencies. Tempted by the allure of the printing press, policymakers find domestic monetary and credit expansion as seductive today as did their contemporaries. Thus, financial pundits are warning that the resulting decline in the dollar is leading to an inflationary crisis. This article, Part 2 in the series, continues to investigate the inflation quagmire and presents analysis supporting considerably higher precious metals prices.

Section 1. The Dollar Dilemma

Voltaire expressed his disdain for fiat money with this timeless statement: " Paper money eventually returns to its intrinsic value…zero. 1

Currency Troubles: From Past To Present

" In 1921, there was $55 in circulation for every man, woman, and child in America, and in 1999 there was $32,000!" 2

When governments distribute unsustainable levels of paper money, currencies invariably fail. In the long run, inflationary policies backfire as the deluge of bills erodes confidence. Unsound monetary programs deteriorate national sovereignty and reduce citizens to unwitting pawns, guided by ignorant politicians. Young, old, rich and poor, none are insulated from the inevitable wealth destruction fomented by inflationary measures.

Similarly, the recent 30% decline in the dollar portends a significant rise in inflation. Yet, most investors have been desensitized to the threat posed by increasing price levels. Indeed, more than 100 years have past since an inflationary crisis gripped the nation. Thus, entire generations of investors are inexperienced with and unprepared for a hyper-inflationary economy.

Consequently, inflation is a hidden tax, a clandestine form of wealth confiscation. Inflationary policies are covert to the untrained observer, yet overt to those mindful of their invariable outcome. Governments inflate the money supply to encourage economic growth, finance international conflicts and essential domestic programs. Yet, relentless domestic spending combined with frightening debt levels are debasing the dollar and marginalizing its world reserve status. As the dollar continues to slide, accelerated inflation is the likely outcome.

Moreover, intangible investments, including fixed income securities, depreciate as inflation unfolds. For instance, bonds become less attractive as interest rates leap skyward. Stocks lose appeal as dividends and potential earnings become less enticing, relative to less risky investment alternatives. Therefore, the nation will eventually become inundated by escalating prices as the deleterious economic cycle proceeds. Unfortunately, top financial experts believe that such a dilemma will be the inevitable outcome of current economic policies.

Pundits Ruminate Upon The Declining Dollar

"Expect a "sharp fall in the 'over-valued' dollar."
I.M.F. 3

On the weekly radio broadcast, The Financial Sense Newshour, market sage and journalist Jim Puplava, his staff and many of his guests have repeatedly expressed a strong belief that the dollar will continue to depreciate. Mr. Puplava contends that current monetary policy, deficit spending, trade imbalances and unsustainable debt levels are ushering in a currency collapse:

" The amount of (domestic) debt is so large that the only way out will be for policymakers to inflate their way out of history's largest debt bubble. It is one reason why the Perfect Financial Storm will become a reality. When it unfolds, hyper-inflation Argentina style is the more likely outcome, not deflation." 4

Jim Puplava refers to printing dollars excessively as "inflating" the currency. He believes that the expansionary Federal Reserve strategy will backfire, leading to a less valuable dollar and staggering inflation figures.

Similarly, in the financial forum: Riverside Conversations, Jimmy Rogers and Marc Faber concur that the dollar will continue to decline, relative to world currencies. More specifically, the duo insist that the commodities market will remain within a powerful uptrend in the coming years. Jimmy Rogers expresses his concern that China's accelerating demand for raw goods will propel basic materials prices much higher, increasing commodities prices worldwide. [19] Many well known financiers agree with his view. The following list of quotes, by leading financial experts, connotes a unanimous belief that the dollar will continue to decline:

* " The dollar will depreciate by over 30% in value."
George Soros.

* "The dollar is facing... collapse."
Richard Russell. [5]

* "The dollar will collapse in the next 12-18 months."
Dr. Kurt Rickenbaker. [6]

* "...the dollar will decline."
Warren Buffett [7]

* "The dollar (will) fall 40%...get out of stocks, real estate..."
Sir John Templeton. October, 2003. [8]
Such dire predictions by top analysts are alarming. In order to embrace such contentions, the primary causes of the devaluing dollar must be further evaluated. In 1971, the Bretton Woods Agreement was abandoned and the dollar removed from the Gold Standard. The dollar was no longer backed by precious metals. Nevertheless, almost 200 years prior to the abandonment of the Gold Standard, the architects of the U.S. constitution firmly insisted upon a gold and silver based currency. The founding fathers were concerned that the fledgling nation would develop a crisis similar to the current dilemma, as a result of unrestrained money growth.
The Gold Standard: A Necessary Statute
" How many times have paper currencies - unbacked by gold - become worthless? ...Every time. And how many times has a gold currency lost its value? ...Never." 9
On June 21st, 1788, the newly ratified U.S. constitution declared that all American money must be supported by gold and silver. The authors of the The United States Constitution acknowledged the significance of the gold and silver standards, as presented in Article One, Section Ten:
" No state shall emit bills of credit, make any thing but GOLD and SILVER COIN as tender in payment of debts, coin money." 17
The nations founders clearly understood the folly of unbacked paper money, due in part to the monetary fiasco of the Revolutionary War. To fund the conflict, Congress printed $200,000,000, a staggering sum for that era. Six years of excessive printing proved devastating to the Continental:
" In Dec. 1776, one continental dollar could purchase a little less than one dollars worth of gold. However, by Apr. 1781 one dollars worth of gold cost as many as 150-225 continentals." 11
Viewed from another perspective, the price of gold rose by over 100 fold, or 10,000%. If the dollar were to debase by a similar amount in 2004, the price of gold would appreciate beyond $40,000 per ounce!
Furthermore, one year after the American States confirmed the Constitution in 1789, the French people began suffering through their second currency devaluation of the century. Unlike the newly printed, precious metals propped American currency, French bills were not backed by the gold standard. The lack of gold support was the primary bureaucratic foible which lead to a failed currency, inflation and the French Revolution.
However in 1801, more than a decade after the financial hardship began, Napoleon linked the French money supply to the gold standard. The bold move affectively secured a sound currency, revived economic confidence and halted runaway inflation. The precious metals backed currency revived the French economy.
Undoubtedly, the gold standard is required for paper money to prosper. Why then has the dollar thrived without such a foundation since 1971? Indeed, what bulwark allowed the dollar to remain the dominant global currency for decades without precious metals backing?
Alternative Dollar Support: Black Gold
" There is no means of avoiding the final collapse of a boom brought about by credit expansion. The alternative is only whether the crisis should come sooner as the result of a voluntary abandonment of further credit expansion, or later as a final and total catastrophe of the currency system involved." [Human Action, Ludwig von Mises, Regnery, 1966, p. 572.]
After the dollar was decoupled from the gold standard in 1971, the currency stayed remarkably stabile. Some authors propose that dollar strength was artificially bolstered by massive central bank gold sales and derivatives manipulation. Yet decades of gold price suppression does not adequately account for the dollars resiliency. Thus identifying the root of its strength as a world reserve currency, is necessary to determine its fate. In other words, what replaced precious metals as the primary underpinning of the American Dollar? The simplest answer is global demand for oil.
Indeed, the dollar remained the marrow of every modern economy, due largely to demand for oil. Dollar soundness and liquidity guaranteed nations holding it in reserve a constant supply of oil imports.Yet, global demand for oil, will no longer provide sufficient backing due to the Euro alternative. Indeed, the Euro carries an irredeemable 15% gold backing and is gaining support as a primary reserve currency. The desire for gold backed Euros, is partially responsible for the declining demand for dollars. Why can't the dollar flourish in the presence of a more competitive currency?
Gresham's Law: The Dollar & Euro Conflict
"I am not as concerned about the return on my money as I am about the return of my money."
[Will Rogers]
Since 1945, OPEC nations primarily accepted dollars in exchange for oil exports. To insure a steady flow of petroleum, dollar reserves have been maintained globally for over 50 years. As a result, a cycle of unparalleled worldwide dependence combined with staggering money growth occurred. As the sole printer of fiat dollars, the U.S. benefited most from the monopolistic nature of the relationship. The strong dollar policy greatly benefited the domestic economy, as seen in the following statistics:
2/3 of all world currency reserves are denominated in dollars.
Over 80% of global currency transactions. "
More than half of the world's exports. "
All International Monetary Fund (IMF) loans. " 12
Consequently, the majority of exported dollars were held safely beyond the shores of the United States. By maintaining the overabundance of money in global coffers, the lopsided trade arrangement effectively subdued inflation, until recently. 12
Unfortunately, Gresham's Law states that stronger (more valuable) currencies are accumulated and that weaker (less valuable) are exchanged in daily transactions. For instance, a rational consumer would not purchase a $1 loaf of bread with a 1964 silver dollar. The silver content far exceeds the $1 face value. Instead, silver dollars are retained for their precious metals content and less valuable copper-nickel coins are used for regular purchases and payments.
Similarly, the dollar was held by foreign nations as a store of value, just as silver dollars are held today. However, Gresham's Law correctly predicted that the Euro, with its 15% gold backing, would degrade the dollars reserve status to that of secondary distinction: copper-nickel quarters. Since the Euro is the only freely circulating gold propped money, it is replacing the dollar as the worlds reserve currency, i.e., the new silver dollar.
Gresham's Law, Example:
Before the Euro (BE):
The Dollar was the worlds "Silver Dollar."
Most world currencies were base metal "copper-nickel" coins.
After the Euro: (AE):
The Euro is becoming the worlds new "Silver Dollar."
The Dollar is degrading to base metal, "copper-nickel" status.
Thus dollars will continue to repatriate at an alarming rate as Euros and precious metals are hoarded in their place. Eventually the dollar will capitulate as demand for gold and silver overwhelms the currency markets. As the process gains downward momentum, dollars will flood back into the nation. Hyper-inflation, lower equities and bond prices as well as a deflated housing bubble will result.
Ergo, history will likely record another domestic currency crisis due to the dollars unrelenting decline in value.
Regardless of the fundamental arguments, one cannot dispute market price. The next weekly chart illustrates the reality of the significant dollar index down-trend which began in 2002.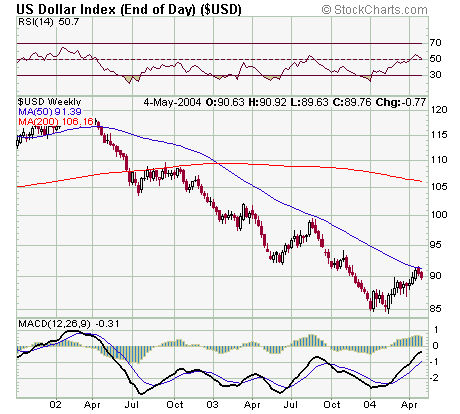 The long-term trend in the dollar has shifted and faith in its value is diminishing. During periods of war and uncertainty, trust in fiat currencies wanes and government policies rarely revive confidence. At some point, ceteris paribus, history demonstrates that individuals demand gold and silver in exchange for devalued paper bills.
Therefore, the government must prepare for the deluge of worthless paper destined to return to the domestic economy. Firstly, a policy of balanced budgets must become the hallmark of all federal, state and local governments. Furthermore, the U.S., Great Britain, Europe, and global countries must immediately re-purchase large reserves of gold and silver before prices accelerate, in order to regain what was frivolously sold during the past three decades. Finally, individuals must be encouraged to accumulate a strategic supply of precious metals for their families security.
War-Deficit Spending-Currency Devaluation-Inflation
(War = Inflation)
" War is inflationary. It is always wasteful no matter how just the cause. It is cost without income, destruction financed (more often than not) by credit creation. It is the essence of inflation." [James Grant, editor of Grant's Interest Rate Observer. 12 ]
Excessive paper money is often printed to finance international conflicts. Similarly, war related spending has damaged the U.S. economy in the past. Once again, the nation has entered a protracted conflict. Following the September 11th, 2001 tragedy, the war against terrorism was launched. Termed operation "Nobel Eagle" the anti-terrorist program has been designated with a 10 year time horizon. Fortunately, no subsequent domestic terrorist attacks have materialized.
Yet, history demonstrates that all protracted American wars lead to inflation and occasionally hyper-inflation. Therefore, the economic costs of a decades long war on terror necessitate careful scrutiny. For instance, during the Civil war one source claims Confederate hyper-inflation peaked at 9000%. 13 Yet, many texts ignore the Northern States inflation figures. In fact, the Northern Greenback reached an 80% inflation level. 13 Although the 80% inflation statistic is marginalized by the Southern States hyper-inflation figure, it illustrates the fact that war affected the currencies of both sides of the conflict.
Clearly, the dollar is vulnerable to inflation in wartimes. In fact, domestic prices surpassed general inflation levels in both World Wars, exceeding the 50% hyperinflation benchmark. 14 One source lists galloping inflation rates of 126% during the First World War. Yet, inflation figures from World War II are less well documented. In 1941 national prices rose steadily and then swelled in 1945 to 108%. 14
Moreover, following the World Wars, the Korean and Vietnam Wars generated higher prices. Although mild in comparison, The Korean War lead to an inflation figure of 12%. Following the Korean War, inflation subsided at 1.72 percent. By 1970, prices increased to 5.72 percent. After the Vietnam War, inflation rose beyond 13 percent. 14
Ergo, the dollar has never enjoyed complete insulation from the economic perils of warfare. In addition to inflation, wartime monetary policies have lead to three defunct national currencies:
Failed Domestic Currencies:
Continental; The American Revolution.
Confederate Dollar; Civil War, Southern States.
Northern Greenback; Civil War, Northern States.
Correspondingly, the excessive spending which invariably accompanies wars jeopardizes economic welfare. As policymakers increase spending, new dollars and debt are created. The growing surplus of bills shifts the money supply out of equilibrium. Society becomes burdened by an excess of money and credit and desire for paper bills diminishes. Demand for the necessities of life, such as: food, energy and basic materials swells. Thus the tide of inflation becomes further roiled. Eventually, the dilated money supply combined with a scarcity of essential commodities sends prices catapulting higher.
Lastly, archived national statistics indicate, de facto, that war leads to inflation and or hyper-inflation. The prosperity of the domestic economy hinges upon the choices of current policymakers. The government cannot afford to ignore the unfolding cycle of deleterious economic events.
Section 2. The Investment Solution
Market Trends and Probability Theory
" When followed to the end, the trend is your friend."
C.G.W
Most professionals agree that investing in the direction of a markets long-term trend is key to success. Another important investing type, the contrarian investor, seeks out-of-favor markets exhibiting new uptrends. Both popular investment strategies capitalize upon the tendency for markets to experience protracted moves.
Similarly, after more than 20 years of lower prices, precious metals have entered a remarkable bull market. Such forceful trends, are easily discernable from price charts. In the attempt to identify new trends within any market, several technical and fundamental indicators are available. Yet surprisingly little has been presented regarding the statistical nature of market trends.
Ergo, the magnitude of a fundamental event determines the characteristics of a new bull market. Interestingly, there is order veiled beneath the chaotic behavior of choppy markets. For instance, small economic ripples merely jostle prices in the short-term, leading to trend-less markets. Such non-trending markets are characterized by even odds of higher and lower closes. Indeed, trend-less markets maintain the equilibrium of a coin toss, exhibiting a 50/50 chance.
Similarly, at the most basic level, market trends can be reverse-engineered and reduced to a simple algorithm. Long-term trends are characterized by a slightly greater likelihood of higher closes, usually 55% or more. Such trends generally require major economic shifts to subsist. For instance, the 1980's-1990's stock bull market was due in part to Ronald Reagan's Cold War victory and the ensuing peace dividend. Likewise, the Internet boom of the late 1990's resulted from excessive monetary expansion combined with emerging technological advancements.
Clearly, significant events increase the odds of recording higher closes above the natural 50% level. There exists an endless number of fundamental shifts capable of inducing exuberant new uptrends. For example, a Federal Reserve rate cut could increase the odds of higher closes and thus the chances of a new market trend. If one assumes that the afore mentioned rate cut, shifts the liklihood of higher closes by 5%, the hypothesis can then be tested with a random number simulator.
Shifting the random generator settings from the natural 50% odds of a higher close, to the estimated 55%, results in the following chart: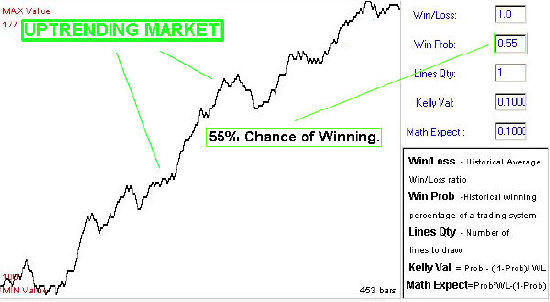 The graph above illustrates a progressive series of higher highs which lead to a new trend. The seemingly insignificant 5% increase in the probability of winning resulted in a resilient uptrend.
Conversely, if one assumes that a negative global event lowers the odds of higher market closes (or winning) by 5%, the chance of winning decreases to 45%. By entering a 45% figure into the random number generator, a downtrend emerges, as seen in the graph below this text:
Indeed, prices finish well beneath the beginning level. As expected, the market formed a downtrend and each nadir was followed by a lower price. In fact, most of the profitable moves occurred in the direction of the down sloping market trend.
The previous charts eliminate some mystery of market trends, by demonstrating how relatively small shifts in the liklihood of higher prices triggers powerful trends. The charts provide a relatively simple view of the often misunderstood, enigmatic market trend.
Moreover, investors are encouraged to seek markets exhibiting strong fundamentals that are recording higher highs and lower lows in price, such as the precious metals markets. Trends tend to persist much longer than expected, i.e. the stock bull market of the 1980's and 1990's. Clearly, investing with the trend overwhelmingly places the odds of success in the grasp of the investor. Thus initial gold and silver positions should be increased, with smaller sized orders, as each subsequent purchase become profitable.
Forecasting Silver Prices with Fibonacci Analysis
" Within our lifetime, silver may very well become more valuable than gold, as it was in ancient Egypt."
[Jerome Smith 15]
When applied to technical analysis, the Fibonacci sequence often supplies clues to future market prices. Based upon the golden mean from ancient Egypt and Greece, the sequence is credited to Leonardo Fibonacci. 16 Fibonacci was born in 1175, in the Italian city of Pisa. Although very simple in its design, the ingenious formula captures a recurrent law of physics. In fact, examples of the concept exist within the geometry of: the curved walls of sea shells, the pattern formed by sunflower seeds, the arms of spiral galaxies, most branching plants and the length of human finger segments.
Moreover the series builds upon the previous number in the set. For instance the following group of numbers illustrates the sequence:
Fibonacci Sequence: 1 1 2 3 5 8 13 21 33 54.
Adding two consecutive numbers in the series leads to the next Fibonacci number. For example, by adding 2 with the following digit 3, the number 5 is the result:
Fibonacci Sequence: 1 1 (2 + 3) = 5 8 13 21 33 54.
In addition to patterns within the natural world, the sequence often appears within market prices. When applied appropriately, Fibonacci statistics can provide reasonable market price projections. Arguably, the series offers a reliable form of technical forecasting.
For instance, when prices move forward sharply, they often retrace by a corresponding Fibonacci figure, such as 38%. However, prices often over-shoot the 38% level and reach the 62% Fibonacci figure, before resuming the advance. Therefore, many investors adopt the average of the two numbers, the 50% level, for price projection. Put differently, investors use the mid-point of the prior move to determine the retracement target and thus set the appropriate limit orders.
The chart beneath this paragraph examines long-term silver prices using Fibonacci retracement figures. Clearly, silver prices peaked in the early 1980's and began a 20 year bear market. In order to create a Fibonacci price forecast, the highest high of $80 is compared with the subsequent lowest low of $4.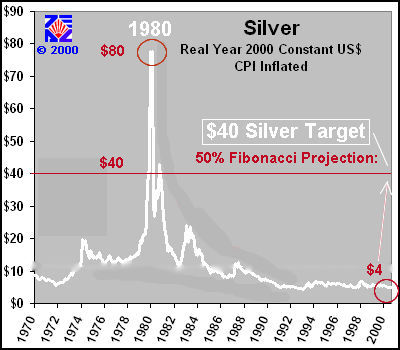 The chart above is modified from the original at:
Zeal LLC:
www.zealllc.com
Consequently, the silver bear market reached a low of approximately $4 after peaking at an inflation adjusted price of $80. The 50% Fibonacci retracement figure of $4 and $80 approaches $40. Therefore, a reasonable Fibonacci target for silver is $40. In fact, if prices exceed the $40 level, a significant bull market will likely commence, leading to prices in excess of the 1980's peak.
Furthermore, in 1477 silver peaked at $806 per ounce, the highest inflation adjusted price ever recorded.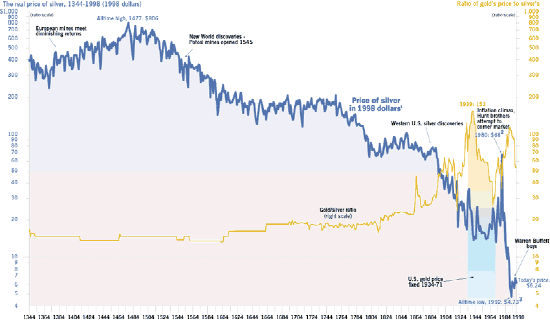 However, in the past 500+ years, silver has declined from $806 to $4 an ounce, losing over 99% of its value. Interestingly, there has never been a 50% retracement of the $806 price level. Thus, a 50% Fibonacci retracement from the $806 level would lead to a silver price near $400 per ounce. Although such a market move is pure speculation, Internet stock charts from the 1990's illustrate the reality of such an event.
Indeed, Microsoft's stock price, on a split-adjusted basis, rose from nearly 60 cents in 1990 to nearly 60 dollars in the year 2000, an increase of 100 fold or 10,000% (prices are split-adjusted.)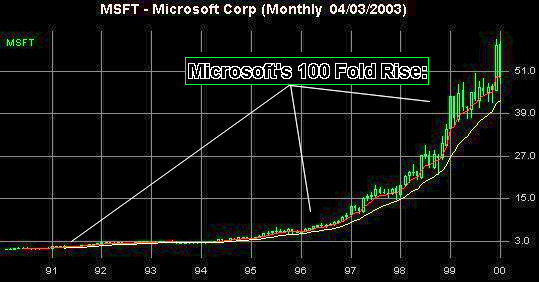 Chart and data above from:
www.iqchart.com
Clearly, a parabolic rise in silver from $4 to the $400 would represent a similar 100 fold increase, if prices retrace to the long term 50% Fibonacci level. Although a stellar rise in the price of silver may not seem probable, recent market bubbles combined with Fibonacci statistics indicate that the event remains possible.
Current Silver Market Conditions
I expect the price of silver to reach $50-$100 per ounce."
Jim Puplava, FSN. 20
In November, 2003, after consolidating for several months, the silver market rocketed to an extremely overbought level. In fact silver increased by approximately 70% in value: from $5 per ounce to over $8.5, in a few months. The move was so abrupt that the market left several unfilled gaps in the process. In the past few weeks, the silver market has corrected and closed all of the open gaps. However, the downward correction was very powerful and created two unfilled gaps, as seen in the chart below this text.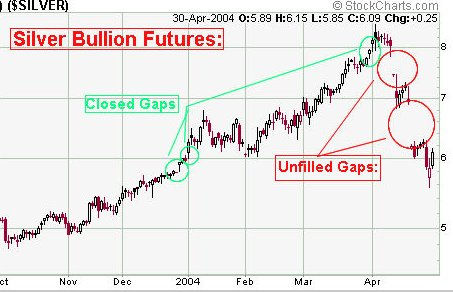 Furthermore, the gold to silver ratio rocketed higher from the 51 level to almost 68 in a very brief period. Notice that the gold/silver chart also shows two large unfilled gaps. The gaps mirror those from the silver price chart.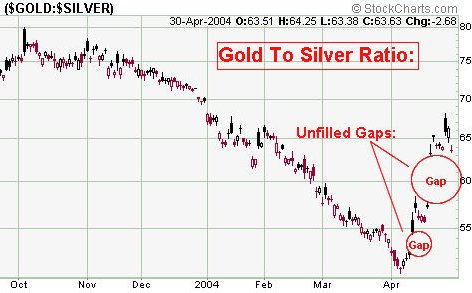 In bull markets, large downward gaps are often filled quickly, offering spry investors an excellent opportunity to increase market exposure with minimal risk. Further, the decline from $8.5 to $6 offers investors a 30% decrease in the cost of silver bullion. Interestingly, the 50% Fibonacci retracement figure suggests an entry price of $6, very close to the current price.
Once silver begins its ascent, the first price target is $7, the high of the second gap. Next, the first unfilled gap will likely be filled at the $8 level. Clearly, investors interested in building long term positions in silver bullion have a rare opportunity to capitalize upon the extreme volatility of recent market conditions.
Conclusion
" Paper money has had the effect in your state that it will ever have, to ruin commerce, oppress the honest, and open the door to every species of fraud and injustice." George Washington, in letter to J. Bowen, Rhode Island, Jan. 9, 1787 17
For over one century, the nation benefited from a remarkably stable dollar and subdued inflation figures. Global demand for oil imports lead to an insatiable desire for dollar reserves. Thus domestic policymakers printed vast amounts of money without realizing higher inflation. Yet, the dollar is currently losing its world reserve currency status due to decades of excessive money printing, competition from the gold backed Euro and government debt. Therefore, global demand for dollars is unlikely to be revived due to greatly diminished confidence in the government policies backing the currency.
Thus, investors must prepare for hyper-inflation as dollars continue to repatriate at an accelerated pace. Following the 1990's stock market bubble, where trillions of dollars vaporized, market pundits are questioning whether the current dollar quandary will undermine economic stability and mirror the stock market decline of 2000-2002.
Therefore, the coming dollar deluge will require governments and individuals alike to act defensively. The ideal investment hedge during inflationary periods has historically been precious metals. Individuals can protect themselves from wealth erosion with silver and gold equities as well as bullion.
Indeed, from a technical perspective there exists a rare opportunity to invest in silver at deflated prices. When compared to the 15-1 gold to silver ratio of the past, the current 65-1 number indicates the potential for profitable arbitrage. Current volatility in the silver arena is providing investors a 30% discount from recent market highs, nearing the 50% Fibonacci retracement level. Furthermore, Fibonacci analysis suggests a parabolic move in silver prices is conceivable. Undoubtedly, precious metals will remain an important portfolio diversification asset and silver will glimmer as the investment vehicle of choice, in the coming years.
For Future Updates, Please Bookmark The TFN Web site:
www.geocities.com/afafafa30047/TRENDTRADERS3.html
Endnotes:
[1] CMH. "Quo Vadis Greenback? US Dollar Index 80-85 Target." July, 1st, 2002.
www.gold-eagle.com/editorials_02/cmh070102.html
[2] Stott, Don. "CONSEQUENCES (Many Times Unintended)" Chapter 5, Money.
ISBN # 0-9668947-0-7 © 2001 www.ak.lp.org/conseq/conseq05.htm
[3] International Monetary Fund (IMF) as quoted by:
(AFP) Thursday September 18, 9:17 PM DUBAI
"US economy picking up steam but twin deficits perlious."
http://asia.news.yahoo.com/030918/afp/030918131755eco.html
[4] Puplava, Jim. "Main Street." FSO, Market ,October 10th, 2003.
www.financialsense.com/Market/archive/2003/1013.html
[5] Russell, Richard. "Russell On the Dollar & Gold Stocks."
Editor-in-chief - DOW THEORY LETTERS. September 23, 2003.
www.gold-eagle.com/gold_digest_03/russell092503.html
[6] Willie, Jim CB. "A Week with Richebächer in Cannes."
www.gold-eagle.com/editorials_03/willie091503.html
[7] BBC News U.K. Edition. "Buffett bets on weaker dollar." Tuesday, 28 October, 2003, 10:52 GMT
http://news.bbc.co.uk/1/hi/business/3220189.stm
[8] Bonner, Bill; Wiggin, Addison. "Bat Meat *** Templeton says dollar to fall 40% ... get out of stocks, real estate..." The Daily Reckoning. Paris, France. Friday, October 17, 2003. http://news.goldseek.com/DailyReckoning/1066407132.php
[9] Bonner, Bill. "The Case For Gold."
www.agora-inc.com/reports/905STCFG/W905D525/home.cfm
[10] Dr. Hein, Paul. "All Work and No Pay: Life Saving Lessons in Modern Money."
As quoted by: FAME, a 501(c)(3) not-for-profit educational organization:
"Notable Quotes." www.fame.org/NotableQuotes.asp
[11] Professor Messer-Kruse. Lecture 17: War and Society Under the Art. of Confederation. Copyright © 1999 The Board of Regents of the University of Wisconsin System
www.freeuniv.com/mirror/h101w7.htm
[12] Grant, James. Grant's Interest Rate Observer September 14th issue.
www.grantspub.com
[13] Tax Analysts. 1999. "1861-1865: The Civil War."
www.tax.org/Museum/1861-1865.htm
[14] Blanchard Economic Research. "War and Inflation." November 5, 2001.
www.gold- eagle.com/editorials_01/blanchard110501.html
[15] Smith, Jerome. "Silver Profits in the Eighties"
As quoted Cook, James R. "Sensational Silver." August 2000.
www.investmentrarities.com/8-2000.htm
[16] Dr. Knott, Ron, Ph.D, M.Sc, B.Sc (Pure Maths) C.Math, FIMA, C.Eng, MBCS. former Lecturer in the Department of Mathematics and Computing Sciences, University of Surrey, Guildford, Surrey, UK. "Who was Fibonacci?"
www.mcs.surrey.ac.uk/Personal/R.Knott/Fibonacci/fibBio.html
[17] FAME, a 501(c)(3) not-for-profit educational organization: "Notable Quotes."
www.fame.org/NotableQuotes.asp
[18] Buffett, Hon. Howard. "Human Freedom Rests on Gold Redeemable Money." U. S. Congressman from Nebraska.
http://home.earthlink.net/~mignon1/buffet.html
[19] Rogers, Jimmy; Faber, Marc; Yergin, Daniel.
"Riverside Conversations."As reprinted at FinancialSense.com.
www.financialsense.com/transcriptions/Riverside.htm
[20] Puplava, Jim. FSN audio broadcast, October 4th, 2003.
www.netcastdaily.com/fsnewshour.htm
[21] White, Andrew Dickson. "Fiat Money Inflation in France, How It Came, What It Brought and How It Ended." Footnote 41. Project Gutenberg Release #6949 (November 2004)
http://ibiblio.org/gutenberg/etext04/fiatm10.txt
Additional Sources:
Dr. Chananie, David. "Fighting Iraq, Will It Re-ignite Inflation? Thoughts About How Much It Will Cost You."
www.frugalfun.com/costs-of-war.html
Dr. Putland, Gavin R. "The War to Save the Dollar." Brisbane, Australia. March 27, 2003.
http://www3.mb.sympatico.ca/~djeidse/savethedollar.htm
Winter, Mark. Copyright 1993-2003 [The University of Sheffield and WebElements Ltd, UK]. All rights reserved.
"Silver Historical Information."
www.webelements.com/webelements/elements/text/Ag/hist.html
Stott, Don. "CONSEQUENCES (Many Times Unintended)" Chapter 5, Money. ISBN # 0-9668947-0-7 © 2001 www.ak.lp.org/conseq/conseq05.htm
www.gold-eagle.com/editorials_00/hickel021400.html
www.amosweb.com/cgi-bin/gls.pl?fcd=dsp&key=Gresham's+law
www.news.com.au/common/story_page/0,4057,2901959%255E15574,00.html
This second article of the series: "To buy Or Not To Buy Precious Metals", was written for professional investors, with varying degrees of precious metals investing experience. The author intends to present the technical and fundamental case for gold and silver only.
Chris G. Waltzek, M.B.A. © 2004
Email this Article to a Friend

---
---