Do You See, What I See?? (A Bottom)

Dudley Baker
PreciousMetalsWarrants

Do you see, what I see? Sounds like a great song we all remember, but for me it 'could be' the first signs of a bottoming process in the precious metals and the HUI index and a topping of the U.S. Dollar Index.

Many analysts are writing articles these days providing their favorite charts and analysis and while our gut feeling is that we have bottomed, we may not be out of the woods just yet, no one knows for sure.

It is acknowledged there is good support in the 565 - 575 range for gold, which is where we are currently trading as I write this. From the charts below as of the close on Tuesday Oct 10th I can see a positive divergence has formed in the relative strength index. (RSI is trending up while the prices have continued down). First signs of a bottom? We shall see.

The first chart is of the US Dollar index. What we see is the price approaching the 200 Day MA at 87.23 and the RSI and Stochastics both approaching 'overbought areas'. So, it would not be unusually to expect a resumption of the decline from around these levels.
The second and third charts are of the spot GOLD and the HUI, gold index.
Notice that the most recent lows were not confirmed by the RSI and the Stochastics and thus 'maybe' signally a bottom.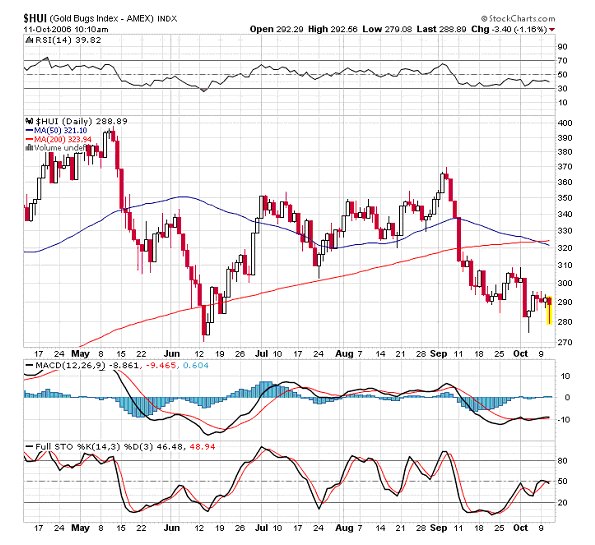 While we are optimistic we have established a bottom, we do know we are in a very favorable period of seasonality, we as well as other analysts could still be a bit premature on this call. Remember that most of us will never get it exactly right and this recent correction or to some a 'blood bath' has presented us investors with many great opportunities.
Investors have an increasing number of ways which to play this bull market in the precious metals.
There are ETF's, exchange traded funds, gold and silver bullion, mutual funds including the UNWPX, part of the U.S. Global Investors family of funds, mining stocks and you might consider long-term warrants on the mining shares. In a recent article, Anticipate Before You Participate: Part 2' by U.S. Global Investors; headed by the savvy and respected Frank Holmes, they explain how they make use of long-term warrants in their funds. Most investors are knowledgeable with respect to options, leaps and futures, but many are not up to speed on warrants, so this is a good read for all investors and other analysts and newsletter writers.
In our opinion, and admittedly we have been nervous lately (perhaps another sign of a bottom), if you believe we are in a bull market, then you should be buying now and preparing for the next major up move. Yes, perhaps we are early but then we could be right on. Select your investments wisely and exercise patience.
Dudley Baker
Ajijic/Guadalajara, Mexico
info@preciousmetalswarrants.com
PreciousMetalsWarrants
October 11, 2006
Dudley Baker is the owner/editor of Precious Metals Warrants, a market data service which provides you with the details on all mining & energy companies with warrants trading on the U. S. and Canadian Exchanges. As new warrants are listed for trading we alert you via an e-mail blast. You are provided with links to the companies' websites, links to quotes and charts, tips for placing orders and much, much more. We do not make any specific recommendations in our service. We do the work for you and provide you with the knowledge, trading tips and the confidence in placing your orders.
Disclaimer/Disclosure Statement:
PreciousMetalsWarrants.com is not an investment advisor and any reference to specific securities does not constitute a recommendation thereof. The opinions expressed herein are the express personal opinions of Dudley Baker. Neither the information, nor the opinions expressed should be construed as a solicitation to buy any securities mentioned in this Service. Examples given are only intended to make investors aware of the potential rewards of investing in Warrants. Investors are recommended to obtain the advice of a qualified investment advisor before entering into any transactions involving stocks or Warrants.