| | |
| --- | --- |
| | With Reprint Permission of The Bull & Bear |




| | |
| --- | --- |
| | Teryl Resources and Partner Kinross Gold Move Gil Joint Venture to Development Stage |
TERYL RESOURCES
CORPORATION
TSX Venture Exchange: TRC
OTC BB: TRYLF
Contact: John Robertson
1103 -- 11871 Horseshoe Way
Richmond, BC V7A 5H5, Canada
Toll Free: 800-665-4616
Phone: 604-278-5996
Fax: 604-278-3409
E-Mail: ir@terylresources.com
Web Site:
www.terylresources.com
Shares Outstanding: 34,778,000
Active Float: 20,000,000
52 Week Trading Range:
Hi: C$0.56 Low: C$0.30
Fifteen years of hard work are about to pay off for Teryl Resources (TSX-V: TRC; OTC BB: TRYLF) --
www.terylresources.com
-- as its joint venture partner, Kinross Gold, moves their Gil Project into the development stage by budgeting $793,800 for a full feasibility study, expected to be completed by the end of the year.
"This means that Teryl could soon be a junior producing company," says Teryl President John Robertson.
"We are in a great situation with a property that has the potential to generate a substantial cash flow."
What makes the Teryl story even more compelling is that the company has not one, but four very promising gold projects in Alaska's Fairbanks Mining Division – and all are virtually next door to Kinross' Fort Knox Mine. The Fort Knox is Alaska's largest open pit mine, producing over 1,000 ounces of gold per day at an average grade of just under 0.03 opt.
For Teryl, the proximity of the Kinross mill means the company does not have to raise the potentially hundreds of millions of dollars it normally would take to build a new mill. Nor will Teryl have to buy the expensive trucks ($1-million each) needed to move its ore to Kinross' processing plant – they are already available from the True North Mine which is closing its operation.
Once Kinross makes a production decision on the Gil Project – which appears to be the main objective at this point, all that needs to be done is to build a road sufficient to bear the weight of ore-laden trucks.
Kinross' partnership with Teryl is just as important to that company as it is to Teryl. The Fort Knox mill will want to replace the high grade ore from Kinross' True North deposit. There is plenty of low grade ore left, but Teryl's high grade assays at the Gil and its other properties mean operating the Kinross mill should remain economical
.
Gil Project Development Plans Move Ahead
During the coming year, Kinross will perform extensive engineering and airborne geophysical studies to fill out an extensive exploration database. To accelerate actual start of production, the permitting process will be started even before the feasibility study is completed.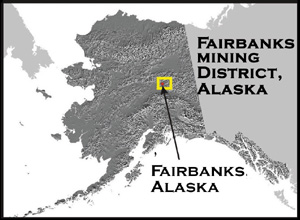 Planned engineering work includes modeling the deposit, developing a mine plan, as well as a pit and access road design, geotechnical review for pit slope angles and a dewatering review of related test work.
Baseline studies, begun this year and continuing in 2006, will include fugitive emissions, geochemistry, aquatic biota, wetlands delineation, socioeconomic analysis, and noise and visual impact studies. An extensive exploration database will be compiled and interpreted to identify new targets and help to establish an initial resource.
A high resolution aeromagnetic and EM resistivity survey will be flown for the first time over the Gil Venture property. The goal is to produce a more detailed structural and lithologic base map of the Fort Knox Trend. Robertson says the survey may pinpoint drill targets on the Gil – and, if they are lucky, another 4-million-ounce Fort Knox-type deposit.
"There is a good chance we will have one or more targets we can drill this year. It will be quite exciting," says Robertson.
Permitting activities will consume most of Kinross' 2005 development budget. More than $500,000 will be spent on the process of obtaining required permits including a plan of operations, solid waste disposal, storm water discharge, wetlands, and plans for monitoring, reclamation, and closure.
A cultural resource survey was completed last year and surface and ground water hydrology data, begun in 2000, is nearly complete. Once the U.S. Army Corps of Engineers completes a required environmental assessment, the permitting process can be completed.
Exploration on the Gil Project To Be Expanded
During the past year, several new high grade quartz veins were discovered on the Gil Venture property. The Gil's main zone ranges up to 80 feet thick, trends over 2,500 feet and remains open along strike and at depth. Mineralization found at the Intersection Area, east of the North Gil and northeast of the Main Gil, shows scattered zones of high grade gold. Sourdough Ridge, east of the Main Gil, contains a mineralized trend striking to the northeast. Gold found in veins and shears is similar to that of the Main Gil.
Since 1991 when Kinross joined the project, the partners have spent some $10 million to define a resource on the Gil Project. That resource of 400,000 drill indicated ounces of gold (10 million tons grading 0.04 ounces gold per ton) is expected to grow upon completion of the feasibility study this year. Exploration efforts have examined only a fraction of the property so far.
High Grade Placer, Lode Targets Discovered at Fish Creek Project
Teryl has completed a busy year on the Fish Creek property, a joint venture with Linux Gold (also managed by Robertson) that shares a common boundary with the Gil Joint Venture Project. Jeff Keener, a leading placer geologist, reports that several lode targets were discovered during the placer program. More than twenty drill holes penetrated a tight cross section across the gold placer deposit discovered last year during a magnetic survey. The survey followed up on extremely high grade placer gold found during excavation of the Fort Knox mine fresh water dam just upstream of the Fish Creek property. This year, Teryl plans a drilling program to evaluate the upper part of the paystreak and to drill the lode targets which were identified by a magnetic survey.
West Ridge Claims Expanded
Exploration on Teryl's exciting West Ridge property, will follow up on previously identified mineralization ranging to 1.68 grams of gold per tonne over 35 feet and 2.2 gpt gold over 20 feet. Drilling at the adjacent Fox Creek claims, where Teryl has secured a mining lease, suggest the presence of intrusive related and/or intrusive hosted gold mineralization. The West Ridge is less than 8 kilometers from Kinross's original 4-million-ounce gold deposit and adjacent to Kinross's True North deposit, the primary ore source for Kinross' Fort Knox mill.
Teryl also holds a 10% net profit interest in the Stepovich claims owned by Kinross.
Investment Considerations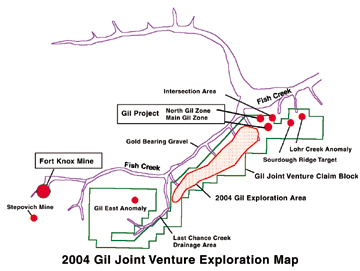 There is no doubt Teryl is operating in a geologically rich area. Since the 1980s, the Tintina gold belt has yielded gold resources in excess of 23 million ounces of gold from ten different deposits.
It is now clear a production decision on Teryl's Gil Joint Venture property will be made by Kinross in 2006. It is also clear from the company's major financial commitment and extensive feasibility and pre-production plans that Kinross fully expects that decision to be positive. This is all very good news for Teryl.
The icing on Teryl's cake is the potential for equal or even greater resources on the company's adjacent properties – Fish Creek, West Ridge and Stepovich. Of these properties, the most advanced is Fish Creek which Robertson says could make Teryl a "double winner."
"Our downside risk is to go to production with the ore we have now. But the upside potential is that we will find another Fort Knox deposit – four to five million ounces of gold with a mill just sitting there waiting to produce that ore," says Robertson.
A major key to the future success of Teryl's joint venture with Kinross is the extensive infrastructure already in place. Teryl recently closed a $600,000 private placement, more than enough to meet this year's 20% share obligation in the Gil Project.
"There is little question that 2005 will be a watershed year for Teryl," says analyst Jeff Howlett. "We believe that there is considerable potential in Teryl's future market performance."
Or, as Teryl's President John Robertson puts it, "It's pretty exciting when you get to this stage. To have properties and a partner of this quality, to be in the midst of a feasibility study, and to be so close to production is like a dream come true."




-- DISCLAIMER --

ADVERTORIAL DISCLAIMER-- Teryl Resources Corp. has paid a fee to The Bull & Bear Financial Report for the advertorial and for the promotional services provided by The Bull & Bear Financial Report. The directors, employees of The Bull & Bear Financial Report do not own any of the stock of the above-mentioned company.

SPECIAL NOTE REGARDING FORWARD-LOOKING STATEMENTS -- Certain statements in this document constitute "forward-looking statements" within the meaning of the Private Securities Litigation Reform Act of 1995. Such forward-looking statements involve known and unknown risks, uncertainties and other factors which may cause the actual results, performance or achievements of the Company, or industry results, to be materially different from any future results, performance, or achievements expressed or implied by such forward-looking statements. Such factors include, among others, the following: risks inherent in restrictions of foreign ownership; uncertainties relating to carrying on business in foreign countries; the Company's history of operating losses and uncertainty of future profitability, uncertainty of access to additional capital environmental liability claims and insurance; and dependence on joint venture partners. Certain forward-looking statements will be identified by a cross-reference to the Special Note. Forward-looking statements are typically identified by the words: believe, expect, anticipate, intend, estimate and similar expressions, or which by their nature refer to future events. The Company cautions investors that any forward-looking statements made by the company are not guarantees of future performance, and that the actual results may differ materially from those in the forward-looking statements as a result of various factors, including but not limited to, the Company's ability to be able to continue its substantial projected growth, or be able to fully implement its business strategies, or that management will be able to successfully integrate the operations of its various acquisitions.




Email this Article to a Friend




---

---