INFLATIONARY PRESSURES RETURN

Donald W. Dony, FCSI, MFTA

Commodities are a leading indicator on inflation because they move in anticipation of inflation. They are also one of the first inter-market groups to react to growing economic pressures. Normally commodities advance first followed by rising bond yields whose effect eventually flows over to the stock market. As this chain reaction begins with the escalating prices of natural resources, their trading direction is important.
After dropping in the second half of 2006 and reaching a critical low in mid-January 2007, the first corrective phase in the secular bull market for the CRB Index has now ended. In Chart 1 of the CRB Index, support is found in the 280-290 level during the pull back. The base-building process and turning around of raw materials is now beginning. This development will take several months to complete but it marks the returning strength of commodities.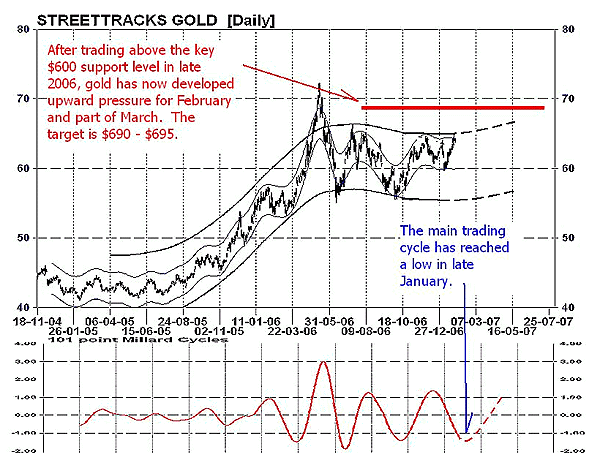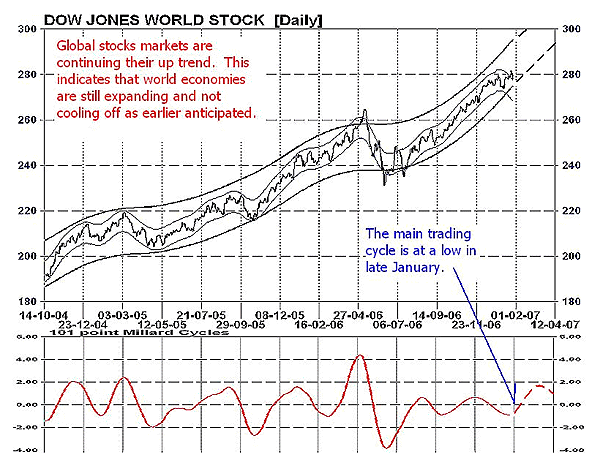 Gold is often the first commodity to react to building inflation due to the fact that it is the most sensitive of all the natural resources to escalating inflationary strain. In Chart 2 of the gold ETF Streettracks, steady demand has keep this precious metal above the $600 main support level and technical evidence indicates increasing upward pressure will begin in February. The target is $690.
Stock markets are also a leading indicator on economy activities and usually lead by 6-9 months. Global equities indexes (Chart 3) remain firmly fixed in a solid up trend which indicates investor optimism and continued expanding growth is anticipated.
The well excepted concept of global economic cooling in 2007 is being re-examined in light of economic growth throughout many parts of the world. Interest rates were anticipated to ease. In reality, inflationary pressures are building again. For example, the Bank of England (BoE) has recently raised their rates and Japan is considering an increase in the near future. Both signs of growing and not weakening economies.
MY CONCLUSIONS
The turnaround in commodities signals many events. It points to the expectation of greater global economic activity coming later in 2007. Also, with the evidence of steady world equity markets, the prospects of a slowly cooling economy, and lower consumption of raw materials, quickly evaporates. And finally, it indicates demand will gradually outstrip supply for commodities again, as in 2005 and 2006, and drive gold, oil and base metals higher. This all equals the return of inflation.
January 31, 2007
Your comments are always welcomed.
Donald W. Dony, FCSI, MFTA
Additional information on commodities and the U.S. Dollar is in the January Newsletter. Go to www.technicalspeculator.com and click on member login.