How To Safely Gain Over 1000% In A Few Years
By Picking The Best Discounts

Jeffrey Robert Hunn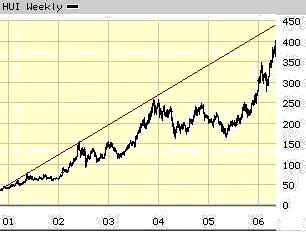 Some people are curious how I identified the top-performing US stock sector of the decade, still early in a gain of over 1000%, as well as how I forecast the emerging decline in real estate, long before it started, among many other accurate forecasts. Here is how... and it was easy.
Part 1: BACKGROUND
+1000%!!!!!
First, because all this may sound amazing, I will include here both charts and web addresses for those who are interested in confirming not only the price gain, but my comments over time. Here is my first published forecast, which was published on March 3, 2003, shortly after the broad US stock market had dropped 46% in 2.5 years: http://www.gold-eagle.com/editorials_03/hunn030303.html

Immediately above is a pricing chart of the investment that I featured most favorably in that article: HUI, a sector of 15 US stocks. While mainstream US Stocks were continuing their drop of 46%, this sector began the rally that is pictured here. It was obvious already by the surging prices that something was different about this sector from mainstream stocks- something important.
WHAT was so different about HUI that was so relevant to its gains?
First, HUI is a sector of 15 conservative companies that mine the "precious metals" of gold and silver. So, there is some correspondence between HUI and the rest of the US stock market, but not as much as in most other sectors of US stocks, for businesses which focus more on basic needs like food, housing, transportation, and energy as well as the primary tools of business (like computers or WMDs) and the most essential industrial materials. Gold and silver are less functional (generally) and more "financial" or symbolic- as in money (currency). So, rising prices in HUI reflect optimism, exuberance, and a luxurious satisfaction that basic needs are secure. When people are starving, they just do not hoard precious metals (or money); they typically exchange anything for food.
Second, while mainstream stocks had been rallying for most of 1980-2000, the prices of gold and silver had been discounted month after month and year after year for about the same period of time. After adjusting for inflation, gold was down about 80% and silver about 95%.
That huge two-decade discounting of gold (and silver) indicated that a huge proportion of investors had sold gold (and silver) in order to buy other things such as mainstream stocks or real estate. Therefore, the potential was immense for a surge of investors into buying gold and silver- because so few investors were interested in them as of 2000. Conversely, as of 2000, the potential for a surge of investors into buying US stocks in general was rather small- for most investors were already heavily invested (very optimistically) into US Stocks.
Further, as you may know, many of the companies of the HUI sector were not especially profitable during the two-decade discounting of gold and silver. However, If it cost them $220 to mine an ounce of gold, then they made only a small profit when gold was $250: $30 per ounce. However, by the time gold went to $520, if it still only cost the companies of HUI $220 per ounce to mine, the profit per ounce was then $300 (=$520-$220), or ten times as much profit as when prices were $250. This is why HUI rose in price so much faster than the cash price of gold or silver, and everyone who knew a little about the profits of mining companies already knew of this principle: net profit multiplies with a surge in sales price, since "overhead" or production cost is relatively stable. As metals prices rose even more, the companies of HUI also re-opened mines that were more expensive to mine (as in $300 per ounce or $400 per ounce), increasing their volume of production and thus increasing total profits.
So, the underlying principle of the recent surge in HUI was just as true in 1980 or 1990. The primary difference in late 2000 was that two-decade discounting of the precious metals mined by the companies of HUI. That is, the potential was immense for a surge of investors into buying gold and silver.
What was the catalyst for the rally of gold and silver pricing?
That is, why after two decades of discounting, was there suddenly a surge of buying gold and silver? This simplest explanation is that, as of early 2000, US Stock prices were faltering.

This was a re-distribution away from US stocks into investments perceived as more attractive, such as the perceived "safe havens" of precious metals (as well as real estate). The more that stocks were sold (discounted), the more buying of alternatives. (Then, as of late 2002, the manic booming in US real estate catalyzed something of a rebound in US stocks, as investors apparently perceived that their assets in real estate were so safe that they could risk investing their accounted gains from real estate equity appraisals back into stocks- or even more precious metals- even though their real estate gains were borrowed, not owned outright.)
In summary, the primary factor in the 1000% gain of HUI was the huge potential for investors to surge into the underlying core of that industry, that is, the relative discounting of precious metals for two decades, as US stocks (and real estate) were more lucrative. The triggering factor was the 46% decline in US stocks. Finally, the profit factor for the mining companies (why the gain was so large) was the multiplication of net profits as the sales price of precious metals rose quickly while the production costs stayed relatively consistent.
WHAT about the future?
Two points: first, that sector of 15 US companies really went from about $35 to $400, a gain of over 1000% in 5.5 years. I repeatedly emphasize this because of this second issue: most investors have never heard of HUI or it's immense gains, and they may be waiting for the mainstream media or their mainstream advisor to tell them about it, or, more specifically, to tell them what to do.
One problem with waiting like that is that a mainstream advisor may not be able to identify the top-performing US stock sector of the last 10 years, even after it has rose over 1000%, (or, more importantly, to identify the top-performing investments of the next 10 years). If you dare, contact a mainstream advisor and ask them to identify the top-performing US stock sector of the last decade. See if their answer is wrong or right, comparing it to HUI. You might also ask them when they first forecast a slowing in US real estate....
On 3/3/03, I wrote: "Yes, we can profit from the collapse of the credit bubble and the subsequent stock market divestment [decline]. However, real estate has not yet joined in a decline of prices fed by selling (and foreclosing). Unless you have a very specific reason to believe that real estate will outperform all other investments for several years, you may deem this prime time to liquidate investment property (for use in more lucrative markets) [emphasis added]."
In the following months and years, I have actually written more about the emerging decline in real estate (which started in mid-2005) than I did about most any other investment, even the gain in oil prices of over 600%. While my warnings started a few years before the decline, it takes an unusually long time to sell real estate (especially when there is rapidly decreasing demand and lenders eventually begin raising their minimum down payments back up to 10% or 20% as in prior decades). While I have focused on a variety of multi-month gains, real estate has been my target of constant warning, with the various other markets cycling between warnings and emerging opportunities.
IS the future "written all over" the present (of real estate markets)?
In light of years of warnings about a pending real estate decline, let's look at some actual housing data briefly. One of the very best regional markets in recent decades has been Phoenix, Arizona. How has it done in the last couple of years? (Here's where I got the data: www.housingtracker.net/old_housingtracker/location/Arizona/Phoenix .)
First, inventory (supply or the number of single family homes listed for sale) is up by more than three hundred percent from 7,447 to 32,235. That is not normal. Below is a chart showing the changes in supply and demand (for both single family homes and condos in Greater Phoenix).
Why is inventory up so far? The short answer is that supplies rocketed because demand dropped significantly (by about 50%), while builders kept on churning out homes enthusiastically (and still are).
Builders have done this by way of a lending market eased beyond the extent of any prior incentives. Nationwide, minimum down payments dropped below 5%, then disappeared in many cases in favor of "cash back at close," and then sub-prime lenders even offered mortgages with with gimmicks like "no interest payments for 2 years." But behind those unprecedented incentives was the core political influence of the Federal Reserve: while open market interest rates were over 4%, the Fed's prime rate (from which real estate lending rates are determined) was discounted temporarily all the way down to just 1% (privileging home-borrowers at the expense of bond investors, etc...). This easing of real estate lending sucked into the housing market the remaining demand quickly, thus eventually producing an inevitable decline in demand, even as some incentives were eased yet further, but with fewer and fewer investors left to enter the market or extend their enthusiastic over-exposure. So, what happened to prices?
Next, notice that the median asking price for those single family homes listed for sale in Greater Phoenix is currently down by over 15% (down by over $60k from about $380k). One relevant question is this: given that supply and demand have not returned to previous normal levels- with supply still up many hundreds of percent and demand (number of sales per month) still way down- what is likely to happen to prices in the future?
I will address below how I knew ahead of time that the current US real estate decline was coming as well as how to identify investments that gain over 1000% in only a few years. First, let me note that just as Phoenix was a leader in the nationwide boom, it is now the leader in what appears to be a nationwide decline. According to the National Association of Home Builders, their rating of the nationwide amount of "Prospective Buyers" is down by more than 50%. The decline in prospective buyers has led the NAHB's Housing Market Index to a more than 50% decline as well. Both statistics are at all-time lows as of June 2007, the last monthly data reported as of now. For further comments on the housing market and NAHB's data, see http://groups.yahoo.com/group/redpill_info/message/315. My other messages in that group reference the exact top in real estate as well as forecasts for many other markets.
In regard to HUI and precious metals, note that the huge shift emerging in real estate markets (and lending markets) is very negative for investments that reflect "optimism, exuberance, and a luxurious satisfaction that basic needs are secure." When folks are trying to keep banks from foreclosing on their mortgage loans, there could be a flood from "symbolic" gold to "functional" dollars. Those dollars can keep the armed mercenaries (sheriff deputies) from "liberating" debtors from "their" homes, that is, the homes/properties collateralized by lenders and controlled by governments who regularly "evict tenants" for failure to pay protection money/property rental (property tax).
part 2: BASIC PRINCIPLES
SO, how do I identify the best discounts?
So, all of that has been an introduction to how I knew ahead of time that the current US real estate decline was coming as well as how to identify investments that gain over 1000% in only a few years. It's all about "the best discounts."
This is very simple to understand, though many may not understand it yet. Of course, "the best discounts" are both the safest and most lucrative investments. The best discounts have the most potential to gain, since they are currently discounted, like an item on sale temporarily, but about to go back to a higher regular price. They also have less potential to decline, since they are already discounted, while everything else is ripening to become discounted eventually (even if the discounting is delayed temporarily by the latest political interventions by the Federal Reserve, who discounted the prime rate for lending, leading to a final ballooning or inflating of the bubble in real estate).
Basically, to pick the best discounts, I first (1) understand "what raises prices" and then (2) identify how much potential each specific market has for an increase in "what raises prices." Is the logic of that clear enough?
WHAT raises prices?
If so, consider this: the only way to raise prices is for an increase in demand for that investment... RELATIVE to some other investment. People have to sell one thing in order to buy another.
For instance, if demand for the US Dollar is flat (unchanging), while demand for real estate is increasing, the dollar pricing of real estate will increase. People will "sell dollars" (exchange them) to "buy real estate." Why? The demand for real estate is growing relative to the demand for dollars.
Similarly, if the demand for real estate is flat, but the demand for the US Dollar is dropping, then the dollar pricing of real estate will still increase (or, in this case, "inflate"). An inflating price does not imply an increase in "real" value, even though one is taxed as if that were true. For something to increase in "real value" (raw purchasing power), the demand for that investment would be increasing faster than most other investments, not just one.
For instance, when HUI gained over 1000%, gold gained less than 200% Thus, HUI increased in it's purchasing power... of gold and most everything else (real estate, bonds, stocks, dollars). In other words, the "real" value of HUI increased more than 5 times faster than gold. The demand for owning the 15 stocks of the HUI sector grew more than 5 times faster than the demand for owning gold, and more than 10 times faster than the demand for owning US Dollars, which had actually decreased.
So, in simplest terms, prices rise because of relative increases in demand. Next, on the way to "how do we know in advance when an increase in demand (and thus price) is about to happen," why would demand increase? (Actually, in the very simplest terms, prices rise simply because of increased buying, but buying increases whenever demand increases- buying increases because demand is increasing.)
WHY does demand increase?
Demand can change because of changes relating to supply, such as the increase in real estate demand when lending policies were politically eased and the supply of funds (and of prospective buyers of real estate) was ballooned (inflated). However, after everyone is already in a market, who will join in to continue the surge?
As buyers (that is, borrowers and lenders) begin to see smaller gains, they tend to re-allocate away from that market into more stable or more lucrative markets. Investors (again, both the borrowers and lenders in the case of real estate) who remain exposed to that market would lose money (equity), so they also lose further enthusiasm and become less speculative, more conservative. Increasingly conservative, lenders tighten their lending practices, or, in the case of several of the most speculative sub-prime lenders so far, go bankrupt and close- stop lending altogether.
As financing (lending) markets return to normal, sustainable levels, the supply of funds offered for real estate lending (and the supply of prospective buyers who qualify for lending) would shrink further, causing a faster plummet in demand for real estate, relative to other markets, such as the dollar. Thus, dollar pricing would also plummet.
In the case of real estate, this corresponds to the rising rate of foreclosure auctions, currently at historic highs. The more foreclosure auctions there are, the more prospective investors will buy foreclosures and so the less they will buy through realtors and standard listings (MLS). Thus, a ballooning of foreclosure auctions will bring down prices in the entire market. Even foreclosure buyers will become more conservative.
By the time that happens, when most everyone is skeptical of that market- "discounting" it or letting the prices sit at historic lows without buying it- that market could be a "bargain." However, since the relevant question is "the best discount," we could still use a way of comparing the enthusiasm of investors across a variety of markets.
WHICH markets have the potential for the biggest surge of demand (price appreciation)?
To find out, I consult "sentiment data." Sentiment is basically the same as enthusiasm or confidence. Many investors prefer the term "sentiment," but these all refer to the same thing: demand.
To find the market with the biggest potential increase in sentiment (demand), I find the market with the lowest current sentiment rating (demand). Markets with the lowest sentiment ratings (lowest demand) are the most discounted, the most neglected, the most dismissed, the least expensive, the best bargains.
PART 3: PRACTICAL MATTERS
SO, where do I get sentiment ratings?
It is easy to find sentiment ratings for most high-volume investments, such as stocks, bonds, currencies (forex), and commodities like gold and oil. A few popular websites for accessing subscriptions to sentiment ratings are www.marketvane.net, www.sentimentrader.com and www.investorsintelligence.com . Some data is free and free trials are often available.
Sentiment is measured differently by the different providers, but all data is based on surveys. It is easiest to compare the data of a single data provider across several markets, and thus identify the markets with the lowest demand.
Most sentiment data is updated daily or weekly. For slower-moving markets like real estate, NAHB, as noted above, is a provider of monthly "sentiment" ratings (they measure demand with their index of prospective buyers traffic). There is really nothing with which to precisely compare real estate except across different regions. For instance, demand (sales volume) is down much further in Greater Phoenix and certain parts of New England than it is in the Carolinas (so far). NAR ( www.realtor.org) provides regional sales volume data.
WHY is real estate so risky?
Generally, because real estate is so dependent on high-leverage borrowing, it is the market with the greatest risk. People can invest very little- or even just credit ("cash back at close")- and end up owing tens or hundreds of thousands of dollars.
The dependency of the real estate market currently on lending markets also means that sentiment ratings for lending markets in general (bonds) is another source for insight into the future of real estate. Even when the Fed is artificially engineering interest rates lower or higher, the larger trend of open market yields (APY or APR for the US Treasury's bonds) still tends to predict (predate) the moves by the Fed. Of course, when the Fed prime rate is temporarily far below the open market rate, one can expect short-term ballooning, followed by a return to parity, as the Fed cannot go further than borrowers (and lenders) are willing to go with them, and the open market interest rates show the demand of borrowers in general (rather than specific to borrowing for real estate only, for instance).
What about deflation of the US Dollar currency?
Deflation is a contraction (decrease) in the availability of credit (or, more generally, of the total amount of dollars available for transactions). By anticipating a large scale deflation of the US Dollar, many predictions emerge. Deflation can be anticipated by the sentiment ratings of open market lending (US Treasury bonds).
This kind of data is how Jim Shepherd decided to go to bonds in late 1999, avoiding the entire 46% decline in the broad US stock market, including the 76% decline in NASDAQ. Jim Shepherd has had 100% forecasting accuracy for over 25 years. See www.jasmts.com. His bond positions, without leverage or short-term profit-taking, are up by about 80%. Compare that performance to the 500 US stocks of the S&P 500, up by a few percent (before adjusting for inflation and captial gains taxes), though it is not bonds (up 80% since 1999) but stocks (up a few precent since 1999) that are filling financial headlines??? (I explain this irony at the very end.)
So, sentiment ratings of the bond market are part of anticipating deflation. Deflation, ion practical terms, means a contraction in lending, that is, a decline in the supply of US Dollars available, as credit lines shrink or disappear, lenders go bankrupt, and so on. With less dollars available for purchases, the relative value of each dollar increases. Imagine that if you had twice as much money or income, you might be more liberal at spending, while if you had half as much money or income, you might be more conservative.
So, the extent of deflation (like inflation) has definite consequences for forex currency exchange rates. When one currency inflates faster than another, or deflates faster than another, forex rates shift accordingly. In that regard, sentiment ratings for open market interest rates (bonds) and forex are extremely important for all other markets.
As the US Dollar dropped in FOREX rates by over 33% from 2002 to present, that has made investments in the US (such as real estate) much cheaper, contributing to surges into US markets from abroad. However, as FOREX rates shift, so will the prices of US investments (like real estate) in terms of foreign currency. Foreign investors could divest themselves of US assets faster than they surge in.
So, while stocks, commodities, and real estate have been increasing in dollar pricing since 2002 generally, they have been declining in terms of certain other currencies. Most important though, is which market is surging fastest- or is about to surge greatly.
Which market is most ripe to gain?
Is it the Euro? Is it the Dollar? Is it gold? Is it oil? Is it stocks? Is it a slightly-discounted market like Real Estate? (Remember how the supply and demand trends are moving before you answer.)
All-time highs in gold, oil, stocks, and real estate have all been highly promoted in recent years. Enthusiasm is extremely high in general for these markets. So, these are not the most ripe to gain.
Even after the US stock market lost 46% percent in 2.5 years, sentiment ratings barely fell to "neutral." Or, consider the high enthusiasm even after 2 years of decline in the case of real estate- yes, demand/sales volume is way down, but builders are still speculatively expecting a fast resumption in demand. Once the 6-month future expectations of builders fall below the actual buyers traffic data compiled by NAHB, that would be a sign of pessimism (an important discounting). These ratings patterns illustrate the extent of speculative enthusiasm in those markets still.
THAT is, what markets are most discounted?
Generally, the bond market is not getting much attention. Neither is the exchange of Euros into Dollars, as the US Dollar has been discounted against the Euro now for several years, with the US Dollar Index at all-time lows, though barely below the lows of 2004.
For the US Dollar, prices (exchange rates) are low, media attention is low (or actually negative), and sentiment ratings (demand) is low. It is the most discounted market, with the potential for deflation (a contraction in the availability of credit) as the most ignored potential- and one of the most profound- in the world today. The discounting of the US Dollar corresponds with the speculative enthusiasm for markets like precious metals, stocks, and, despite acres of evidence to the contrary, real estate. The exuberant enthusiasm is not just speculative, but may offer, to those who are looking, a case study in denial, if not desperation gambling.
For US Bonds, prices have been dropping for several months and sentiment ratings (demand) have been low- even across years of consistent gains in bonds. Like HUI years ago, almost no one is looking at the unusually large gains in bonds (considering historical norms for the bond market, 80% is a big gain for bonds in only a few years). Bonds are generally recognized as a safer haven than real estate or precious metals, but after the inflationary mania of the 80s and 90s, the real estate market was naturally the main beneficiary of the flight to perceived safety. Precious metals (and HUI) were also beneficiaries of the same trend- but again, the question is whether these markets provide true safety or only the perception of relative safety to the manic investors fleeing the stock bubble of the 80s and 90s (1987 excepted of course). So, compared to everything else, bonds may be the "safer" discount for now, since the US Dollar Index has not yet established a low/rebound.
I favor US Bonds and the US Dollar are the most discounted markets, considering price trends, sentiment ratings, and inter-market analysis (with both the dollar and bonds as the main beneficiaries of an emerging contraction in real estate, stocks, and so on). By monitoring a few major markets in this way regularly (such as weekly or quarterly), one can regularly re-allocate into the best discounts (such as several times a year or decade), selling markets that are no longer the best discounts, generally for a sizable gain, in order to buy markets that are now the best discounts.
Eventually, whatever was once over-valued (like the US Dollar in 1971 or precious metals in 1980) may again be most discounted (like the US Dollar now). Whatever was most discounted (like precious metals in late 2000 or stocks in 1933) will no longer be- also like real estate.
So, how much does it earn to invest in discounts only?
As noted, HUI gained over 1000% in 5.5 years. However, that was including all of the multi-month declines. HUI is 15 gold and silver mining companies. Simply by exiting HUI when gold and silver sentiment is extremely high (when there is little potential for short-term increases in demand), one could avoid all of the multi-month declines in HUI. this would allow for gains of much more than 1000% (more like 2700%).
Further, if using leverage (that is, borrowing some of the money invested, as is typical in real estate), those gains would be multiplied by the extent of leveraging. So, 4:1 leveraging (akin to a 20% down payment) would have produced gains of over 4000%, simply by "buy and hold."
By combining leveraging of 4:1, for instance, and short-term exiting to avoid predictable multi-month declines, the gains would be several times 4000%. Of course, when exiting HUI at times of high demand, markets that are more discounted markets could be entered temporarily for additional gains, which would compound the gains from HUI alone.
This provides some indication of the potential gains available. Again, the key concept for accessing gains like this is investing in only the very best discounts.
PART 4: CONCLUSIONS
SUMMARY
Because precious metals had been discounted for over 20 years, gold by over 80% and silver by about 95% (after adjusting for inflation), these markets were ripe for increases in demand (price). Since the HUI sector of stocks is extremely dependent on the prices of the precious metals that are mined by the companies of that sector, many companies that were barely profitable (barely still in business) suddenly became extremely profitable, as noted before.
By studying the principle of discounting, I identified HUI as a great investment when it had shown exceptional promise by rocketing in price, as sentiment (demand) for gold and silver increased notably. Prices for HUI increased far more than for gold or silver. Gold and silver were the most discounted investments in the world at the end of 2000, however, for safety, one can wait until discounted markets begin to increase in demand, and then concentrate in those investments which are increasing in price most quickly relative to their increases in demand.
When an investment has the potential for a huge increase in demand (from being discounted for months, years, or even decades), those are the markets to watch. Then, by comparing the relative price increases, the best discounts are easy to identify. The important thing is to get in relatively early, when demand still has a lot of room to increase, and then to get out while demand (price) is still high.
Note that these are not the only methods I use to select investments, but these are the simplest to explain and illustrate. Even a 5.5 year gain of 4000% or just 1000% is better than most people consider possible, but that is only because they are following the "advice" of the mainstream media and associates, rather than identifying simple principles that always work well.
Remember, what the media are advertising to the mainstream to buy are the things that the current owners want to sell. Likewise, what the media are trying to encourage the mainstream to sell are the things that are desirable for the "insiders" to obtain.
HOW to not be surprised by what always happens eventually
Do not be surprised by what always happens eventually. Investment rally always end at the peak of mainstream demand. When mainstream demand is unusually high, there are unusually few investors remaining to continue a trend. Investors who are already exposed to a popular market could sell other investments to increase their exposure to that market, but when they have nothing left to trade in or no one to willing to buy what they have left, what then?
Another market will begin to gain popularity faster than the old leader. Remember, investment rallies always begin at the lowest points of mainstream demand, including 1000% gains.
What will be "the next Microsoft?" I'm not sure precisely, but certainly not Microsoft. After a predictably successful mania with the Microsoft "y2k bug," Microsoft has stayed, in the last 6.5 years, between 1/3 and 1/2 of it's peak price.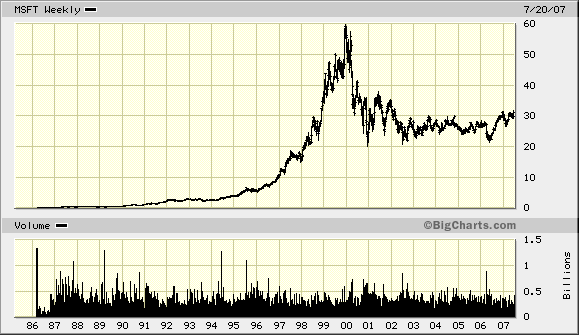 What will be "the next HUI?"
Again, there are several possibilities, but HUI is not among them. If the deflationary model is accurate, and all signs to me indicate that deflation is here, certain markets and certain companies related to those markets will do exceptionally well. Others, like Phoenix after its real estate boom, will fall from being top-performers to downside leaders. I expect HUI to be among them, as well as other US stocks at all-time highs, plus real estate and many "hot" commodities.
When Gold futures reached $732 on a Friday in 2006, that weekend (even more than the weeks and months before) I emphasized the immense downside potential of gold and silver- not just short-term but long-term- and they promptly fell about 30% and 40% in the following 6 weeks. HUI fell with them, naturally, by about 30%. That was the sharpest drop in HUI I have ever seen- faster than drops of similar size in early '04, mid-'02, and late '97.
By avoiding drops and getting back in whenever demand re-surged, consider the total gains: 35 to 150 (330% gain), 100 to 250 (150% gain), and 160 to 400 (150% gain). Together that is about a 2700% gain. Again, add even only a bit of leveraging, and that made a nice opportunity in 5.5 years in only a single market. Add a few more gains in other markets during the multi-month contractions in HUI, and that would have been a fine investing system, eh? And, if you for any reason wished to sell all of it or just a portion, it would take less than a week to have cash in hand, quite unlike real estate.
So, the industries and businesses that are positioned to benefit from deflation are the ones that I expect to do best in the coming years- to be the best discounts today. If you do not know how deflation would help a specific industry or business, that is probably not one of "the ones."
Deflation means delinquency, foreclosure, and bankruptcy, and that will be good for several types of business, initially at least. Further, if domestic tranquility diminishes, then security, paramilitary, and "criminal justice" industries may surge. (Isn't it interesting that instead of just calling it law enforcement or justice, they call it "criminal" justice?)
In 2000, companies of HUI were known as "junior" sized mining companies. Again, "junior-sized" companies in select industries, like those of the HUI (as of 2000 at least), are apt to become prominent, while companies like Microsoft and General Electric are apt to follow familiar names like K-Mart, MCI Worldcom, Enron, and many airlines (United, Delta, US Air, etc) into bankruptcy. Note also the surge in bankruptcies recently among sub-prime real estate lenders, corresponding to the surge in foreclosures.
The author of this article is the founder of www.MiraclesByDesign.com
You can leave him a voice mail at 206 339 4705.