Putting it into Perspective

George Kleinman
Editor, Commodities Trends
November 14, 2006

Goldman Sachs tells us commodity funds have $100 billion dollars to invest in the commodity markets during 2007. China has $1 trillion in cash reserves (mostly in dollars) and has expressed an interest in diversifying their investment mix in 2007. Is it possible a portion of this cash hoard will end up in gold? I think this a reasonable assumption.

In this column I would like for you to change your perspective. Think longer term (not easy to do in the thick of the day to day investment battle) and consider looking at the future by benefiting from past markets. We will discuss the future shortly, but first I want to transport you back to the biggest bull gold run of all times, the 1979-1980 accelerated gold trend. This was the daddy of all gold bull moves, and while 1979-80 was the most exciting part of this move, the bottom actually was formed much earlier---during the summer of 1976.

In August of 1976 gold was trading for about $100 an ounce. In January of 1980 it peaked at $875 for an 875% run in three and one half years; this averages out to approximately 250% annually. And this is a raw number; if one was trading gold futures on 5% margin the profit potential was outrageous. But the ride was not easy, expected or predicted. When gold was "cheap" nobody I know of predicted this magnitude of a move ($300 was considered "quite high" at $250) and at the $875 peak predictions of $1000, $2000 and even $5000 gold ran rampant. As it turned out the January 1980 high remains the all time high price to this day and this with or without 25 years of inflation.

Let's assume you were riding the gold bull in 1979 and were astute enough to buy $220 gold early in the year--- an all time high price at that time. The move was fairly orderly until the spike to an all time high of $441 in early October. Take a look at this chart:

GOLD [WEEKLY CHART Oct 1977- Oct 1979]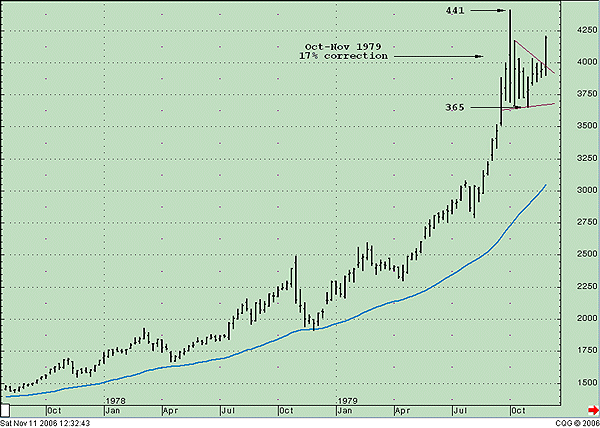 Assume you are on this move either in futures, gold stocks, gold options or some other gold related investment. Now be honest with me, what do you think you would have done when the market began to head south? Remember you have doubled your money in physical gold in less than a year, a 100% move in less than a year and many times this gain in a leveraged investment. The market appears frenzied, like it does many times at the top. It drops 5%, then 10%. Would you have taken your profits? How about when it dropped greater than 10%? Into early November the market broke to $365, a 17% correction. I contend it would have been very hard to have not cashed out during this time. Let's now put this into perspective because I am going to fast forward the above chart of weekly gold three months forward:
GOLD [WEEKLY CHART Jan 1978- Jan 1980]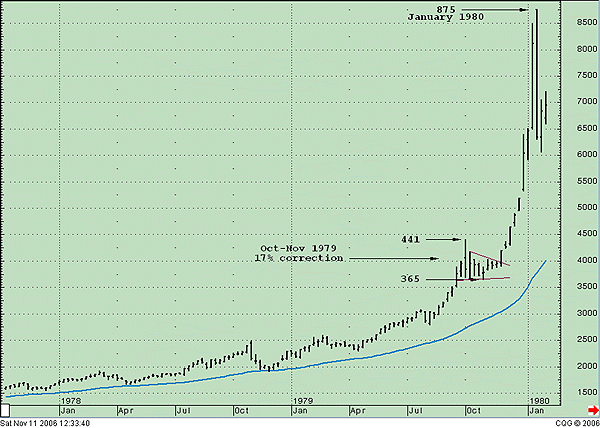 Putting it all into perspective the massive 100% move appears tame compared to what was to come. Gold, which had doubled from $220 to $440 in only 10 months doubled again in just another three months. The October to November 17% correction looks quite minor on the chart above and appears to be what we call a flag formation on the chart. Once the flag was broken to the upside (in November) a monster move developed.
Let's now travel from the past to the present. 1979-80 was a very exciting time for commodities and the most exciting gold bull market of all times. The recent gold market is the without question the second most exciting, but is it possible the real monster move has not even taken place yet? Is it possible the current gold bull has the potential to emulate and outdistance that other one?
Gold has had a decent run the past few years. From the April 2004 bottom it just about doubled in price to the May peak this year. Take a look at the current weekly chart:
GOLD [WEEKLY CHART Oct 2004- Nov 2006]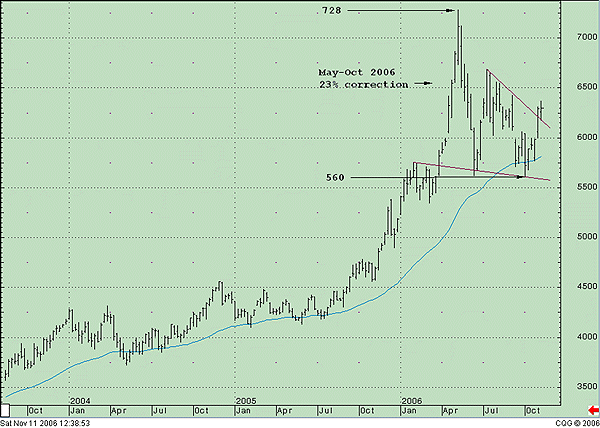 The market peaked in May of this year, and then embarked on a vicious 23% correction from the top. It appears to have formed a major top and I know of nobody who calmly rode out this correction. But what if this is similar to the 1979-80 move? Is it possible this vicious correction will appear tame in the future?
The weekly chart appears to have formed a similar flag formation over the past four months and one that resulted in a breakout to the upside over the past few weeks. In 1979-1980 the gold price doubled from $220 to $440 during the first major leg, and then doubled again from $440 to $875 after the flag formation was completed on the weekly chart. This go around we already know the market doubled from about $365 to $728.
Now let's move from the present to the future and of course the future is unknown in the present. However, interpolating from the past another double would move gold to $1450. You decide if this is a possibility, my goal here in Commodities Trends is to give you food for thought. Specific trading advice for gold and other commodities is available in my for pay service Futures Market Forecaster.
George Kleinman
President
Commodity Resource Corp.
Lake Tahoe, Nevada 89452-8700
www.commodity.com
Risk Disclaimer
Futures and futures options can entail a high degree of risk and are not appropriate for all investors. Commodities Trends is strictly the opinion of its writer. Use it as a valuable tool, not the "Holy Grail." Any actions taken by readers are for their own account and risk. Information is obtained from sources believed reliable, but is in no way guaranteed. The author may have positions in the markets mentioned including at times positions contrary to the advice quoted herein. Opinions, market data and recommendations are subject to change at any time. Past Results Are Not Necessarily Indicative of Future Results.
Hypothetical Performance
Hypothetical performance results have many inherent limitations, some of which are described below. No representation is being made that any account will or is likely to achieve profits or losses similar to those shown. In fact, there are frequently sharp differences between hypothetical performance results and the actual results subsequently achieved by any particular trading program. One of the limitations of hypothetical performance results is that they are generally prepared with the benefit of hindsight. In addition, hypothetical trading does not involve financial risk, and no hypothetical trading record can completely account for the impact of financial risk in actual trading. For example, the ability to withstand losses or to adhere to a particular trading program in spite of trading losses are material points which can also adversely affect actual trading results. There are numerous other factors related to the markets in general or to the implementation of any specific trading program which cannot be fully accounted for in the preparation of hypothetical performance results and all of which can adversely affect actual trading results.