MURPHY ON GOLD & SILVER
Central Bank Sales News/Gold Open Interest/COT Report:
STUNNINGLY BULLISH!!!
Robert Rubin as he reveals the motivation or drivers of crisis management in the interaction between himself, Lawrence Summers, the ESF [exchange stabilization fund], the IMF and presumably the Maestro at the Fed - during the Clinton administration. On pages 290 - 291 of his book, In An Uncertain World, referencing the Brazilian financial crisis of the late 1990s, Rubin outlines how very expensive "bad decisions" can buy time. Sometimes, he asserts, these bad decisions have a great deal of merit because they can …
"..Probably defer the impact of the collapse for six or eight months, and that will more than justify the effort." …Robert Rubin
GO GATA!
Yes, Mr. Rubin, the young adults and children of America thank you.
It's Action Jackson Time. Gold fell $3 during Asian trading last night and gradually firmed up going into the Comex opening … a nice change of pace. The AM Fix was $559.75. However, the PM Fix came in at $561.75. At one point on Comex gold was up nearly $4.
With silver up 20+ cents in the early Comex trading, it appeared both precious metals were ready to rocket. Yet, as usual, on the days when gold and silver should do the best, The Gold Cartel goes into all out attack mode. Clearly, the cabal forces furiously leaned on bullion to calm down the gold market and continued their defense of the $563/$564 level. After all, we have the Bush State of the Union Address on the same day Alan Greenspan leaves office, January 31. How would it look if the price of gold were soaring going into, or on, that day? A real Gold Cartel/Planet Wall Street/Orwellian No-No.
According to our floor sources, it was massive dealer selling which took gold down $7 off its highs … a.k.a Gold Cartel and allies.
David Letterman-like reasons for gold and silver to sell off:
*The price of crude oil shot up $1.50 to $67.76 per barrel.
*Platinum gained $7.60 to $1072.70, an all-time high close.
*March copper closed at $2.2330, up 3.15 cents, and another all-time high.
*The CRB rose 3.67 to 347.13, an all-time high close.
*The Hamas victory in Palestine.
* Surprisingly constructive comments about central bank gold sale reductions.
I cannot stress how bullish this central bank gold story is:
Central Bank Gold Sales Seen Falling Short of Quota -HSBC
LONDON -(Dow Jones)- European central banks are highly unlikely to sell the total 2,500 metric tons of gold permitted under the five-year Central Bank Gold Agreement, HSBC analyst Alan Williamson said Friday.
Total confirmed and probable sales under the renewed agreement currently stand at 1,441 tons, of which 599 tons has already taken place and a further 842 tons are expected to take place over the balance of the agreement, Williamson said.
"Within this category we have included the 130 tons of Swiss sales, which completes the longstanding disposal program, the 600 tons of likely French sales (151 tons already completed) and the Dutch sale of 165 tons (75 tons already)," Williamson said.
"In addition, we have included likely Portuguese sales of 160 tons (of which 65 tons has been completed), Austrian sales of 90 tons (of which 15 tons done already) and probable Swedish sales of 60 tons (17 tons done)," he added.
Williamson said also included are European Central Bank sales of 47 tons undertaken so far and the 6 tons of gold sold by the Bundesbank for coin minting.
Also, Belgium has likely sales of 120 tons (of which 30 tons have been completed), and Spain has sold 63 tons.
"These sales total 1,441 tons, or just over half of the potential sales under the agreement," Williamson added.
In addition to these sales, there is a potential 876 tons of central bank disposals that can be identified, Williamson said.
"Within this we would include a further 594 tons of German sales if the Bundesbank were to take up its full 600 tons allocation - although it passed on the possibility of sales in the first year of the revised agreement and has not yet stated its intentions," he noted.
"In addition, we have included a further 220 tons of possible ECB sales, which is approximately what would need to be sold to reduce its holdings to 15% of total reserves, and a possible 62 tons of Belgian sales," he said.
But even in the "unlikely event" all these sales materialize, Williamson said total sales under the renewed Central Bank Gold Agreement would be just over 2,300 tons, still almost 200 tons short of the maximum permissible.
"Unless another central bank emerges as a seller, we remain of the view that the full 2,500 tons quota will not be filled. Indeed, in the event that either the Bundesbank and/or the ECB decide not to undertake any further sales, aggregate sales will fall short of the 2,500 tons maximum," he added.
The five-year agreement is the second of its kind and limits combined annual sales of gold by individual countries to a total 500 tons. Each Central Bank gold agreement year runs from the end of September.
-END-
Seems to me Mr. Williamson was neutral to bearish all the way up the last four years. Why the MIDAS hoopla:
*The gold market cannot handle an unexpected 1,000 tonne drop in expected central bank sales. The Gold Cartel and other shorts desperately need the European central banks to sell 2500 tonnes of gold per year and clandestinely lease gold on top of that.
*The yearly supply/demand deficit is 1500 to 2,000 tonnes right now. The price of gold is taking off anyway. Without all the allowed central bank gold hitting the market, the price HAS to SOAR!
*This is nothing less than sensational talk coming from the mainstream gold world. It MUST have The Gold Cartel gagging.
*All of this continually changing talk has surfaced following Gold Rush 21 and the Russians leaving our conference in Dawson City.
Before Gold Rush 21, talk of central banks buying gold (Russians, Iranians, Chinese, South Koreans) was virtually non-existent, as was any talk the central banks might not come close to meeting their Washington Agreement quota.
*The Gold Cartel is likely experiencing some angry fallout from central bank sheeples who now feel duped about selling their gold at such low prices. GATA hero Ferdi Lips said years ago the Swiss would rue the day they dumped gold at bargain basement prices years ago.
The gold open interest news is nothing less than stunning and very exciting as it continues to confirm the MIDAS/GATA analysis that The Gold Cartel and others are desperately trying to cover their shorts whenever they can. It fell a whopping 9987 contracts to 351,369!!!
I am not sure how yesterday's option expiry plays into this (probably call owners selling futures the last few days and given long futures for their calls, thereby reducing the OI, which led to this sharp OI reduction). However, it does not matter in the end. The bottom line is gold has risen some $120+ while the gold open interest is more than 20,000 contracts off its highs.
The gold market is NOT overrun with foaming specs yet. Based on the price action, there is room for 100,000 more specs to pile into this market before it gets overdone. Those specs will be competing against more and more pale faced shorts trying to cover their butts. Gold remains explosive.
Just in … Not only are the gold open interest numbers continually bullish, so is the Comex Commitment of Traders report. The large specs reduced their longs by 2,722 contracts and increased their shorts by 2,908 contracts. The small specs reduced longs by 695 contracts and increased their shorts by 661 contracts. The commercials reduced longs by 3152 contracts, yet REDUCED SHORTS by 10,318 contracts.
Once again we have concrete evidence the Commercial Signal Failure is in play. Facts are facts. Meanwhile, instead of the specs driving the market up, they are going more SHORT. This is SO bullish!
The silver open interest only rose 1069 contracts to 133,175. The Silver OI is around 10,000 contracts off its old high. For silver to rise like it has, and for the open interest to go up so modestly, tells us the silver shorts are scared stiff … with many of them finally wanting out too.
March silver
http://futures.tradingcharts.com/chart/SV/36Weekly silver (up a rabid 70 cents)
http://futures.tradingcharts.com/chart/SV/WThe floor noted some buy silver/sell gold spreading.
The John Brimelow Report
ETFs - substitute for C Banks - or India
Friday, January 27, 2006
Indian ex-duty premiums: AM $2.51, PM $3.36, with world gold at $558.20 and $559.45. Adequate for legal imports. The rupee firmed again this afternoon, as the Bombay Stock Exchange closed again at record highs. India is positioned to block any serious sell-off.
Japan remained indifferent. Volume was static at the equivalent of 23,578 Comex lots (+1.2%), and open interest slipped the equivalent of 248 Comex lots – although Mitsubishi's data implied that the public added 1.3 tonnes to its long. In the absence of a strong uptrend in world gold or (even more helpful) a downtrend in the yen, TOCOM's traders are likely to be distracted by platinum and silver futures.
The Shanghai Gold Exchange, which will now be closed for a week, displayed discounts to world gold only slightly narrower than yesterday: $2.42-$2.65. A Reuters story today reports comparatively strong Chinese interest in gold items for the lunar New Year celebrations: but there is no evidence the country is a significant factor in the world gold trade at present.
The two precious metals where their absence might be felt are platinum (of which China is a substantial importer) and silver (where for some years they have been a heavy exporter). In the current state of the silver market, China being closed might have an effect.
Yesterday in NY volume was very heavy: 130,369 lots (37% above estimate) or 100,000 net of the switch effect. Open interest dropped a starting 9,987 lots (31 tonnes). No doubt this was somewhat connected with the Comex option expiry: the $350 calls expired in the money, wit an unusually substantial open interest. ScotiaMocatta remarks that yesterday:
"Gold gave back about $5.00 overnight, trading 557.20/557.70 by the time New
York opened for business. Follow through selling from overseas sources hit the market shortly after the open forcing gold to the session low of 554.60/555.10. The market mood soon …helped along by a renewed buy interest from funds. The fund buying enabled gold to reach a peak of 560.90/561.40 before finishing the day 560.00/560.50."
Today sees the OTC options expire: and the same capping operation has been in effect, blocking an attempt by gold to move after the adverse GDP figure. Estimated volume at 1PM was 115,000.
HSBC put out an interesting piece reported by Dow Jones, suggesting, for no obvious reason, that the full Washington Accord quota might not be sold by the participating Central Banks. It did not discuss possible purchases. Viewed as further evidence that the major bullion banks are increasingly pessimistic about the volume of net sales forthcoming, this report is significant. Apprehension about Central Bank intentions has sunk pretty deeply into the mind set of Western professional investors.
The HSBC daily offers the arresting slogan
"Gold ETFs; bigger consumer of gold than India? This of course involves being confident about what the ETFs actually hold – but in the current climate is the sort of thing which might cause a buyer stampede.
With the lower $560s looking increasingly congested, the issue as to the nature of the resistance there, raised yesterday, remains open. Gold's friends can take some comfort from the robust behavior of the gold shares.
JB
--------------------------
Hello Bill:
We have a lease rate event! This time it's in silver: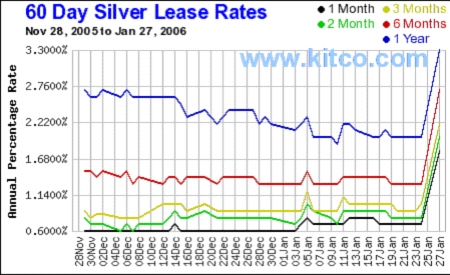 In the past two days, silver lease rates have tripled in the one month term and spiked to somewhat lesser peaks in the other terms, but all terms are up at least 50% in absolute terms. The relative concentration of the spike in the near terms screams price suppression as the principal motive. Gold on the other hand displays a weak internal backwardation, and a widening spread between one month and one year, which is indicative of less suppressive leasing. Silver's rates are rising across all terms, and rising (at the moment) faster in the later terms than the near terms. In this, silver differs from gold, and I think that difference is related to the liquidity crunch in the physical market. There is relatively little central bank silver, so the rates respond to lease demand far more violently than gold rates. In any given term, there is relatively little metal available to borrow, so the leasing is spread out across all terms to spread the cost, and I think concentrated in the later terms with the expectation that time will let the borrowers out of their exposure at lower prices.
The surge in later terms may also reflect higher risk of a market blow up. It has always been my contention that silver is more explosive than gold simply based on the supply/demand fundamentals, lease rate behavior, and the incontrovertible fact that silver is still Constitutional money. Silver has been under suppression by various monetary authorities (mostly British) for 300 years. If the authorities suppress price while demand balloons, there must come an inevitable price explosion. Perhaps this has arrived for silver.
Platinum is also under attack, with a lease surge that resembles the one in silver, but not in degree. Rates here are increasing across all terms, but more so in the later terms. The platinum lease market is also illiquid. Palladium has blown out into a full inversion, as one month lease rates surge, while later terms fall.
Over in the pits of COMEX, 1.22 Moz of silver were delivered. And who took most of it you ask? Why Bank of Nova Scotia (again). They took all but 3 of the contracts delivered this morning. That brings the total silver deliveries up to 7.46 Moz for the month of January.
http://www.kitco.com/market/lfrate.html
Have a nice weekend, Rhody.
Gold, silver and the shares remain THE historic investment opportunity of a lifetime!
GATA BE IN IT TO WIN IT!
MIDAS
January 28, 2006
===================================

Copyright (c) Le Metropole Cafe, Inc.

Le Metropole Cafe is a Membership site. Visit and experience a 2-week Free Trial!