A Gold Coup? So what does this editorial title mean one might ask. Well, as events or milestones achieved often show us, "Some people make things happen, others act when they see things happening, and most say what just happened." For one small Jr. Gold explorer from Canada something unique just happened. The management of this junior company with a history of finding & creating mines saw what was coming in China, had the right connections, took the incentive and lo and behold in just over a year they transitioned from earning a 74% interest in 65,000 hectares of mining claims in Shandong Province in China, to having entered into a letter of intent to buy an entire modern mining operation, complete with a 2300 ton p/day mill and floatation facility of some 60K to 65,000 oz of Gold p/yr. That's what I would call a 'Coup'.
In a previous editorial I penned for Gold-Eagle awhile back "Shandong China, Kingdom of Gold" I mentioned a business philosophy embraced by Placer Dome with regards to doing business in China. In that philosophy Placer management opted for the Asian style of thinking over the ways of the west. First make friends then do business, which is the opposite of how we north American's do things. Well this is precisely what Larry Reaugh the Pres & CEO of Goldrea Resources Corp has achieved. Subsequent to an opportune introduction and fast friendship with Mr. Richard Shao, a Professor of Metallurgy at the University of Bejing, Larry soon became introduced to the men who head the committee for the China Rushan Municipality and the current owner/operators of the Daye Gold Mine in Shandong Province. The deals were soon being made for a joint venture and earn in for Goldrea on some very impressive mining ground. (read Bob Moriarty's editorial "Chinas Golden Age") www.321gold.com/editorials/moriarty/moriarty/102504.html Bob traveled to Shandong with Larry in 2004 and reviewed first hand the entire Daye Mine operation and from his subsequent editorial we read, he was very impressed with all he saw and experienced.
Personally before I knew a great deal about Chinese Gold mines I had often wondered why China was taking the totally unexpected path of privatizing many of their Gov't controlled mines in base metals and Gold. The more time I devoted to studying this phenomenon, the clearer it became. One of the first things I noted was what is considered to be a large Gold mine in China may well only produce 30,000 to 70,000 oz of Gold per year. I know many of the Gold experts I am familiar with have almost to a person followed with great interest the level of China being in the Gold news these days and how they are expected to be supplanting a portion of their governments foreign Fiat Exchange reserves with Gold and even suspected of doing so on the sly for some time. Then if you take into account the White Paper and the rapid changes it brought forth in China's mining regulations as well as the fact China now allows Gold trading openly and encourages private Gold ownership among the people, a picture begins to form and take shape. As was so duly noted by Julian Philips of the "Gold Forecaster-Global Watch" in a recent editorial "Chinese Gold & Foreign Reserves to be Used for Nation Building"…. www.321gold.com/editorials/phillips/phillips011306.html
…. Julian posed the question; 'How can China acquire Gold reserves without being visible in the Gold market and thus driving the price upward?' His answer was the same conclusion I have drawn over time. Buy the production of its own Chinese Gold mines. Now if one expands on what we see happening in China they're not only buying in country Gold production, but enticing western mining technology and mine experts into the country to thereby increase Gold production on a grand scale. (Presently there are a very large number of Australian, NA and European mining companies operating and exploring in China, and more on the way). So now we may have some insight and background into the rationale of China's abrupt and rapid changes in the Gold mining sector and why companies such as Goldrea Resources and Mining executives with past successes are being courted and offered lucrative opportunities and incentives to expand on, explore, or start up Gold mining ventures in China. As they say "A bird in the hand is worth two in the bush".
Well, I truly believe Goldrea has a golden bird in hand at the moment, and have also managed to negotiate one heck of a sweet deal in the process. Not only does the agreement and letter of intent allow for over five months of DD on the mine but they have until October 30th 2006 to negotiate and conclude the purchase of this multi million dollar mine. See the Goldrea News Release of Jan. 12th/06. http://www.goldrea.com/releases/06_0112.htm
This new agreement and letter of intent will all follow on the heels of a previous Goldrea news announcement of a 150,000 ton bulk test of the first of 3 underground targets already established, that are scheduled to commence soon. (News release) www.goldrea.com/releases/051221.htm
The second exploratory drill hole by Goldrea some months ago intersected a widening section down dip of the current zone being drifted and mined currently by Rushan Daye from the open pit operation that has been producing their Gold for a number of years. This section returned an average of over 8 grams AU p/t over 4 M. (see cross sectional drawing) www.goldrea.com/fig3.pdf
Goldrea management will be in the unique position of actually proving up the ore on an existing mine during the due diligence and negotiation time allowance, and in all probability paying for the mining and milling of the Gold recovered with the Sericite abundant throughout the ore. This Sericite recovered is reported to add approximately $45.00 US p/ton to Daye Mine revenues. Daye mine owns 25% of this operation of Sericite recovery from the Gold ore tailings. There are currently 3 subsidiary companies of the Daye mine operating in the central mine structure. (information contained in Jan 12th news) It appears quite clear to me that the costs for Gold production, if not paid for by Sericite profits alone, will definitely be covered by the Daye interest in a combination of profits from the 3 subsidiary companies. The potential for Goldrea Resources to expand on this mine, find and define higher grade reserves at greater depths and increase mill capacity is very real, thus bringing the Gold production to levels well above the average 65,000 oz it has historically produced. Below is a picture of a small portion of the entire mine facility taken by Bob Moriarty on his tour of the Daye mine in 2004.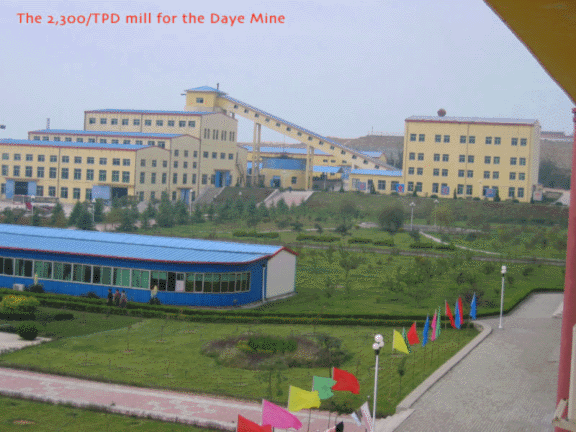 After reviewing all the information given by Goldrea in previous news releases and now with an agreement penned to enter into a "Letter of Intent" to purchase the Daye Mine and all that the mine entails, it would seem quite obvious that Goldrea's share value will at some point in the near future have a numeral in front of the decimal point. What that number will be, will be market driven, this we do know. What we also don't know is how high this current Gold Bull will take the yellow metal. I'm betting on that golden number being very high and I know "I'd rather be a day early than a day late" to own my positions in any junior miner with the potential of going from junior miner to small or mid cap producer. We all know how rapidly share value can change with success and the right market conditions. Thanks for reading here. May we all see prosperity and success in 2006.
Ken Reser
Ph: 403-844-2914
Email: ykgold@telus.net
If you wish to receive periodical reports on Gold & Molybdenum or companies involved in these aspects of mineral exploration please email to become a free subscriber.
(Editorial Link:) "Shandong China, Kingdom of Gold"
www.gold-eagle.com/editorials_05/reser092505.html
Goldrea Resources Corp. is a proud advertiser at www.Gold-Eagle.com
(A footnote on doing business in China)
Xinhua News Service Dec. 09/05.
China's Vice-Minister of Commerce recently stated that 450 of the top 500 companies in the world, from 202 countries have to date invested a total of $600 Billion US in China in 2005.
Disclaimer: I am an independent Investor Relations & Research Consultant, currently employed by Goldrea Resources Corp. I may own shares in this company from time to time and hold options of said company. This editorial is not a recommendation to own or buy shares of said company as I am not an accredited investment adviser.