Silver Stairways & Waterfalls

Richie Miller

I have been sitting on this information since The Fall of 2006, and only in the past month have I leaked out bits and pieces of it to certain forums to gauge the responses. It is now time to unload this "Opening Salvo" to the silver community, because my hunch has been confirmed. What's the big mystery all about?

Silver is "stamping out" alternating yearly patterns that began evolving in 1997-8 and have now fully matured.

These "yearly patterns" can only be seen if you look at yearly silver charts beginning June 1 of each year.

I have labeled these alternating yearly patterns as "Odd" and "Even" Years within a "Two Year Silver Cycle".

Odd Years are characterized by "Stairways and Waterfalls" (S&W) patterns lasting about 12 weeks each - one for each "season" (Summer/Fall/Winter/Spring). There have been four uplegs (stairways) in each of the last 2 "Odd" Years and to my utter amazement they have been PREDICTABLE AND VIRTUALLY IDENTICAL.

Even Years are characterized by nearly year long parabolic-type uptrends that offer very little opportunity to "get on the train" if you weren't on it already.
In Odd Years the Commercial Shorts are in charge!
In Even Years the Institutional Fund Longs/Large and Small Speculators are in charge!
Let me repeat: A "Silver Year" within the "Two Year Silver Cycle" begins every June. Not January. Not September. June. That's how I see it.
We are currently in the last "season" (Spring) of an Odd Year (2007) - smack dab in the middle of the 4th and final Upleg.
Will we make a new high during this rally? Specifically: Will we break above Upleg 3's high of 14.85? Will we then break above the high of last May at 15.21? To find out let's first look at the primary driver for silver - The $USD: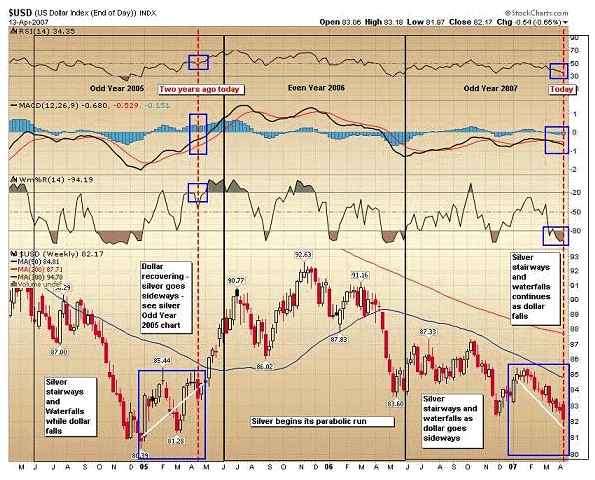 The Blue squares with White interior lines indicate the condition and direction of the USD during the last two uplegs of Silver Odd Years 2005 and 2007 (current).
In Odd "Year" 2005, silver upleg 3 failed to make a new high above 8.17 - the high of upleg 2. Why? Because the dollar chart above shows the dollar recovering from it's now infamous low of 80.39 (and forming the left shoulder of a 3 year head and shoulders pattern! Who knew!):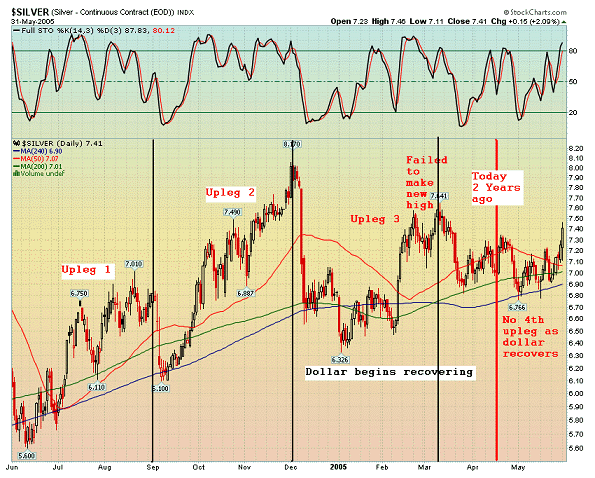 Turning back to the dollar chart, look all the way to the right to where we are today. Look at the condition and direction of the dollar. Now here is where we stand today with silver: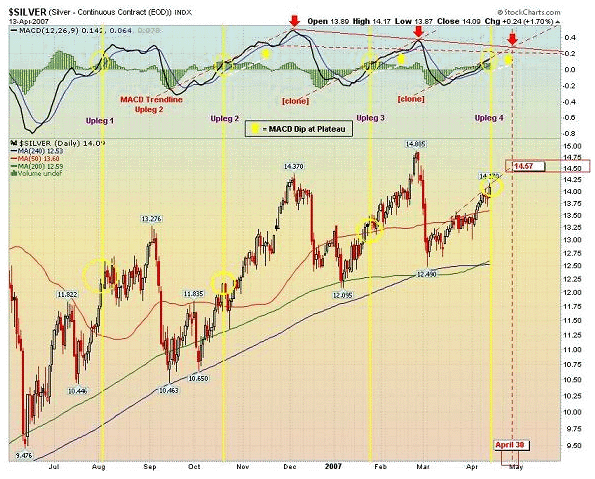 In this current 2007 Odd Year, silver upleg #3 surpassed upleg #2, and upleg #4 is fully loaded and staging a strong rally that is threatening to take out the upleg 3 high of 14.84...
...and from there last May's high of 15.25!
Why? Look at the dollar!
The dollar is not only in a downtrend - it is completing the right shoulder of that head and shoulders pattern which began in 2005.
Unlike silver in spring 2005, our current upleg, and upleg 3 have broken decisively higher from upleg 2!. That has perhaps made some people nervous - hinted at by this morning's action in NY (April 16), when someone tried desperately to abort this upleg...and failed miserably.
Guess which chart they were trying to emulate!
That's right!
Odd Year Silver 2005!
Too bad the dollar can't help them this time.