Dr. Clive Roffey

Panic in the UK as their violent crime statistics went up 5% last year. In South Africa it is running at about 100% increase and there appears to be little concern on the part of the powers that be. What a contrast of attitudes. In a similar vein one senior official in the capacity of a regional Minister of Police called McBride who was the cowardly bomber of Magoos bar, and for whom I have absolutely no respect, has been charged with defeating the ends of justice as he reportedly lied and attempted to cover up his drunk driving matter. This is the same charge brought against Lord Black in the US for which he may well serve up to 20 year in jail. I wonder what will happen to McBride???

Gadaffi and Mbeki are involved in an African power struggle to theoretically unite the continent. Frankly I view that as a pipe dream that is eons removed from any potential reality. Zimbabwa is a derelict country. From being an exporter of food in the pre-Mugabe era it is now reduced to having no food or goods in the shops. The rape of a female is regarded as a serious and heinous crime but it appears that the rape of a country can be totally disregarded and go unpunished.

The flood of refugees from Zimbabwe continues unabated with an estimated 3 million in South Africa. Nigeria is also sending its fair share of inmates. On the subject of that country I receive numerous emails of the financial scam variety offering me huge returns for aiding some displaced General or grieving Ministers wife to retrieve substantial sums of money from a dormant bank account. They recently swerved off this tack into the 'we have gold or diamonds for sale' concept. But I thought that last one I received was truly original. I was informed that I had a safe deposit box with $15 million in an offshore account that has been placed in my name because the owner has not claimed it and the time period for the box has expired. I must admire the originality of these scam perpetrators. According to these scam merchants I have also won millions of dollars in prizes from draws and lotteries anywhere from Canada, Botswana, Ireland and UK through to Russia!!

The Dow continues to power ahead, despite Bernanke's warnings. But there is a short term sell divergence brewing that indicates a short correction may be nearby. The most impressive data belongs to the gold market. For 18 months the shares have been frustratingly and annoyingly trading in a sideways correction. Every attempt to break out was met with a dumping of stock to force prices back to the base line. But over the past week there have been several significant upside breakouts, the most prominent being on the Philadelphia Gold and Silver index. The FT Gold, HUI, ASA and JSE gold indexes are all on the point of breaking upside out of the long sideways correction. But I also note that the gold price is also starting to perform against all the leading global currencies and this indicates a strong potential bull market. In addition the prices of silver, platinum and palladium are all starting to force their way into new bull phases. It looks as though at last we are moving out of this major correction into the next stage of the long term bull trend in precious metals.

I am also picking up that the share indexes are starting to out perform the metal prices. This in my work is a pre-requisite for confirmation of a true precious metal bull market.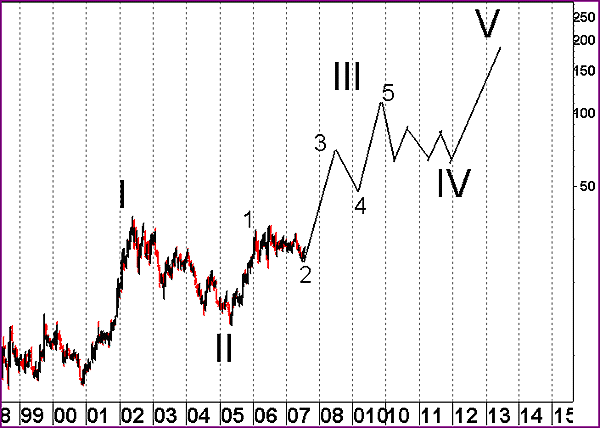 Now that it looks as though the 1-2 correction of the past 18 months is completing its move it is time to review the long term analysis for the JSE Gold index. We are still inside the big wave III that has a long way to go before completion. I expect to see the new wave 3 that is just starting after the 18 month wave 2 correction end in the middle of next year. This is likely to be split into five sub-waves not shown here. This will lead to corrective wave 4 before the final short sharp move into the top of wave 5 and the start of the next major correction for wave IV. This implies that we still have at least two years to go before we run into large wave IV. Even then I would expect a volatile correction that effectively moves sideways rather than a really dramatic bear market prior to the final run into wave V.
Now that corrective wave 2 is completing I expect to see at least a doubling if not a trebling of the JSE Gold index by the time wave 3 ends and the next corrective wave 4 sets in. This is likely to be an extremely rewarding period that will more than compensate for all the frustrations and anger that has built up during the last 18 months protracted correction.
I would expect to see wave 4 complete in nine months and not drag out for another 18 months before the final short sharp catapult into the top of wave 5.
The bottom line is that there is still a hell of a long way to go before this long term bull market in gold and gold shares runs its full length.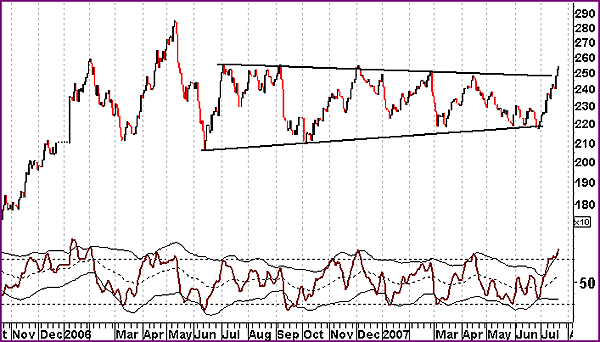 The FT gold index that I prefer to watch as a global gold index has broken upside out of its 18 months corrective phase. The RSI has shot into overbought territory and that usually signals a very strong market. This is a major upside break.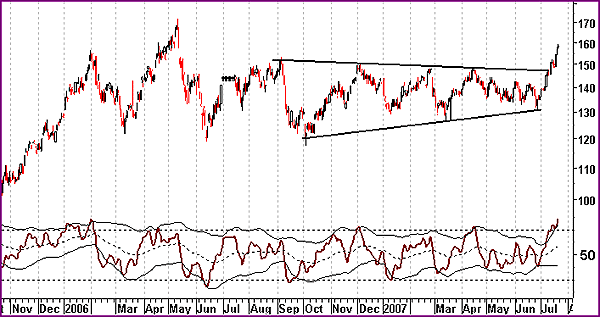 But the XAU (Philadelphia Gold & Silver index) is the most dramatic in its upside breakout. This is a clear upside push above a solid resistance level.
The XAU is compared to the $ gold price in the blue line. I have long maintained that a true bull market in gold shares must out perform the metal price. This shows the dramatic upside breakout from the 18 month under performance triangle. Gold shares have started to out perform bullion and confirm the breakout into a new bull market. A similar picture exists for the FT Gold and HUI indexes.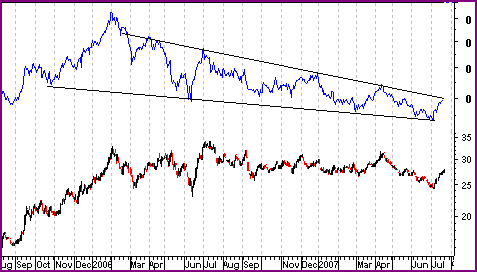 The JSE Gold index is also trying to make a breakout above the top trend of the falling wedge pattern on its relative strength against the rand price of gold.

I believe that after so many false starts that the gold market is resuming its long term bull trend.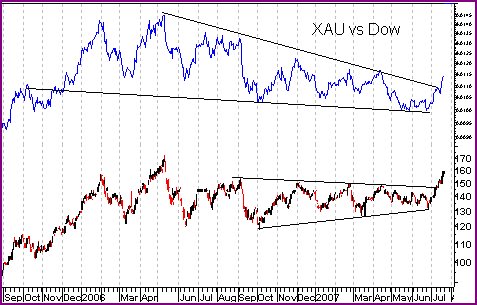 The XAU has also kicked out of the triangular pattern that is the relative strength against the Dow. This is a very strong indication of a return to global precious metal shares in preference to general equities.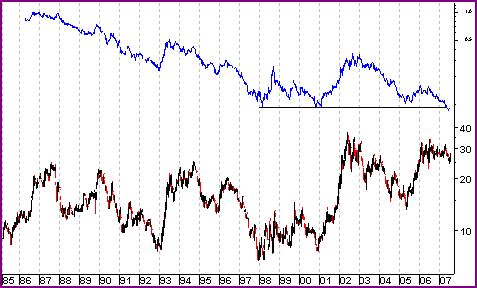 The JSE Gold index for 20 years has underperformed the JSE Overall index. There is strong RSI data that indicates this massive downtrend is about to reverse into an uptrend that will indicate superior performance. It looks as though at last we are about to see a real gold bull market in a full rampant charge against almost everything.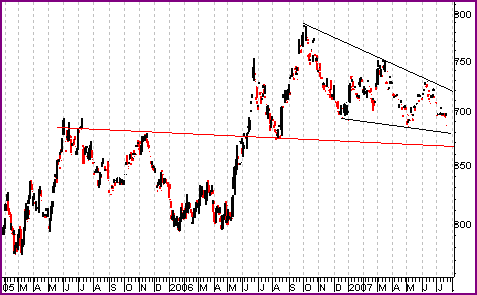 The $ / Rand is trading on the cusp. It has strengthened back to test the major support at R6.85. A break under that will take it back to test the support at R6.65. But it still has to break the support at R6.85 before the next real bout of strength can take place.
Copper is till brewing up for an attack on the neckline resistance at $8200. Once through this selling level I expect to see the upside target of R11 000 met.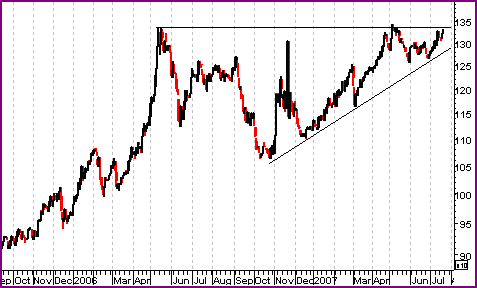 Platinum is also attacking its main resistance at $1350. It has formed a flat top triangle during this build up and the upside count to $1630 will be triggered once the price penetrated $1350.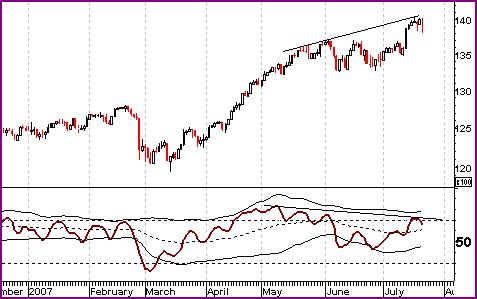 The Dow has formed a sell divergence over the past few weeks and indicates a potential period of correction probably back to test the support at 1350. The same data is evident on many of the Euro indexes and also the S&P 500. It looks as though global general equities are about to take a breather.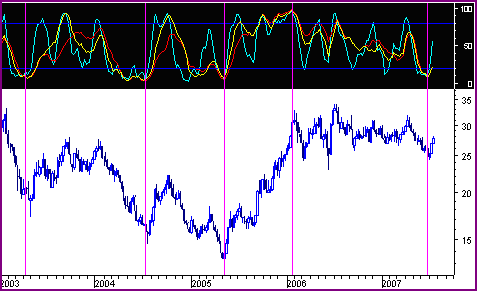 The JSE Gold index is shown with its grouping oscillators over the past four years. All the major grouping signals are shown. There was a serious buy grouping of the oscillators a couple of weeks ago. The implication is that there is a long way to move before we hit a dangerous grouping of the oscillators at the top of their ranges.
---
For FREE trial data contact :-
Dr. Clive Roffey
info@utm.co.za
www.charts.co.za
www.shareaction.co.za
22 July 2007