Gold and Silver = Money

Lee Rogers

Nothing goes up in a straight line and that especially includes gold and silver. This week, both gold and silver met some resistance and were pushed downward in price a bit. This is actually good news because it allows us to buy more gold and silver at cheaper prices. I never like to see a chart pattern that moves up so fast that it goes parabolic. Usually after any parabolic move up in price we almost always see an immediate correction to the down side as the price reverts back to the mean. We saw this sort of price action in the gold price this past May after a parabolic rise fueled by rampant speculation. All of the speculators and non-believers in this long term precious metals bull have since fled after months of consolidation. There is very little downside in entering the gold or silver market at these levels.

If you've read my previous articles you probably already know that I believe that the best way to preserve your wealth is by accumulating gold and silver bullion. It is by far the most conservative investment anyone can make. The reason I say this is because saving Federal Reserve Notes has proven not to be a viable investment option. If the value of Federal Reserve Notes were listed as a stock, the company would have filed for bankruptcy and nobody would want to buy shares. When you see how much purchasing power Federal Reserve Notes have lost since their inception, it could be argued that Federal Reserve Notes have been one of the worst long term investment choices of the past 100 years.

What really makes our current economic system so crazy is the fact that most currency doesn't even exist in the form of a paper receipt. Most currency exists as digits on a computer hard drive. When a bank loans money all they do is enter numbers in a computer system and make a credit to an account. Debtors have to labor in order to pay back the bank all of that money plus interest on the money that took them no effort to create. Banks are allowed to lend out ten times the money that they have on the books and charge interest on the money they loan which they never even had in the first place. If an average citizen were to do this they would be labeled a white collar criminal and arrested for fraud.

Since 1913 the Federal Reserve has slowly worked to defraud the American people out of their wealth. They even went so far as to steal the American people's gold via Executive Order 6102. We've gone from a currency backed by gold to a currency that is backed by nothing and easily manipulated through computers. With so much wealth stored as digits on a computer, a worldwide financial collapse could be accelerated much greater than ever before.

It is easy to see why the central banking system seeks to control the price of gold and silver. Gold and silver are superior products to their worthless currency and they directly compete against it. Unlike fiat money or digital credits stored on a computer, gold and silver stores value. Gold and silver is money. It has been money for thousands of years. This is why I believe the story behind gold and silver price manipulation is real. If everybody suddenly decided that they wanted to trade in their paper currency for gold and silver bullion, these central banks would be put out of business. The higher the gold and silver prices go the less confidence people appear to have in the financial system.

The central banks need to maintain people's confidence in the system because it is the major factor that drives the value of their currency. This is why gold and silver are not advocated as appropriate investment vehicles by mainstream institutions. Why would Wall Street advocate owning something that is a direct threat to their entire power base?

In the 1970's when inflation increased and people began to lose confidence in the monetary system, the Ford administration actually had the nerve to blame the American people for the inflation problem. Remember the motto "Whip Inflation Now"? How could the American people be at fault for causing inflation? The Federal Reserve causes inflation because they are the ones in charge of the total money supply. The government could have eliminated inflation entirely if they actually followed the Constitution. Throughout the 19th century there was tremendous growth in the United States with no inflation and no central bank. This is because our money system was honest and there wasn't a private bank that played god with the money supply. Our founding fathers advocated a money system based off of a bi-metallic gold and silver standard because they knew that gold and silver were tangible assets that would create a stable economic system.

I could honestly write hundreds of pages about our dishonest money system and the fraud that is the Federal Reserve. Maybe one day I'll write a book, or film a documentary about the subject. Either way, the point I'm trying to get at is that the monetary system is primarily based on the confidence of the people who use it. I have absolutely no confidence in such a monetary system that asks me to place all of my faith in a system that has already broken several promises. Our monetary system is operating not for the benefit of the American people but for the private interests of the individuals who own and operate the banks. If it was operating for the benefit of the American people why would they charge the government interest on the money they create out of nothing?

Gold and silver is the money of free markets. Central banks and fiat currency manipulated by bankers is a monetary system derived out of the Communist Manifesto. Gold and silver is honest, fiat currencies manipulated and corrupted by bankers and assorted government hacks are not. Gold and silver will retain their value while Federal Reserve Notes will continue to decline in value.

Gold and silver in the long term is without question the place to be, but let's look at what's going on in the short term. To put a little perspective on this, I have been buying physical bullion and adding to my gold and silver stock positions over the past couple of months. We are approaching the time of year when gold has historically performed extremely well. There is usually high gold and silver demand from China and India during this time period and this year shouldn't be any different. Both gold and silver have also had several months of consolidation since the 2006 peak this past May. The gold to XAU ratio is now 4.68 compared to 4.51 a few weeks ago. This is an indicator that gold stocks are even cheaper to the price of gold than they were when the ratio was at 4.51.

I'm an even bigger bull on silver primarily because of the fundamental picture surrounding the metal. Unlike gold, silver has industrial applications and gets consumed. The above ground supply of silver is also at historically low levels. Some have argued that silver will actually be more valuable than gold because of these supply/demand fundamentals. One thing is for certain, the potential for explosive price gains in silver is definitely very real.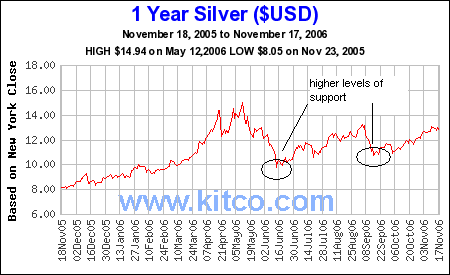 My favorite large cap stock play on gold is Goldcorp (GG). After a great deal of uncertainty surrounding the merger deal with Glamis Gold, Goldcorp's stock has been moving back up. There has been more volume coming in on the upside this past month than on the downside during the stock's price decline this past summer. Long term, Goldcorp is a good conservative stock to play the gold market bull.
My favorite large cap stock play on silver is Silver Standard Resources (SSRI). In one of my previous articles I recommended buying Silver Standard Resources at around the $20 to $21 mark. Since that point in time the stock has moved up over 25% and it looks as if it going to head higher after it consolidates a bit more. I really like the way the chart looks on this one with rising bottoms as it continues to move upward.
I like to look at it from this perspective. Gold and silver is money and it is worth more than paper. Not only that but you can always convert your gold and silver back into paper currency anytime you need to. It is insane to hold Federal Reserve Notes for a long period of time. It is much more practical to hold on to gold and silver.
Disclaimer: I own Goldcorp and Silver Standard Resources and neither company is paying me to promote their stock.
November 19, 2006
Lee Rogers
Funny Money Report
www.funnymoneyreport.com
Please sign up for my free investment newsletter by visiting my web site at www.funnymoneyreport.com