"Time is more important than price; when time is up price will reverse."
W.D.Gann
There is a difference between a logarithmic chart and a linear chart. The logarithmic charts of the HUI, gold, and silver show us that a return to the long term lower trend lines will be a normal occurrence. The explanations are with the charts. It is most unfortunate that some folks are leaving the station just as the trains are about to take off on their most dynamic trips. Patience is so easy to say and so hard to come by.
When I write about gold bullion declining in its [C] wave down to the area of $545, it sounds like and looks like a disaster on a linear chart. On the logarithmic chart all gold is doing is returning to the long term lower trend line. A Major Wave Two correction normally will return to the lower logarithmic trend line. There's nothing new or disastrous or unusual about a return to the long term logarithmic trend line at the end of Major Wave Two.
GOLD MONTHLY LOGARITHMIC CHART
The Linear chart makes a return to the $545 area look a lot worse than it is. A decline to the $545 area is simply a normal return to the area of wave [iv] of the previous extension. You can see this on the weekly chart below. A decline to wave [iv] should be expected.
GOLD MONTHLY LINEAR CHART
The HUI can decline to the 315 - 318 level and that should complete this minor wave two correction. The 315 - 318 area is the logarithmic trend line for the entire bull market in the HUI since November 2000. So instead of getting upset with a coming decline, get prepared to start buying and soon. Delta Long Term # 4 Low is due to arrive August 15. However, Delta Long Term # 4 Low has a standard deviation for arrival starting July 11. The HUI closed at 339.60 today, April 30. Another 20 to 25 points to the downside should complete this correction. Notice that the Major Wave Two correction created this trend line and the HUI has been climbing it ever since. It is a 33 degree angle of rise. The HUI is apparently correcting in a pattern similar to the one just above the chart. The very last wave down in the illustration stays above the preceding low. The last leg down is the E leg. It bottoms above the C leg. This will most probably be the way the HUI correction ends.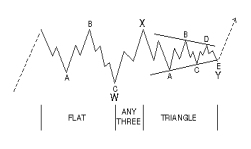 HUI MONTHLY LOGARITHMIC CHART
HUI MONTHLY LINEAR CHART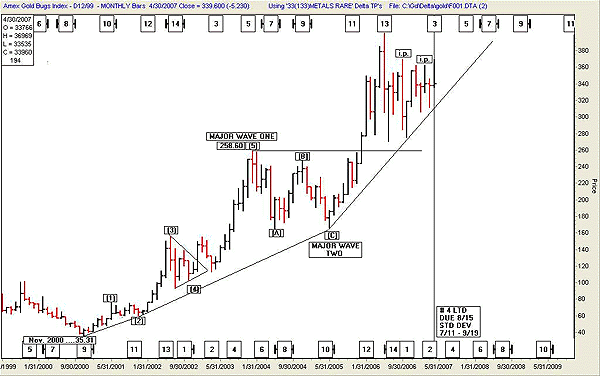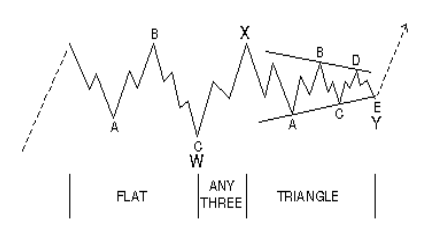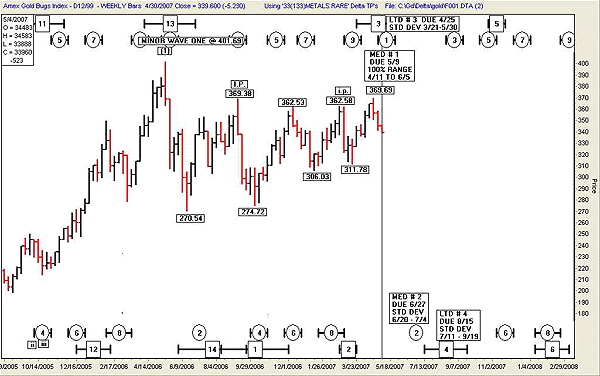 A silver decline to $9.48 will most likely be considered a disaster by many silver buffs. All it will be is a decline to the long term trend line on the monthly logarithmic chart. A Major Wave Two correction normally will return to the long term Logarithmic Monthly trend line. This will be nothing unusual and nothing violated. This chart actually is presenting a great speculative opportunity for puts on silver. Long Term Delta # 1 Low is due to arrive June 20. The standard deviation for arrival is out to August 15.
SILVER MONTHLY LOGARITHMIC CHART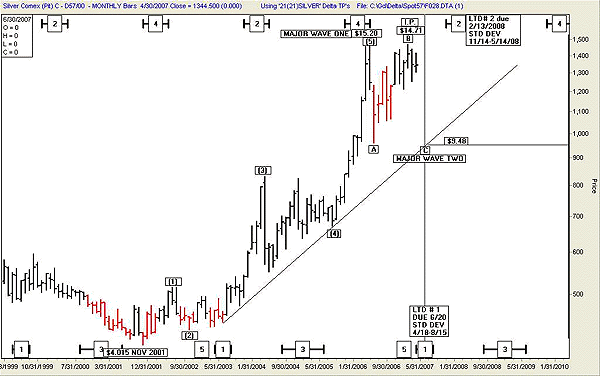 A decline to $9.48 on this linear chart should cause more than a few gasps.
SILVER MONTHLY LINEAR CHART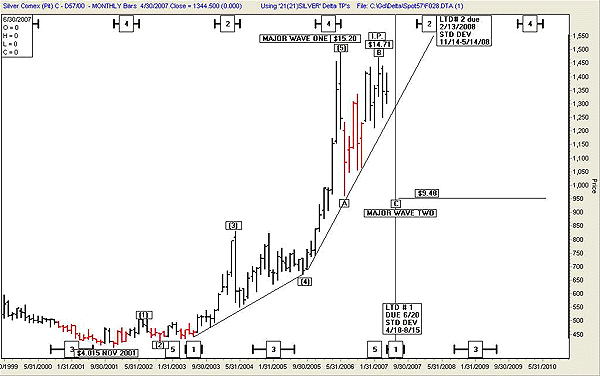 ---
Stay well,
Ron Rosen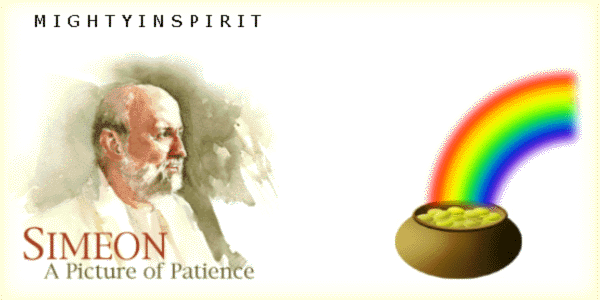 Disclaimer: The contents of this letter represent the opinions of Ronald L. Rosen. Nothing contained herein is intended as investment advice or recommendations for specific investment decisions, and you should not rely on it as such. Ronald L. Rosen is not a registered investment advisor Information and analysis above are derived from sources and using methods believed to be reliable, but Ronald L. Rosen cannot accept responsibility for any trading losses you may incur as a result of your reliance on this analysis and will not be held liable for the consequence of reliance upon any opinion or statement contained herein or any omission. Individuals should consult with their broker and personal financial advisors before engaging in any trading activities. Do your own due diligence regarding personal investment decisions.