Volatility In Gold Stocks Shrinks To Extreme Level

Mike Swanson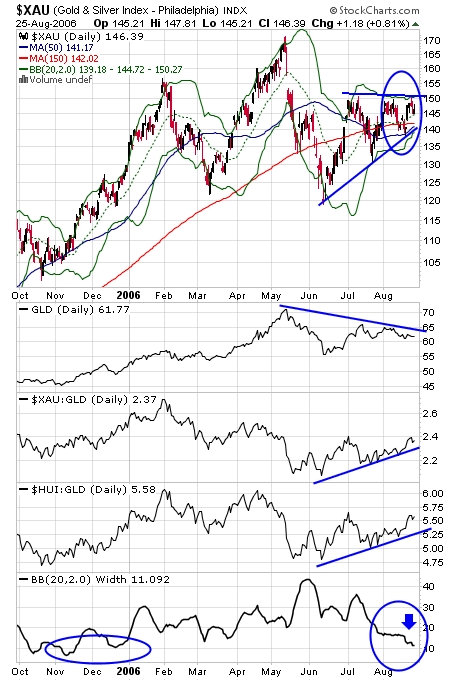 Shrinking volatility continues to characterize the gold market as gold stocks remained in a narrow range last week. In fact, volatility for gold stocks has reached its lowest point all year. The last time volatility indicators on the XAU, such as the Bollinger Bands, hit these kind of levels was last December.
This is important, because huge moves always follow periods of extremely low volatility. It is a flashing red light that is about to turn green and you need to be positioned to take advantage of what is to come right now. Everything is lined up for gold stocks to break out and go higher. The XAU/GLD and HUI/GLD ratios are both rising - they tend to lead the action in gold and gold stocks- while the dollar is poised to break through its 84 dollar support level and head down to 80. Fed fund futures are pricing in a mere 16% probability that the Fed will raise rates again at their next meeting. And if that's not enough to convince you, in just a week we will be in what have historically been the most bullish months for gold.
A close above 150 on the XAU will mark the next leg up for the XAU. When it comes, I expect it to go straight to its 52-week highs. The move is likely to begin this week, but it's possible that it'll just sit and let the volatility shrink some more. The lower the volatility before a move begins the bigger the move will be - and we are already seeing very low volatility levels so when this move starts I expect it to really take some people by surprise.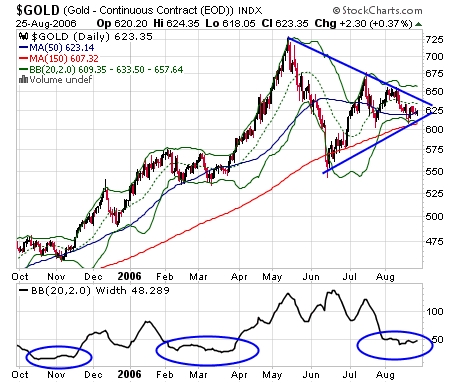 Don't take your eyes off the metal though. It too is in a bullish technical pattern. Just like gold stocks, the volatility in gold has been shrinking over the past few weeks. Every time this has happened in the past four years, gold rallied at least 10% over the next eight weeks. We're going to see gold above 725 by the end of the year.
28 August 2006
31 July 2006
To find out what gold stocks Mike Swanson holds and plans on buying subscribe to his free Weekly Gold Report at http://wallstreetwindow.com/weeklygold.htm
Disclaimer
Michael Swanson is the President of TimingWallStreet, Inc., which owns WallStreetWindow. WallStreetWindow contains the opinions of Swanson is provided for informational purposes only. Neither Swanson nor TimingWallstreet, Inc. provide individual investment advice and will not advise you personally concerning the nature, potential, value, or of any particular stock or investment strategy. To the extent that any of the information contained in this article may be deemed investment advice, such information is impersonal and not tailored to the investment needs of any specific person. Past results of TimingWallStreet, WallStreetWidow, or Michael Swanson are not necessarily indicative of future performance. Michael Swanson, entities that he controls. family, and associates may have positions in securities mentioned in this article of on WallStreetWindow and may close them at any time.
TimingWallStreet, Inc. does not represent the accuracy nor does it warranty the accuracy, completeness or timeliness of the statements made on its web site or in its email alerts. The information provided should therefore be used as a basis for continued, independent research into a security referenced in this article so that the Subscriber forms his or her own opinion regarding any investment in a security mentioned in it. The Subscriber therefore agrees that he or she alone bears complete responsibility for their own investment research and decisions. We are not and do not represent ourselves to be a registered investment adviser or advisory firm or company. You should consult a qualified financial advisor or broker before making any investment decision and to help you evaluate any information you may receive from this article.
Consequently, the Subscriber understands and agrees that by using any of TimingWallStreet services, either directly or indirectly, TimingWallStreet, Inc. shall not be liable to anyone for any loss, injury or damage resulting from the use of or information attained from TimingWallStreet or any of its services.