NOVAGOLD RESOURCES (TORONTO & NY: NG):
FOLLOW-UP NO 13
Home page - www.novagold.net
Chart - http://bigcharts.marketwatch.com/quickchart/quickchart.asp?symb=ca:ng


MORE GOLD RESOURCES THAN ANY OTHER JUNIOR GOLD MINING COMPANY
Business Summary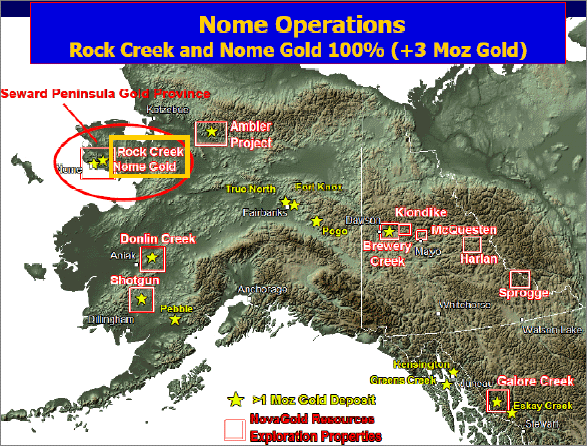 NovaGold Resources Inc. strives to add shareholder value by leveraging the exploration and development expertise to make new exploration discoveries and by advancing the existing quality development stage projects to production.
The company is actively advancing four of the largest undeveloped gold and copper deposits in North America: the 25-million-ounce Donlin Creek Project in joint venture with Placer Dome, the high-grade Ambler Project in partnership with Rio Tinto, the multi-million-ounce Galore Creek gold-silver-copper project and the company's Rock Creek project located in Nome, Alaska.
NovaGold's net share of Measured and Indicated Resources after all earn-ins is 9.1 million ounces of gold, 52.0 million ounces of silver and 4.6 billion pounds of copper with additional Inferred Resources of 10.3 million ounces of gold, 78.3 million ounces of silver, 3.7 billion pounds of copper and 2.2 billion pounds of zinc. This is one of the largest resource bases of any exploration or development stage precious metals company. With the diversification of 4 separate million-plus-ounce quality projects advancing toward production, NovaGold has one of the strongest production growth profiles in the sector.
With a target to start production in late 2006 with the Rock Creek Project, NovaGold anticipates bringing on-stream (either directly or with a partner) several new mines by 2010/11 when the Donlin Creek project is fully producing - giving NovaGold an estimated total share of annual production of more than 700,000 ounces of gold, 2 million ounces of silver and 200 million pounds of copper per year, at a total cash cost of less than $150/ounce of gold and $0.49/lb of copper.
NovaGold is rapidly transforming from a highly successful pure exploration/development company to an exploration focused, quality gold, silver and copper producer.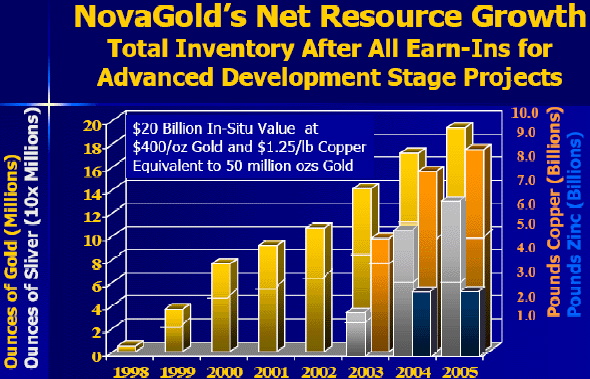 Recent News: Galore Creek Resources Expanded to 13.7 Million Ounces Gold and 12.0 Billion Pounds Copper
Highlights
New independent resource estimate completed for Galore Creek gold-silver-copper project.
Overall project resource at a 0.35% copper equivalent cut-off grade now totals:
Measured and Indicated category: 516.7 million tonnes containing 5.9 million ounces of gold, 75 million ounces of silver and 6.8 billion pounds of copper; and
Inferred category: 578.3 million tonnes containing 7.8 million ounces of gold, 81 million ounces of silver and 5.2 billion pounds of copper.
New resource confirms rationale for 60,000 TPD pre-feasibility throughput. NovaGold to consider expanding 2005 program.
2004 Drilling Dramatically Expands Overall Gold, Silver and Copper Resource
An updated resource estimate for the entire Galore Creek project, including Copper Canyon, has been completed by independent engineering firm, Hatch Ltd., of Vancouver, B.C., Canada, and shows a major expansion in the overall resource base. As compared with the previously released project resource the updated estimate has more than doubled. The resource is contained in four separate areas including: the main Central/SouthWest deposit, the West Fork deposit up the Galore Creek Valley, the Junction deposit about 1 kilometer west of the Central deposit, and the Copper Canyon deposit about 5 kilometers to the east.
The updated resource estimation was based on a three-dimensional geologic and mineralization model that utilized over 133,000 meters (436,000 feet) of drilling in 537 core holes including 44,194 assay samples. Grades for the model were estimated using ordinary kriging procedures and mineralization was composited on 6-meter intervals with high-grade samples capped based on lognormal probability plots.
About the Galore Creek Project
The Galore Creek Project is located in Northwestern British Columbia west of Highway 37 and 150 kilometers northeast of the tidewater shipping port of Stewart, British Columbia. NovaGold has an option to acquire a 100% interest in the Galore Creek gold-silver-copper project from subsidiaries of Rio Tinto plc and Anglo American plc.
NovaGold has an option agreement with Eagle Plains Resources Ltd. on the adjoining Copper Canyon property, under which NovaGold may acquire up to an 80% interest. NovaGold also has an option on the adjoining Grace property with Pioneer Metals Corporation under which NovaGold may acquire a 60% interest in the Grace claims. NovaGold has also staked claims in the surrounding area, which it controls 100%.
Fundamental Considerations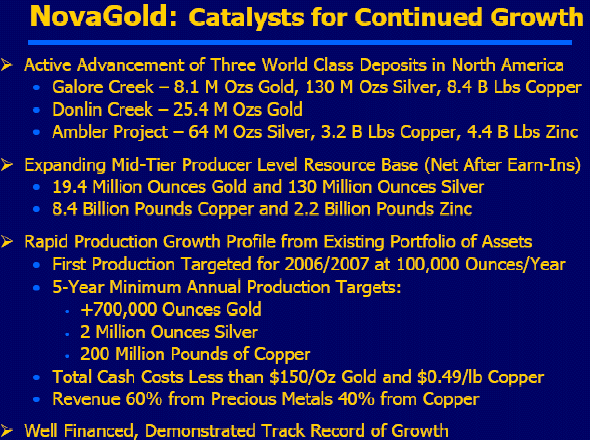 If you add the expanded resources of Galore Creek of 5.6 million ounces gold and 3.6. billion pounds copper, you arrive at an impressive total amount of metal in the ground per share:
Gold: $ 140/share
Silver: $ 15/share
Copper: $230/share
Zinc: $ 14/share
Consider that the company plans to start producing 100,000 ounces of gold in 2006/2007 that will steadily increase to at least 700,000 over a five-year period.
While NovaGold has been a star performer among the junior gold stocks, we believe that substational higher valuations are possible in the future.
Technical Considerations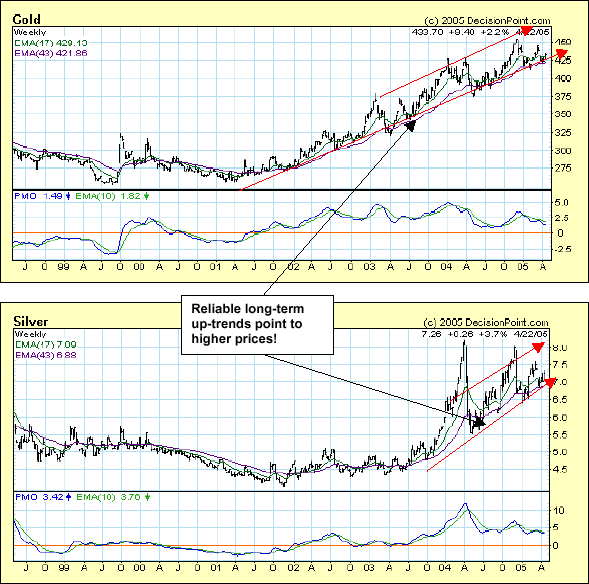 Both gold and silver remain in their long-term up-trends and have reached oversold conditions, as negative sentiments have increased lately as a result of a year-long consolidation.
We expect that prices will rally to the upper trend-lines in the near future.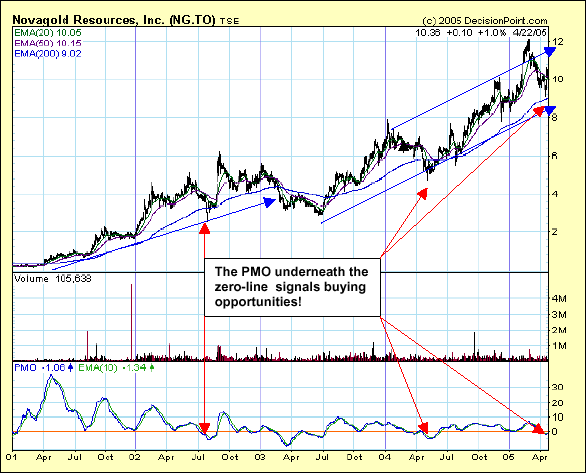 The share price of Novagold is one of few which have been able to reach a new all-time high this year. The new all-time high is well-justified considering the positive and exciting flow of good news.
We expect that the all-time high will soon be superseded.
Our recommendation: Buy for the long term!
Peter Zihlmann




www.pzim.com
investment@pzim.com
forex@pzim.com

April 27, 2005
---
Disclosure: The author has not been paid to write this article, nor has he received any other inducement to do so. The author is a shareholder in the company and will benefit from any increase in the company's share price. Disclaimer: The author's objective in writing this article is to invoke an interest on the part of potential investors in this stock to the point where they are encouraged to conduct their own further diligent research. Neither the information, nor the opinions expressed should be construed as a solicitation to buy or sell this stock. Investors are recommended to obtain the advice of a qualified investment advisor before entering into any transactions in the stock.
---