WESTERN SILVER CORP. (TSX:WTC/AMEX:WTZ):
FOLLOW-UP NO 7/November 25, 2005
Home page of WTC www.westernsilvercorp.com
Chart 5 years http://bigcharts.marketwatch.com/quickchart/quickchart.asp?symb=CA%3AWTC&sid=0&o_symb=CA%3AWTC&freq=2&time=12&x=36&y=16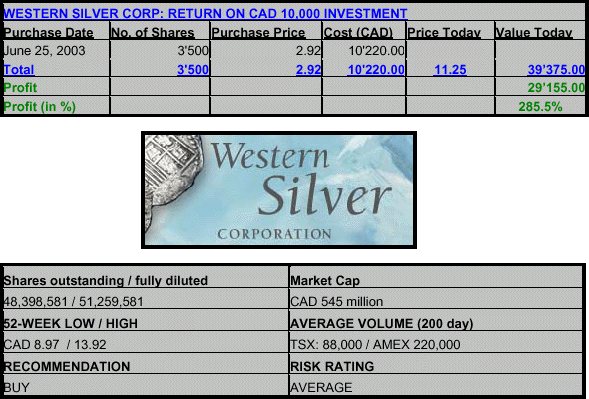 ONE OF THE WORLD'S LARGEST SILVER/GOLD/LEAD/ZINC DEPOSITS IN CENTRAL MEXICO
Business Summary
Western Silver has 100% control of one of the world's largest open pit silver deposits at Peñasquito, Mexico, in an area with excellent infrastructure and low political risk.
An independent feasibility study confirms Peñasquito as a low cost producer with robust economics and expansion possibilities, and recommends the project proceeds immediately to development.
The study integrates two sulfide deposits and near-surface oxide mineralization into a 17-year plus mine plan, during which 220 million ounces of silver, 3.28 million ounces of gold, 1.36 million tonnes of zinc and 613,000 tonnes of lead will be produced.
Peñasquito contains a total measured and indicated in situ metal resource of 545.7 million ounces of silver, 7.91 million ounces of gold, 1.73 million tonnes of lead and 4.07 million tonnes of zinc.
The deposits are open, one at depth where a high-grade gold-silver underground resource has been identified.
The property has outstanding exploration potential both for the two current deposits and also within the greater Peñasquito district.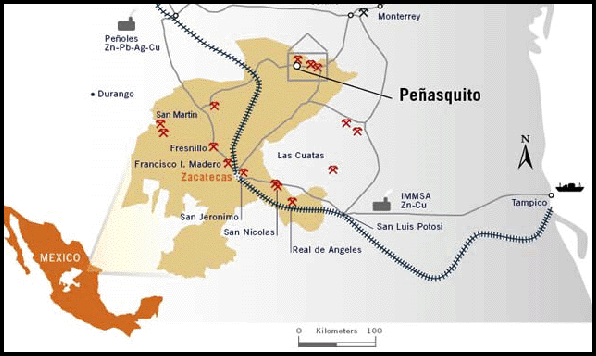 Recent Developments: 2005 Feasibility Study
M3 Engineering's feasibility study has concluded that development of the Peñasco and Chile Colorado deposits contained within Western Silver's wholly-owned Peñasquito silver-gold-lead-zinc property can be achieved economically at an after-tax internal rate of return (IRR) of 16.2%, based on 100% equity. The project would have an undiscounted NPV of US$877 million. M3 has recommended the project immediately proceed to development.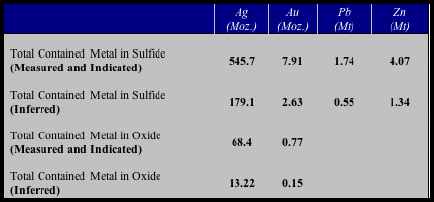 Mexico is the world's largest silver producer
Excellent infrastructure in favorable mining jurisdiction
Low-risk operating environment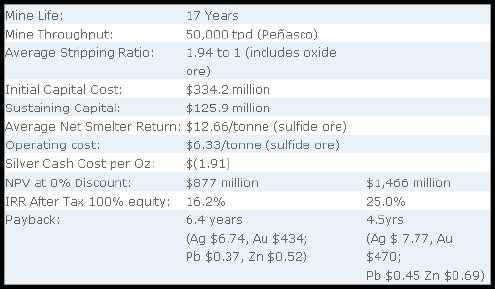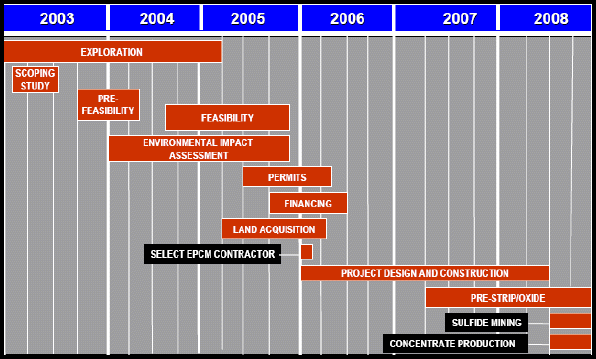 Fundamental Considerations:
Western Silver will continue its:
Systematic exploration in areas adjacent to Peñasco and Chile Colorado deposits
District-scale exploration
2005 geophysical surveys at four to five prospects including Noche Buena
2006 drill-tests of best anomalies
Drawing down inventories
Demand for silver has outstripped mining supply for more than a decade. Within the next five years inventories could become critically tight.
GLOBAL inventories of silver are tightening. Each year since 1990 demand for silver has outstripped supply by an average of 140 million ounces a year. In order to meet demand, inventories have been drawn down to between 400 million and 800 million ounces from 2.3 billion ounces, a 50-year low. More importantly, since 1980 the ratio of inventories to consumption has fallen from more than 80 months to under 12 months today.
If this trend continues, inventories of silver will be critically tight within five years. At some point before then the price of silver will have to adjust in order to reduce demand and increase supply.
Large silver deposits are difficult to find. Most of the world's silver is a byproduct of gold, copper and lead-zinc mining where it represents a small portion of the bottom line. There is little economic incentive for these operations to increase silver production. Consequently, the supply of silver may not respond to a small rise in its price. And a sharply higher silver price is unlikely to reduce silver consumption.
Western Silver and its shareholders are well positioned to take advantage of any shortage of supply or rise in the price of silver. The company's 100%-owned Peñasquito project is one of largest undeveloped silver deposits in the world. It is one of the few bulk silver deposits that is economic at metal prices of early 2003. Since then prices have risen sharply, substantially improving the economics of the project. Unlike Peñasquito, many other silver deposits are narrow veins mineable by underground methods that cannot be placed into production or ramped up in size quickly. Significant quantities of gold, zinc and lead, all mineable at current prices, add to Peñasquito's favorable economics.
Technical Considerations
"While the silver price is not particularly oversold at this stage, we still expect a move into the resistance zone at $ 8 during the coming weeks and months.", we wrote in July.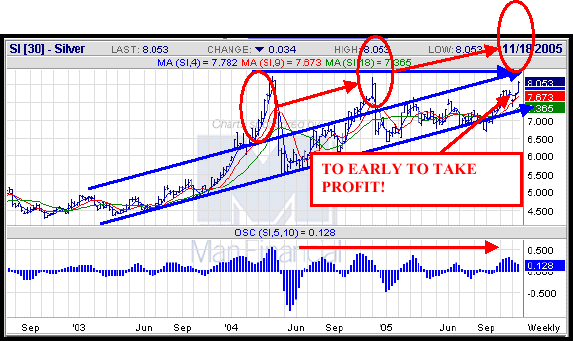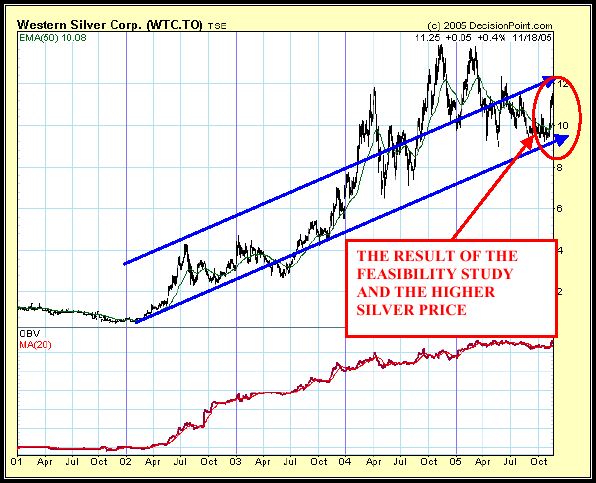 In spite of the recent move to more than $ 8/ounce, we think that it is too early to take profit. A move towards the 10 dollar level would be in the magnitude or previous price surges.
Peter Zihlmann




www.pzim.com
investment@pzim.com
forex@pzim.com

November 25, 2005
---
Disclosure: The author has not been paid to write this article, nor has he received any other inducement to do so. The author is a shareholder in the company and will benefit from any increase in the company's share price. Disclaimer: The author's objective in writing this article is to invoke an interest on the part of potential investors in this stock to the point where they are encouraged to conduct their own further diligent research. Neither the information, nor the opinions expressed should be construed as a solicitation to buy or sell this stock. Investors are recommended to obtain the advice of a qualified investment advisor before entering into any transactions in the stock.
---