Silver Wheaton (SLW) - Ready To Lead The Pack

Peter Degraaf
21 January 2009

If you like silver, you'll love Silver Wheaton. This is a company that stands to benefit from the coming silver price rise in a big way. The reason is their unique approach. They buy silver from seven different mining companies located in Mexico, Sweden, Peru, Greece, and the USA, at a pre-determined price, which is below the current spot price. In 2008 they acquired about 11.1 million ounces at an estimated total cash cost of 3.94/oz.

You may wonder how can they buy silver so cheap? The secret is in the method. A contract is signed between the miner and SLW, with SLW providing front money to the miner. Since silver is usually a bi-product for these mining companies, this advance payment on future production helps the miner to pay some of its expenses, or it may be used to help an operator fund an acquisition in an effort to grow its company, as it digs away for gold, copper, lead, zinc and other metals that are its main reason for mining.

For Silver Wheaton the advantage is a steady stream of silver at a fixed price, which SLW can sell during rallies in the silver price, since management is well aware of the bullish fundamentals, and does not hedge production. Since SLW derives 100% of its revenue from silver, management understands the silver market as well as anyone, and this knowledge allows them to draw up contracts that are beneficial to themselves as well as to the supplier.

It stands to reason that as the price of silver advances, the stock price of SLW will advance even faster on a percentage basis, because of the fact that they have signed contracts (commitments), at the lower price, which offers significant leverage to the price of silver!

The fundamentals for silver are very bullish, and are becoming even more so, due to the current economic contraction. A number of base metal mining companies are putting new projects on hold, and shutting down production at some mines where the cost of operating may be in excess of profitability, due to the reduced demand and current low prices for copper, zinc and lead. This means that less silver (the bi-product) is coming into the market as well. Meanwhile demand for silver continues to increase, as more and more applications for silver are found. Every cell phone, computer, TV, refrigerator, requires a small amount of silver. Larger amounts are used in electric cars and hybrids. In most cases the amount of silver is too small to make economic recovery possible, thus the silver eventually ends up in landfill. Large amounts are used in satellites and sophisticated weaponry. This silver never comes back to the market.

When I first became interested in silver in the early 1960's the US government had a huge stockpile of silver. It was part of the Strategic Reserve. This stockpile consisted of 2.5 billion ounces of silver. Today that stockpile is gone, a lot of it is used up and the rest is spread out among a lot of small investors, most of whom are not interested in selling their silver until prices are much higher than today. The amount of small silver bars and rounds being purchased by investors is steadily increasing, while the producers of these bars and rounds buy up the 1,000 oz bars that are used at the COMEX, to partially back up the many futures contracts that trade there on a daily basis. If the supply of these large bars ever begins to slow to a trickle, or if enough investors demand delivery of physical silver, it will cause anxiety among the futures traders and the price of silver will start to rise very fast and the price of SLW will rise even faster.

This potential silver shortage has been well documented by Ted Butler and Jason Hommel.

Silver Wheaton has just announced a new issue of shares at 8.00 a share which is arranged on a 'bought deal' basis. This transaction is expected to raise over 250 million dollars which could be used by SLW to enter into more contracts for more silver from more miners. The number of ounces that SLW expects to process in 2009 is between 15 and 17 million ounces, and the goal is 30 million ounces by 2013. Silver Wheaton's current market capitalization stands at approximately $2 billion.

The known silver resources that are available to SLW total over 230 million 'measured and indicated'. The flagship asset among these resources is the huge Penasquito mine in Mexico, owned and operated by Goldcorp. Since Goldcorp is more interested in the gold that is mined there, it is happy to sell 25% of the silver to Silver Wheaton. Silver Wheaton trades on the NYSE under the symbol SLW and on the TSX under the symbol SLW.TO. Approximately 70% of the trading takes place on the NYSE.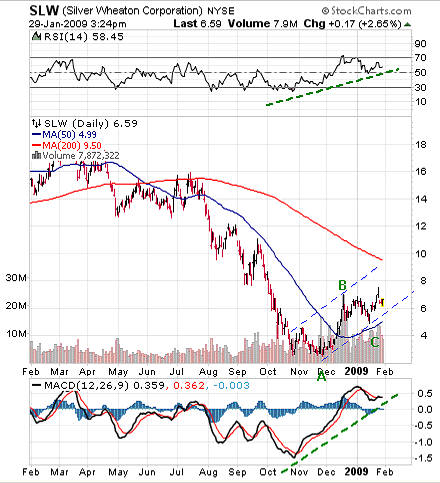 Featured is the daily bar chart for SLW. Price is building upon an ABC bottom, and volume has increased during this bottoming process, indicating renewed interest in the stock. The supporting indicators are positive (green lines). The 50DMA has just turned up and is due to rise above the 200DMA before too long.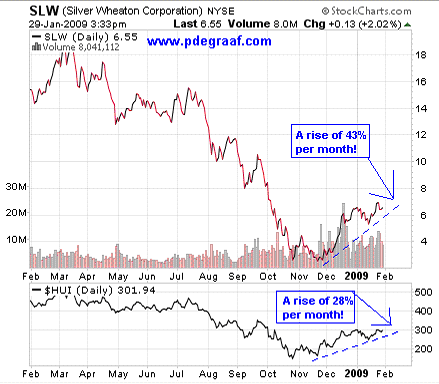 Featured is the daily closing price chart for SLW, compared to a similar chart for the HUI index. As you can see, SLW is outperforming the HUI index, (hence the title of this article), as both rise up from the bottom.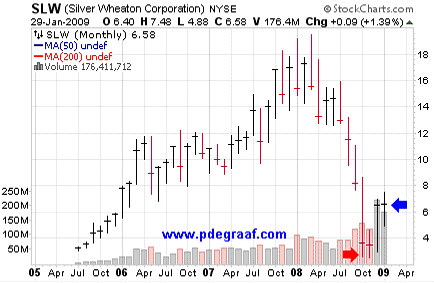 Featured is the monthly chart that traces SLW since its beginning. In October price returned to the 2005 starting price, and has just produced a double bottom (red arrow). Since then price has moved away from this bottom on record volume (blue arrow). This rally has legs!
Conclusion
The price of silver has barely begun to move, and the upside potential is great. In 1980 when the Hunt brothers were buying silver because they thought it was too cheap, the price rose to $48 before COMEX officials changed the rules (short sellers could do so with normal margins, but buyers had to come up with full margin). To convert $48 into today's price adjusted for inflation, brings us at a price of about $125 an ounce. If and when that price is reached, just imagine what the stock of Silver Wheaton will be worth.
DISCLAIMER: Please do your own due diligence. I am NOT responsible for your trading decisions.
Peter Degraaf is an on-line stock trader with over 50 years of investing experience. He issues a Weekend Report for his many subscribers. For a sample copy, send him an E-mail itiswell@cogeco.net or visit his website www.pdegraaf.com