Da Numbas!

Dominick

March 22, 2008

S&P500
You didn't need to be a bull back in January to buy the exact low in the Socgen situation and we did, and you didnít have to necessarily be long term bullish to do it again this week. All it really took was to be unbiased at the very moment of that low, which is impossible to do if you are dancing from free chatroom to chatroom looking for someone else's trade or idea. Nor can you do it by listening to other services that have been consistently bearish for the last few years. You canít do it if you have no idea about projections or any indicators to line up with your analysis. What it takes is a group of professional traders waiting for an ending pattern to terminate into a target number theyíve been using since 2006.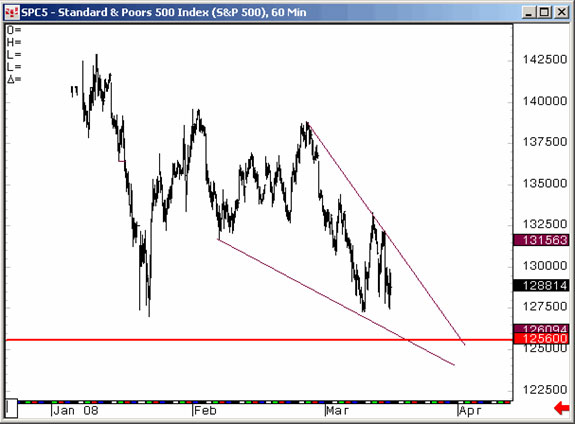 The chart above shows why we were able to buy a bottom this week as we did in January. It says nothing about whether this is a bull or bear market, or anything like that, only a perfect setup for a trade. In an intra-week update we even disclosed that weíd sold out of our long position on Tuesday. The simple reason for that was the market had reached our target at 1333 and, without bias to the longer term direction of the market, we took the money and ran. We woke up to a 1286 low in the overnight trading on Thursday morning Ė the funny thing is we had a projection for that low to be 1284.
I must admit I wasn't sure if the overnight action should be counted or not, meaning, there was a chance the cash market could go back to tag 1284 after a rally, but maybe not. Nonetheless, we traded it bullishly to the afternoon highs and some kept trading it and some took profits. The one thing we didn't do all week was to be caught short!If you think last week saw short covering, you really havenít seen anything yet. Thereís a number not far from here that, if it is taken out to the upside, will trigger a rally I guarantee you will not want to be shorting. But, at the same time, weakness at that area might cause damage to the bull case. Long term readers already know this number because Iíve been talking about it for a couple of years now. If you are not a member to TTC, there is no excuse for not joining for $129 when you are trading instruments that equal hundreds of thousands, if not millions in the futures markets each day. When trying to catch a low or high, you need the correct atmosphere, not the totally wrong one, and we bring that to you. Donít forget we will be closing the doors to new retail membership this summer, so thereís not much time left to join and see if TTC is the right place for you. At $129 for a one month trial, it could be the best investment of your life! Read on for more details about this opportunity.
Commodity Index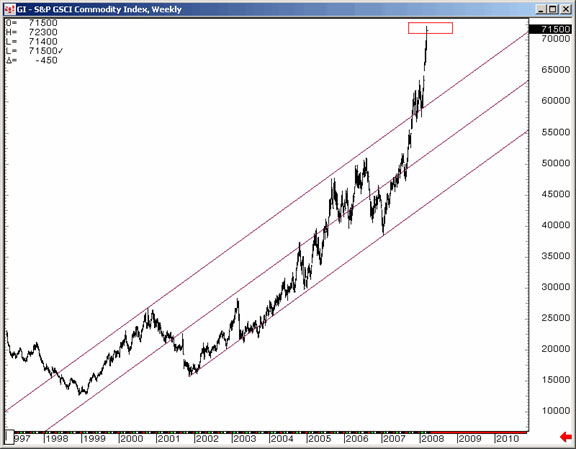 One benefit of TTC membership is learning how to successfully trade new markets you have never traded before. Is the commodities index a random market if itís hitting such precise targets? This is just one more example of how many TTC members bought etf's that related to this index and have already made an awesome trade in a market of which they know almost nothing.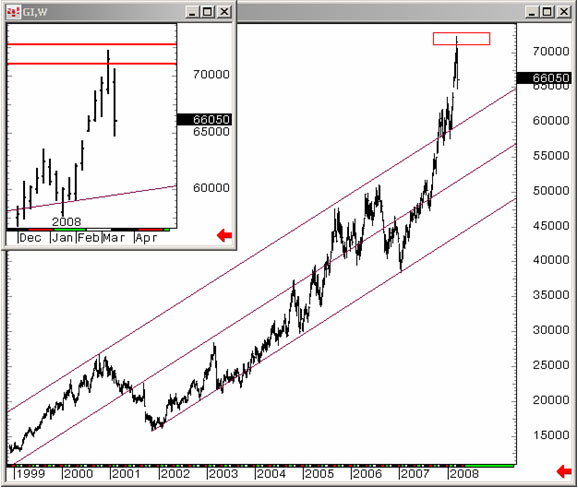 Gold
Figuring $1000 was going to be a bull trap, which was consistent with Joe turning short term bearish, gave us this awesome gold trade. Our target has been hit within a fraction of a point!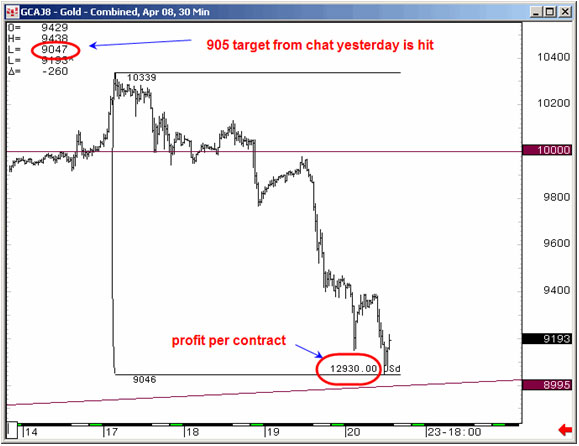 Crude Oil
What can stop a runaway train? So far itís the upper channel of this chart. Just like when oil was $50 and we were pounding the table to buy, this last 10 points was an obvious area to sell. We are now watching some important areas to decide the path of the recent decline.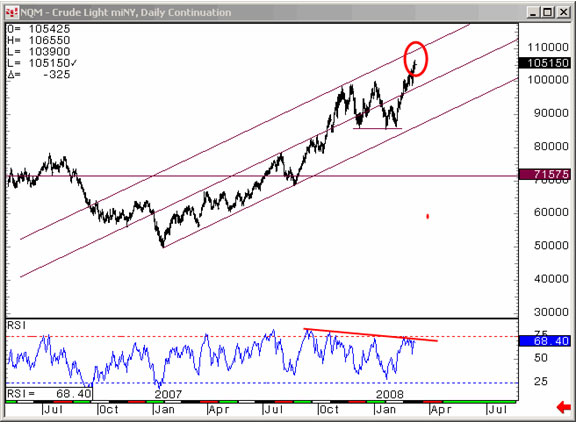 Join TTC
Have a profitable and safe week trading, and remember:"Unbiased Elliott Wave works!" Dominick, a.k.a. Spwaver
This update is provided as general information and is not an investment recommendation. TTC accepts no liability whatsoever for any losses resulting from action taken based on the contents of its charts, commentaries, or price data. Securities and commodities markets involve inherent risk and not all positions are suitable for each individual. Check with your licensed financial advisor or broker prior to taking any action.