Investors Around The World
Are Slowly Realizing The Potential In Silver

David Levenstein
9 September 2010

The price of silver has been extremely robust as it flirts with the $20/oz level. The price is now up more than 14% since its previous low of $17.50/oz and one important thing to note is that it has managed to hold above the former key resistance level of $18.50/oz.

As there has not been any major changes regarding the fundamentals on silver that would account for this move, I believe that investors are slowly realizing the potential in silver and that the grey metal is much undervalued and supplies are getting tighter. What was of particular interest last week was the price of silver moved higher despite the fact that the large bullion banks increased their net short position obviously in an attempt to suppress the price once again. And, on more than one occasion, when the price of gold slipped marginally, silver prices continued their upward move.

While industrial demand for silver is increasing, so is monetary demand. More and more investors are turning to silver as a way to protect the purchasing power of their savings. Like gold, silver has been proven to be an effective way of protecting your wealth. However, unlike gold, silver is hardly ever quoted in the main stream media. But, as the prices begin to move upwards, no doubt it will be noticed and more and more investors will take advantage of the current low prices. Silver bullion bars and silver bullion coins such as the silver Eagles manufactured by the U.S. Mint have become hugely popular with investors. So too are silver rounds which are practically the same as the silver coins except they are not classified as legal tender.

In addition, new investment vehicles such as silver exchange traded funds (ETFs) have taken several million ounces of silver out of the marketplace. While there is a lot of controversy going on at the moment about the actual physical holdings of some of these silver ETF's there is no doubt that they are having some effect on the supply and demand dynamics.

While demand for silver is increasing around the world, supplies are actually declining. Traditionally, there have only been three sources for silver. These include the output from mining companies, the sales from recycling, and government sales. In recent years though, sales from government stockpiles have shrunk to almost nothing as governments have depleted their stockpiles, and there has not been any major new discovery for silver in years.

As the current global currency crisis continues, investors will diversify into hard assets including precious metals such as gold and silver. But, silver has probably the highest potential for profit out of all the precious metals. It is for this reason that the metal should become part of your investment portfolio.

TECHNICAL ANALYSIS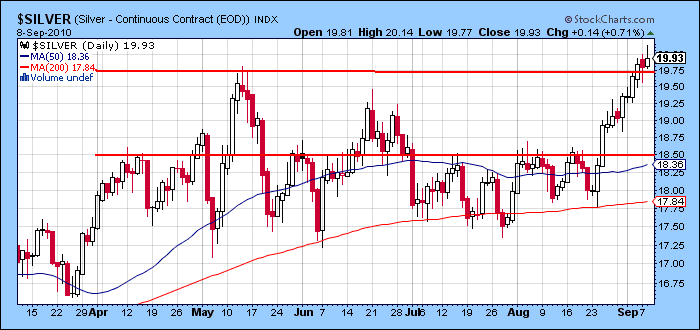 The action in silver prices has been very positive. The price has punched through the key resistance level of $18.50/oz and has traded upwards to test the $20/oz level. This is the highest the price has been May of this year. While a short-term correction is possible, I believe that silver prices will remain in a positive bias.
ABOUT THE AUTHOR
David Levenstein is a leading expert on investing in precious metals .He brings over 30 years experience in futures, equities, forex and bullion. And, although he began trading silver through the LME in 1980, when it comes to gold, he has traded gold bullion, gold coins, gold shares, gold ETF, gold funds and gold futures for his personal account as well as for clients. Over the years, David has been published in dozens of publications and has appeared on SABC 3, CNBC and Summit TV (South Africa), and is a regular guest on JSE Direct, a premier radio business channel in Johannesburg, South Africa. He is also a regular commentator on www.kitco.com, www.mineweb.com, www.gold-eagle.com, and www.infomine.com David has lived and worked in Johannesburg, Los Angeles, London, Hong Kong, Bangkok, and Bali.
For more information go to: www.lakeshoretrading.co.za
Information contained herein has been obtained from sources believed to be reliable, but there is no guarantee as to completeness or accuracy. Any opinions expressed herein are statements of our judgment as of this date and are subject to change without notice.