The 1929 & 2007 Bear Market Race to The Bottom
Week 70 of 149
NYSE A-D Data Shows Alarming New Pattern
DJIA & DJTA A-D Lines 1982 to 2009
Is a New Stock Market Ice Age at Hand?
NYSE A-D Data Confirms 2007/09 Bear's Potential

Mark J. Lundeen
Mlundeen2@Comcast.net
13 February 2009

Color Key to text below
Boiler Plate in Blue Grey
New Weekly Commentary in Black
Here is the BEV chart for the Bear Race.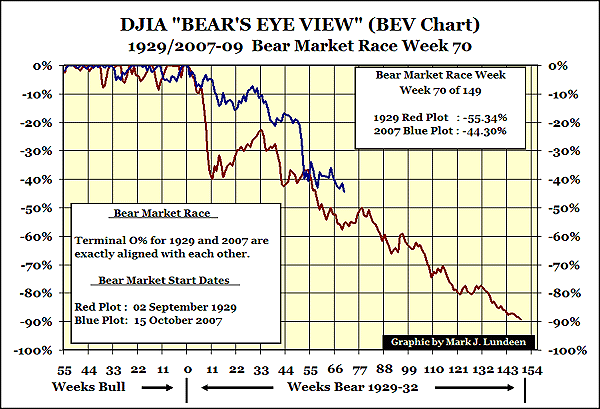 The above chart uses weekly closing prices. Weekly values don't match those of my other charts using daily data. Week 70's BEV -44.30% is the lowest weekly close of the bear market. Week 70 also saw the first weekly DJIA closing below 8000. That is not bullish.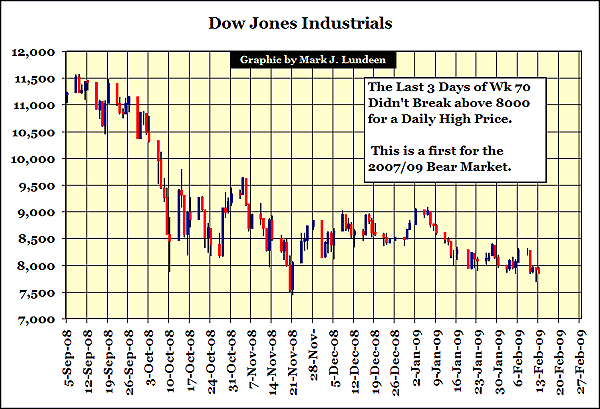 On 10 Oct 2008, the DJIA broke below 8000, but closed above. Since then, the DJIA had other daily lows below 8000, but always managed to have a high for the day above 8000. The last 3 days of Week 70, the DJIA's Open, High, Low and Closing Prices were all below 8000. Not good!
The above chart is like watching a wrestling match between the Bear and the "policy makers." The "policy makers" did not have the strength to produce a dead-cat bounce since 10 Oct 2008. How pathetic! And the past 3 days they could not even clear 8000 for a daily high. Contemptible Wimps!
The only thing "policy makers" know how to do is print money and drive people into poverty.
I'm still on track for DJIA piecing below BEV -60% Line by June. That would be:
Weekly Basis : DJIA 5636
Daily Basis ---: DJIA 5666
You could buy Put Options on the DJIA. But your counterparty may be bankrupt somewhere between DJIA 6000/7000. I get no joy saying this, but this Bear Market has plenty of hidden dangers yet to see the light of day.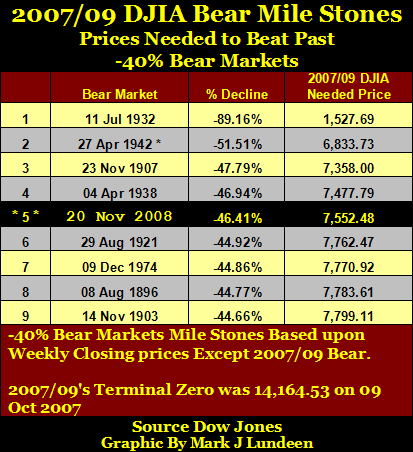 Above are the milestones the DJIA must pass to move up into Bear Market History. You may want to keep this table for future reference.
Will the 2007/09 DJIA Bear Market breach these levels? I think it will, but I really don't know anything for certain until it happens. Two new developments I've uncovered this week in the NYSE's Advancing and Declining Shares Data I can talk about in my focus section below. I've uncovered two alarming trends that I've never seen anyone write about before.
Below is my volatility chart comparing 2007's 40 & 200-day moving average closing price volatility with 1929 bear market volatility.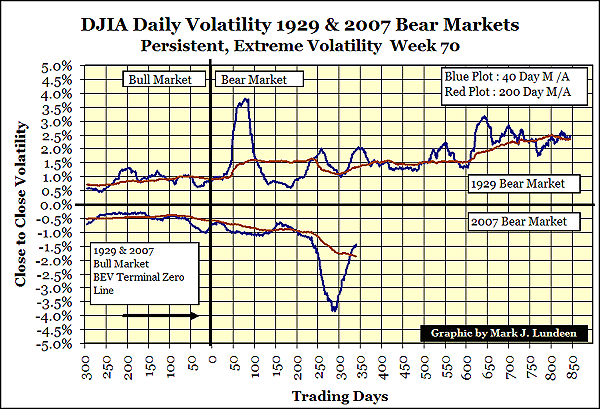 Note: 2007 values are actually positive. They were inverted so 1929 would fit on top and 2007 on the bottom. So for 2007, please forget the negative valuations and focus on the percentages.
(Remember, with the 2007 data up is down and down is up!)
1929/32, Wk 70 200 Day Moving Average Volatility: 1.34%
2007/09, Wk 70 200 Day Moving Average Volatility: 1.87%
200 Day M/A is still moving up. If the DJIA breaks down in the next few weeks we will want to see if the 40 Day M/A starts rising again.
Historically, daily 1% swings from the pervious day's closing price in the DJIA, while not uncommon, should not occur on an almost daily basis. The stock market is running a fever with its "Persistent, Extreme Volatility."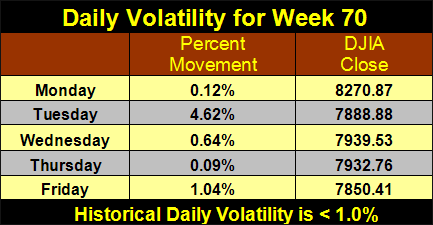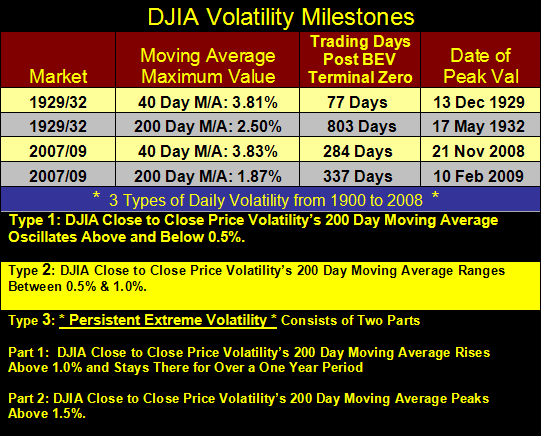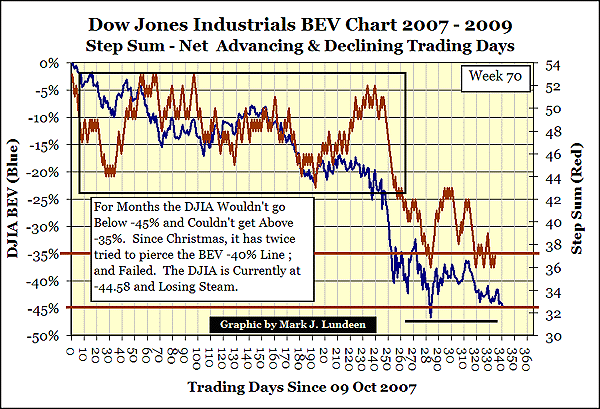 This chart uses daily data. Is the DJIA is ready to take the plunge?
One of my pet peeves about financial journalism is their misuse of computers. The IBM PC came out in 1981. Pre 1981 is a digital financial statistics dark age. Who offers charts going past 1990? Who offers charts going back to 2000? Who offers charts at all? Most of what you read or see on CNBC is only opinion with little empirical data offered for your consideration. This is low quality information that no honest bank would loan money upon. But it's what's offered for your investment decisions.
I think my reports are a real value to my readers. You are seeing data that has been published in Barron's for decades that no one else uses. That doesn't guarantee I'm correct about everything I write about. I hope I'm wrong about most of what I write about. But history has much to teach us.
When you realize that most financial information used by financial analysis's uses data that goes back only to 1990 or so, it means that they have no idea what can happen during a horrible Bear Market. I'm not saying they are lying to their audience. For the most part I'm sure they are doing the best they can. However, it seems that their reasoning is confined within a digital bubble that is unaware of a world before the PC came to market in 1981.
In 1981, gold was going down and stocks would soon to be going up. In 2009 what do financial journalist, on the whole, tell us? Gold will soon be going down again and Stocks will soon be going up again. I think they learnt this in college. Ben Bernanke taught students in college. I expect the 2007/09 Bear will expand many people's understanding of what can happen in the markets.
Keep that thought in mind when you read my comments below about the possibility of a new Ice Age in the NYSE and the significance of 70% Advancing and Declining shares on the NYSE.
The Step Sum is an indicator of market sentiment. When the underlying sentiment is bullish the Step Sum will rise. When bearish it falls.
Think of the "Step Sum" as the sum total of all the up and down "steps" in a data series as prices change over time. An Advance - Decline Line for a data series derived from the data series itself. Logically, to have more up days than down days during a bull market makes sense as does having more down days than up days during a bear market. Understanding the Step Sum is no harder than that.
NYSE A-D Data Shows Alarming New Pattern
The occurrences of net 70% advancing or declining days on the NYSE were common during the 1930's Great Depression stock market. After 1950, these extremes in breadth became very rare. However, since February 2007, the frequency of these extreme market breadth days has increased alarmingly.
Before I go into detail on these net 70% advancing or declining breadth days, a short primer on Advancing & Declining "Breadth" data is appropriate.
DJIA & DJTA A-D Lines 1982 to 2009
Bull and bear markets seem fairly straight forward. Bull markets see price appreciation while bear markets see price depreciation. That is true with the DJIA or gold and silver. With the monetary metals, gold and silver, bull & bear markets are simple. Metal prices trend up or down with the passing of time.
When examining the DJIA, it gets more complicated. The DJIA is composed of 30 different companies. There are times when the DJIA is in a bull or bear market while several companies within the DJIA are in a countertrend to the Dow.
To observe the "internals" of the DJIA, we would look at all 30 companies that make up the Dow and see how many of the 30 Dow companies are Advancing or Declining with the DJIA itself. Studying advancing and declining shares data is called "Breadth Analysis." Barron's started publishing daily and weekly advancing and declining data on all of the Dow Jones Averages in June of 1982. That was excellent timing as the 1982/2007 bull market started two months later.
Note: All data in this article is daily data.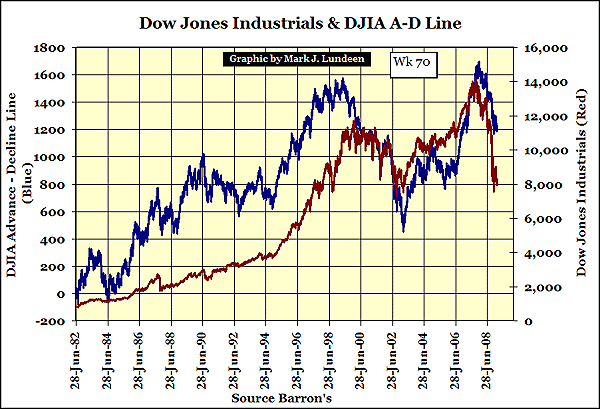 The logic behind Breadth Analysis is that in a bull market, over time, more shares go up than down. The opposite would hold true for bear markets. That's a reasonable assumption that usually holds true with the chart above, but not always. Look at the relationship between the A-D Line and the DJIA above. Sometimes the A-D Line trend leads the DJIA. Other times the DJIA trend leads the A-D Line. Typically these opposing trends occur at market turns. That's a nice thing to know.
In the chart above, note how pronounced the moves in the DJIA itself are after 1996. That's due to inflation. The DJIA appears to have had a smooth ride from 1982 to 1996, but that is not true. The biggest daily panic percentage drop of the past bull market was on Monday, 19 October 1987. On that day the DJIA dropped over 500 points. That was a horrible one day loss of 22%! But this 22% one day drop is no big deal on the chart. Today, with an 8000 DJIA, a 1600 (one day) point drop would match the Oct 1987's 22% decline.
The table below shows the construction of the DJIA A-D line from August 5 to 19, 1982 as the market turned bullish.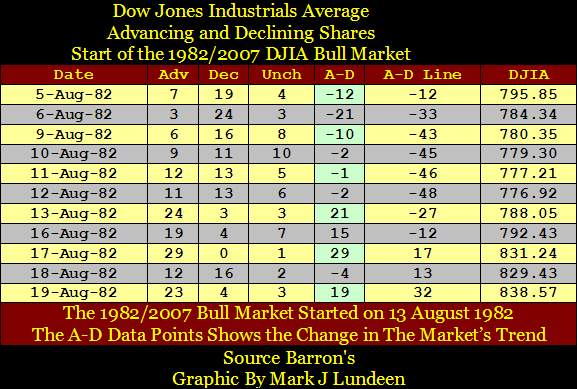 The DJ Transportation Average (DJTA) is made up of 20 transportation companies. If we are to believe this data charted below, these shares declined many more days than advanced from 1982 to 1999 as the DJTA increased by over 1000%. The up days must have been stronger than the down days or there is something wrong with the data.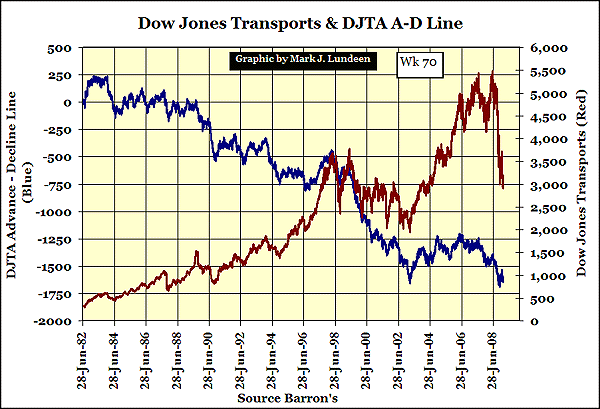 As my Step Sum was inspired by the A-D Line, let's look at the DJIA & DJTA with their Step Sum Plot.
The DJTA's A-D Line may be clueless on the Dow's Transports Average's trends, but my Step Sum has tracked the DJTA fairly well since 1982. The Biggest divergence was from 1990 to 1992.
The DJIA and its Step Sum are below.
As part of this Bear Race to the Bottom Report series, I wrote an article on The Lundeen Bear Box and Step Sum. A Bear Box is a late bear market technical formation where the Step Sum starts to rise while the index continues to fall. In the Bear Box, we see the Bulls buying too early. This causes the Step Sum to rise, even as the index continues to decline. It's called a Bear Box because the Bear wins. The Bulls are forced to sell, sending the Step Sum downwards with the index to the final bear market decline.
In the above chart, we see the 1982/2007 Bull Market started with a Lundeen * Bull * Box. Note the DJIA Step Sum continuing to trend bearishly for 2 years as the DJIA trended bullishly.
To show more detail, I've charted the DJIA and its Step Sum from 1959 to 1985 below.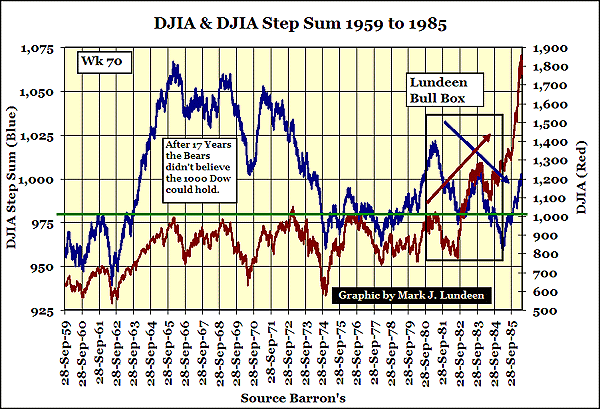 From 1965 to 1980, the DJIA tried and failed five times to hold above the 1000 level. When it made its sixth attempt in 1982, the bears were expecting another DJIA 1000 failure. This is called a Lundeen Bull Box because as you can see, the Bull won. The Bears were forced to sell their bearish positions. Note how the DJIA sprinted upwards when they did.
The bear of 2007/09 has its days numbered. No Bull or Bear lives forever. Assuming the stock market survives the upcoming congressional economic rescue plan, a bull box will be something to watch for in the years to come.
As with all of my indicators in this series, (BEV Chart, Step Sum & volatility indicator) one only needs DJIA data and a spread sheet to follow this market.
NYSE A-D Data from 1933 to 2009
A Step Sum is simple. The DJIA is either up (+1), or the DJIA is down (-1). Then add the accumulated -/+1s to plot the series. The A-D for the Dow is simple too. Subscribe to Barron's, or download the DJIA A-D Data for free on-line and construct its A-D Line. Constructing the A-D Line using NYSE breadth data is a little more complicated as the number of companies trading daily changes over time.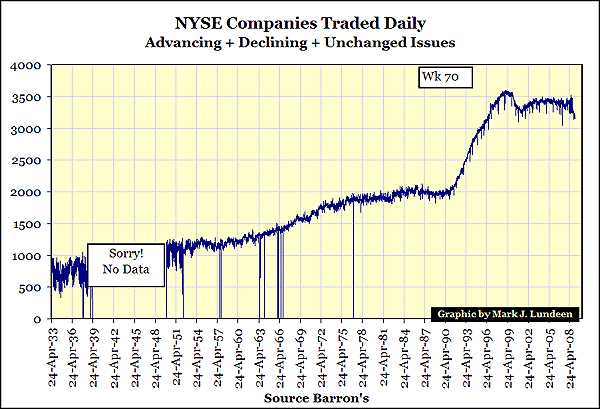 Note: The down spike to zero is missing data. The data sources are degraded with age.
This is another statistical series that Alan Greenspan (1987 to 2006) left his mark on.
Constructing a NYSE A-D Line with the data as is, would understate the data points of 1950 when compared to the data points in 2000.
Seven hundred advancing shares in 1950 is a strongly bullish day.
Seven hundred advancing shares in 2000 is a strongly bearish day.
To normalize each of the above 16,735 daily data points, I've constructed a ratio:

The chart below plots both ways of computing NYSE Breadth. Over the decades, the ratio works best.
The DJIA could not hold above 1000 from 1965 to 1980. But from 1955 to 1975, more shares on the NYSE were declining than advancing. It's remarkable that the DJIA managed 1000 at all. Then something changed at the bottom of the 1973/74 -40% Bear Market. From 1975 to 2007, more shares were advancing than declining.
Is a New Stock Market Ice Age at Hand?
With either the A-D Line or Ratio, we observe decade long cycles where more stocks are declining than advancing or more shares advancing than declining. As the charts in this article indicate, hot markets cool down during decade-long periods of declining A-D Breadth, let's call these long periods of net declining shares "Ice Ages." Note how the 1955 to 1974 Ice Age started slowly and terminated in an exponential collapse.
The exemption to this would be the Dow Jones Transports. But I don't believe the breadth data for the Dow Transports! It has to be a mistake.
The cycle where more NYSE shares advance than decline for over a decade are the periods where the DJIA shows a sustained period of appreciation. That was also true from 1950 to 1955. Let's call this cycle, "Global Warming." Note how the 1975 to 2007 Global Warming started slowly and ended in an exponential spike.
Both of these cycles in the NYSE Advancing & Declining data ended in exponential exhaustion.
Note the new downturn in the A-D Line and Ratio. Are we entering into a new Ice Age where stocks on the NYSE will decline more than advance for a decade or more? To early to say, but it has happened before.
Cycles oscillate from one extreme to another. After 32 years of Global Warming on the NYSE, it's reasonable for this cycle to reverse. This is especially so after all the lies and half-truths Wall Street and its government regulators have inflicted upon the investing public since Alan Greenspan became Chairman of the Fed. The NYSE will only be a bad memory for most people for decades to come. They will not be back. This is exactly what happened after the 1929/32 Bear Market.
NYSE A-D Data Confirms 2007/09 Bear's Potential
The chart below is derived from my NYSE A-D Ratio. Each data point for the Ratio returns a percentage value between +/-100%. I've noted each time since 1933 to 2009 when the NYSE A-D ratio exceeded +/-69.9999999%.
Positive 70% Day = 1.
Negative 70% Day = -1.
All other data points between 70% & -70% = Zero on the plot below.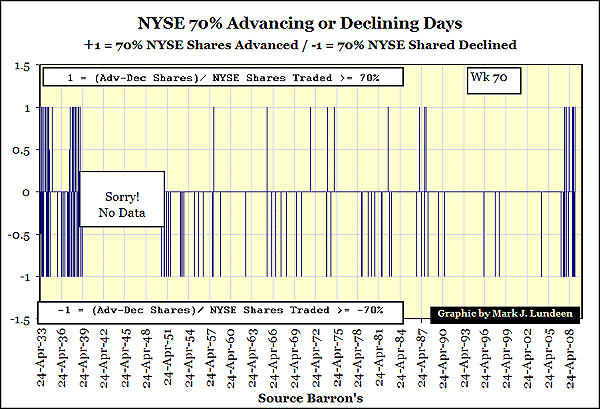 Extremes in breadth were common from 1933 to 1939. A significant bull market occurred from 1932 to 1936, but on balance, the 1930s was not a good time to have been alive, let along be an investor. From 1950 to 2007, these extremes in market breadth occurred infrequently, sometimes with years separating them.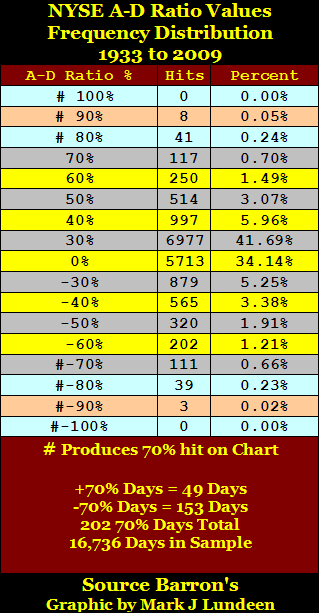 However, starting in February of 2007, we again see a pattern of 70% days not seen since the 1930s.
The following facts are interesting. All during Alan Greenspan's administration of the Fed, the NYSE failed to generate even a single +70% Day. Amazing! The market didn't have many -70% Days either. Strange!
Don't fool yourself. The "policy makers" have manipulated the stock market for a long time while the regulators looked the other way. But recently, the market has been pushing back. The Madoff scandal is but the first of many stock market scandals to come. The SEC will look very bad before we hit the bottom of the 2007/09 Bear Market. Congressional oversight was biased in favor of Wall Street. Goldman Sacks and J.P. Morgan had the best congress money could buy. In the above chart we can see exactly when "policy" started to lose control, February 2007.
Good times or bad, it seems that when we start to understand the market, someone always changes the rules. Ben Bernanke can tell you all about that! After examining the NYSE Advancing and Declining Shares Data, we see someone is changed the rules again.
I don't feel comfortable in giving specific investment recommendations, except that gold & silver coins seem a smart thing to be buying now. I really like Silver Eagles and junk grade pre 1964 silver coins. Mercury dimes, Walking Liberty or Franklin half dollars and all silver dollars are going to be winners. I like the miners and explorers of gold and silver too.
Mark J Lundeen
13 February 2009
mlundeen2@Comcast.net
Dow Jones -40% Declines From 1885 to 2008 is the article that inspired this race of 1929 & 2007 Bear Markets. You may want to read that article to understand my "BEV Chart."
Dow Jones Industrials Average Market Volatility is the source for my volatility studies.
The Lundeen Bear Box and Step Sum is the source for my Lundeen Bear Box and Step Sum Chart
Note For the Record: Mark Lundeen does not want a devastating bear market in the next two years. However, in full view of Congressional Market Oversight Committees and under the supervision of Government Regulatory Agencies, things were done that I believe will make a historic bear market inevitable. If you have a problem with this bear market, contact Washington, not Mark Lundeen.