The 1929 & 2007 Bear Market Race to The Bottom
Week 60 of 149
2007/20?? Bear Market Exceeds 1937/38 Bear
200 Day M/A Volatility!
Something Strange About Currency in Circulation
So show me the money!
Measuring "Inflation" / CPI or CinC
The Consumer's "Policy" Plight
CPI / CinC Inflation & Bond Yields

Mark J. Lundeen
Mlundeen2@Comcast.net
5 December 2008

Color Key to text below
Boiler Plate in Blue Grey
New Weekly Commentary in Black
Here is the BEV chart for the Bear Race.
The weekly closing price BEV (Bear's Eye View) results for week 58 in the Dow Jones' 1929 & 2007 bear market's race to the Bottom are as follows:
1929-32: -48.71% from its all time weekly closing high price of 380.33
2007-08: -38.73% from its all time weekly closing high price of 14,093.08
Below is my volatility chart comparing 2007's 200-day moving average closing price volatility with 1929 bear market volatility.
Note: 2007 values are actually positive. They were inverted so 1929 would fit on top and 2007 on the bottom. So for 2007, please forget the negative valuations and focus on the percentages.
1929, Wk 57 200 Day Moving Average Volatility: 1.12%
2007, Wk 57 200 Day Moving Average Volatility: 1.73%
(Remember, with the 2007 data up is down and down is up!)
Historically, daily 1% swings from the pervious day's closing price in the DJIA, while not uncommon, should not occur on an almost daily basis. The stock market is running a fever with its "Persistent, Extreme Volatility."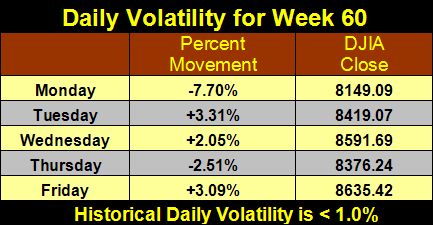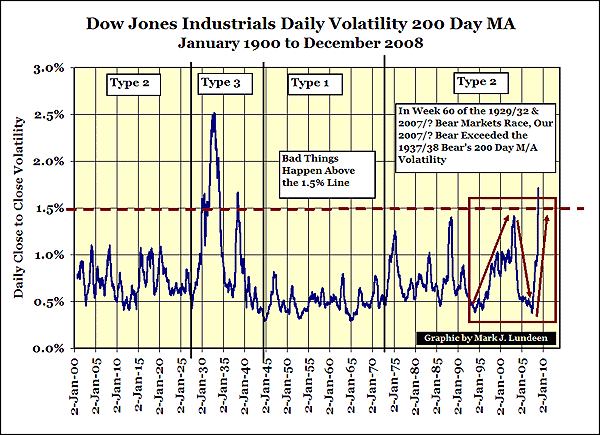 The DJIA at today's valuations is nothing historically significant. This is a 40% bear market of the type that has been seen seven times since 1885. Not a pleasant thing, but so far, not a catastrophe either. Someone 65 years old would have lived through two or three of these in their lifetime. What worries me is this market's volatility. Since 1900, the 200 Day M/A has only exceeded the 1.5% level only twice before, and both times were in the Great Depression.
The 200 Day M/A is not easy to push around. Ten extreme >2.00% trading days within a 200 Day M/A is no big deal when the rest of the other 190 days fall within the historical norm of 0.00% & 1.00%. But the chart below shows what is happening with the 200 Day M/A in 2008!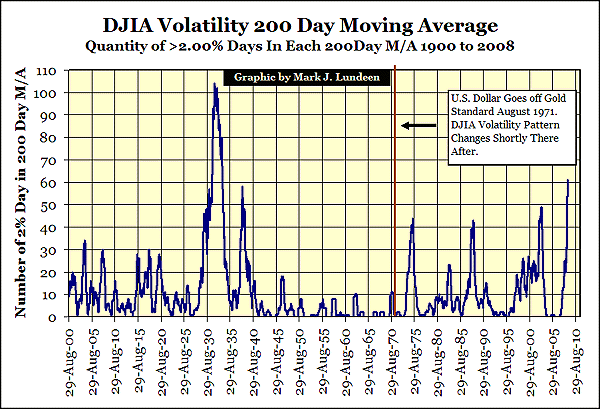 Of the 57 trading days since 17 September, 40 of those days were >2.00% days. In the past 10 trading days, only one day was below 2.00%!
The DJIA volatility's 200 Day M/A wants to fly into Bear Market glory. And it will, if we keep having the DJIA moves in excess of 2.00% day after day. Let's hope that the stock market's volatility is currently peaking and will calm down shortly.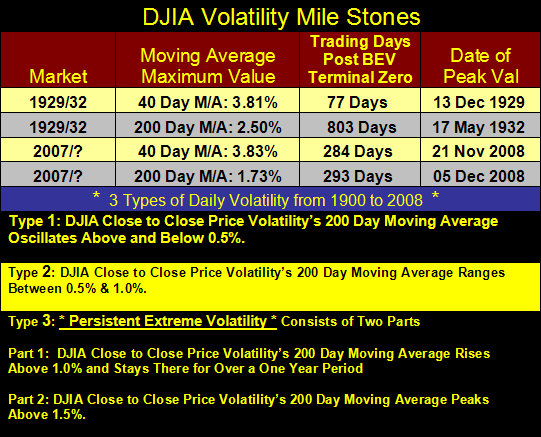 I hope I did not bore you with my expanded focus segment on volatility. But consider this. Price-wise this Bear is only #6. But in terms of volatility the 2007 Bear Market is now #2 and quickly catching up to the 1929-32 Bear! This is not a reassuring thought.
So what does Mark J Lundeen think is causing this extreme volatility? The current extremes in volatility is caused by a +20% DJIA price differential between the market's reality and Washington's "policy." I believe that had the DJIA been allowed to find its own level, it would currently be somewhere below 60% from its October 2007 BEV Terminal Zero, with much lower levels of daily volatility.
So the Bear wants this market taken down. The "policy makers" want this market taken up. And the volatility is the visible manifestation of the disagreement between Washington and the Bear over which side of 8000 the DJIA needs to be on.
If I am correct, this wild volatility will continue until one of these two opposing forces gives up the fight.
The Lundeen Bear Box and Step Sum is below.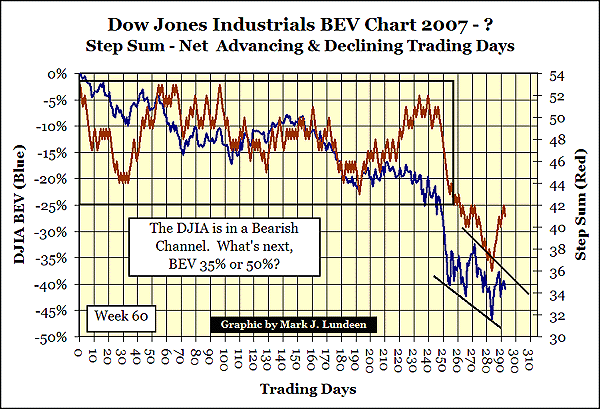 The Step Sum is moving upwards. That tells us that investor sentiment is increasingly bullish. But the DJIA has to break out of its bearish channel before the bulls get a payday. The Dow is in position to do something bullish if it can just move up 4%.
However, this DJIA bear market is currently #6 on the list of historic bear markets. It only has to fall below -47.79% of its terminal zero to push aside two other DJIA record bear markets. I'm not cheering for the bear, but lately it seems that the DJIA has an easier time falling 4.0% in a day than rising 4.0% in two days. And one down 7.0% day is all it would take for our 2007 Bear Market to move up from #6 to the 4th worst DJIA bear market since 1885.
The Step Sum is an indicator of market sentiment. When the underlying sentiment is bullish the Step Sum will rise. When bearish it falls.
Think of the "Step Sum" as the sum total of all the up and down "steps" in a data series as prices change over time. An Advance - Decline Line for a data series derived from the data series itself. Logically, to have more up days than down days during a bull market makes sense as does having more down days than up days during a bear market. Understanding the Step Sum is no harder than that.
Something Strange About Currency in Circulation
Note how Currency in Circulation (CinC) from 1953 to 2008 was very closely linked to Total Fed Credit.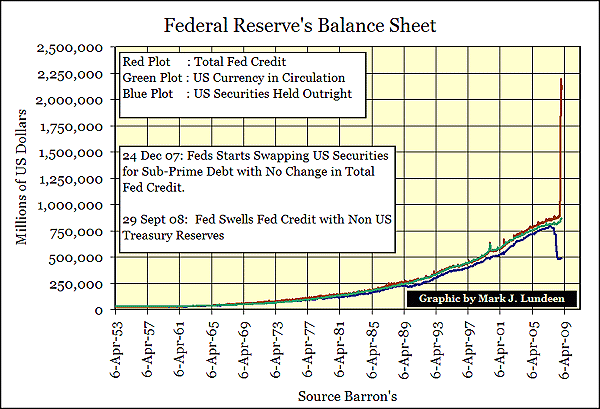 There is a reason for this. The Fed purchases its reserve assets by creating dollars out of thin air. The assets go into Total Fed Credit, the new addition of dollars into CinC. This is what we learnt in Econ 101, right? Right!
But when we look at the above chart, something is missing. The Fed has increased Total Fed Credit by a whopping $1.2 trillion since early September 2008: $1.2 trillion in only three months! So where are the dollars the Fed created for purchasing $1.2 trillion of Wall Street's AAA rated sub-prime mortgages and non-performing credit receivables? Wall Street received $1.2 trillion US dollars when it delivered these $1.2 trillion in toxic liabilities to the Fed, right? Right!
So show me the money!
Is it possible that the champions of "transparency" are hiding $1.2 trillion dollars thinking that no one will notice? Mendacity is so fully entrenched with our "monetary policy makers" that it never occurs to them that their Enron accounting practices might actually produce similar results for the American dollar down the road.
Anyways, I might be wrong here. Since the US abandoned the gold standard, the dollar has been backed by confidence, not integrity. But whatever backs the dollar, it has always been my understanding that "Currency in Circulation" was just that, paper dollars in circulation. Maybe the problem is at the US Bureau of Engraving & Printing (BEP). I wonder if the BEP actually intends to increase the dollars in circulation by this monstrous $1.20 trillion. Using the current series of Federal Reserve Notes, dominated between $1.00 through $100.00 notes, it will take a significant amount of time and paper to fill this order.
If the BEP intends to print $1.2 trillion in "Federal Reserve Notes" it will take forever if they use the usual series of $1.00 to $100.00 dollar notes. In any event, it will also be interesting to see if this split in Total Fed Credit and CinC is permanent. If so, this new accounting practice will change the below noted effects CinC has had on price, consumer purchasing & yield trends.
Measuring "Inflation" / CPI or CinC
Fed Chairman Bernanke gave a speech in Austin, Texas this week. He said the Fed had two weapons at its disposal to fight deflation: lower interest rates & "liquidity." Chairman Bernanke expressed his willingness to cut interest rates to zero if the situation required it. He then said that if zero interest rates did not pull the economy out of its slump, the Federal Reserve System's ability to create "liquidity" would still be unimpaired.
In November 2003 Bernanke promised that he would drop money from helicopters if that's what it took to defeat deflation. It was most likely this 2003 speech that earned his current position as Fed Head. In light of what has happen to the Fed's balance sheet in the past year, we would be foolish not to take the current Fed Chairman at his word. To stop assets deflation, he * will * flood the financial system with dollars anyway he can. It appears that he is willing to by-pass a banking system that refuses to lend money to credit crippled business and consumers by "injection" his "liquidity" directly into one bad idea after another.
Deflation will not have a chance with this guy. So inflation higher than I can now imagine is very likely. But how can we measure it? Typically, people would say that the Consumer Price Index measures inflation. Inflation is rising prices, is it not? Typically, people know only what they are told, but people are never told of the ever increasing volume of dollars "injected" into circulation. In the chart below, I have plotted CPI and Currency in Circulation (CinC) with other items for a comparison of price trends since 1947.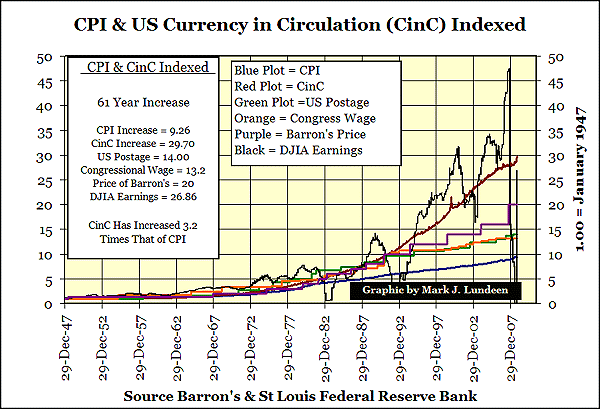 CPI is the blue plot at the very bottom of the chart. Other than PPI, I suspect since 1947, few things of economic value that have seen their prices rise as the CPI plot would have us believe. Computers & long distance phone service would be two such exemptions. I suspect unskilled labor has also under performed CPI. But I don't think it's inaccurate in saying that CPI understates consumer price "inflation" by a significant amount. And CPI takes little heed of monetary inflation effects' on asset prices. In 2008, who doubts the stock, and real estate markets booms and busts of the past 15 years were anything other than the financial market's reaction to the Greenspan Fed's "monetary policy?"
In the chart above, it's apparent that the source of our current problems is seen in the rise of CinC, not CPI. We see that CinC inflation is actually higher than my random and unscientifically selected items. That only shows that money flows where people spend it and most of the newly created money was spent on items other than those charted above. Still, I believe these price increases have been typical of other items since 1947.
It is interesting to note how the DJIA's earnings have oscillated above and below CinC since 1947. That strongly suggests that Blue Chip companies' earnings per share increases are more properly attributed to monetary inflation than to any other single factor. That also goes for when the DJIA's earnings went negative. Some of the DJIA companies were ground zero for the credit crisis.
The Consumer's "Policy" Plight
It is important to realize that for the past 21 years, price increases alone can't tell the entire story of the consumer's present plight.
From January 1987 to December 2008, the increase in Total Fed Credit enabled an increase of consumer loans by two trillion dollars. The chart below shows that since 1987, consumer debt has increased at a rate twice that of CPI. But note how closely consumer indebtedness and CinC trends are. This relationship between the increase in currency and of consumer debt is strong evidence of the predatory nature of our current "monetary system." Washington's elected political class, legislating under the advice of the "dismal scientists" controlling the Federal Reserve, is destroying the American middle class.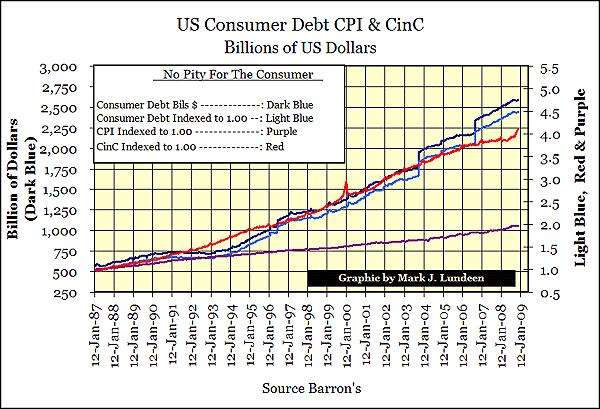 A significant proportion of the work force, as well as the retired segment of the population has CPI adjusting their wages and/or income for inflation.
I admit that as individual employees advance in any organization, their income will increase with CPI plus income kickers for advancements. But in most cases where an employee receives a promotional income increase it is due to a vacancy in the organization. So if individuals in an organization see their wages increase, it does not follow that total wages paid by their employer will increased. Still employers expect to see total wages increase each year in line with inflation. An inflation defined by CPI.
The popular culture dominated by Hollywood and the New York media giants have encourage working people to use debt to finance their consumption. For decades, Americans have been living beyond their means. The above chart should awaken our realization that something unsustainable is entering into its terminal phase.
Let's call it the "policy" of an unholy trinity:
"monetary policy " blessed by Washington's political class and managed by the Federal Reserve creates money out of nothing for the benefit of the banking system which is intent upon making credit card debt a main stay of their business model.



the US Department of Labor compiles a fraudulent Consumer Price Index which does not compensate wages and income for actual CinC inflation



and last but not least, academia whose leading lights has extolled the virtue of indebtedness for decades.



Our system of "higher education" has also been more than willing to provide essential expertise in economics, law, accounting and statistics that allowed the mechanisms of predatory debt to run smoothly for decades. Academia knows everything except what is right or wrong. The common man places great trust in the wisdom of the American university system. That trust is misplaced. Harvard, Yale and all the usual suspects have inflicted much damage on the middle class. I see that Harvard and Yale's investment portfolio is down significantly - Good!
Is this a conspiracy in the works? Maybe, but I believe the consumer's plight should not totally be blamed upon a conspiracy of tax supported, dark sinister forces. That is not to say that dark sinister forces are not present and financed by tax dollars. But we tell our children not to get into the back seat of a car with strangers; that they should run away. At what age does this advice no longer apply in our lives?
There are exemptions for what I am about to say, but I'm not surprised to see the Baby Boomers, who as a group in the 1960s proclaimed that they would "never trust anyone over 30," do things their grand-mothers would be shocked to see. No I am not talking about "sex and drugs and rock & roll."
The chart above illustrates that the boomers, * as a statistical group * acquired $2.00 dollars of consumptive debt at usurious interest rates for each $1.00 increase of income since 1987. They then staked their retirement years not on savings but on investing (directly or indirectly) in the 1990s - 2007stock and real estate booms now turned busts. Gold bugs, me included, have looked upon the abuse of debt with horror for decades but few believed that poor decisions we make in life would have bad consequences. This is ugly, but it is what it is.
What is comical is to see ignorance in full bloom on CNBC, CNN, FOX New Channel, talk radio, et all as "experts" wonder what the "policy makers" have to do to get the consumers, consuming again. They just don't seem to understand that the American consumer, taking the advice of the best financial minds TV had to offer, is now a very dead horse. The world's economy will have to find some other heavy hauler.
I would like to have these "experts" or better yet, former Fed Chairman Greenspan examine the above chart and hear their recommendations on resurrecting the dead consumers. If the "experts" are correct, that an economic recover is not achievable until American consumption again becomes a way of life, prospects for the DJIA are extremely dim for the next ten years.
CPI / CinC Inflation & Bond Yields
If you take a quick view of my chart of Barron's Bond Yields, you will see that both the Best Grade and Medium Grade yields never returned to their previous low levels of the 1940s & 50s. I believe this baseline shift in bond yields was due to the bond market's adjustment to inflation of a higher rate than was documented in CPI. I personally think that using CinC as an inflation index makes much more sense. The bond market seems to agree.
It is interesting to see the correlation between CinC inflation and Barron's Bond Yields. For 61 years, bond yields seem more attuned to CinC inflation than to CPI. This is especially so from the Volker to the Bernanke Federal Reserve (1979-2008).
Note: To calculate CPI & CinC inflation rates I used the data published in Barron's, or the St Louis Fed. Each Week's value was divided by the value published 52 week ago for my weekly annual rate.
There is coming a day when CPI will be rejected by the general public as a proper measurement of inflation. It will also be interesting to compare Barron's Bond Yields and CinC in the months to come. With Helicopter Ben at the "printing presses", CinC inflation should pick up shortly. This assumes they resume their former accounting practices.
Regrettably in Week 60, I can find no reason to reverse my prediction that this -40 DJIA bear market is destined to finish as #2 or #3 in the rankings of historic DJIA market bears. But remember, since 1885, to have the DJIA fall -40% from a previous all time high (BEV Terminal Zero) was the single most bullish thing the stock market could do, except once in 1929-32. I fear that our current stock market may be a repeat of the 1929-32 experience.
I would advise my readers that what has worked in the past 20 years will most likely not do for the next decade. Treat all DJIA rallies as suspect. We should all consider previous ages of inflation to see which asset classes prospered during times when money died a little each day. Precious metals and commodity based assets seem the way to go, even if we get a bazooka blast from the "policy makers" every now and then.
Mark J Lundeen
5 December 2008
Dow Jones -40% Declines From 1885 to 2008 is the article that inspired this race of 1929 & 2007 Bear Markets. You may want to read that article to understand my "BEV Chart."
Dow Jones Industrials Average Market Volatility is the source for my volatility studies.
Note For the Record: Mark Lundeen does not want a devastating bear market in the next two years. However, in full view of Congressional Market Oversight Committees and under the supervision of Government Regulatory Agencies, things were done that I believe will make a historic bear market inevitable. If you have a problem with this bear market, contact Washington, not Mark Lundeen.