Price Of Gold In Controlled Ascent

Jeff Nielson
October 15, 2009

Shortly after word filtered through to the gold market that the Chinese government was actively encouraging its own citizens to buy gold (see "China Urges Citizens to Buy Gold, Silver"), a new phrase was coined for this market: the Beijing "put". In other words, the theory is that gold-buyers could rely on the Chinese government to "put a floor" under the gold price with its own buying - in order to prevent its own gold-buying citizens from suffering any significant losses.

This was a take-off from the infamous "Greenspan put" - where Easy Al could be counted upon to provide monetary policy which was supportive of Wall Street's latest bubble-blowing schemes. There is clearly some irony in this reference - as it is the insanity of U.S. monetary policy this decade which has been one of the most important ingredients of this long-term bull market for precious metals.

Rather than looking at the down-side support, I have been much more interested in the manner in which gold has risen over recent months. In previous significant rises in the price of gold, there have inevitably been several trading sessions where gold "gaps" higher (i.e. makes a near-vertical leap from some lower price level). This has especially been true whenever gold has set a new high during this long-term bull.

However, for roughly six months now, the price of gold has been remarkably 'well-behaved'. A one-year gold chart provides visual evidence of this.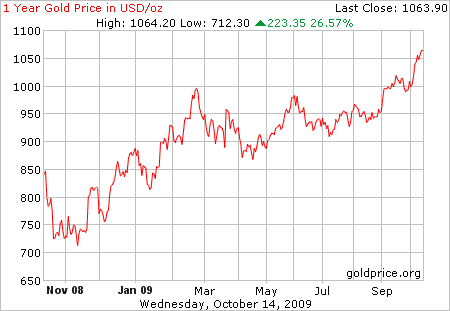 If we look back to the six months prior to the most-recent bottom in April, we see a very jagged line - representing a series of violent moves in both directions. When we look forward from that time, however, the line is obviously much smoother, and more rounded - reflecting much more gentle moves in the daily price.
Yes, many will say this is merely a reflection of the broader market - which has also smoothed-out, following the global panic which shook markets (starting in the 2nd half of 2008). Yet, if we look at a two-year chart for the price of gold, we see that same, jagged trading pattern throughout, until the last six months.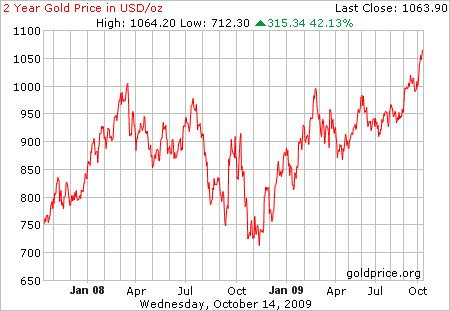 The violent trading in this market is what one would expect in the world's most heavily-manipulated market. With gold seriously undervalued (thanks to the reckless, currency debasement of Western bankers), and in a long-term bull market, bullish sentiment has naturally caused spikes in the price. As the chart reveals, these upward spikes have typically been followed by sharp corrections.
This is straight out of "Manipulation 101". The best time for the anti-gold cabal of bankers to launch an attack on gold is right after a big spike - when technical signals show gold as "overbought", and with many traders who can be spooked into profit-taking if (or rather when) the Manipulators reverse those bullish indicators through more of their excessive bullion-dumping. As gold has hit higher and higher prices, the Manipulators have become more frantic or (depending on your perspective) vicious in their attacks. This can be clearly seen by looking at a 5-year chart for the price of gold.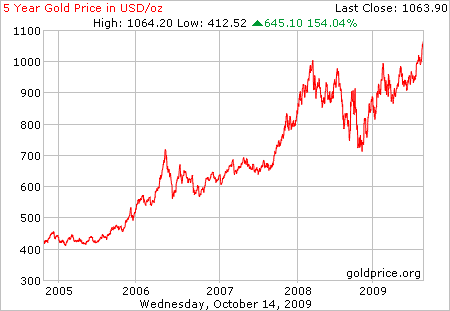 As we see, gold-trading was reasonably smooth right up to the beginning of 2008. From that point until April of this year, volatility became more and more extreme, before suddenly reverting to much calmer trading. There are two components to this price movement which are extremely atypical.
To begin with, gold rarely sets a bottom in April. Typically, that's when the gold market begins its "seasonal weakness" - which generally lasts right through the summer. However, instead of falling from its April price-level, the price of gold rose, and then traded in a very narrow trading-range throughout the summer.
This was even more surprising, given that the "news" from that time was generally bearish for gold. We heard repeatedly (courtesy of the Manipulators) that Indian bullion-dealers (typically the world's largest importers of gold) had virtually ceased their gold-buying for the entire year. Along with this, we had the Manipulators re-announcing the proposed sale of 400 tons of IMF gold, over and over and over.
With that negative propaganda, combined with typical seasonal weakness, the expectation is that it would have been a dismal summer for the "gold bugs". Indeed, the precious metals miners saw their share prices beaten-back severely (despite the relatively flat bullion prices) - a clear indicator of very poor sentiment in the sector.
If gold behaved atypically during its normal "weakness", it has acted even more abnormally since the latest rally started around the beginning of September. For not only the gold market, but almost any market, hitting a new, all-time high (even if only a nominal high) always leads to more erratic trading. The rise in bullish sentiment which characterizes any all-time high typically leads to the sharp "gaps" higher which I alluded to at the beginning. Meanwhile, once the record-high is set, profit-taking (and fear of a natural correction once a new high is set) typically leads to sharp pull-backs.
We have seen very little of that in recent weeks with the trading in the gold market. The only relatively sharp upward movement came when gold pierced $1000/oz (for the third time). With that such an enormously important psychological barrier, it has been a true "line in the sand" for the Manipulators - with the previous moves above the $1000-mark quickly and savagely beaten-down.
Thus, there needed to be some sort of decisive move above $1000, to validate the move in the eyes of the (very skeptical) gold bulls. Beyond that one, small leap, what we have seen are regular modest advances, followed by one or two day "breathers" every week or so - to allow some profit-taking, and to consolidate the price at higher and higher levels.
In my mind, this strongly suggests a market which is being "walked higher" by some unseen force. You need to be neither a psychic, nor even an ardent gold-bull to single-out China as the most likely "suspect" here.
In past years (which now seem like a distant memory), the anti-gold cabal good marshal its forces, and (at critical junctures) "bomb" the market with $10 of shorting/dumping for every dollar which legitimate investors would invest on the "long" side. However, we now live in a different world.
With the amount of "ammunition" which the Manipulators have remaining at historic lows, these predators are also confronted with an additional obstacle to their nefarious scheming. Now, for every dollar of gold which the bullion-banksters dump onto the market on any given day, the Chinese government has one hundred dollars of soon-to-be-worthless U.S.dollars - ready, willing and able to soak up every ounce of bullion still sitting in bankster vaults (and that is even if we accept their own inflated reports of bullion "reserves").
Given this new reversal of domination in this market, China's government could have easily moved gold up to $1200/oz, perhaps even $1500/oz - if they had chosen to really stoke "gold fever". However this doesn't suit China's own agenda.
As most know, the Chinese government is accumulating gold reserves more rapidly than any other entity on the planet (see "China now has 5th largest gold reserves"). Driving the price of gold up rapidly would only force them to use a larger chunk of their reserves to acquire the same amount of gold. It would also over-extend the market to the point where even the totally "out-gunned" Manipulators could engineer a significant pull-back - as the combination of bullion-dumping and a subservient propaganda-machine is still a force with which to be reckoned.
At the same time, the explicit message to the Chinese people that gold is a "good investment" can be seen as a message to the broader gold market, that China will not allow any dramatic reversal in the price (hence the Beijing "put").
There is "a new sheriff in town" when it comes to the gold. The message of the new authority in this market is clear: gold is going higher, steadily rather than dramatically. In turn, this gradual advance should rule-out any of the savage pull-backs - which have successfully managed to crush bullish enthusiasm in this sector again and again. Thus as is normal during a bull-market, every pull-back in the price of gold represents a genuine "buying opportunity" rather than some harbinger that the gold rally has ended.
Jeff Nielson
www.bullionbullscanada.com