Another Ascending Wedge

Carl Swenlin
13 June 2009

About six weeks ago the S&P 500 had worked itself into a bearish ascending wedge pattern. In my May 8 article I said that the pattern was "virtually guaranteed" to resolve downward, but that I didn't think the decline would last very long or go very far. As it happens, that is what came to pass. Now we find ourselves in a similar situation, with the 200-EMA resistance preventing the price index from getting to the top of the rising trend channel and putting the top line on the wedge.

As I said in the May 8 article, ascending wedges can resolve to the upside, but I don't see any concrete evidence that would make me think that is going to happen to this particular wedge. The price index has been edging sideways and very slightly higher, and, as you can see on the chart, volume is contracting.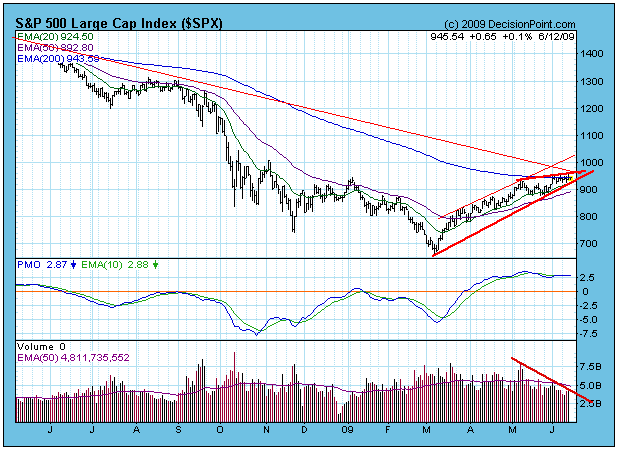 There are also some medium-term negative divergences beginning to appear, such as on the McClellan Summation Index chart below.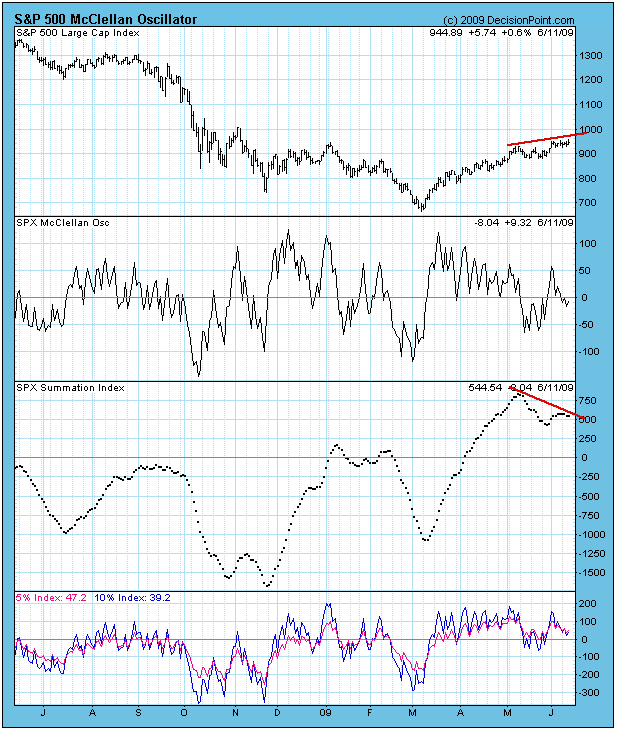 Another negative divergence is evident on the Volume Trend Oscillator (VTO) chart.

In my analysis I noted that negative divergences are not yet in abundance, but their appearance in the context of a secular bear market is a reminder that the current rally is probably more vulnerable than many think.

Bottom Line: The ascending wedge formation is likely to break downward, but it is a short-term issue at this point. The difficulty the market has had getting above resistance might be overcome if there were a modest correction before another breakout is attempted; however, cracks are beginning to appear in the medium-term picture, and any correction should not be fully embraced as positive until it is clear that it is over.

. . . .

MAIL

QUESTION: Your June 5 article says you have been long since March 17. What am I missing here? Your Chart Spotlight articles dated 3/13 and 3/20 entitled "Bounce" and "Short-Term Top" contain no such bullishness.

ANSWER: Our Decision Point Alert Daily Report (available daily to subscribers) publishes our official medium-term market posture based on our mechanical model, which has been bullish since March 17. (See signal table below.) My weekly articles feature my subjective analysis, which tends to be short-term oriented, and may not be fully aligned with the mechanical signals.

We usually publish our signal table at the beginning of the month in one of these articles, but we do not usually publicly announce signal changes when they occur in deference to paid subscribers.

Carl

. . . .

MECHANICAL MODELS

We rely on our mechanical trend models to determine our market posture. Below is a recent snapshot of our primary trend-following timing model status for the major indexes and sectors we track. Note that we have included the nine Rydex Equal Weight ETF versions of the S&P Spider Sectors. This may seem redundant, but the equal weighted indexes most often do not perform the same as their cap-weighted counterparts, and they provide a way to diversify exposure.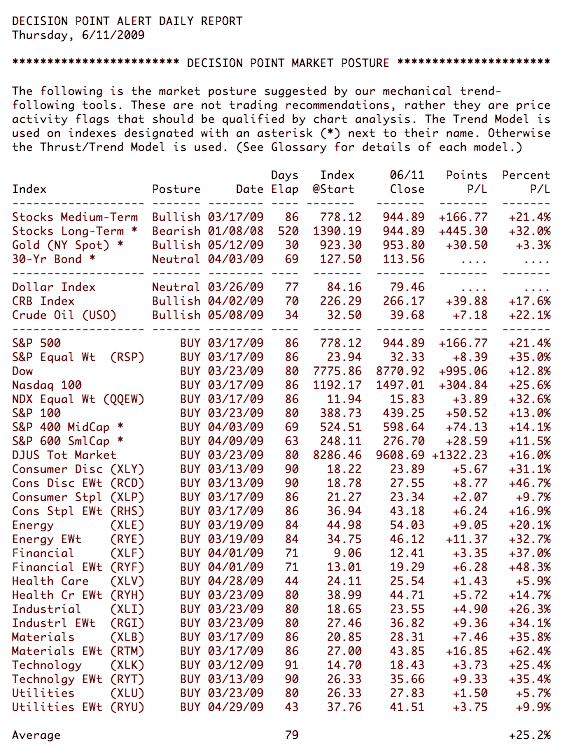 Technical analysis is a windsock, not a crystal ball. Be prepared to adjust your tactics and strategy if conditions change.

* * * * * * * * * * * * * * * * * * * * *

BIO: Carl Swenlin is a self-taught technical analyst, who has been involved in market analysis since 1981. A pioneer in the creation of online technical resources, he is president and founder of DecisionPoint.com, a premier technical analysis website specializing in stock market indicators, charting, and focused research reports. Mr. Swenlin is a Member of the Market Technicians Association.