Rivers Of Trend - XAU & S&P500

A trend is like a river flowing in its banks, around rocks and sharp bends. Occasionally, a river will be stable and flow smoothly. But at other points, it will be hazardous with wild rapids, a deep gorge, even a water fall or two. The trend is not about measuring the waves in the river because wave analysis is about as valuable as a rear view mirror in a head on collision with a rock. The trend is all about direction, energy and flow.

We measure the river trends in the XAU and the S&P500 indexes using two proprietary indicators, the Trend Directional Indicator (TDI) and Gravity Center (GC). For cyclical flow analysis within a given trend, we use the SRA, a speed and resistance indicator.

Pendulum's TDI along with its signal line (TSL) is based on a proprietary mathematical formula that uncovers a trend then measures its amplitude, force and energy. Gravity Center is a simple formula that recognizes the intricate and delicate balance of recent highs and lows and then integrates them with today's close in a pendulum format. Gravity Center is the point around which prices fluctuate cyclically. This point is constantly changing and is a prime determinant of the overall trend.

Primary trends in any time frame (daily, weekly or monthly) are measured by the TDI and GC. Both the TDI and the GC must confirm the overall trend in any timeframe for any action to be taken.

Consider the TDI and GC along with their signal line as rivers of energy and direction, correctly determining the trend flow. We try to keep it simple with two primary trend indicators to guide us in whatever timeframe we choose to trade. Thus, a river runs through it.

Focus

Studies have shown that 60% of a typical stock price change can be directly attributed to the movement of an overall market index. So it just makes common sense to be on the right side of a market trend before considering individual issues.

Here at Market Pendulum, our goal is to add to our premiere long term positions in any personal or model portfolio when low risk entry points occur as defined by our leading metrics, the Trend Directional Indicator and Gravity Center indicator. We primarily use the weekly indicators for potentially larger gains while keeping an eye on the daily and monthly. It is the sensible approach.

XAU Update

Recently, the daily TDI and GC revealed that the latest short term uptrend was invalid and the XAU prices continued downward, as demonstrated in the two charts below.

XAU index Trend Directional Chart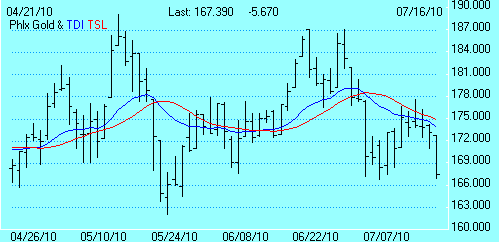 XAU index Gravity Center Chart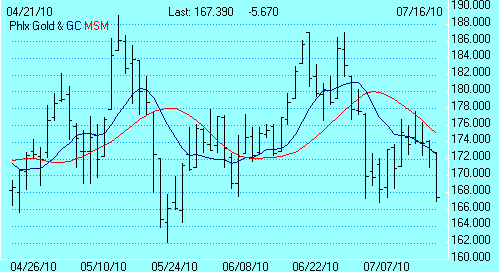 The good news, however, is the TDI and GC weekly and monthly charts for the XAU are still in positive alignment at this point. For reference, the weekly TDI chart is provided below and is self-explanatory.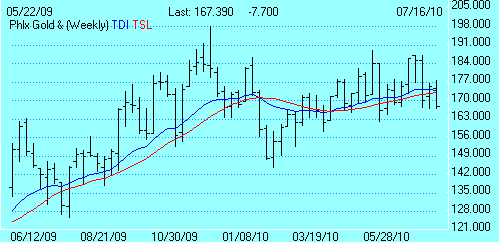 S&P500 Update
The daily TDI and GC charts of the S&P500 (not shown) are about to go negative while the weekly TDI chart is clearly negative as illustrated below. It will take some time to repair this damage and the outlook is not good.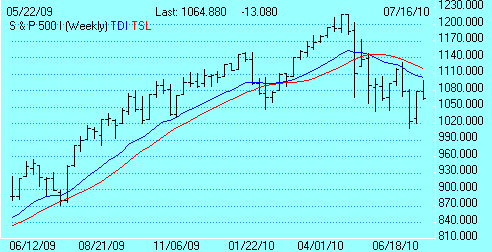 The TDI and GC monthly charts for the S&P500 are still positive at this point.
Summary
The daily XAU is negative while the longer term parameters are still positive.
In regard to the S&P500, the outlook is weak in the daily and decidedly negative in the weekly. However, the monthly chart is still positive at this point.
-------------------------
For additional information, visit our blog here. Model portfolios for Gold/Silver and Resource areas can be viewed here. All areas are free.
July 18, 2010
Contact: Trader Garrett
Email: mpendulum@hotmail.com
Website: http://marketpendulum.blogspot.com
Disclaimer: This opinion piece was created solely for informational, educational and entertainment purposes and is not to be construed as a solicitation or an offer to buy or sell any securities or related financial instruments. Market Pendulum is not an investment advisor. Market Pendulum accepts no liability whatsoever for any actions taken as a result of reading this opinion piece or from the dissemination of any information from the website. The information contained in this opinion or on our website is obtained from sources believed to be reliable but is not guaranteed. Readers should not regard the Market Pendulum website, its opinions or its contents as a substitute for the exercise of their own judgment and due diligence.