| | |
| --- | --- |
| www.preciousmetalstockreview.com | 28 April 2012 |
Apple A Day Keeps The Bears Away
Warren Bevan

It was indeed quite the week with Spain reeling now in debt issues and interest rates soaring. I guess Greece is fixed!

But we all know that the list of troubled countries is long and getting longer and we've yet to fix any of them, we've only see the can kicked down the road a bit.

US markets all but collapsed early in the week but then seemingly got back on the "apple a day regiment" it's used to and then moved higher and so far has annulled bearish chart patterns. Huge earnings from the iCompany continued and it's pulled the rest of the markets higher in 2012 thus far and that looks like it may well continue.

While we're certainly in no raging bull market at the moment we are getting closer and could see some large breakouts coming soon.

Gold and silver also had some major technical developments this past week and gold especially is looking very nice here. They have both put in bottoms now and that means it's time to complete your buying of the physical metals as well as the mining shares who've been taken to slaughter in 2012, but are soon to re-emerge from the depths.

As the old adage goes, buy when the blood is running in the streets. This is the case in the mining sector at the moment.

Metals Review
Gold rose 1.21% this past week in stunning fashion. Recent Federal Reserve talk has moved gold lower but the effect has been diminishing each time. This time, Wednesday, gold was hit immediately as Ben Bernanke opened his mouth. It didn't last long and gold roared back to actually close the day in positive territory.
I issued an alert to all paid subscribers as well as subscribers to my free reports that this was a bottom signal. As far as I'm concerned the low is now in for gold so load up!
This also means that the mining shares should now begin to turn around after a very painful and stressful few of months. It's not been fun.
While we may not see prices roar immediately, many of these stocks are small and it doesn't take much to move them so they may well move quite quickly from here. Couple that with the fact that shorts must be beginning to feel a little squirmy as downside momentum is all but dead.
Shorts covering will drive up prices.
This past week gold just bested an important downtrend line Friday but volume wasn't superb. Personally, I think we'll take a couple more weeks or so building out a base here and building up the power to move above the moving averages which are from the $1,575 to $1,700 level.
Volume was very solid in both the GLD ETF as well as the futures market off the lows Wednesday and then Thursday which solidifies my view that a bottom is in for sure now. The lower volume break of resistance Friday has me thinking we're not ready to fly quite yet and that is fine.
Some more base building here would make the next move much stronger and this gives us time to accumulate more metal and more shares. It's the gift that keeps on giving.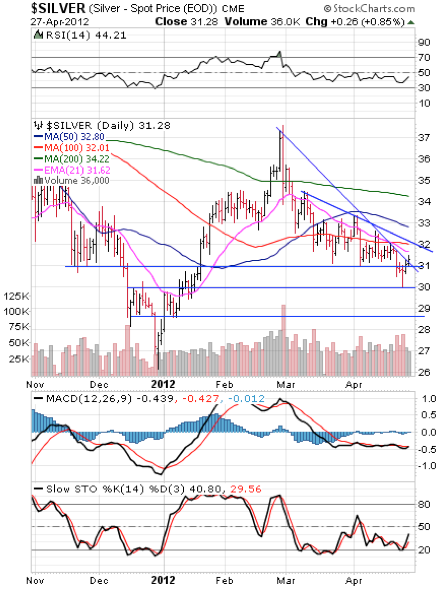 Silver slid 1.29% this past week but also looks to have put in a very important low now. Wednesday also saw a hit in silver which was quickly reversed on heavy volume.
I'm very confident we've seen the lows now.
I don't expect wonders from silver though until the $32 level is cleared and that could take another week or two.
Heavy volume marked Wednesday's low in both the futures and SLV ETF.
Platinum fell 0.23% this past week and has broken down and could well see lower prices.
The $1,535 support level held well this week but volume off the low isn't telling me the bottom is in quite yet even though the chart looks great and as if a bottom is in fact in now.
We'll soon enough find out but I'd not be considering any long positions until the downtrend line is cleared around $1,575 but preferably a breakout of the $1,600 level on strong volume would be the next best buy area in my view.
Volume was quite strong on the move into the lows this past week in the futures market but lighter in the PPLT ETF. All in all, the volume isn't telling me we have a low in and we could well take another step lower.
Palladium rose a solid 5.51% this past week and the chart looks pretty snazzy here now.
A super break of this downtrend line on hefty volume is a breakout, plain and simple.
The only real impediment we've got here before moving back to $710 is the 200 day moving average at $682, which stopped it on Friday for now. We need to move above that area soon.
All looks good here for palladium with great volume in both the PALL ETF and futures market right when it was breaking out.
Fundamental Review
The LME recently voiced an opinion whereby they are considering allowing traders to settle contracts using the Chinese renminbi. We're seeing more and more use of the Chinese currency in trading of goods and now it's being considered in use in futures.
In reality it can be used now already after being exchanged but skipping that small step has huge ramifications for US and European currency domination.
We saw five banks fail this past week which is the most in quite some time. Please see this weeks large list of biggest losers here.
Twelve countries increased their gold reserves as recently as March of 2012. At least 58 tonnes of gold were purchase by central banks in March alone. This will continue and the price of gold won't matter, but when it is depressed as it has been recently I expect countries to take a little more advantage of the opportunity of cheap gold.
Top buyers were Russia and Mexico who bought over 16 tonnes each.
Of course, who knows if these numbers are totally correct and who knows about other countries who are less transparent when reporting these numbers. Chances are the true number of tonnes being accumulated by central banks is much much higher.
It's a major shift from recent years when gold was being sold by countries. This says that gold is indeed money, contrary to what Benny Bernanke says, and that the current major currencies around the world aren't necessarily the best or safest places for investors and central banks alike to store wealth.
Wealth is a funny word isn't it. Would you consider someone with $10 million wealthy if they had it all in cash?
Or perhaps would you consider someone with $1 million in cash and $9 million in property and businesses wealthy?
Personally I take the second choice as wealthy and the first as quite rich.
But the real question is how would you distinguish between someone with the same $10 million in cash and someone with $9 million in physical gold and silver and $1 million in cash?
Personally I'd consider the one with the metals wealthy.
Cash can burn or be burnt by government debt which leads to inflation or devaluation of money. There are countless currencies out there that are collectors items now and are not a currency anymore. I have yet to run into a gold coin that's not worth it's weight in gold and perhaps much more if historical/numismatic value is assigned to it.
Owning gold and silver is a no-brainer for me and it's becoming more and more so for the smart money across the world.
Qatar has $30 billion to spend this year for their sovereign wealth fund. They see commodities as being a key investment. While they didn't specify, I imagine a portion of this investing money will be used to buy physical gold as many other nations are increasing their hoards as well. It only makes sense really.
The price of gold is becoming and will become more irrelevant as time passes and they want a higher ratio of gold to cash in their reserves. This is evidenced by Argentina who in 2011 bought up 7 tonnes of gold while it was at it's record high. Albeit, Argentina doesn't have the best record when it comes to matters of the currency as their inflation is around 10% now, but the fact is they wanted more gold so they bought it. This is the first time they've added to the gold reserve since 2005.
I caught a quick street survey on CNBC the other week where a choice was given between an iPad, an equal amount of cash or gold. The only person who chose gold was a Canadian out in California on vacation!
It sure made me proud to be Canadian that day!
What would you choose?
The mining industry is still struggling to attract new employees, especially those who are skilled. I remain convinced that we've got far too many lawyers and wall street geniuses around and that the best path for young folks these days is to become a geologist or even a farmer. Find a path that you'd enjoy and that is less travelled and the youth will do fine.
Here is a great article on the struggles some mining companies are facing today and the future they see.
Even if we find huge deposits of gold or any other metal we can't mine and refine it unless we've got the people who know how to and are willing to mine it. In a way we're kind of stuck right now at peak gold production in much the same way peak oil has past as only so much can be refined no matter how much we pull out of the ground.
Let's finish off with a little fun. A monkey experiment which reflect real life at many times. It just ain't fair!
And finally for those surfers out there an amazing compilation of beautiful photographs. While I'm not a surfer, I do appreciate scenery and get out into as often as I can. I'm sure most of you will enjoy this slideshow which also happens to have some amazing music along with it. The best of both worlds.
Have an awesome weekend and please consider signing up to receive my daily updates which tend to be between 20 and 30 pages everyday and filled with charts of trading setups, gold and silver, US equity markets and also our dividend and mining holdings along with anything else I find relevant on said day.
It's a lot of work but well worth it.
Warren Bevan
Please sign up to receive my free weekly letter along with any relevant info or articles I write, and if you like what I have to say and think I can help you make some money, and I know I can, then consider subscribing to our daily updates and trading alerts.
In my free, nearly weekly newsletter I include many links and charts which cannot always be viewed through sites which publish my work. If you are having difficulties viewing them please sign up in the left margin for free at www.preciousmetalstockreview.com or send an email to warren@preciousmetalstockreview.com with "subscribe" as the subject and receive the newsletter directly in your inbox, links and all. If you would like to subscribe and see what my portfolio consists of please see here.
If you found this information useful, or informative please pass it on to your friends or family.
Free Service
The free weekly newsletter "Precious Metal Stock Review" does not purport to be a financial recommendation service, nor do we profess to be a professional advisement service. Any action taken as a result of reading "Precious Metal Stock Review" is solely the responsibility of the reader. We recommend seeking professional financial advice and performing your own due diligence before acting on any information received through "Precious Metal Stock Review".