Is Gold Suspicious?

Philip Gotthelf

Aside from perplexing and conflicting energy trading logic, there is equally confounding fundamental and technical aspects of gold. The chart took on a decisively bearish appearance this week as a consolidation above 33200 in April suggested a bear flag continuation with a test as low as the 322/31200 consolidation range established from last May through December.

What do you make of the April chart? Some believe they see a head and shoulders with the downside right in the middle of the previously mentioned trading range. Yet, the bear flag from this week is finding powerful 33200 support that is identifiable all the way back to June 2002.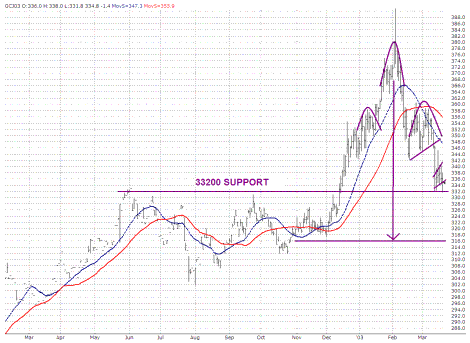 Observe the right shoulder and we see rising bottoms prior to the collapse...a further bearish signal. Add the fundamentals of oil's decline and there are further arguments for declining gold prices. Why hasn't the market plunged?
Another discouraging sign is the explosive rise in the Dollar Index. As the President's Press Secretary pointed out yesterday, the global coalition supporting the U.S. military action is appreciably greater than that of 1990/91. Approximately 35 nations supported the previous Gulf War compared with 45 known supporters and 55 including anonymous participation. Even the French have vowed to assist the U.S. effort should President Bush's claims of hidden weapons be proven.
March U.S. Dollar Index
Notice how the March Dollar Index has challenged the 40-day average after making a bounce off contract lows that several analysts are calling a breakaway gap. If true, the Index can easily climb to 10250 resistance which could have a further negative influence upon gold.
Technically, I would like to sell gold. However, the 33200 support is disturbing and I am aware that gold is moving from the Middle East into depositories from Indonesia to Switzerland. The movement of gold alone is not indicative of a rally. However, any new accumulation to transfer wealth could bounce gold off the current support and renew the prior rally.
The appropriate strategy may be to sell gold on a bust below 33200 and buy on a breakout above 35860 resistance indicated by the right shoulder.
Other Metals
In the meantime, silver has also collapsed without signs of a stall. Final numbers are in for the 2002 holiday season and digital imaging technology was one of the few bright spots. As fast as music and data CDs captured the hearts and souls of consumers, digital cameras are roaring ahead and slashing into demand for conventional photographic equipment. This severely compromises silver's position as the poor man's gold. The monetary correlation has been offset by industrial consumption implications.
From a longer perspective, silver hopes to recover through advancing biostatic applications. Ionic and colloidal silver solutions have the valuable property of being powerful bacterial static agents. In fact, silver can eliminate viruses and spores. It is proven effective against anthrax and other dangerous biological agents. Silver cathode biostatic systems are on the front line of defense against a biological attack upon U.S. reservoirs. Silver filtration is planned for the back country of several African states, India, and South America.
However, bio-sterilization applications use a very small amount of silver compared with film. Further, as other anti bacterial technologies are developed, silver's applicability could decline as it is doing in imaging.
Platinum dumped $40 per ounce in two sessions. It would have been nice to be short, but platinum and palladium are extremely thin markets that tend to generate excessive volatility when reversing direction. Several weeks ago, I examined the palladium/platinum spread potential. I was extremely tempted to place the 2-for-one spread position, but it actually widened by more than $10 during my contemplation. Alas, I abandoned the tactic just before platinum crashed.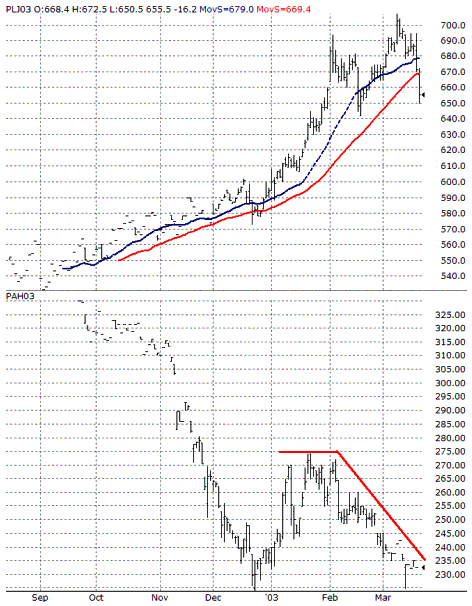 Notice how palladium has been persistently falling during platinum's impressive rally. Yet, palladium did not fall in conjunction with her sister metal. While the spread is more risky with platinum's collapse, there is huge potential for a more normal palladium/platinum price relationship.
The big story boosting platinum besides restricted Russian supplies came with Toyota's lease of approximately 100 fuel cell Highlander models to U.S. government agencies for beta testing. These cars were not supposed to be released for several years, but Toyota appears to be defying Detroit in a bid to capture a new and growing "green" market. The introduction of commercial fuel cell vehicles can certainly stimulate anticipated platinum demand.
Toyota has already successfully launched its Prius hybrid car that gets 52 miles to a gallon of gasoline in the city by combining an electric and gasoline engine. This $20,000 vehicle offers all the luxuries of a standard car model plus navigation, sound systems, and more. Alas, it doesn't come with leather...yet. With a 566-mile range on a single tank of regular, such automobiles could easily put an end to foreign oil dependence. This year's auto shows presented more possibilities for hybrids and fuel cells. Long-term metals investors are adjusting portfolios to emphasize platinum's future potential.
Low interest rates encourage hard asset investing because 1) the lost yields are very low right now and 2) there is an inflation correlation. Unlike investing in the late 1970's, industrial demand plays a more significant role because investment consumption is diminished. Ford bet on palladium and lost $1 billion. You would think they would know better.
A rational argument can be made for avoiding the palladium/platinum spread since palladium plays no role in fuel cell technology. Equally important, cars like Prius and fuel cell designs lower or eliminate catalytic converters... a large source of palladium demand. Just as silver became a byproduct of base metal production, palladium (a long-time favorite of mine) may become a consequence of increasing platinum production. This is a longer-term prospect since there are very few Prius models on the road and virtually no fuel cell vehicles of consequence. Thus, the long palladium-short platinum spread can respond to volatility, alone.
Have Equities Turned?
The largest emphasis has been upon equity indices as we see six straight rally days for the Big Board. I optimism over the war coupled with the Fed's status quo finally making a lasting impression?
Dow Cash Index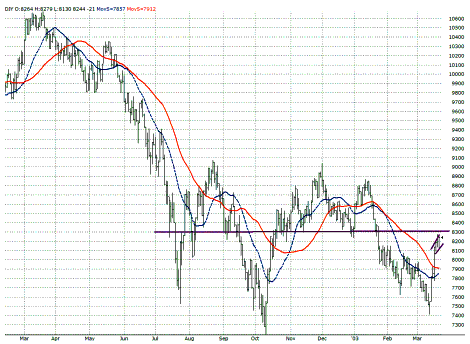 The Dow has roared from 7400 to almost 8300 resistance. In the process, we see an upward flag that could indicate a reversal consolidation. Prices blew through the 20-day and 40-day averages, but war euphoria could be brief if consumer confidence does not recover. Hmmm...Would you want to sell stock indices on the possible brink of victory?
The First Day Of Spring
(March 20, 2003) Winter is officially over today as the vernal equinox ushers in the new season. Last night's commentary that the full moon was disadvantageous for the opening U.S. Iraq attack represented more war chatter to take up empty news time. Essentially, the world is standing still while it awaits the outcome of the latest U.S. campaign.
Interestingly, no president is permitted to assassinate a foreign head of state... or anyone, for that matter. Yet, we can engage in seeking out Saddam's bunkers and meeting places with the hope that he can be quickly eliminated. "This is a war of liberation," states the Republican support rhetoric. "Bush's diplomacy has miserably failed," cry Democrats. "Who's paying for this," moan the U.S. taxpayers. It is a refreshing way to welcome the season of rejuvenation.
If anyone questions the relevance of oil in this conflict, consider today's April crude oil chart.
May Crude Oil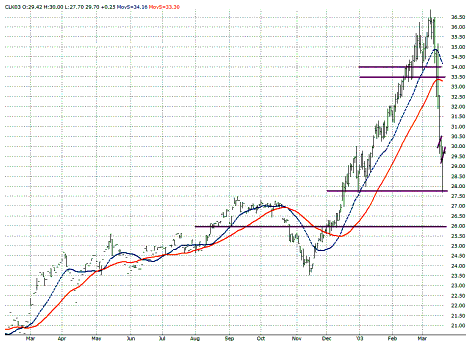 After reaching a pre war peak of almost 3700, prices plunged $10,000 per contract to test 2775 support. With coalition forces quickly securing oil fields and dams, traders are terribly confident that this conflict will not inflict heavy damage upon Iraq's oil capacity nor the essential infrastructures necessary to speedily rebuild under preferable leadership.
So, the first days of spring 2003 will bring renewed hope for lower energy costs and a related increase in economic activity. Various climatologists agree that this season is likely to be wetter than usual. The implication is for less driving and a badly needed lull in heating, cooling, and driving requirements. Gasoline has already dropped a staggering 25¢ from highs over $1.14. In effect, the war-related energy crisis may be over very soon.
Undoubtedly, profit potentials have been enormous. We were expeditious enough to sell May heating oil on Friday's 9085 opening and the subsequent 100-point advance. I expected a showdown sell-off coupled with the seasonal realignment of heating oil and gasoline. I cannot boast that I foresaw such an immediate collapse in energy prices. Had I known, I would have loaded up on crude and gasoline shorts as well!
I wrote several chapters for various energy books and I have contributed to the New York Mercantile Exchange's Energy In The News publication. My articles on trading the "paper refinery" have appeared in Futures Magazine, with a series on crack spreading. For thirteen consecutive years, I conducted the Technical Analysis of Energy Futures seminars in Houston, Dallas, and New York. One might assume I have a level of expertise in energy markets. Yet, I did not glean the exodus from energy positions that we have seen over the past week. I simply concentrated upon the seasonal fundamentals pertaining to heating oil.
This is not to say I am ungrateful for participation in short May heating oil. Indeed, I am relieved I had intestinal fortitude to re-enter during such uncertainty with remarkable positive results. Thankfully, I have made up for the failed short options straddle that did not predict a move in the spring heating oil deliveries above 88¢!
March 25, 2003
Philip Gotthelf
Commodity Futures Forecast
P.O. Box 566, Closter, New Jersey
201-784-1235
www.commodex.com

Presented by:
CONSENSUS, Inc.
P.O. Box 520526
Independence MO 64052-0526
816-373-3700
Fax: 816-373-3701
editor@consensus-inc.com
www.consensus-inc.com