INVESTMENT STRATEGY
"Why Own Gold?!"

Prepared by Jeffrey Saut
Raymond James Financial, Inc.
(September 12, 2005) "Baruch liked gold mines. There is always a market, he pointed out, for their product, and at a satisfactory price. Gold, he insisted, is one of the very few things in the world that approaches the status of a permanent investment. Baruch told the story of a Rothschild who set up a 'permanent trust' consisting of five different currencies. By the time Baruch heard about the trust, it had shrunk to one-fifth its original value. 'But gold doesn't yield any interest,' a friend protested after listening to the story. 'True,' replied Baruch, 'but consider the fabulous wealth of some of the Indian princes and rajahs. I had dinner with the Maharajah of Kapurthala on one occasion in Vittel, France. Several of us talked afterward about his wealth, and someone said that among the treasures of these Indian moguls were gold coins brought to the East by Alexander the Great, hundreds of years before Christ.'"
"'Their gold and jewels had earned no interest during these more than 2,000 years, but they still had their capital. Suppose they had attempted to provide income from it. They might have been no more far-seeing than the Rothschild I mentioned. If they had tried speculation there have been many times in each century that they might have gone broke. No, save for gold, jewels, works of art, perhaps good agricultural land, and very few other things, there ain't no such animal as a permanent investment.'"
"Even in agricultural land, Baruch pointed out, there is some risk. Lands that made men rich in rice cultivation years ago in Baruch's own state of South Carolina, are not nearly so valuable now that rice is produced more economically in other sections. City real estate is subject to all sorts of hazards, as he learned when he no longer needed his big Fifth Avenue mansion."...Bernard Baruch, Park Bench Statesman, by Carter Field, 1944
"A gold mine is a hole in the ground with a liar on top," said Mark Twain. And for years many gold owners felt somebody had been lying to them because gold prices had been in a bottomless-pit slide since the early 1980s. Indeed, from its parabolic "pig peak" of $850/ounce in January 1980 the barbarous metal experienced a multi-decade bear market that ended in July of 1999, as seen in the following chart.
Figure 1
Gold In U.S. Dollars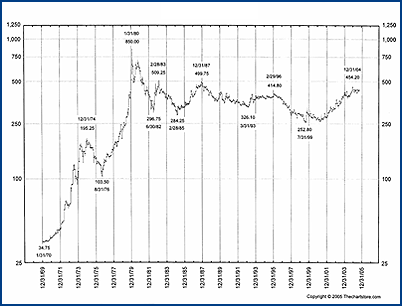 Save a few intermittent rallies, the yellow metal was scorned for 20 years. Wall Street - indeed, the world - had no use for gold. It had been the butt of jokes and derogatory comments from owners of soaring stocks and bullish bond investors. Moreover, due to the lack of interest and uncertain prospects for recovery, the financial community dropped publication of gold quotes, charts, and research coverage in the mid/late 1990s. While not as good an inferential indicator as the "Death of Equities" magazine cover near the DJIA's 1974 lows, such sequences are often associated with inflection points and it was no different for gold. Manifestly, following the cessation of research coverage, quotes, and charts, gold prices bottomed in the summer of 1999 and have never looked back. While we were not clever enough to identify that July 1999 low, we have been bullish on gold since adopting our "stuff stock" theme (gold, energy, timber, base metals, agriculture, water, etc.) following the twin trade tower tragedies.
This morning we are revisiting gold because last week it tagged a new 2005 price high, and in the process, broke out to the upside in the charts. Once again, however, we have to ask the question, "Is gold going up, or is the measuring stick, aka the dollar, going down?" Consider this, since its July high the U.S. Dollar Index has declined by roughly 6.5%. Interestingly, since its July low gold has rallied by a similar amount. And that, ladies and gentlemen, is why we have attached another chart of gold, measured not in U.S. Dollars, but in euros.
Figure 2
Gold In Euros--London PM Fix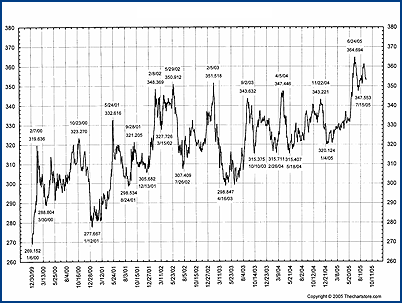 As can be seen in the chart above, gold has broken-out above multi-year highs dating back to 2001. We think these upside breakouts are significant given our sense that gold is under-priced. That view is reinforced by the final chart accompanying these comments, which is the price of gold divided by the price of crude oil dating back to January of 1986.
Figure 3
Gold Divided By Oil
As can be seen in the chart above, the relationship of gold to oil is at a 20-year low. Whether this means oil is overpriced, or gold is under-priced, is subject to debate. We think it may be a little of both. Nevertheless, we continue to be friendly to the yellow metal, but would note that for the past few years most of gold's upside breakouts have been "fake outs" in the short-term, leading to subsequent declines that have tended to be 10% or less. It is also worth noting that if investors scale-bought into those declines they have done pretty well. Currently, gold's 50- and 200-day moving averages are both around $432. Those moving averages should act as a support level in any ensuing decline.
Consistent with these thoughts, we continue to think investors should have somewhere between a 3% to 5% portfolio weighting in precious metals. Most participants are probably best advised to use a precious metals mutual fund like First Eagle Gold Fund (SGGDX/$16.62), which is Highly Recommended by Raymond James' Open-End Research Department. For stock investors, our Canadian analyst team has a number of Outperform-rated stocks, including: Agnico-Eagle (AEM/$13.91); Glamis Gold (GLG/$20.96); and Meridian Gold (MDG/$21.03).
As for the equity markets, in the trading account we were scale-down buyers of stocks/indexes two weeks ago on the Monday/Tuesday market weakness created by Katrina's carnage. We continue to hold those trading positions based on the belief that stocks are going to attempt to rally on/off into this week's quadruple witch options/future expiration expiation. At that point participants need to decide if they believe Greenspan & Company will raise interest rates on September 20th or not. Since Alan Greenspan has become a political animal after 18 years as the "Fed Head," the consensus "call" is that he will not raise rates. We, however, are less sanguine given that inflation is at the upper-end of the target range, as well as our belief that the coming Katrina-induced liquidity injections have the potential to cause an inflationary surge. Therefore, from a tactical trading perspective, we are planning on selling one-third to one-half of our trading positions somewhere between now and Friday's "witch twitch" and raise stop-loss points on all of the remaining trading positions.
Turning to the investing side of the portfolio, while we have recommended committing trading capital to the equity markets over the past few weeks, we have simultaneously been raising cash in the investing side of the portfolio by selling partial energy stock positions (except for coal stocks). We think this strategy is prudent since the appreciation of our energy stocks over the past three years had caused them to become a well over-weighted position in the portfolio. To reiterate, however, we remain long-term bulls on energy, it's just that short/intermediate-term we think oil has made a parabolic peak provided there are no terrorist attacks in the oil fields. Consequently, reducing our energy positions to a 20%-25% weighting in the portfolio is just prudent portfolio management. And to respond to the hundreds of phone-calls/emails we received when the media picked-up the notion that Richard Russell has turned bullish, we reply, "Horse Hockey!" I have read Dick Russell on/off for over 35 years. He identified the major bull market bottom in 1974 and the bull market top in 1999. Last week the octogenarian merely said that if the S&P 500 (SPX/1240.91) breaks out above 1250 technically it would indicate higher prices. He subsequently said that speculators could buy the S&P Spyders (SPY/124.60) with an attendant stop-loss point of 1218 (at the time the SPY's were around 1230). To quote the savvy Mr. Russell, "The media picked this up, and the word went out that I had 'turned bullish.' They got it wrong. There's a difference between a speculative trade, and turning bullish on the big picture. I am not bullish on the big picture. But a good trade is a good trade. And they don't come along every day."
While we are more optimistic than Richard Russell, we remain "Predominantly Defensive" in the investment account, thinking that the coming Katrina-induced "liquidity injection," combined with the recent explosion in the money supply, will create an inflationary scare that will lop 5% to 10% from the major averages as they adjust to inflationary-impacted earnings. Other worries include: 1) our sense that Katrina will cost more, and have a much longer "tail," than most expect; 2) rising interest rates that should put a headwind in the face of a finance-centric economy, as well cause a P/E multiple contraction; 3) persistently high energy prices, particularly natural gas, as we enter winter. Moreover, we think $3.00 gasoline is the tipping point for an indebted U.S. consumer; 4) Government spending, as Steven Roach opines, "Never in modern history has the world's leading economic power tried to do so much with so little...Washington is upping the ante as it opens the fiscal spigot to cope with the post-Katrina reconstruction, at the same time it is funding the ongoing war in Iraq; 5) the real estate bubble; 6) minimum credit card payments that are about to double under a new law; 7) the onus of new government regulations that are surely coming in the wake of Katrina; 8) the lack of future visibility of Fed policy...and the list goes on and on.
September 12, 2005
Jeffrey Saut, Director of Research
Raymond James Financial, Inc.
880 Carillon Parkway, St. Petersburg, Florida
727-567-1000

Presented by:
CONSENSUS, Inc.
P.O. Box 520526
Independence MO 64052-0526
816-373-3700
Fax: 816-373-3701
editor@consensus-inc.com
www.consensus-inc.com