TAYLOR ON GOLD

Jay Taylor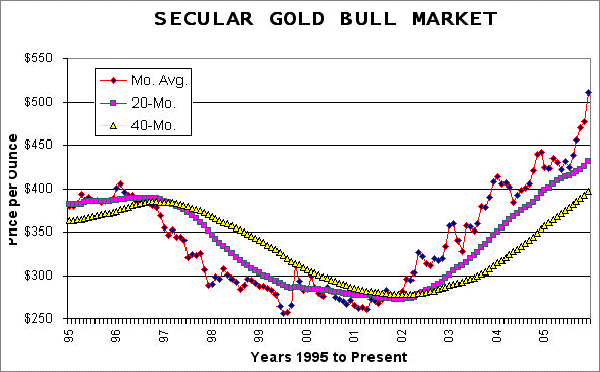 The gold bull market is, I believe just beginning. Or perhaps it is more accurate to say that the exciting part of the bull market-the part that starts to get the masses' attention is just beginning. Indeed as I said on RobTv, the gold market should be correcting, but it is refusing to do so. I think Robert McEwen's remarks below may shed some light on why the gold market is refusing to "correct" and is instead taking off like a rocket as pictured in the long term moving average chart on your left. The average price of gold for December 2005 was $509.92. The 20-month average is now $435.02 and the 40-month average is $397.59. In other words, the rate of increase is rising dramatically.
This is indeed a powerful bull market for gold and for those of us who have followed the excellent work of Bill Murphy and his supporters at GATA (www.gata.org) this should be no surprise. Bill has been predicting this for ages because he rightfully pointed out that the central banks were manipulating gold and in that way keeping it from voicing concerns of rising monetary liquidity that led to the stock market and then the housing market bubbles.
If only the authorities had respected the language of the markets and allowed gold to rise and then respected what gold was telling them-that the central banks of the world were creating too much money and too much debt (which is the same thing in a fiat currency system), we would not be facing the awful predicament we are facing today with huge and un-payable debts. Gold would have risen much earlier and/or the authorities would have abandoned their immoral monetary creation. This results in a wealth reallocate form those who create it to those in charge of printing money like our politicians, Wall Street bankers, and those in close proximity to Wall Street's monetary feeding troughs.
How many times during the 90's stock bull market did we hear Larry Kudlow say, "See gold is going down so its time for Greenspan to loosen the money spigots." But what Kudlow didn't know or perhaps more accurately did not want to know (because he and others snubbed their noses at Bill Murphy and GATA) was that gold was going down not because of natural market forces but because it was being manipulated to lower levels by massive central bank dishording, only part of which was made public. Now, gold is snapping back with a vengeance. If anyone deserves credit for saying "I told you so!", it is Bill Murphy and his crew of very bright, astute gold market students. I think of James Turk, Chris Powell, Reginald Howe, Robert Landis and many more I can't remember off hand. If you had listened to these guys, and bought gold when it was below $300 you would be in a very good position today. Yet, I believe the real move is only just beginning.
Don't think for a minute that gold is going up because the establishment wants it to. To the contrary, the money printing establishment-those who have the license to steal by printing money (that includes the politicians and bankers and those close to the Wall Street bankers feeding trough) have held rising gold prices off as long as they could. A falling gold price meant they could delude themselves into thinking everything was okay. That way they could party on with one bubble after another, which made Wall Street rich at the expense of common ordinary hardworking Americans. To give you a sense of how much money was printed, M-3 during Greenspan's reign rose from about 3.5 trillion to well over $10.2 trillion as of this weekend.
The trading patterns have distinctly changed from the days when governments were announcing almost monthly new plans to sell more of their gold. Those announcements are not to be heard these days. Why? Why are our policy making thieves no longer able to suppress gold? I don't pretend to have an answer to that question, but the following remarks by Dr. Robert McHugh suggest something big, way beyond their control may be in the works.
Dr. Robert McHugh, Ex-Banker Also Talks of Hyperinflation.
Some of you will recall a few months back, your editor interviewed Robert McHugh who made a fortune as a founder of a commercial bank, then took a Ph.D. in technical analysis and began writing his excellent newsletter called the "Technical Indicator Index." For more information on this excellent service, go to www.technicalindicatorindex.com. Regarding the rabid recent increase in the Federal Reserve's creation of money out of thin air, here is what Robert said in his December 22nd issue of his "Financial Forecast & Analysis" weekend publication.
"So what about M-3 the past week? The latest figures show that on a seasonally adjusted basis, M-3 rose 27.3 billion last week, a 14.0 percent annualized clip, and is up $76 billion over the past month, a 9.8 percent growth rate. But those are the massaged numbers. For the raw figures, fasten your seat belt. Are you ready? M-3 was increased $58.7 billion last week (that does not include the huge Repo infusions noted above), a 30.0 percent annualized rate of growth. For the past two week, the Fed added $93.5 billion to the money supply, a 24.0 percent annual clip. Over the past 6 weeks it is up $192.9 billion, a 16.7 percent Banana Republic hyper-inflationary pace. This is nuts, folks - unless there is an incredible risk out there we are not being told about. That is a lot of money for the Plunge Protection Team's arsenal to buy markets - stocks, bonds, currencies, whatever. This level of irresponsible money supply growth makes shorting markets hazardous, yet at the same time says markets are at huge risk of declining. Maybe M-3 growth doesn't stop the decline this time. Should be a fascinating storm in 2006.
"The recent rise in Gold catalogued 74 points over about a month, a 16 percent rally from precisely the day the Fed announced it would hide M-3 from taxpayers and citizens of this great nation. That is no coincidence. Gold sees hyperinflation, monetization of debt, and intervention into free markets. Gold is telling us it expects Ben Bernanke to be an inflationist."
Richard Russel's comment on Dr. McHugh's Commentary - "I found the paragraphs above to be shocking. And they may be telling us why gold and silver are refusing to correct. Yep, we may be moving into the "total insanity" phase of Fed-created liquidity. What in God's name is the Fed so afraid of?"
January 1, 2006
Jay Taylor, Editor of J Taylor's Gold & Technology Stocks
www.miningstocks.com