China Goes For The Gold As Beijing Gold Demand Goes Parabolic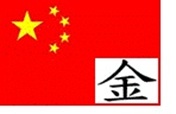 It's Official: China consumed, mined and imported the most gold ever in 2013. In all three gold categories the Sino nation is Number One Worldwide. Here are details.  
China has been officially crowned the world's largest gold market for the first time in history, according to fresh industry figures.  
The country overtook India as the world's largest consumer of gold in 2013, with consumer demand soaring 32 percent to 1,066 tonnes for 2013. That's the most gold ever demanded annually by one country's consumers in bars, coins and jewelry, topping India's previous 2010 record of 1,007 tonnes.  
China is already the world's top producer of gold, mining 437 tonnes in 2013 on industry estimates, with the largest annual increase globally for 2013. It displaced South Africa as the world's largest gold producer in 2007. The country also imported a record 1,108 metric tons in 2013, up 33 percent from a year ago, via Hong Kong. That's more gold imports than any other country.
"The impact on the Chinese gold industry of the extraordinary growth in 2013 demand has been marked, with significant growth in both manufacturing and retail network capacity," reads the World Gold Council's latest quarterly demand report.
"The gold market has really taken off in China over the last five years: from being quite small to now being the largest in the world," World Gold Council managing director Marcus Grubb told IBTimes in a phone interview.
Without a doubt: We ain't seen nothing yet…as the GLOBAL GOLD RUSH IS ON…especially in China.
Recent international gold news headlines shout:  
CHINA To Boost Gold Reserves Amid Imbalances in Holdings 
HONG KONG Gold Bourse Approved to Build Vault in China 
SINGAPORE : New gold contract to set Singapore up as a global gold hub
INDIA gold imports rocket 176%
INDIA's August Trade Deficit Widens as Gold Imports Surge 176% 
Gold Demand In India Triples As China Launches Global Gold Bourse Recently
CHINA advances gold exchange launch, SINGAPORE delays contract
ETF SECURITIES : Silver could rebound strongly on global economic recovery
SCOTS flock to gold on independence fears
CHINESE Gold Demand 39 tonnes In Week 36, YTD 1290 tonnes  
BULLIONVAULT : Anxious Scottish investors buying gold
CHINA's Dollar-Busting Gold-Backed Renminbi Hinted
FIDELITY : Gold Industry Needs 'Cleansing' of Weakest
China a gold buyer amid 'colossal imbalances' in central bank gold hoards
China May Boost Gold Reserves Amid Imbalances In Holdings
China may join other emerging countries in boosting gold reserves as the precious metal makes up a smaller share of its foreign-exchange holdings compared with developed economies, said a London-based researcher. An example is the USA having 74% of its Total Foreign Reserves in gold.
Gold Demand In India Triples As China Launches Global Gold Bourse Recently
Trade statistics for the month of August have just been released in India , showing a huge surge in gold imports compared to August of 2013. The value of gold officially imported into India in August totalled $2.04 billion, which was nearly three times more than the August 2013 figure of $739 million.
Shanghai Gold Exchange
Today the Chinese government backed Shanghai Gold Exchange (SGE) brought forward the launch date of its international gold trading platform which is hosted in the city's free trade zone (FTZ). The gold trading platform will be known as the 'international board'.
In a surprise announcement, the SGE said today that the international board will go-live this Thursday September 18, eleven days ahead of its original launch date of Monday September 29.
Forty members of the Exchange including global banks UBS, Goldman Sachs, HSBC and Standard Chartered, will participate in gold trading on the SGE's international board, trading 11 yuan denominated physical gold contracts including the large 12.5 kg (400 oz) bar, the ever popular 1 kg  bar and a 100 gram contract.
The location of the SGE international board in the Shanghai free trade zone is symbolic in that this location has been earmarked by the Chinese government as part of financial sector internationalisation strategy.
The SGE is also opening a precious metals vaulting facility in the free trade zone with a  1,000 tonne capacity limit.
Gold Industry Needs 'Cleansing' of Weakest, Fidelity Says
The gold industry, recovering from the worst slump in prices in 30 years, needs more mergers to help improve investor returns and eliminate unprofitable mines, Fidelity Investments said.
About a third of gold production is probably money-losing when the price of the metal is lower than $1,250 an ounce, said Joe Wickwire, who manages more than $1.8 billion of assets including the Fidelity Select Gold Portfolio. (FSAGX) With gold trading at about $1,235, it "might not be a bad thing" if the number of producers was reduced by a similar percentage.
"It's part of the life cycle of industries that every so often you need to have a cleansing of that which is not working," Wickwire said in a phone interview last week from Boston, where Fidelity is based.
Gold producers, which are gathering for the annual invitation-only Denver Gold Forum that began recently, cut budgets, sold assets and adjusted mine plans after the metal plunged 28 percent last year, prompting more than $26 billion of write-downs. The industry already has started a consolidation process, Wickwire said.
Charts clearly showing China's gold demand is increasing exponentially:
Since mid-2000 annual Chinese Gold Net Imports  via Hong Kong  have risen parabolically.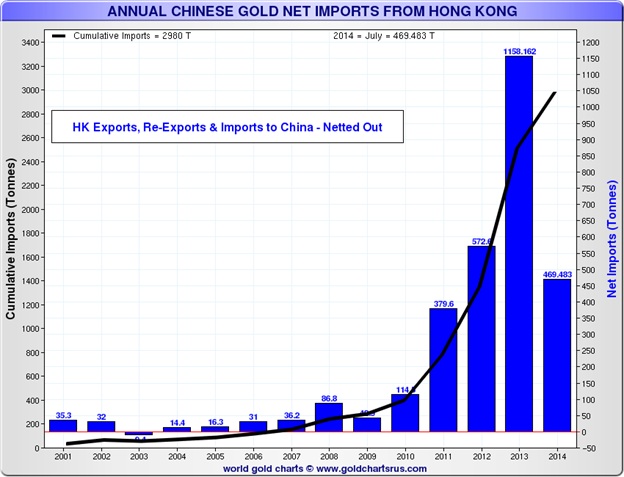 The next chart shows how China became the world's largest gold producer recently, replacing India as the globe's top producer.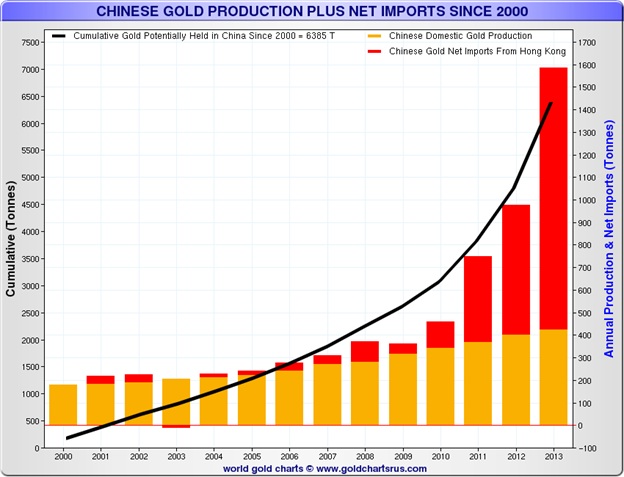 And below is the same view over 84 years showing the parabolic nature of China's gold accumulation (Production plus Net Imports), especially since the year 1980. It is imperative to note that China's Gold Accumulation is enjoying an astounding 10.7% Compound Annual Growth Rate (CAGR).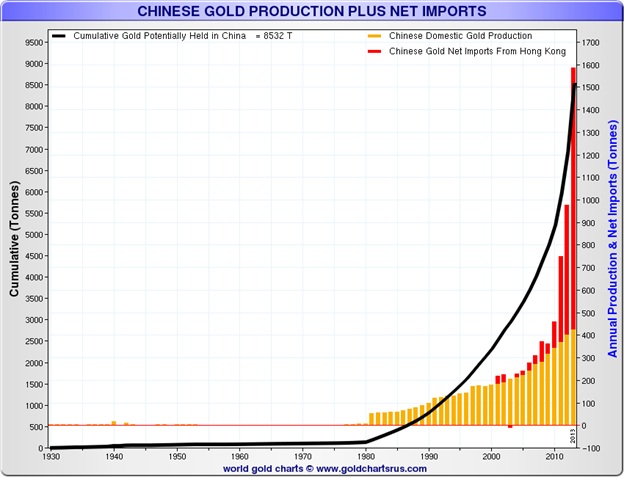 Above Charts Source Courtesy of Nick Laird & http://www.sharelynx.com/
Forecast for China's Gold Accumulation by 2020:
Based upon the above charts and assuming China's Yearly Gold Accumulation remains stable (i.e. a 10.7% CAGR),  it translates to the Sino nation possessing nearly 14,000 tonnes of gold by the year 2020. Compare this to US Gold Reserves at 8,134 tonnes, which is today the world's largest gold holder.  This gives credence to the oft expressed idea that the PBOC in Beijing plans to eventually back its Renminbi via gold with a view to replacing the US dollar as the world's reserve currency.   History is testament that  a universally accepted  world currency has material control over all other currencies.
The historically world famous 18th century financier Mayer Amschel Rothschild said:  "Give me control of a nation's money and I care not who makes the laws."   In the event China backs its Renmini currency with sufficient gold,  The Peoples Bank of China will control the world's currencies from Beijing…and that includes the US greenback.
Related China Gold Studies
A Gold Backed Renminbi (Yuan) Looms On The Horizon
China's Gross Shortage of Gold Reserves
Why Chinese Citizens Invest In Gold
Relative Performance Of Gold…And The China Factor
Gold Price Prediction Based On Technical Analysis & China Demand
Rising Gold Prices Will Be Fueled By China Dumping U.S. Treasuries
Why Are The Chinese Stampeding Into Gold?
China's Pressing Need to Buy Gold

******** 
Gold-Eagle provides regular commentary and analysis of gold, precious metals and the economy. Be the first to be informed by signing up for our free email newsletter.