Ominous Signs For Stocks Forecast Lower Prices
Four Ominous Signs For Stocks....plus the US T-Bonds/Dow Ratio accurately called the BEAR MARKETS of 2000-2002 & 2007-2008.  Here are the irrefutable ominous signals heralding a forthcoming bear market in stocks:
S&P500 Dividend Yield historically too low
S&P500 Price Earnings Ratio historically too HIGH
NYSE Margin Debt at all-time record high
Warren Buffett's favorite Evaluation Metric:  Total Market Value/GNP
Today's Dividend yield is at an all-time LOW…except for in 2000, which sparked the bear market when the S&P500 lost 51% in value during the subsequent two tears:
http://tinyurl.com/m4nchd7
And today's S&P500 P.E. Ratio is at the same level it was in early 1973 (just before stocks crashed 45%)
http://www.multpl.com/chart-image-16f02a77d90d2bfc.png
NYSE Margin Debt is today at an all-time high…higher than in 2000 (when stocks subsequently plummeted -51%); and higher than in 2007 (when  the Dow Index subsequently was hammered down  -54%).
http://advisorperspectives.com/dshort/charts/markets/NYSE-margin-debt-SPX-since-1995.gif 
Warren Buffett's favorite Valuation Metric to determine whether stocks are undervalued or overvalued is  Market Cap/GNP Ratio. Today's ratio is the second highest valuation (ie over-priced) during the past 64 years (since 1950).  Today's Over-Priced metric level demands close attention as the world's richest man (Warren Buffett) makes all his money investing in stocks.  Noteworthy is that his flagship Berkshire Hathaway recently announced their Cash Position has been rising rapidly to historically high levels. Obviously, this is done by dumping stocks from its portfolio.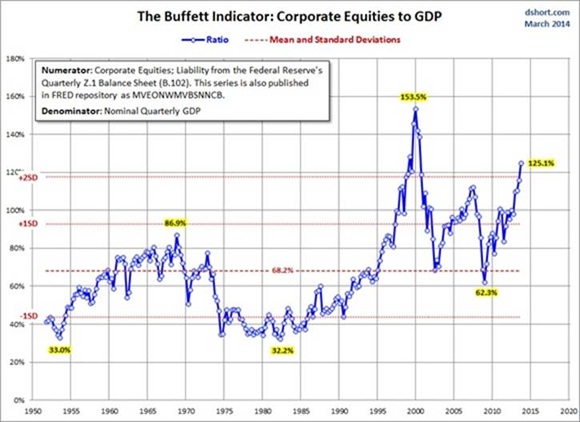 Warren Buffett's Berkshire Hathaway's cash hoard has surged 30% to more than $48 billion, since the end of 2011.
See graph: Berkshire Hathaway Cash and Short-Term Investments.
One must ask WHY the World's richest man is piling up the cash hoard if all is hunky-dory in the stock market. Why is Warren Buffett dumping stocks from his investment portfolio to build a record cash level to more than $48 billion?!
To try to clarify this Cash conundrum, let's take another careful look at the above bar chart again. Notice that in mid-2007 his cash position was about what it is today. Buffett was building a cash pile with the fore-knowledge that a market decline was brewing on the horizon. Likewise today, it seems reasonable  the sly Oracle of Omaha has been aggressively building a giant cash pile (by selling stocks) in anticipation of the forth-coming stock market decline of substantial magnitude. And that's just classic Buffett.
In this regard it's worth your financial while to read:
"Stock Market Forecast By Market Cap/GNP Ratio"

In addition to the Four Ominous Signs described above in detail, the US T-Bonds/Dow Ratio accurately called the BEAR MARKETS of 2000-2002 & 2007-2008:
In my opinion Fundamental & Technical factors are again ripe for another possible BEAR MARKET DEBACLE…Fed driven levitation and Tapering notwithstanding.
The above Fundamentals and Technicals had accurately called Stock Market Crashes in 2000 and 2007.  Moreover, these same market metrics are again TODAY warning of a possible Financial Tsunami brewing on the horizon.  No one knows for certain WHEN the Tsunami will hit Wall Street. Nonetheless, we all hope for the best, but better be prepared for the worse in light of these overtly ominous bearish signs.
Without question today's stocks exhibit extremely exaggerated valuations.  And extremes never last, as markets truly abhor them. Make no mistake, a major stocks' selloff looms.
But all prudent investors must remember the sage logic of world famous writer John Steinbeck:
"The study of history, while it does not endow with prophecy, may indicate lines of probability."
********
Gold-Eagle provides regular commentary and analysis of gold, precious metals and the economy. Be the first to be informed by signing up for our free email newsletter.
Free Gold-Eagle Newsletter!
Fresh weekly insights on gold, precious metals, and the economy
Leading authors from around the world
Always free, and your email address is never shared
Stay informed!