US Greenback To Reign Supreme Through 2017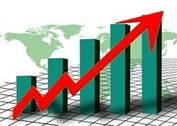 Per Deutsche Bank Research:  Currency forecasts point to potentially significant declines in international returns (i.e. lower performance in foreign currencies).    
"When left unhedged, currency exposure can have potentially negative effects on both the risks and returns of an investor's international portfolio. With Deutsche Bank forecasting the US dollar to appreciate against other major currencies through 2017, US investors with international allocations may continue to see their returns eroded in the near-term and overall risk elevated in the long-run, all due to the currency effect."
US Dollar positioned for dominance over the coming years
"Deutsche Bank remains one of the top leaders in Foreign Exchange (FX). We seek to harness these global strengths and resources from across the bank to deliver thoughtful and innovative investment opportunities. Our currency forecasts indicate that the current US dollar strength may continue."
"If currency forecasts are realized, the impact on international returns could be sizable. The US dollar is expected to strengthen vs. multiple major currencies through 2017, potentially resulting in double-digit declines across a variety of international indices. The chart below shows a breakdown of the potential impact on unhedged index returns based on Deutsche Bank's currency forecasts through 2017 and the weight of each currency within the respective index."

Source: MSCI and Deutsche Bank. The potential impact on unhedged index returns is based on 1) Deutsche Bank's available currency forecasts through 2017 as of 12/17/15 -- and 2) the currency weighting, where applicable, for the euro, British pound, Japanese yen, Australian dollar, New Zealand dollar, Canadian dollar, Swedish krona, Norwegian krone and Swiss franc within each MSCI index, as of 12/31/15.
(Source:  https://fundsus.deutscheam.com/EN/docs/other/Mighty_Dollar.pdf )
US Dollar Index
The chart below shows the US Dollar Index value during the past 44 years (1972-2016). It is imperative to notice the two peak values occurred 16 years apart (1985 and 2001), when the US dollar had soared +101% and +50%, respectively. Consequently, if one assumes the 16 year cycle will indeed repeat, then the greenback may well again rise to a peak in 2017.  Moreover, if we assume the US$ could rise the average of the two previous peaks, then we might see it peak next year (2017) to +75%.
Based upon the above data and 16-year peak cycle assumption, we estimate the US Dollar may again peak to about 127 sometime in 2017.  (Historical Note: The last time the US Dollar Index was 127 was during the 1980s recession)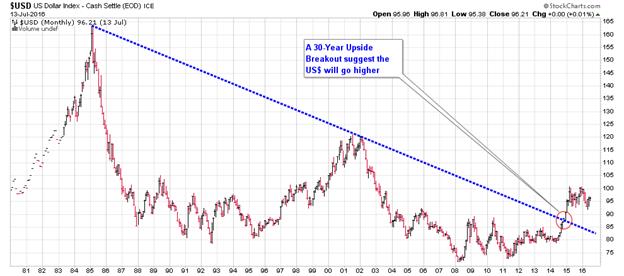 Contrarily, in the event the US$ rises late this year and well into 2017, the EU currency most likely have dropped to about its 2001-2002 low support at 85.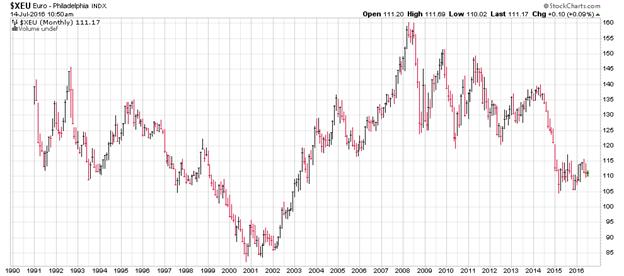 Drivers of a Rising US$
Rising US Interest Rates – sooner or later the Fed will raise rates…attracting international investors.
Impending Collapse of Euro Union and euro currency will cause investors to flee to safe havens.  Needless to say, the implosion of the Euro currency will cause a panicked stampede of millions of Europeans to the US dollar…thus vaulting the latter's value into the stratosphere.
Continued BREXIT effects -- and even a possible GEREXIT (i.e. Germany abandoning the EU).
Crashing Stock Markets worldwide – especially in the EU (STOXX600) and Asia (Shanghai Index).
Major World Banks are close to bankruptcy – and their share prices are relentlessly plummeting toward zero. Consequently and eventually, their depositors will flee the euro, yuan (renminbi), Swiss Franc and Yen…and stampede to the safe haven of the US Dollar, which is and has been the world's Foreign Reserve Currency for many decades. (See corresponding charts below)
 In a recession, inflation is likely to fall. Lower inflation will help the country become more competitive and this may increase demand for the currency causing it to rise. Consequently, during periods of US recession, the US$ usually rises. In early 1980s, the US went into recession, but during this period the value of the Dollar rose. Ergo, economic recession usually strengthens the US$.
A Donald Trump Presidency will likely strengthen the US greenback
Technical Analysis patterns demonstrate bullish trends.
Oldest And Largest European Banks See Their Share Prices Utterly Destroyed Since 2007
During the past nine years three of the oldest and largest European Banks have suffered horrific loses to their share prices:
Deutsche Bank is down -89%
Credit Suisse is down -81%
Commerzbank is down -99%
http://stockcharts.com/h-sc/ui?s=DB&p=D&yr=9&mn=0&dy=0&id=p63898849071&listNum=1&a=467019134
Likewise Stocks of Three Japanese Banks Are Also Being Dumped By Investors
During the past nine years three of the oldest and largest Nippon Banks have suffered horrific loses to their share prices:
Nomura Holdings is down -83%
Mizuho Financial Group is down -79%
Mitsubishi Financial is down -64%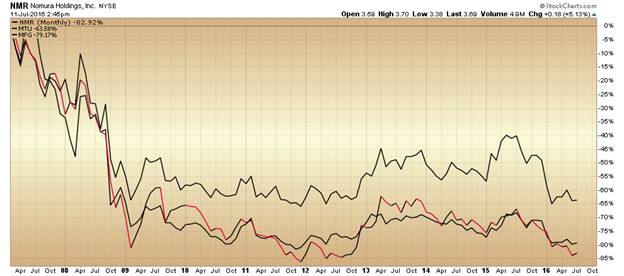 Consequently, it is logical and reasonable to expect millions of prudent depositors in those crumbling banks to methodically withdraw their deposits with a view to seek safe haven in the US Dollars…for redeposit in US banks. 
All the above will materially increase the demand for the US greenback, causing its value to strengthen vs other currencies.
Related Research
http://www.zerohedge.com/news/2016-07-09/charting-epic-collapse-worlds-most-systemically-dangerous-bank
US Greenback To Rise Like The Proverbial Phoenix
Bankrupt Banks Brutally Bleeding…Worldwide
Derivatives Crisis Of Banks…Worldwide
Japanese Savers Flood Into Gold Fearing The Endgame Is Close   http://www.zerohedge.com/print/565898
********
Gold-Eagle provides regular commentary and analysis of gold, precious metals and the economy. Be the first to be informed by signing up for our free email newsletter.