'What' is more Important than 'Why'?

[Technical Analysis and the study of price action] are like maps, they are not the territory- they describe the territory. If the map is wrong and we are trying to get to some place in Detroit and all we have is a map of Chicago, it's going to be difficult to get where we want to go. We can work on our behavior, we can travel more efficiently, get a different car with better gas mileage, increase our speed but we are only going to wind up in the wrong place fast.

We can work on our attitude, we can get so psyched up about trying to get there that we don't even care that we are in the wrong place, but the problem really has nothing to do with attitude or behavior; the problem is that we have the wrong map."
~ Stephen R. Covey with A. Roger Merrill and Rebecca R. Merrill

FUNDAMENTAL ANALYSIS is the examination of underlying forces that affect the ECONOMY (first), then the effect upon Industry Groups\sectors and finally companies. It's a 'Top Down' approach starting with the general economy in hopes to Forecast 'Fair market value' of stocks.
TECHNICAL ANALYSIS is based upon one thing... PRICE- With the assumption that all Fundamentals are already factored in the price. It's based upon 'Dow Theory' where Supply and Demand might forecast trends. Charting is king and
'What' is more important than 'Why'.

I prefer Technical Analysis as my 'Map' because $Price is an 'exact stat', whereas Fundamental analysis contains more Theory. Ever buy a stock that was supposed to go up but didn't? -Haven't we all! Theories are all about 'Supposed to's'.

When working with charts, it will help you to KNOW that Economic Fundamentals are already built into the Price. So, with charting Tech Analysis, beware of 'adding on' more analysis of economic fundamentals. Doing so may cause errors in judgment and decision-making.

What I do is keep the economy in the back of my mind, but never let it interfere with what the chart says. 'The Price is Right'... always.
---
" Wall Street never changes, the pockets change, the suckers change, and the stocks change, but Wall Street never changes because human nature never changes." --Jesse Livermore
---
Lets jump right in and see what the maps are telling us about today's equity markets. Then, by comparing today's markets with past markets maybe we can pick a bottom and "market time" the next move in prices.
We will use the NASDAQ Composite as our instrument of study.
The Golden Fat Pitch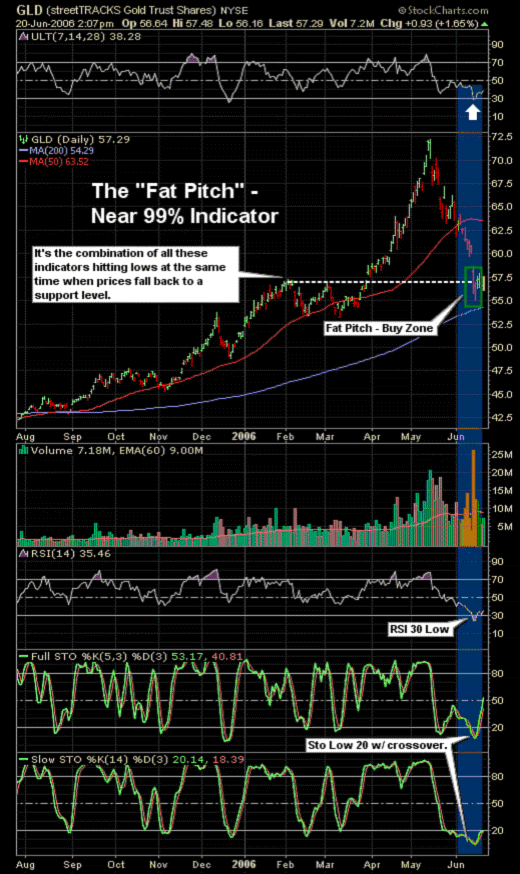 This last map is for Gold Traders who like to "Buy the Dip". Gold is at support and is doing a "Fat Pitch". 2006 Correction (Today) - NASDAQ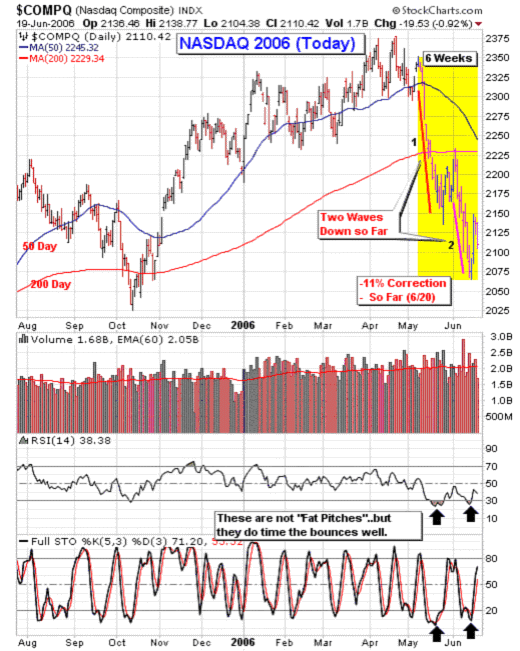 The only reason an investor or speculator should ever want to have pointed out to him is the action of the market itself. Whenever the market does not act right or in the way it should - that is reason enough for you to change your opinion and change it immediately… Remember, there is always a reason for a stock acting the way it does. But also remember: the chances are that you will not become acquainted with that reason until some time in the future, when it is too late to act on it profitably. ---Jesse Livermore
Don't ever try to tell the market what to do…listen to what it is saying. ---Anonymous
1996 Correction - NASDAQ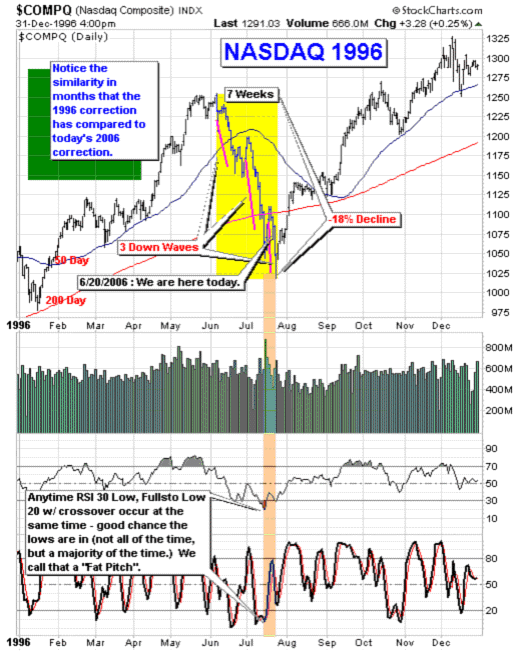 Fundamental analysis is about as useful as an alcohol thermometer in a world where CT Scans, x-rays, MRIs, and DNA testing offer better information. -Eric Muathe (Technical Analyst)
1998 Correction - NASDAQ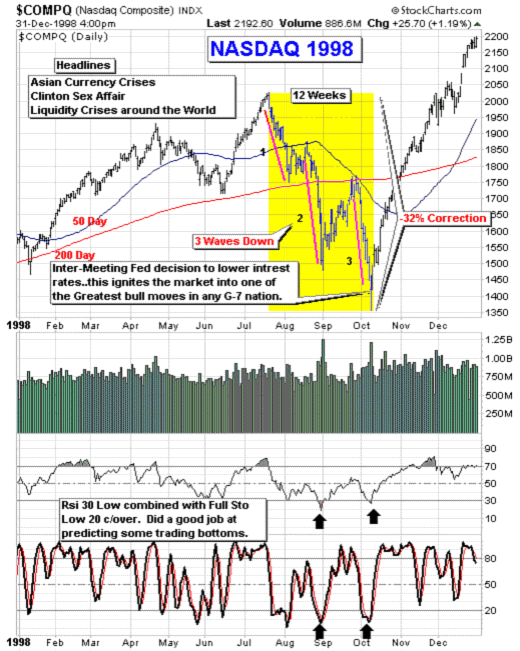 BASIC THEORY OF TECHNICAL ANALYSIS
1.The market value of a security is determined solely by the interaction of supply and demand.
2. Supply and demand is governed at any given moment by many hundreds of factors, some rational and some irrational. Information, opinions, moods, guesses as to the future, combine with blind necessities in this equation. No ordinary man can hope to grasp and weigh them all, but the market does this automatically.
3.Prices move in trends, which persist for an appreciable length of time.
4. Changes in trend, which represent an important shift in the balance b/w supply and demand, however caused, are detectable sooner or later in the action of the market itself.
2004 Correction -NASDAQ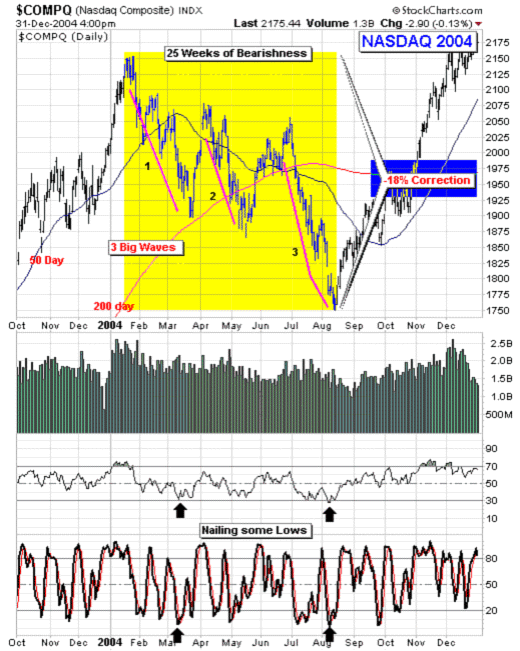 The task of beating the market is not difficult, it is the task of beating ourselves that proves overwhelming. -----Martin Pring - Investor Psychology Explained
If you bet on a horse, that is gambling. If you bet you can make three spades, that is entertainment. If you bet cotton will go up three points, that is business. See the difference? -Blackie Sherrod
Putting it all Together
2006 Correction (Today) - NASDAQ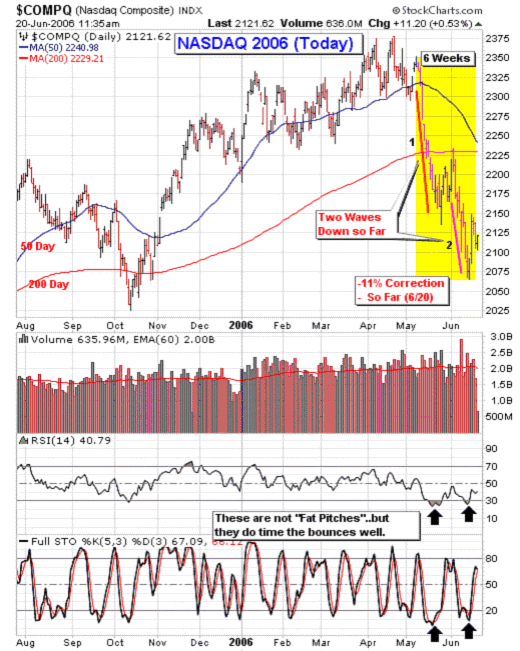 Ok, back to today. We have to be prepared for two scenarios:
-Scenario 1: Another bounce up lasting for 1-4 weeks. Then we should see another leg down giving us the 3rd Wave. You either do a retest of the low achieved in Wave 2 or we hit a new reaction low then bounce again. This would be like 1996 and 1998 (the preferred outcome for this trader!)
-Scenario 2: Similar to Scenario 1 where we have another 3rd Wave down with a retest or new reaction low, then a bounce…only this time we treed water for about 3 months like 2004 and perhaps go lower. We don't think this is the likely scenario, but possible and we will give it about a 15 % chance. Time will tell, but for the moment caution is the word until after we get the third wave down with a retest of the lows.
June 21, 2006
Contact Information:
Stephen R Stewart
Editor, Fatpitches.com (A division of Insight Equity Research Group)
Email this Article to a Friend

---
---