Taylor On The Markets & Gold

Jay Taylor

GOLD
As we expected, gold sold off a little today caused by contract expirations, oil price declines, the impending holiday, and our rising dollar. Considering all of these factors, the sell off was indeed minor. Next week brings the end of August and pre-holiday non-action.
We expect additional range-bound choppy moves with a small, general trend up for the week. Many gold traders will go flat at the end of trading next week. Based upon some other charts I see, I would be long gold going into the holiday and the Republican Convention. We do not wish for bad news upon anyone, but considering the above, I would be long gold stocks, gold stock options, and futures gold options before the end of business next week. Do not trade gold futures with open positions through the holiday and the Republican convention. You can have positions that will withstand extreme volatility, but not open futures.
Published with Permission from www.decisionpoint.com
Gold is holding its long-term weekly channel up, with a lowest base at 398.50 and a high to 429.00 resistance in the channel. We could see some more selling next week back to 398.50 and possibly, at its worst, to 393.50 (which I doubt), before resumption of the fall climb to 502 December gold. Today's daily closing bar finished in the bottom third, indicating weakness, and perhaps more weakness and selling on Monday.
Important gold news today showed gold and the dollar selling off together, although the dollar later reversed and climbed back to 89.82 very close to 90.00, heavy, overhead resistance. The dollar is weak, and most major currencies look the same, except for the Japanese yen, which we view to be in the beginning of a longer-term bull market.
I had an to opportunity to review some very elegant energy charts this afternoon, with one in particular giving me great pause. I saw a new pattern forming (incomplete as of today) which shows crude oil, forming itself in readiness for a tremendous oil rally. This chart, combined with Fibonacci Retracement Levels, Elliott Wave Theory, and support and resistance levels, tells me oil could possibly be headed for $72.00 per barrel. I recalculated the problem three times in disbelief, as this did not seem possible. Now I think it is, if the rest of the chart formation plays out the way I think it will. The problem is to determine which waves are the last two in this chart, as this analysis is frequently open to argument. No matter how this chart plays out, or is interpreted, oil is going up again after a profit taking session(s). Here are some oil facts: We have three declining weeks in a row for reserves. The President is not going to open the emergency reserves; in fact, more will be added to completely fill the storage facilities. More attacks hit Iraq pipelines today (Friday, August 27). The oil price closed at $43.10, from its recent high of $49.00+. Professional energy analysts, not talking heads, claim a real, fundamental oil shortage, and a distinct lack of worldwide refining capacity.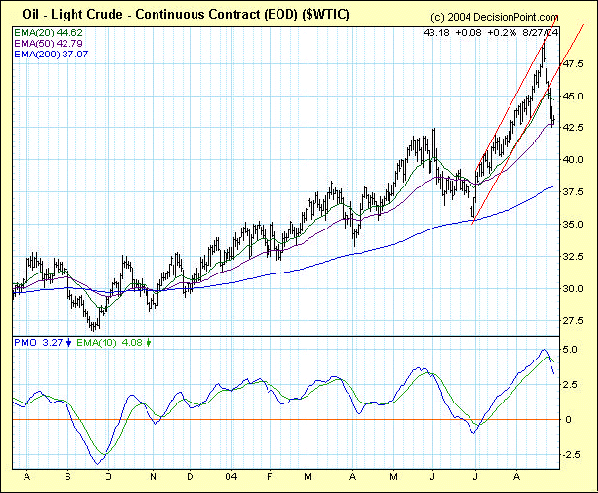 Published with Permission from www.decisionpoint.com
One oil company plans a brand new refining plant (none built in years and many shut down) in Arizona at a multibillion cost. Big oil is trying to buy other big oil companies, not drill for it. They are clutching their cash and trying to avoid expensive drilling risk and dry holes. All of this oil news bodes well for a gold rally this fall. The normal August price for winter heating oil is about $.75 a gallon in August; right now it's over $1.15 and was even higher last week. Not enough heating oil has been manufactured for the winter heating season. Prices for heat will be much higher this winter.
Gold will be affected by high oil prices and rally right along with energy. Do not lose sight of the fact that gold bottomed in 1999 and has been in an uptrend ever since. Gold's prices have been rising for 3½ years. Do not get caught up in the daily choppy action of the gold and silver charts. Watch the weeklies, and watch the channel support and resistance levels, which are consistent with a longer-term trend up. Silver closed at $6.58, down only $.09, and sits in a trading range of $6.55-$6.75. We are still on track for $10.00 silver by December 2, 2004.
I have been particularly impressed with firm gold and silver rallies in large companies like Newmont, Goldcorp, Silver Standard, and Apex Silver. These are big precious metals companies with larger capitalization. It takes some serious buying to move these stocks. They are showing early signs of fund and institutional buying, which means good times ahead for metals and their stocks.
THE MOTHER OF ALL BUBBLES: REAL ESTATE
When a real estate bubble pops, it is soundless. There are no dramas, fanfares, hysterical shrieking and wailing. No earth shaking chart indicators, just one big soundless vacuum of nothingness. It begins so quietly, it may take days to notice. Realization quickly induces an uneasiness, then fear, then a real panic.
I have had the distinct displeasure of witnessing real estate bubbles in 1974-1975, 1980-1984, and 1986-1987. The last one hit the Rocky Mountain states the hardest, and the previous two slammed the whole nation but seemed more pronounced in the Midwest; maybe that's because I was there when they were hit.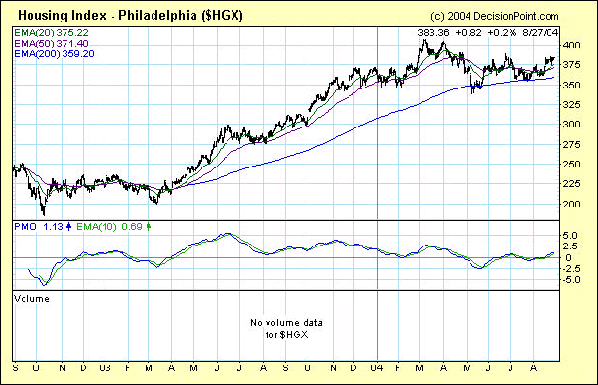 Published with Permission from www.decisionpoint.com
The real estate sales departments within big building companies will see an abrupt ending of orders. Not just a slow down, a flat-out stop. When larger subdivisions are moving along normally, they sell 2-4 homes per week in a modest market. In the wild and out of control markets (artificial scarcity induced by bureaucrats), you find lotteries, waiting lists, overpriced bids, and foolish asking prices. These mania markets can sell out an entire project in one to a few days.
In a modest market, the orders can stop flat, from previously selling 8-16 per month, then down to 1 or 2, then zero. Nobody knows why this phenomenon occurs, it just does. If you fly a small airplane into heavy wind, and the wind suddenly dies, the plane shudders, seems to stand still, then quits flying. As a former pilot, I have experienced both, and it makes your stomach go right up into your throat, as you understand what just hit you. This experience is quite insidious, as there is no warning. Having watched and participated in the real estate industry for nearly 30 years, I can assure you, it is coming again. All the signs are in place for The Mother of Bubbles.
Slowdowns for previously owned homes are more gradual as the market place is expanded over a wider location and larger price range. A strong indicator is a healthy subdivision containing just a few "for sale" signs, that moves into the "three 'for sale' signs per block" category, or even 3-4 side by side. First come the "for sale by owner" ("FSBO") signs, with sellers asking the lofty prices of two years ago.
Brokers then step in and list the FSBOs with their corporate signage. Now the prices begin to drop, as "we gotta move" is the theme. Following this, a stray, very infrequent offer arrives, with the price being very low. Indignant sellers say no way, not at that price. Six months later, they would be very grateful to have that "low offer."
As layoffs increase in a slowing economy, first one spouse, then the other is out of work. The savings deplete, the "extras" are tossed from the household budget, then hard reality sets in. Once when moving to a new town and renting a nice $175,000 home for one year (to get acquainted before purchasing), I watched a newer neighborhood go from selling and occupying the last of several hundred homes (big neighborhood) to some signs, to many signs, to vacant newer homes, then the finality-every third or fourth house vacant, 12" uncut grass, and broken windows in dark homes. This was not a slum, folks, but a very nice newer neighborhood of semi-custom homes. More than 50,000 people permanently left this town of about 600,000-for good. Gone, out of state, back to the parents. Almost as many homes, 48,000, were repossessed by HUD for non-payment or abandonment. It is not a pretty picture. It causes family break-ups, suicide, crime, drunkenness, and a host of mental problems for adults and sadly, children. -Trader Rog
Indian Crops & Gold
After Trader Rog sent his weekly commentary to me, we spoke by phone, at which time he noted that one of the reasons to expect strength in gold through the fall is that demand from India grows at this time of the year in conjunction with cash generated from their fall harvest season. This cannot be good news for the Plunge Protection Team and those folks who are manipulating the gold markets in order to keep the big lie alive, namely that paper money is superior to gold money.
Richard Russell Weighs in on Deflation Once Again
The following was excerpted from Richard's Remarks at www.dowtheoryletters.com on August 28, 2004. If there is one source of market wisdom your editor seeks to read every day, Richard Russell's daily column is it.
"August 28, 2004 -- I've been focusing on the movements of the commodities. They all appear to be under pressure. Declining tops, declining tops everywhere in commodities. At the same time the dollar is actually turning strong. And the bonds continue to creep higher. What is all this telling us? It's telling us that the Fed, despite its frantic money creation and low interest rates, is failing to hold back the forces of deflation.
"Yes, it's incredible but with twin US deficits adding up to a trillion dollars a year, the forces of deflation are active and more powerful than the actions of the Fed -- more powerful than the action of all the central banks taken together.
"The simple, basic fact is that there's too much supply in the global market, and not enough demand. That is the classic recipe for price deflation.
"The picture is changing very slowly, very subtly, unnoticed by most analysts. But I'm convinced that Greenspan is well aware of what's happening.. Greenspan has studied the Japanese situation carefully, and Greenspan knows that the great unseen monster of deflation is still very much alive. I also believe Greenspan has told George Bush about the specter of deflation, and for this reason you will see Bush avoid any talk about the enormous budget deficits.
"The truth, the unspoken truth, is that Bush wants deficits. Bush needs deficits to fight the forces of deflation. The easiest way to produce huge deficits is via defense spending. You can spend your bloody head off in defense and who can complain? Who dares complain, particularly with the nation in constant danger from terrorists?
"So watch for a coming huge build-up in government deficits -- most of it stemming from defense spending. Furthermore, Bush will constantly harp on the terrorist danger. This will allow him to spend and spend more on defense -- with any objectors branded as being anti-patriotic and close to treasonous.
"Kerry doesn't see or understand the situation. Nobody's told Kerry about the danger of deflation. Few people know about it. Kerry's talking about cutting the deficits. This is the path to economic disaster, as counter-intuitive as that seems. Subscribers who have no idea of what I'm talking should read Richard Koo's brilliant book, Balance Sheet Recession.
"I now believe Kerry will lose the election. He'll lose because he doesn't see the picture, and therefore he'll be talking the wrong talk. And advocating a policy of walking the wrong walk.
"The major problem entails the underlying forces of deflation. It's the deflationary background, I believe, that is holding gold and silver back. Forget manipulation -- the precious metals sense deflation.
"The Japanese survived decades of deflation because they are huge savers, and because Japan has a positive trade balance. The US has little or no savings and a giant negative trade balance. Therein lies the threat, therein lies the potential trouble. And we're going to experience incredible trouble when deflation hits.
"When prices collapse, bankruptcies will explode, and debt will become a dirty word. All the world's paper currencies are a product of debt, and as the rush for solvency and safety enters the picture, the intrinsic safety of true money, gold, will be recognized.
"The precious metals will come into their own as the forces of deflation ultimately hit prices across the board. I'm going to write more about this in coming reports, but nobody is writing about this concept and evidently nobody recognizes or understands it.
"On more question, why doesn't the rest of the world complain about the dangerous US trade deficits? They don't complain because they're living off those deficits. US deficits are money and assets that are being transferred to our overseas "friends." So why would they complain? They'll only complain when the whole crazy structure collapses, and that could be months, even years away."
August 29, 2004
Jay Taylor, Editor of J Taylor's Gold & Technology Stocks
www.miningstocks.com