Gold-Eagle Authors
Gold-Eagle Editorial Staff
Founder of Gold-Eagle in January 1997.  I.M. Vronsky has over 40 years' experience in the international investment world, having cut his financial teeth in Wall Street as a financial analyst with White Weld. His education includes a degree in Petroleum Engineering from the University of Oklahoma, a Liberal Arts degree from Hartnell College and an MBA in International Business Administration from UCLA – qualifying as Phi Beta Kappa for high scholastic achievement in all three.  I.M. believes gold and silver will soon be recognized as legal tender in all 50 US states. You can reach I. M Vronsky at: vronsky@gold-eagle.com.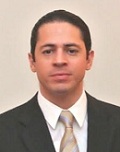 Christopher Aaron is a former counter-terrorism officer for the CIA and Department of Defense. He has always had an independent analytical outlook, volunteering to serve two tours to Iraq and Afghanistan from 2006 – 2009 to gather real-time intelligence for military leaders in Washington, D.C. Drawing upon his investigative skills he turned his attention to the financial markets in the mid-2000's, and has been sharing his research and analysis for over a decade.
Pierce Wellington is the Senior Technical Analyst and head trading consultant at BuyGoldPrice.com. After making unwise decisions early in his trading career, he developed a passion for Education, Technical Analysis and Trading Discipline. He has successfully traded the Gold and Silver markets for over a decade and is currently pursuing the esteemed Chartered Market Technician (CMT) designation, which he hopes to complete in 2016.
You can reach Pierce Wellington at:
pwellington@gold-eagle.com
Gold-Eagle Contributing Authors