GOLD BULLS
&
STOCK BEARS

This is the most powerful potential gold move I have ever seenů

Philadelphia Gold Index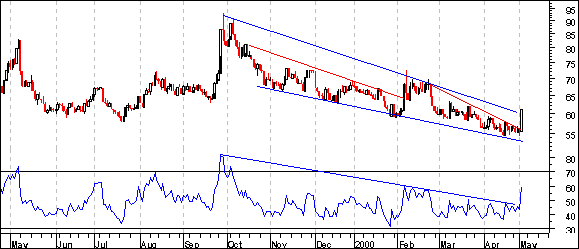 This is an extremely powerful chart. It is two Falling Wedges inside a huge Falling Wedge. One falling Wedge usually leads to a vertical upmove, I do not know what two will do. The RSI has already broken clear of its trend and is leading the way.

All I can say is that this is one of the most powerful charts that I have ever seen. Expect a catapult to end all catapults.

The same basic data is reflected in the charts of ASA, Homestake, FT Gold Index and the Toronto Gold index below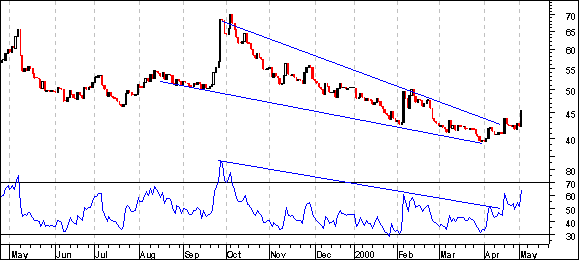 More Bullish Patterns

Mining Index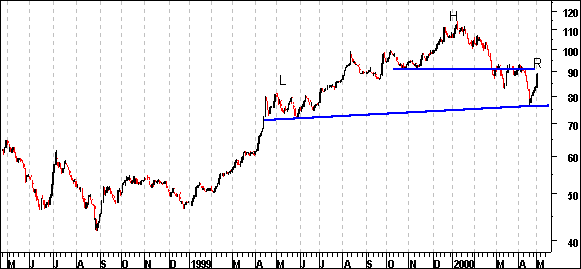 Resources stocks have enjoyed a rebound in line with the world equities but this is about to end. The right shoulder has rallied back up to the major resistance level and is unlikely to go up further. Another set of data indicating a fall to October 1998 lows.

Contrast gold's bullish posture to the huge Head & Shoulders topping patterns on the global equity markets.

AMEX ( American Stock Exchange Index )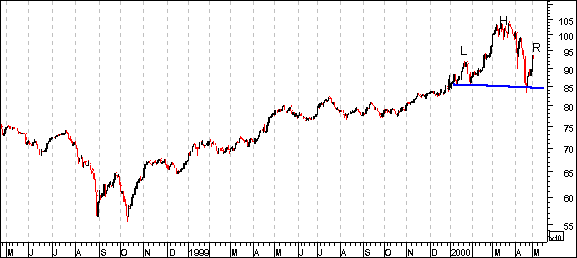 We are completing the right shoulder rally. The downside on this chart is to 64, a wipe out of the whole move since October 1998.

Dow Jones Industrial Average
A more complex H&S but it is still there. The downside count is to 7 700. Another fall to the October 1998 lows.

FT 100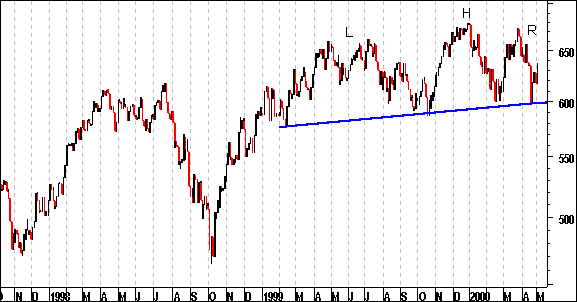 A compound set of shoulders but a clear trendline at 600. Another downside count to the October 1998 lows.

FT 250

The FT 250 is a broader index than the FT 100 and exhibits a smaller version of the H&S top pattern. This is merely confirmation of the top formations for UK equities.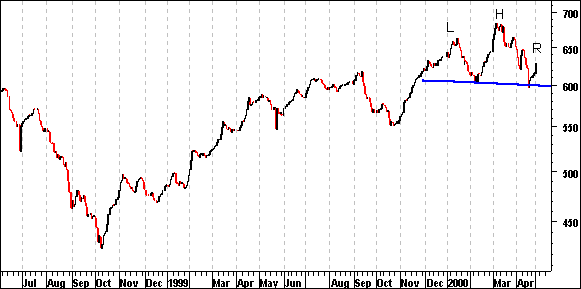 ALSI 40
This chart has just completed the right shoulder of its H&S top. Note the smaller H&S at the head of the bigger pattern with the classic pullback at P to test the neckline.

FINA 30
Another twin H&S top pattern except this time the big right has pulled back to test the neckline of the top H&S. Both these charts have downside targets to below the Oct 1998 lows.

NASDAQ

A complex picture with two H&S formats.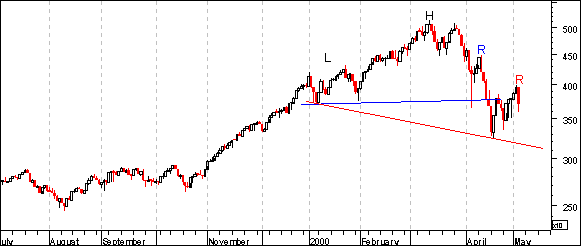 The H&S with its right shoulder R in blue has already broken the blue neckline. The current rally has moved up to test the neckline resistance level. However there is a second potentially much more dangerous H&S with the right shoulder and neckline in red. This would lead to a catastrophic fall in this hi-tech dominated venture capital market.

Hang Seng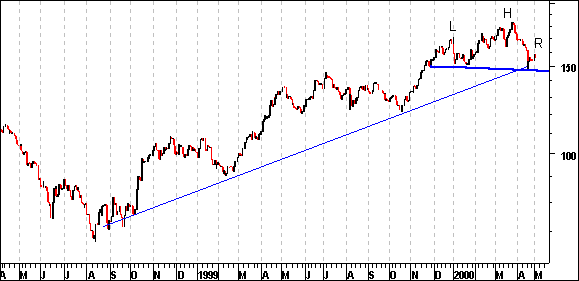 In the process of forming a right shoulder. A move under the150 level will lead to a break in both the bull trend and the neckline of the H&S top.

Singapore
Whereas some of the previous charts may have been a little lopsided in their H&S formats this is a classic textbook example of the top pattern.

S&P 500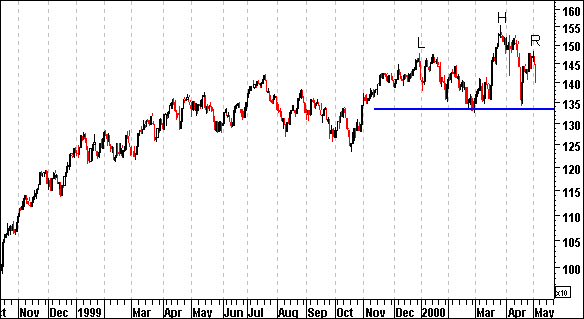 Yet another US top pattern. This is probably more dangerous than that on the Dow as it is coming from a much higher level.

Conclusions

Gold shares are about to have one of their most powerful moves ever.


The Falling Wedge pattern is evident across the board on all gold indexes.


Global equity markets are all in the process of completing the right shoulder of a large H&S top pattern - very bearish.


The downsides out of the equity patterns indicate a fall to at least test the lows of October 1998.



We are right at the end of the base formation in bullion -- and the next move is a catapult to $330. That should shake the bullion houses who have been continually slicing a buck or two off the gold price every session in the US.




12 May 2000

Dr. Clive Roffey
Editor of Share Action Newsletter

Note: Dr. Clive Roffey is South Africa's leading Technical Analyst, whose forte is gold mining stocks.




Copyright © 1997 - 2000 vronsky and westerman