A gold-based IRA is considered by many to be one of the best options to protect your retirement account from an unstable economy. This is because gold has proven itself to be a safe-haven asset that can withstand severe fluctuations and downturns in the market, and often outperforms other asset classes during recessions. Given the current market volatility, it may be an optimum time to consider a gold or precious metal IRA. Below you'll find a convenient listing and comparison of our top-rated picks for the Top 5 Best Gold IRA Companies with links to reviews.  You will also find an informative Gold IRA Guide.
What is a Gold IRA?
A Gold IRA allows you to purchase and hold physical gold, and other hard assets, in what is called a "self-directed" IRA. Legally, Gold IRA's must have a custodian. A custodian is an institution that maintains the account, its disbursements, IRS reporting, etc.. Storing your precious metals at your home is not permitted for gold or precious metal IRA's. For more details, request an information packet from one of the top-rated Gold IRA companies below.
Why Gold?
Below are the top 3 reasons why people choose to diversify with gold and open a Gold IRA account:
Economic safety: If the stock market crashes, having part of your investments in gold may protect you from significant losses. This is especially important to consider if you are nearing retirement.
Inflation defense: Your purchasing power drops as the value of the US dollar drops. Having gold in your portfolio can protect you as gold has outperformed the value of the dollar historically.
Portfolio diversification: Having all of your money in a single investment class (such as stock and bonds) can open you up to significant risk. Diversifying your portfolio to include gold, such as in a Gold IRA, may be an important step to protecting your nest egg.
How does Gold perform during recessions?
Gold almost always increases during economic recessions. One way to analyze gold prices during a recession is by comparing its performance with the S&P 500. The chart shows 9 of the largest stock market declines and the performance of gold during the same time period.  As this data clearly shows, gold increased significantly during most of these recessions, and outperformed the S&P in all but one.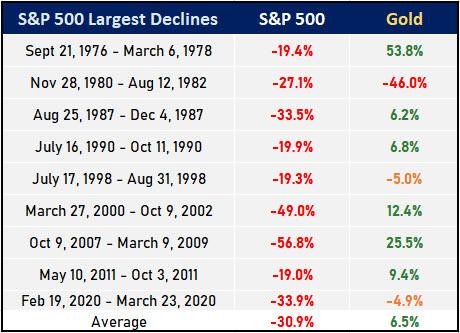 Gold significantly outperforms the S&P 500 during stock market declines.
This article is not financial advice. Please refer to a finance professional before making your financial decisions. Some of the companies listed here may advertise with us and/or have an affiliate relationship with us. The opinions expressed, however, are our own.