2 Lead Weights Hang On Gold's Neck
Summary
Rising Treasury yields and strong dollar are gold's "lead weights".
Settlement of U.S.-EU trade dispute is also hurting gold price.
Until dollar/gold ratio reverses, the metal will remain bearish.
After recently teasing another bottom, gold continues to be heavily weighed down by, as it were, two lead weights: the U.S. dollar and the Treasury bond yield. In today's commentary, we'll examine these prominent obstacles standing in the path of a gold relief rally. Notwithstanding the possibility of an immediate-term rally, the evidence points to gold's intermediate (3-9 month) downward trend remaining intact.
Gold prices were lower on Thursday, thanks to pressure from a stronger dollar and rising Treasury yields. The strengthening dollar and weaker gold price came in response to an easing of trade tensions after the U.S. agreed not to impose tariffs on cars from the EU. The news of the verbal agreement between U.S. President Trump and European Commission President Jean-Claude Juncker to further resolve a tariff dispute between the U.S. and Europe eroded a potential support for the metal, with investors now having one less reason to make safety-related gold purchases.
Spot gold slipped 0.7 percent to $1,224 on Thursday after rising 0.6 percent on Wednesday. Earlier in Thursday's session, the metal hit $1,235, its highest in more than a week. Meanwhile, August gold futures lost 0.8 percent to end the latest session at $1,222. As the August gold chart shows below, gold continues to be shepherded lower by its 15-day moving average. Until the gold price can manage to close two days above this key technical benchmark, traders should consider gold's immediate-term (1-4 week) trend to be down.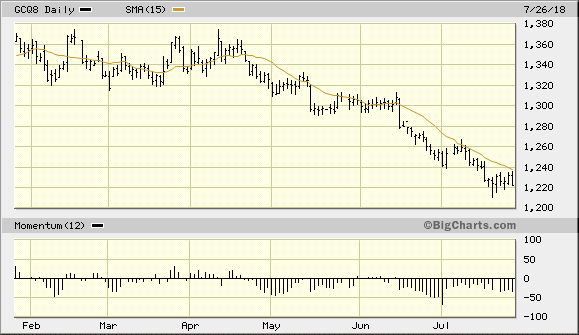 *********