2014…Déjà vu 2000 & 2008 ?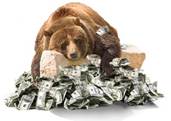 Those who do not learn from history are doomed to repeat it, which means those investors who cannot remember the past are condemned to suffer its financial consequences.
HISTORIC VIEWS
1929 vis-à-vis 2014:  Here are three charts covering the same theme that the Current Dow Index is following in the footsteps of the 1928-1930 Dow Stocks Index (just before the Great Stock Market Crash in late 1929).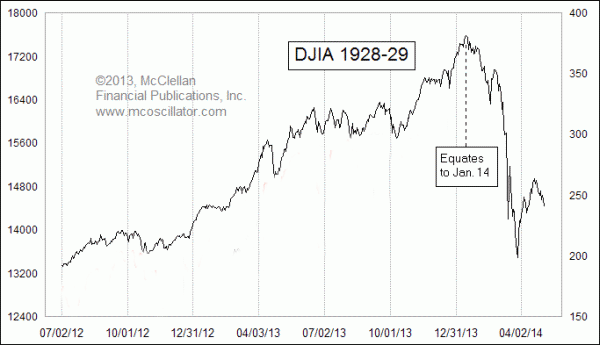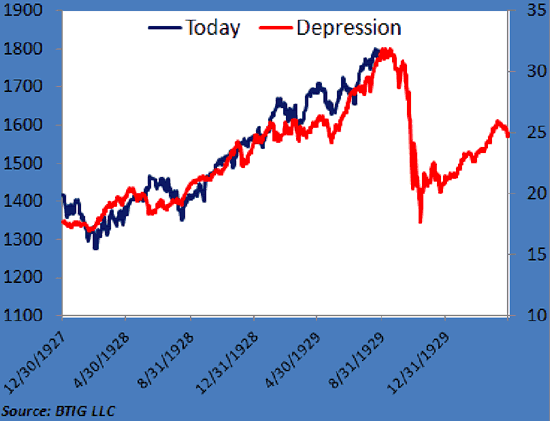 http://www.businessinsider.com/chart-comparing-now-to-great-depression-crash-2013-11
(Chart Source:  Business Insider, Nov 22, 2013)
ALSO:
Source:  The Demark mentioned in the chart above, is Thomas DeMark, founder and CEO of Demark Analytics. Demark is a 40 year industry veteran, whose clients include George Soros and Goldman Sachs.
CURRENT VIEWS
Stocks And Gold Are Moving Inversely
During the past five months, the S&P500 stock index has moved inversely to the price of gold.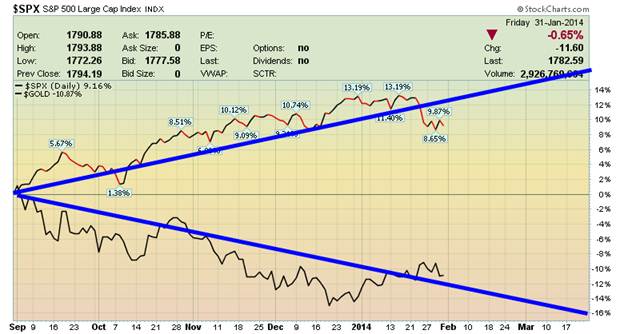 Moreover, the next chart shows this inverse relationship has been developing over the past 14 months…and appears both trends may be ready to reverse (ie Stocks to begin falling, while gold starts to rise).  The chart also suggests T-Bonds may again begin to rise as stocks decline.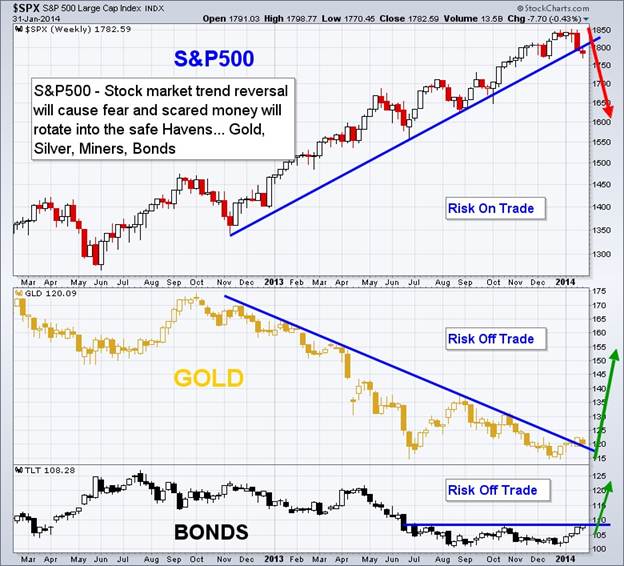 (Source: Chris Vermeulen)  https://www.gold-eagle.com/sites/default/files/vermeulen020214-1.jpg
The most impactful and significant chart shows a Bearish Triple Top on the Dow/T-Bond Ratio...and all the indicators are ominously bearish. The theory is that when investors dump risky stocks, they flee to the safe haven of bonds.  Therefore, the Dow/T-Bond Ratio peaks (as it did in the beginning of 2000 and 2008), which precisely marked the beginning of the respective Bear Market in stocks.  To be sure the Dow/T-Bond Ratio recently peaked…AGAIN. Consequenly, stocks may soon be plummeting.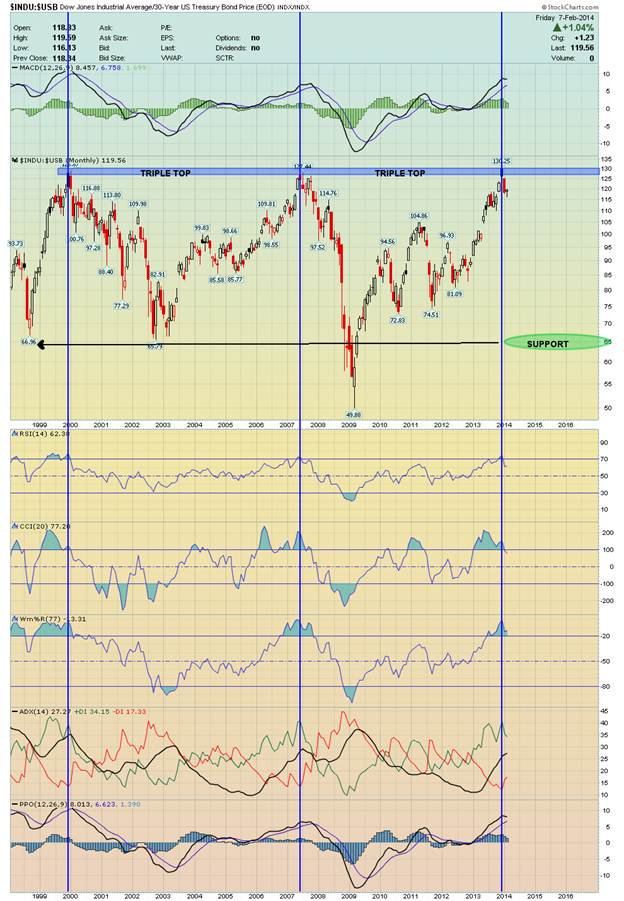 Conclusion: Dow stocks may be heading for a 35% to 40% decline.
POSSIBLE FORECAST
Dow Index was down nearly 900 points in January 2014…thus forecasting an ominous January Effect.
Current Fundamental Factors and Technical Analysis of the Dow Index suggest that 2014's January Performance most resembles that of the Bear Markets of 2000 and 2008. In January of this year the Dow Index fell -5.3%.  Below is what happened in January 2000 and January 2008…and the subsequent performance for the entire year:

Based upon the above, and assuming 2014 may replicate the average performance of the 2000 and 2008 bear markets, the Dow Index could conceivably decline to about 12300 by yearend (2014).
However, it is imperative to remember that the 2000 and 2008 Bear Markets lasted longer than 12 months. In fact the 2000 Bear Market eventually fell a total of -28% in 21 months, while the 2008 Bear Market dropped a total of -44% during 14 months.
GLOBAL STOCK MARKETS MAY ALSO TUMBLE
This global stock index is in Kamikaze Dive mode, which may find support at 290…but then it's down to 265.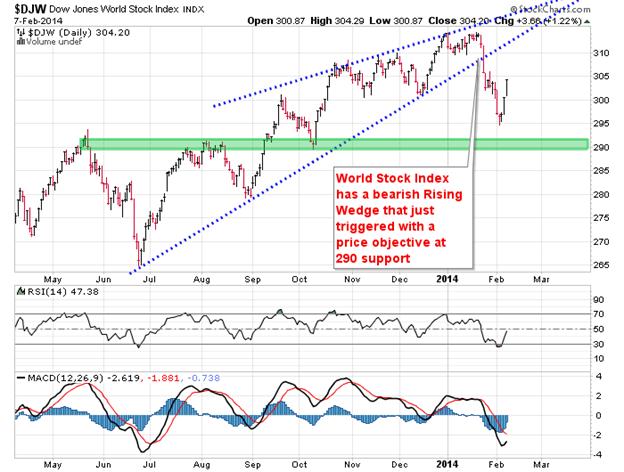 As the sage (albeit satirical) Chinese saying suggests: 

   "2014 looks to be an 'INTERESTING' year' 
…………. 
Related articles: 
Ides Of March 2014  https://www.gold-eagle.com/article/ides-march-2014
Stocks Are Hell Bent To Suffer A Sharp Correction In 2014
https://www.gold-eagle.com/article/stocks-are-hell-bent-suffer-sharp-correction-2014
Great Crash Of 1929 Similarities Suggest Gold Prices Will Soar In 2014
https://www.gold-eagle.com/article/great-crash-1929-similarities-suggest-gold-prices-will-soar-2014