America Out Of Control: Good For The Gold Price
Gold often has a "bad hair day" on Tuesdays, but today (so far) the price action is decent.
Is the sideways drift in the gold price coming to an end, or is there more churning ahead as the summer begins?
What can be said is that a rough $100/ounce sale is in play for gold, and there are 15%-20% price sales for most intermediate and senior miners.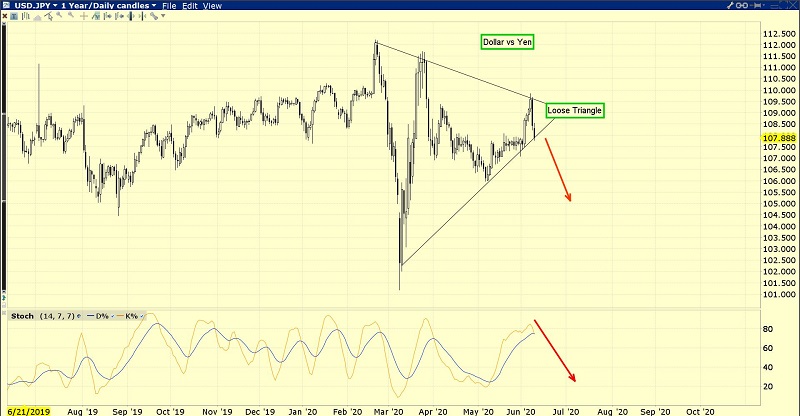 The dollar versus yen chart. There is tremendous correlation between the price action of gold and the yen.
That's because big bank FOREX traders view them both as "risk-off" currencies. At some point that correlation will die, but for now it is rock solid.
There's a loose triangle in play for the dollar against the yen, and a meltdown seems likely. That would be good news for gold!
My suggested plan of action for gold market investors is to buy lightly here, because regardless of whether the economy strengthens or weakens, debt goes higher.
It's outrageous that during periods of economic strength, Western governments and central banks add debt, print money, and refuse to eliminate QE.
The great news is that those outrageous actions are why gold now drifts sideways after big rallies rather than selling off aggressively.
The weekly chart for gold is spectacular.
There's a gargantuan inverse bull continuation pattern in play, and it's arguably the most aesthetic pattern… in the history of markets!
Interestingly, the formation of a bull flag now is as likely as a big right shoulder.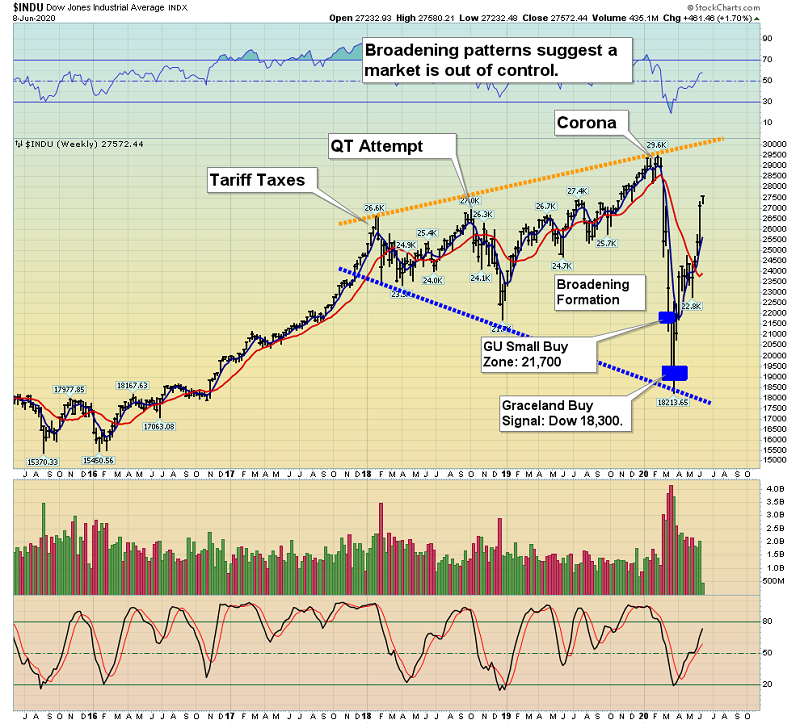 What about the stock market? Well, the current action in the stock market is also good for gold.
A huge broadening formation is in play for the US stock market, and broadening formations happen when a market becomes… out of control.
Interestingly, a recent poll highlighted by Fox News suggests that 80% of Americans believe not just the stock market, but the entire nation, is out of control.
It could be argued that my Dow 21,700 and 18,300 buy points are two of the greatest stock market calls of all time, but I'm not seeking accolades. The market could of course crash at any time, but it is likely to rise to 35,000 or even 40,000 first… and become even more out of control.
From the 35,000-40,000 area, I'm predicting another debt-driven meltdown is coming, one that will dwarf the Corona-oriented crash. The bottom line:
Out of control nations and markets… are good for gold!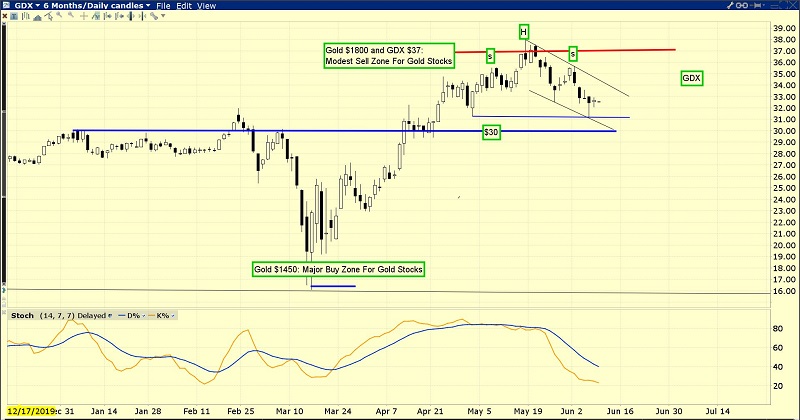 The GDX chart.
After rising more than 100% in just a few short months, GDX is taking a well-deserved break.
I've highlighted $37 GDX as a key resistance zone, and the price action since the miners have arrived there suggests mild consolidation is much more likely than a deep correction.
The superb SIL silver stocks ETF chart.
Like GDX, SIL has rallied from about $16 to $38, but GDX has corrected by about 18% to the $31 area, while SIL has only pulled back to about $33!
The resilience of silver stocks after this huge rally is impressive. All silver stock enthusiasts should be buyers into the pullback, in anticipation of a much bigger rally to come, once the $38 marker for SIL is taken out on the upside!
Special Offer For Gold-Eagle Readers: Please send me an Email to [email protected] and I'll send you my free "Key Miners Are Ready For a New Leg Upside!" report. I highlight key intermediate producers that have touched support and are now beginning what could be a rally to new highs! I include key buy and sell tactics for each stock.
Note: We are privacy oriented. We accept cheques, credit card, and if needed, PayPal.
Written between 4am-7am. 5-6 issues per week. Emailed at aprox 9am daily.
Email:
Rate Sheet (us funds):
Lifetime: $999
2yr: $299 (over 500 issues)
1yr: $199 (over 250 issues)
6 mths: $129 (over 125 issues)
To pay by credit card/paypal, please click this link:
https://gracelandupdates.com/subscribe-pp/
To pay by cheque, make cheque payable to "Stewart Thomson"
Mail to:
Stewart Thomson / 1276 Lakeview Drive / Oakville, Ontario L6H 2M8 Canada
Stewart Thomson is a retired Merrill Lynch broker. Stewart writes the Graceland Updates daily between 4am-7am. They are sent out around 8am-9am. The newsletter is attractively priced and the format is a unique numbered point form. Giving clarity of each point and saving valuable reading time.
Risks, Disclaimers, Legal
Stewart Thomson is no longer an investment advisor. The information provided by Stewart and Graceland Updates is for general information purposes only. Before taking any action on any investment, it is imperative that you consult with multiple properly licensed, experienced and qualified investment advisors and get numerous opinions before taking any action. Your minimum risk on any investment in the world is: 100% loss of all your money. You may be taking or preparing to take leveraged positions in investments and not know it, exposing yourself to unlimited risks. This is highly concerning if you are an investor in any derivatives products. There is an approx $700 trillion OTC Derivatives Iceberg with a tiny portion written off officially. The bottom line:
Are You Prepared?
*********