The Bright Side Of Gold's Failure To Pop
With stocks plummeting around the world, it's clear that gold flunked the safe-haven test. Virtually no one would have predicted that bullion prices would barely budge if the Dow Industrials were to fall more than 2100 points in just three days. And yet, that's exactly what happened. Why? Forced liquidations and falling oil prices were obviously weighing on the precious metals sector. But it's also possible that despite the ferocity of the selling, the institutional heavyweights who control the markets were confident that everything would turn out all right.  If so, not only did they feel little fear as shares fell, they may also have been relieved to see some air come out of a potential bubble. While we wince as trillions of dollar of market valuation vanish in a blink, they see opportunities for bargain hunting.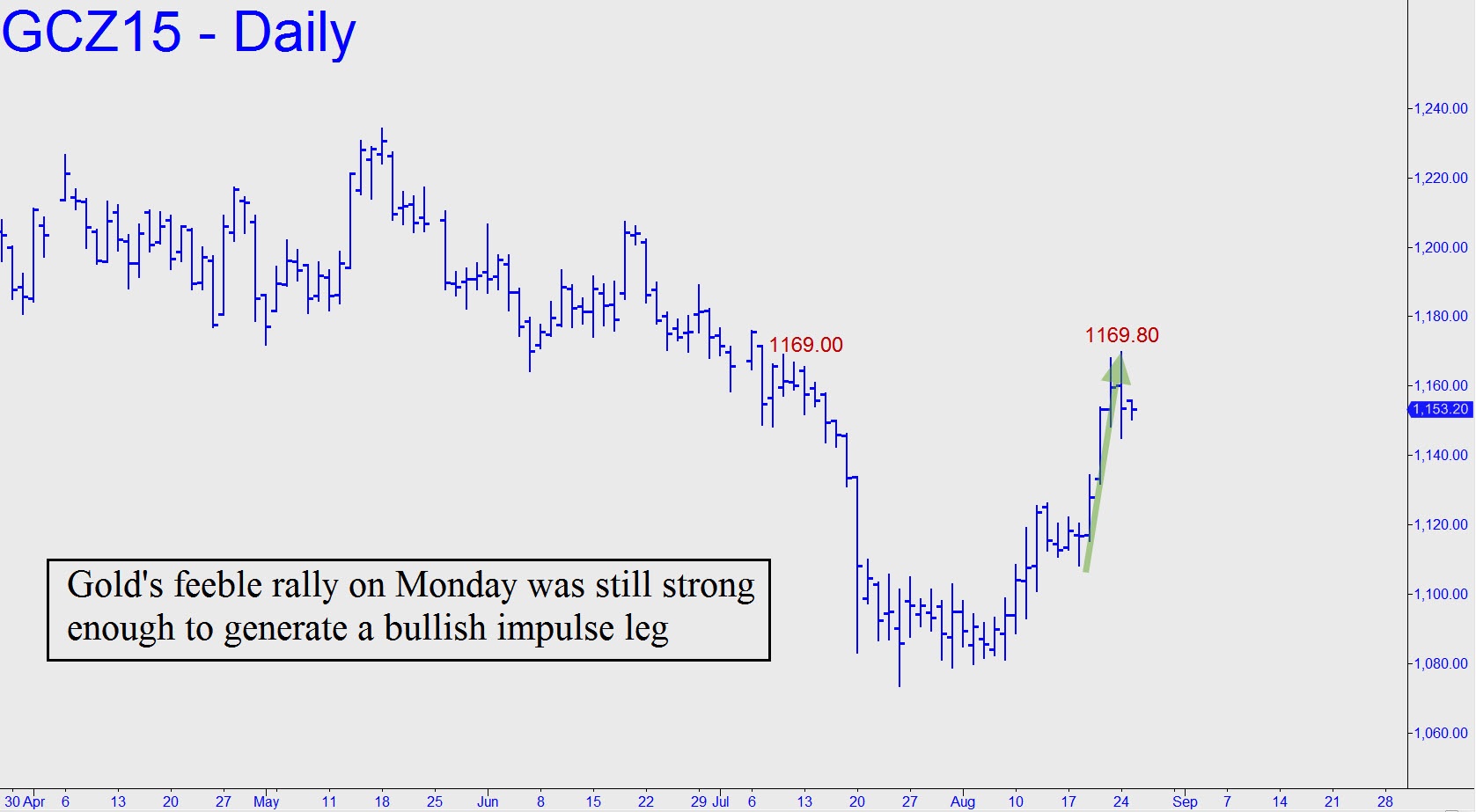 Whatever the case, the best way to look at gold's charts at the moment is to pretend we know nothing about the stock market's big troubles. Seem from that perspective, December Gold appears to be consolidating for a push above 1200 in the weeks ahead. Notice that although the futures gave back most of yesterday's modest rally by day's end, the intraday high poked slightly above an 'external' peak at 1169.00 recorded back in early July. This generated a bullish impulse leg on the daily chart, implying that the pullback from Monday's high is likely to produce a follow-through rally leg. Were it to equal the rally off mid-August's 1108.50 low, the futures could trade as high as 1206.00 by month's end or early September.
********
Click here for a free two-week trial subscription to Rick's Picks that will give you access not only to daily trading 'touts', bulletins, updates and impromptu trading sessions, as well as to a 24/7 chat room that draws veteran traders from around the world.