Canadian Gold Stock Outlook Promising
After enduring several years of harsh investor sentiment in the form of depressed share prices, several Canadian gold mining stocks appear ready to reverse course and return handsome dividends to their long-suffering shareholders.
The latest upsurge in the gold market has injected new life into a languishing Canadian mine outlook, with several promising mining companies showing signs of mounting a comeback. For Canadian visitors to Gold-Eagle, this recent development should inspire new hope in Canada's general economic outlook, as so much of it is dependent upon gold mining. Commodities depression notwithstanding, we expect gold to perform well over the remainder of 1998.
Before beginning our analysis, however, we must preface it with a strong word of caution concerning the overall stock market outlook. With equities prices expected to be tumbling throughout the month of October, it would be prudent to wait until the damage begins taking its toll on the North American stock market before considering entering long positions in any gold mining stocks. Such caution should be exercised in order to gauge the effects of the equities collapse on gold mining shares. If gold stocks remain relatively unscathed from the fall-out, this should issue an "all clear" signal to begin accumulating gold mining shares.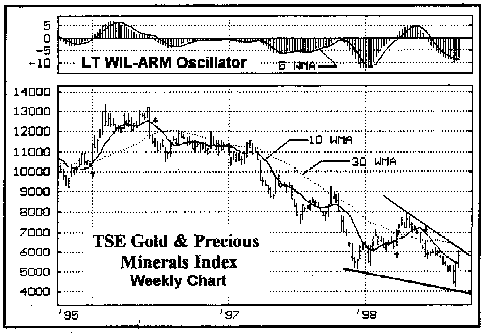 The first positive development for Canada's gold outlook is the bullish formation that appears to be forming on the TSE Gold & Precious Minerals Index, an important benchmark which reflects the overall condition of Canada's precious metals mining industry.. Prices on the TSE index have just recently broken above both the 10-day and 30-day moving averages, a healthy sign. Momentum indicators for the index show that selling pressure, while heavy over the last few months, is beginning to abate and extreme bearishness appears to be giving way to incipient bullishness. Thus, we should expect a large turnaround in momentum toward a healthier net buying pattern. Technical patterns on the indexes' chart also shows a bullish "falling wedge" formation that presages a strong upside breakout upon completion of the pattern. Based on our analysis, that breakout should be forthcoming very soon.
Several of Canada's listed gold mining shares also look quite promising, and our technical analysis of some of these will hopefully shed more light on a market sector that is already beginning to glow with bullish possibilities. The charts and technical indicators for our analysis were supplied by Canadian gold stock specialist WIL-ARM Inc. (publishers of Talking Gold with WIL-ARM, a highly recommended Canadian gold stock newsletter)
The first chart that catches our attention among Canadian mining companies is Argentina Gold (recent price CDN$0.5\share). The chart for this stock forms a classic falling wedge which portends higher prices in the near future. Also positive is the stock's Relative Strength Indicator (RSI) which is showing a positive divergence. This stock looks very much like an oversold company that has seen its bottom and is awaiting confirmation before breaking out to higher prices.
Campbell Resources' stock chart is poking above its long-standing downward-sloping resistance line, a bullish development. The stock's RSI has formed a long, drawn-out consolidation pattern which may be an augur for a bullish price spike in the near future. Before considering this stock a buy candidate, wait for its stock price to penetrate above the overhead resistance line by at least three percent. Admittedly, this is a speculative play but it may prove rewarding if prices can mount a sufficient rally.
Another Canadian gold stock showing a bullish chart is Kookaburra Resources. A bullish "flag" formation has formed in the chart accompanies by a noticeable pick-up on volume, a health sign. The stock's RSI also looks bullish. A speculative play, still, but worth considering.
Quinto Mining is forming a consolidation pattern known as a "rectangle" on its stock chart which presages a strong move to either the upside or the downside. Based on the positive divergence demonstrated in its RSI chart, we expect its next breakout to be to the upside. Investors should wait for confirmation before buying shares in this stock but should nonetheless keep it in serious consideration.
Winspear Resources has recently shown a clear bullish pattern in its chart—a "flag"—accompanied by increased volume which serves to confirm the bullish uptick. RSI for Winspear also confirms the latest bullish move. Keep this stock on your list of possible buy candidates and watch for further bullish chart developments.
Other Canadian mining stocks which show signs of bottoming, but are still on the speculative side, include Armada Gold, MacMillan Gold, Rayrock Yellowkn, Viceroy Resources and Vista Gold.
The gold outlook in Canada hasn't looked this bright in years, and gold investors have every reason to remain hopeful for a rewarding gold stock outlook in the months ahead.