Currency Speculators Sharply Cut US Dollar Net Positions To Lowest Since July 2014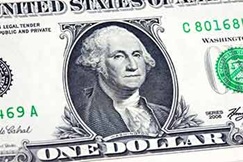 US Dollar net speculator positions decreased last week to +$13.32 billion
The latest data for the weekly Commitment of Traders (COT) report, released by the Commodity Futures Trading Commission (CFTC) on Friday, showed that large traders and currency speculators reduced their overall net bullish positions in the US dollar last week for a third consecutive week and to the lowest level in over a year.
Non-commercial large futures traders, including hedge funds and large speculators, had an overall US dollar long position totaling $13.32 billion as of Tuesday October 20th, according to the latest data from the CFTC and dollar amount calculations by Reuters. This was a weekly change of -$5.65 billion from the $18.97 billion total long position that was registered on October 13th, according to the Reuters calculation that totals the US dollar contracts against the combined contracts of the euro, British pound, Japanese yen, Australian dollar, Canadian dollar and the Swiss franc.
Last week's data brings the US dollar speculative level to the lowest level since July 15th of 2014 when net positions stood at a long position of $9.94 billion.
Weekly Speculator Contract Changes
Weekly changes for the major currencies showed that large speculators increased their bets in favor of the euro, British pound sterling, Japanese yen, Swiss franc, Canadian dollar, New Zealand dollar and the Mexican Peso while decreasing weekly bets for just the Australian dollar.
This latest COT data is through Tuesday October 20th and shows a quick view of how large speculators or non-commercials (for-profit traders) as well as the commercial traders (hedgers & traders for business purposes) were positioned in the futures markets. All currency positions are in direct relation to the US dollar where, for example, a bet for the euro is a bet that the euro will rise versus the dollar while a bet against the euro will be a bet that the dollar will gain versus the euro.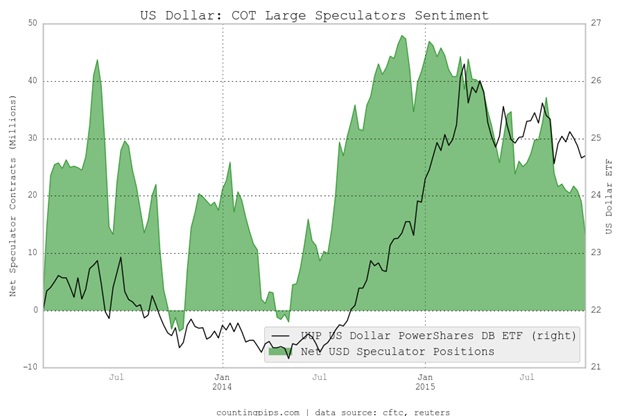 ********
Courtesy of CountingPips.com