Elliott Wave Gold Update 21
Corrections are often confusing and difficult to analyse. The current action in the gold price is a case in point. As has been pointed out in the past, corrections can become extremely complex.
There seem to be 2 valid counts at this time. Wave Count A below is the continuation of the count in Update 20 with a minor change in that the triangle in Small C has been discarded for a more conventional a-b-c format. Under this count the 5 wave up move from $862.2 to $986.0 (15 July 2008) would be the first minor wave in the new major up move.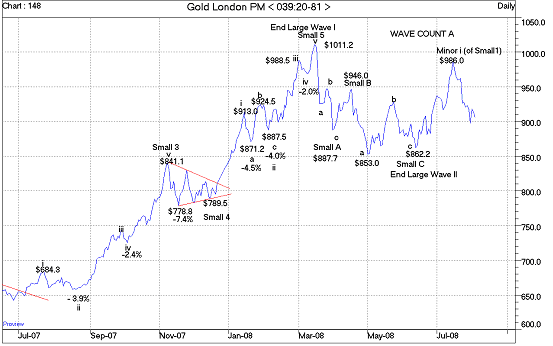 In this case, the first minor correction should have been in the 4% (plus or minus 2%). The problem is that we already have a PM fix at $897.5 (30 July) which represents a 9% correction from the $986.0 peak. This magnitude is large enough to suggest that the above wave count is wrong and that Wave Count B in the chart below is the valid one.
This count places $986.0 as the peak of Small B and requires a decline in Small C to a point where one could conclude that Large Wave II is complete.
This suggests that the gold market could possibly decline to at least test the $845/$850 level.
If Small C is equal to Small A, the target for Small C would be about $830. ($986.0-$128)
If Small C is 61.8% of Small A, the target would be about $888. ($986-$98).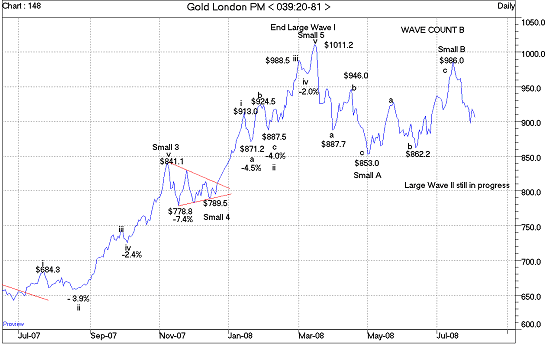 Alf Field
Comments to: [email protected]
Disclosure and Disclaimer Statement: The author is not a disinterested party in that he has personal investments gold and silver bullion, gold and silver mining shares as well as in base metal and uranium mining companies. The author's objective in writing this article is to interest potential investors in this subject to the point where they are encouraged to conduct their own further diligent research. Neither the information nor the opinions expressed should be construed as a solicitation to buy or sell any stock, currency or commodity. Investors are recommended to obtain the advice of a qualified investment advisor before entering into any transactions. The author has neither been paid nor received any other inducement to write this article.