Gold And Fear Relationship
Gold is the leader of the precious metals complex! It always has been and it is now. Silver and the mining shares have proven that they will follow the path of gold. If the following charts do not convince you, nothing will. So, study them hard and fast and don't hesitate. A powerful upward force is preventing gold from making a low below the price of $1,181.40.That is the price where the momentum indicator crossed and turned bullish. That force is being demonstrated by the fact that on every occasion that the momentum indicator crossed over bullishly a new high occurred some months later. Not only did a new high occur but the new high on every occasion touched or went above the rising trend line on this chart and peaked at a Delta Long Term (LTD) high. That is 100% of every bullish crossing of the momentum indicator led to a new high and a peak for this gold bull market at or above the rising trend line and at a LTD high. That is EVERY bullish crossover!! 
GOLD MONTHLY LOGARITHMIC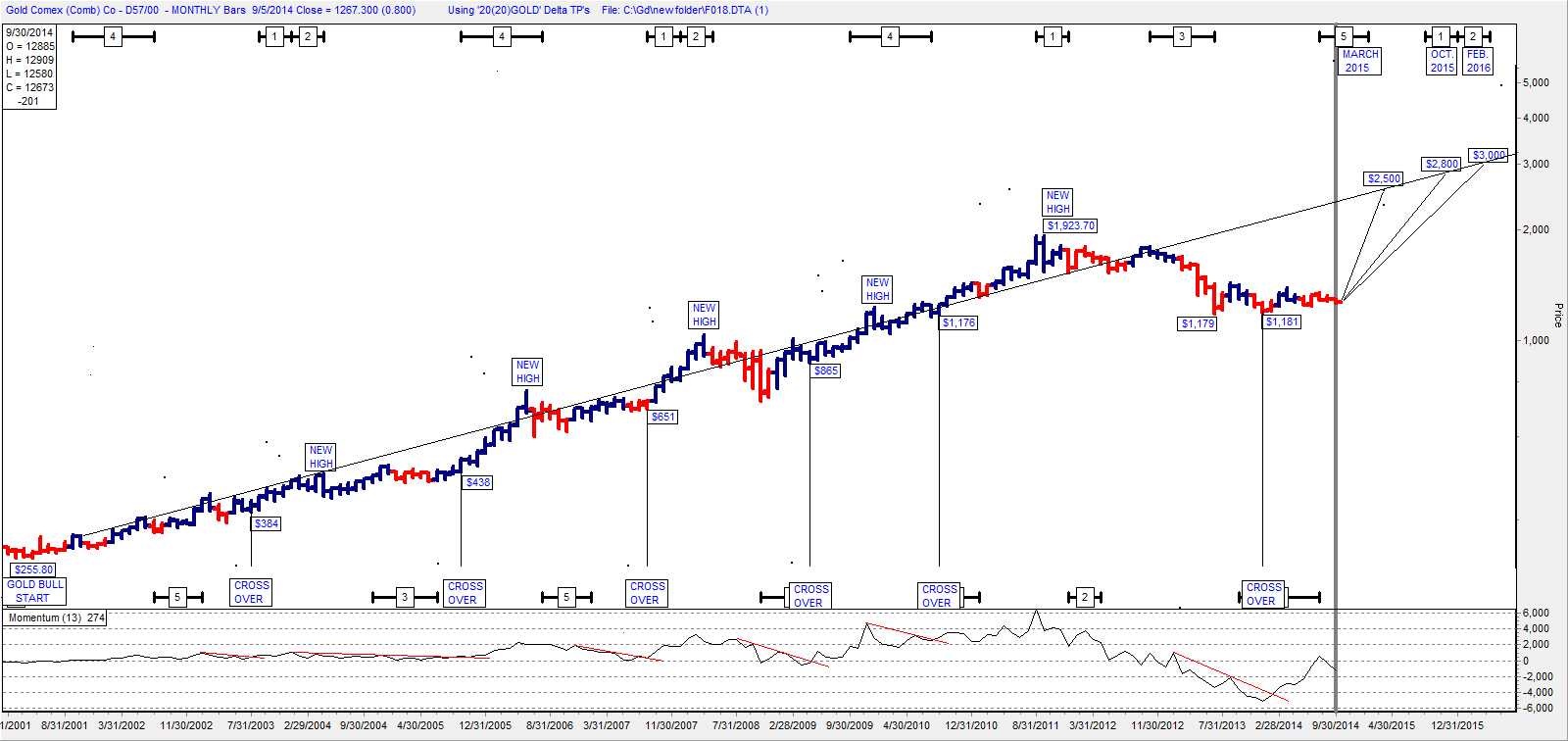 If the 100% performance of gold previously referred to continues we will have a new high at LTD # 5 high or LTD # 1 high or LTD # 2 high. The big, big plus is, if the 100% performance continues, the high will peak at or above the rising trend line. If so, the next gold high will be a minimum of $2,500.00, $2800.00 or $3,000.00. These prices are approximate. Based on this repetitive performance of gold it is virtually impossible for me to be bearish. 
GOLD MONTHLY LOGARITHMIC
This is what the monthly gold chart looked like in October 2013. In spite of any individual or collection of individuals, any government or collection of governments, any central bank or collection of central banks or all of them put together including any and all outer space alien forces, the price of gold continuously made higher highs and higher lows. Nothing, absolutely nothing, has been able to stop or impede the process of higher highs and higher lows for gold bullion. Quite the opposite is taking place in the form of more wood (electronic paper) being thrown on the fire day in and day out. The temperature of the fire underneath the price of gold is constantly rising.
GOLD MONTHLY LOGARITHMIC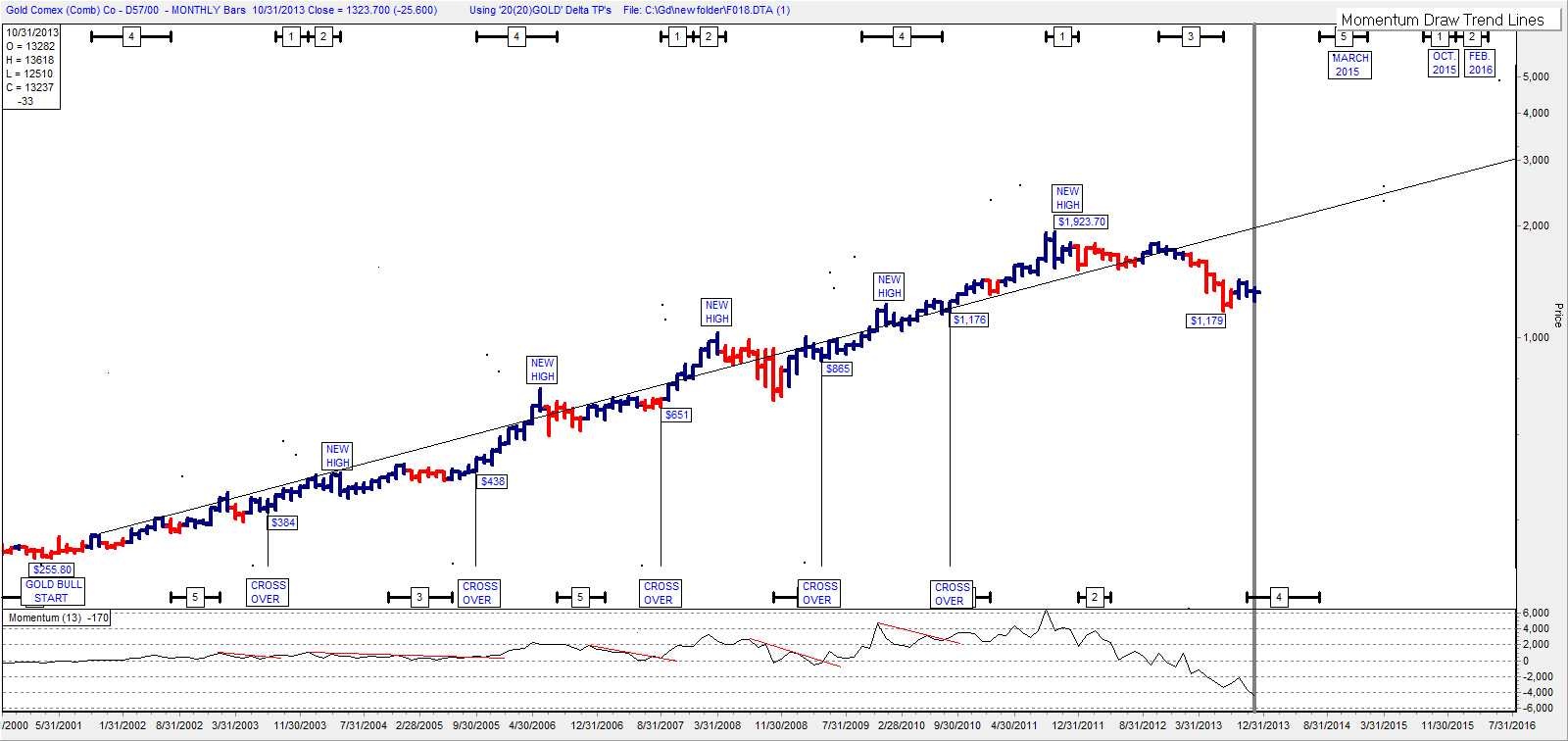 It does not get any better than this chart!!Thi
This gold chart shows what the price of gold has accomplished eleven months after the gold chart on the previous page. The price of gold ever since this bull market began has never gone below the low at the CROSSOVER. Yes … once the price at the crossover is established the price has never gone lower. This is the best possible reason to be bullish on the precious metals complex. The low at the recent crossover was $1,181.40. Friday's low was $1,258.00. 
So why are so many gold investors, analysts, and writers consumed with fear about gold being manipulated and collapsing to new lows in price? I can only guess at the answer. My guess is they have no concept of the benefits of patience once the rule or law of higher highs and higher lows has been well established. They do not have the patience to allow the electronic paper moguls enough time to completely destroy themselves. This lack of patience is usually based on fear, fear of the unknown.
The hidden power of fear must be removed in order to succeed!

GOLD MONTHLY
********
Disclaimer: The contents of this letter represent the opinions of Ronald L. Rosen.  Nothing contained herein is intended as investment advice or recommendations for specific investment decisions, and you should not rely on it as such. Ronald L. Rosen is not a registered investment advisor. Information and analysis above are derived from sources and using methods believed to be reliable, but Ronald L. Rosen cannot accept responsibility for any trading losses you may incur as a result of your reliance on this analysis and will not be held liable for the consequence of reliance upon any opinion or statement contained herein or any omission. Individuals should consult with their broker and personal financial advisors before engaging in any trading activities. Do your own due diligence regarding personal investment decisions.